Beginning in the 21st century, department stores have had to contend with a steady drop in sales due to the emergence of ecommerce and the changing attitudes consumers have toward in-store shopping. Department stores recently experienced a significant drop in sales, going from 135 billion in 2019 to 112 billion in 2020.
Contending with these changes is the only way your department store can survive. Digital marketing will be more important than ever to draw consumers' attention and increase your lead generation. Continue reading to learn how digital marketing can help your department store remain competitive and successful.
Our digital marketing campaigns impact the metrics that improve your bottom line.
See More Results

WebFX has driven the following results for clients:

$3 billion
In client revenue

7.8 million
Leads for our clients

5.2 million
Client phone calls
How can department stores remain relevant?
In 2017, The Atlantic coined the phrase "the great retail apocalypse" to refer to the large number of stores shutting their doors that year. A combination of factors led to this and other struggles for department stores, like rent hikes, changing consumer purchasing patterns, and the rise of Amazon.
If you want to remain relevant, you'll need to adopt these digital marketing practices to entice consumers and conform to how they want to shop. These strategies can generate leads, increase conversion rates, and boost revenue for your department store.
6 digital marketing strategies for department stores
If you want to remain competitive in the current marketplace, adopting some tried and tested digital marketing strategies can help your department store thrive.
1. Search engine optimization (SEO)
SEO is a marketing strategy with the goal of increasing your website traffic by boosting your rankings on the search engine results pages (SERPs). There are a number of general strategies you can adopt to optimize your site, including:
Keywords:

On search engines like Google, users will type in a search term and the platform will provide results based on that term. Using keywords in your website headings and content that closely match a user's search query will help you appear higher on the SERPs.

Linking:

Link practices can also improve your SERP rankings. Using high-quality links that demonstrate authority and accurately represent information can increase your page's rankings. You should also include backlinks to your own site to

boost your link-building

.

Content:

To build your SEO, you should also work to provide quality content for your audience. Think about the information and resources your audience will look for and provide them with it to improve the value of your content.
2. Pay-per-click advertising (PPC)
Some of the most competitive real estate for search engines is the first few results, as these receive the highest click-through rate (CTR). Getting your website to appear at the top of the search results organically is tough, but you can use paid advertising to ensure your ads appear at the top of the page.
To ensure your content appears at the top of the search results, invest in PPC advertising for your department store. With PPC, you will set a budget and pay a certain amount every time a user clicks on your ad result.
While paying for each click might sound ludicrous at first, it more than pays for itself when you consider that users are 50% more likely to buy from PPC ads than organic visitors. Since your pages appear to users who are most primed to convert, this digital marketing is extremely effective and often helps companies generate an enormous return on investment (ROI) for their efforts.
The most effective way to use PPC is on product pages. For example, if a user were to search for scarves, you could use a PPC ad that directs them to a landing page for scarves. This strategy lets them quickly see your products and fulfills their search query more directly than if you were to direct them to your home page.
3. Social media
Social media has become an indispensable part of digital marketing. Your department store can grow leads and increase conversions using your social media platforms to promote your products. Engagement is especially important for consumers today, as most shoppers want to feel a connection to the store or brand they're using.
The benefits of using social media platforms like Facebook, Twitter, Instagram, and TikTok include:
Increasing engagement in your content.

Spreading awareness for promotions and sales.

Connecting with potential and current customers.

Generating leads through paid sponsored ads.
Social media sites like Instagram also have dedicated features where users can shop and purchase products from businesses within the app. The Shop feature by Instagram allows users to click on specific products in photos and videos so they can see the purchase information.
4. Content marketing
Content marketing is an underrated digital marketing strategy, with the ability to double website conversion rates for your department store. Content marketing entails creating written and visual material to increase leads for your business. Types of content marketing include:
Blog posts

Videos

Case studies

Infographics

Ebooks and white papers
To create content that successfully builds leads for your business, you'll need to focus on 3 main factors:
Value

: While content marketing will, of course, include some sales messaging, it should ultimately provide value to your audience. You can take this opportunity to educate your leads about your products or provide companion resources that support their related interests.

Connection

: Content marketing, in all its forms, is an opportunity to connect with your customers. You can build relationships that increase brand loyalty and foster a sense of community around your business.

Engagement

: To get the most out of your content marketing, you also need to craft engaging content that catches the attention of your audience. Recognize what appeals to your target audience and use that to craft your content.
5. Email marketing
While consumers might complain about the number of emails they receive, the numbers don't lie — email marketing generates $36 for every dollar spent. With this incredible potential ROI, your department store should take advantage of this strategy to generate leads and boost conversions.
Some of the most successful email marketing campaigns include discount codes and promotional offers customers can use on their next purchase. Personalizing these emails with your audience's names also increases the open rate of these messages.
You can also use email marketing for retargeting campaigns, sending customers reminders about items they left in their online shopping cart.
6. Web design
Did you know that your web design can impact your SERP rankings and conversion rate? Well, it can. Department stores that have websites optimized for mobile users will appear higher in search results on Google, and half of all visitors will leave a mobile page if it does not load within 3 seconds.
In addition to a design that is functional and aesthetic, you should also consider making navigation intuitive so users can easily find what they are looking for. This strategy can ensure visitors stay on your website and increase the likelihood they will convert.
Meet WebFX:
Your world-class, tech-enabled marketing agency with over 1.6 million hours of combined expertise.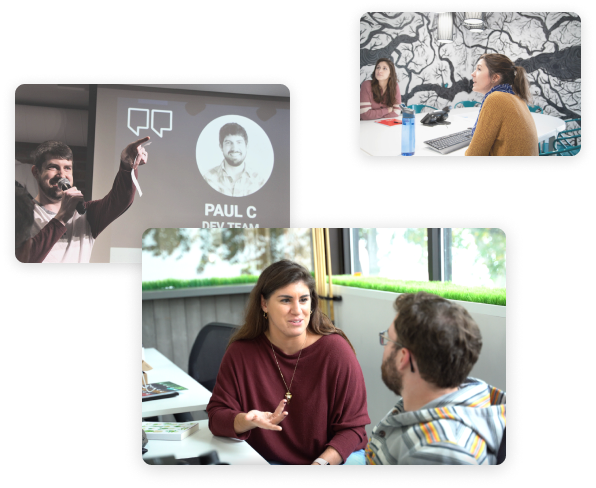 Get expert digital marketing advice and services from WebFX
WebFX is a full-service digital marketing agency that provides a host of services to increase leads and, ultimately, boost revenue for your department store. Along with our services, you can enjoy tons of informational content to help you structure your digital marketing strategy for your business's unique needs.
Contact our team to get a free proposal for our digital marketing services, and check out our blog for more information!
Earn a 20% greater ROI with WebFX