What Are KPIs in Marketing?
If you've spent some time looking into marketing plans and strategies for your business, you probably have a pretty good idea of what's important. You know you need a website, blog, social media and great content. However, you may not have considered the most important part of online marketing: measuring results.
How can you tell if your strategy is working? How can you compare the cost and return of your campaigns? And how can you decide what to do next? The only way to answer these questions is to monitor a set of key performance indicators, or KPIs.
If you're asking yourself, "what is a marketing KPI?," you've come to the right place. Keep reading to find out what exactly KPIs are, and how you can choose the right ones for your business and goals. And give us a call at 888-601-5359 if you want to improve your online presence!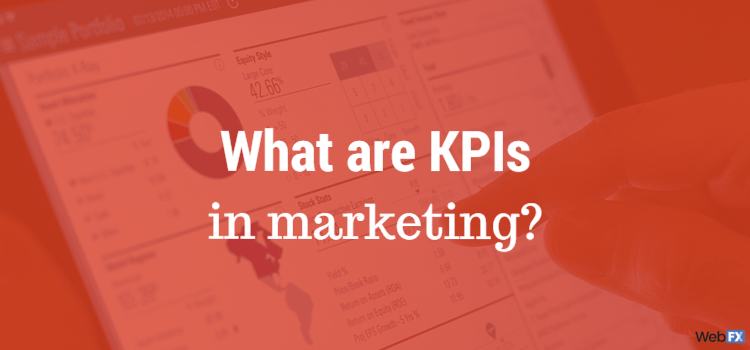 What is a marketing KPI?
Key performance indicators, or KPIs, are the metrics that determine whether or not a marketing strategy is helping you achieve your business goals. Although there are thousands of numbers related to your various campaigns you could monitor, KPIs are the ones you've deemed most important.
Depending on your industry and goals, there are many different metrics you may want to focus on. For example, if you're working on improving your website, your KPIs might be server speed, load time, and bounce rate. If you're working on customer service, you might choose to monitor customer retention and employee response time.
Thanks to advances is Internet marketing, you now have the ability to get data on virtually every aspect of your marketing strategy. This is great news if you already have specific goals, but can be extremely overwhelming if you don't know which data sets to look at. This is why choosing marketing KPIs is important. By focusing on only the most important metrics, you can determine the success of your strategies and continue to improve.
Which KPIs are the most important?
While you could measure all sorts of KPIs, it makes the most sense to focus on those that match your goals. What are you hoping to achieve with your online marketing program? Although the specifics depend on your industry, most marketing KPIs fall into three categories: financial, social, and website performance.
Financial

The goal of all marketing is ultimately to generate more revenue for your business, so it can be beneficial to look at how each part of your strategy benefits you financially. So what types of financial KPIs should you monitor?
One of the most basic indicators is total revenue. If you're improving month-over-month, you're doing something right. If not, something needs to change.
More specifically, you'll also want to know the average customer value. By figuring out how much you can expect to make from each new lead, you'll be able to determine how much you are willing to spend on attracting them.
Along the same lines, you should track your cost per lead. How much, on average, does it cost you to attract a potential client? With methods like PPC advertising, it's easy to measure how much you pay for each visitor to your site.
Website performance
Your website can be a great indicator of your company's overall success, and can provide a ton of insight into your demographic, consumer behavior, and
One of the easiest things to measure is the amount of unique visitors your site has. By monitoring this number over time, you can see whether or not new people are discovering your business.
Beyond this, you should also monitor where your visitors are coming from. Traffic can come from organic search, links from other sites, and a variety of other sources, and knowing where you are most successful can help you decide where to focus your strategy.
In addition to the volume and origination of your visitors, you can keep see what they do once they arrive on your site. Bounce rate and conversions can tell you whether or not your site makes people want to leave or stay and take steps to contact you.
Social
Social metrics help you evaluate the success of your social media marketing efforts. Although it can be tempting to focus on your follower counts or ratios, it's important to stay focused on numbers that indicate engagement.
On platforms like Twitter, you should always monitor your mentions. By when your business comes up in conversation, you can get a good idea of the general sentiment towards your brand.
On platforms like Facebook, you should aim for comments and shares. Although page and post likes are indicative of awareness, people who engage with your content are more likely to actually become customers.
There are many other KPIs worth monitoring depending on your business, but try to choose a few from each of these three categories. You may decide to add other metrics later based on your findings, but unless you have a large marketing team to do it for you, trying to monitor everything all at once will likely leave you overwhelmed.
Some of our client Successes
How can you measure your marketing KPIs?
Once you've chosen your KPIs, you need to create a strategy for monitoring and measuring them. Effective measurement requires three steps:
Set specific goals
It's nice to know how your business is performing, but there has to be a reason for measuring. Do you want to increase sales? Acquire more customers? Lower your cost per lead?
Determine what your goals are, and then set specific, measurable goals for your KPIs. Instead of just saying that you want to "increase web traffic," say that you want to "have 10,000 unique visitors in the month of May."
Use analytics tools
There are many analytics tools available to Internet marketers, both free and paid. Before launching your marketing strategy, take the time to get familiar with at least one.
If you're not sure where to get started, Google Analytics is an excellent tool. Although you may end up opting for premium services later, the free version will tell you everything you need to know when you're just starting out.
Monitor your results
The final step is to measure your efforts using the KPIs you selected. You can measure as often as you want, but this will likely depend on how large your marketing team is. If you're a business owner, you probably won't have time to check in every day. That's fine, but create a schedule so that you don't lose track completely.
When you check your KPIs, be sure to record your results. Whether you choose to use a spreadsheet, word document, or other tool, this is arguably the most important part of developing your marketing strategy. By keeping track of your KPIs over time, you can see what's working and adjust your strategy accordingly.
Only you know what defines success for your business, which is why KPIs vary from company to company. The most important thing is that you keep track of them and use them to your advantage.
If you aren't sure how to choose KPIs or analyze their success, feel free to contact us. Our dedicated team of Internet marketers is more than happy to help you develop a measurable strategy for growing your business.
Ready to start your Internet marketing and design campaigns? Call 888-601-5359 or contact us online today to learn more about how WebFX can help with your SEO challenges.