To find out whether you're meeting your goals with your website, you need to track website metrics. What are website metrics? Let's look at the definition of website metrics and find out which key metrics to track.
What are website metrics? Website metrics definition
Website metrics is a general term that refers to methods of measuring a website's performance. Examples of website metrics include traffic, bounce rate, top-viewed pages, and conversion rate.
Why are website metrics important?
Tracking website metrics is crucial to the success of your site.
What are web metrics used for? Here are a few of the valuable things they allow you to do:
Track website performance
If you don't track website metrics, you have no way to tell how well your website performs. You need to collect and analyze performance data to determine if you're meeting your goals.
Without feedback in the form of website metrics, you're trying to find your way in the dark. You can't see where you're going, and you have no way of knowing if you're making progress toward your destination!
Optimize your site for improved performance
Website metrics play a vital role in helping you optimize your site and improve its performance. The data you gather gives you feedback on what's working well and what's not.
You can then put more emphasis on your top-performing strategies and adjust the others until you see improvement.
Inform future decisions and direction
Your website data may also give you new ideas for strategies to try. This includes ideas for improving your website, but it goes beyond that as well. You can uncover insights that help you develop your products and services, figure out who your ideal customers are, and more.
For example, you might find that pages about specific products are your most popular, leading you to develop more similar products. You can also learn more about the demographics and interests of the people visiting your website, giving you insight into your ideal audience.
Demonstrate ROI and earn more funding
Collecting data about your website's performance is also necessary for demonstrating the value of your website development and online marketing efforts. You can use website metrics to calculate your initiatives' ROI and show higher-ups that your web marketing projects are worthwhile, helping you earn more funding to support and expand your efforts.
Tools for measuring website metrics
To measure web metrics, you need to have the right tools. There are many tools you can use, but here are some of the most popular:
Google Analytics is free from Google and is perhaps the most popular website tracking software. It can track a long list of metrics, and you can connect it to other Google tools like Google Search Console and Google Ads.
Adobe Analytics is excellent for large websites and tracks many of the metrics Google Analytics does. It emphasizes using machine learning to provide advanced website insights.
Ahrefs is a popular tool for tracking website metrics important to search engine optimization (SEO). It tells you how many websites link to yours, what keywords you rank for, your traffic's estimated value, and more.
MarketingCloudFX is our digital marketing platform here at WebFX. It includes numerous tools that help you see how users interact with your website, track and manage your leads, and more. It also offers strategic recommendations powered by artificial intelligence.
Measuring the metrics that affect your bottom line.
Are you interested in custom reporting that is specific to your unique business needs? Powered by MarketingCloudFX, WebFX creates custom reports based on the metrics that matter most to your company.
Leads
Transactions
Calls
Revenue
Learn More

Examples of website metrics
The website metrics definition covers a wide range of measurements you can use to measure your site's performance. Here are a few of the many website metrics you can track and what they mean:
Traffic
One of the most commonly tracked website metrics is traffic. Your traffic is the number of visits your site gets in a given period.
The basic traffic number includes all the traffic to all your pages. You can also break your traffic into various categories. It's helpful to know how much traffic your website is getting, especially since most of your digital marketing efforts will hinge on getting people to visit your site.
Comparing traffic over a certain period, such as year over year, can help you evaluate how your site has grown. Looking at more granular traffic data tells you what times and days of the week your website is most popular.
Traffic sources
The traffic sources metric tells you where visitors to your site came from. This information tells you which of your digital marketing tactics have been most successful in driving traffic to your site.
Traffic sources measured in Google Analytics include:
Organic search: The user came from an organic — meaning unpaid — listing on a search engine results page
Paid search: The user came from an ad on a search engine results page
Social: The user came from a link on a social network
Referral: The user came from a link on another website
Direct: The user came directly to your site, such as by typing your URL into their browser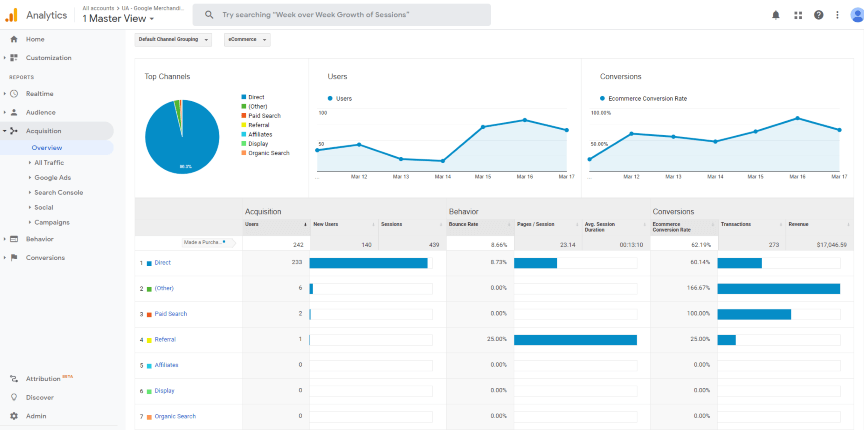 Bounce rate
One of the most commonly used website content metrics is bounce rate. A bounce occurs when a user visits a page on your website and leaves your site without taking any other actions on it, such as navigating to a new page or filling out a lead generation form. Your bounce rate, then, is the percentage of sessions on your site that were bounces.
Measuring your bounce rate helps determine how engaging your content is and whether it's effective at encouraging users to interact with your website. The importance of bounce rate for a page depends on the page's goal. If your page's goal is to get users to convert or navigate to other pages on your site, you want a low bounce rate.
If your goal is to educate readers, a high bounce rate may mean the readers felt you answered their question fully. Comparing bounce rates across similar pages can help you determine what elements on a page cause changes in bounce rate. You can then use this information to improve your bounce rate on pages where it's important.
Conversion rate
Conversion rate is another essential website content metric to track since conversions are the end goals of your campaigns.
What a conversion means to you depends on your goals. For ecommerce sites, making a sale is the primary conversion type. For other sites, it might be generating a lead through a form submission.
You can monitor conversions by setting up tracking for them in tools like Google Analytics. Your conversion rate is the percentage of visitors to a given page who convert. A high conversion rate means the page is performing well.
Comparing your conversion rates across pages can help you determine which elements on the page are most effective at generating conversions. You can then use this information to increase conversions on other pages. When analyzing conversion rate, keep each page's goal in mind.
Conversion isn't the main goal for all pages. Some might simply aim to inform, so it's okay if these pages have a lower conversion rate.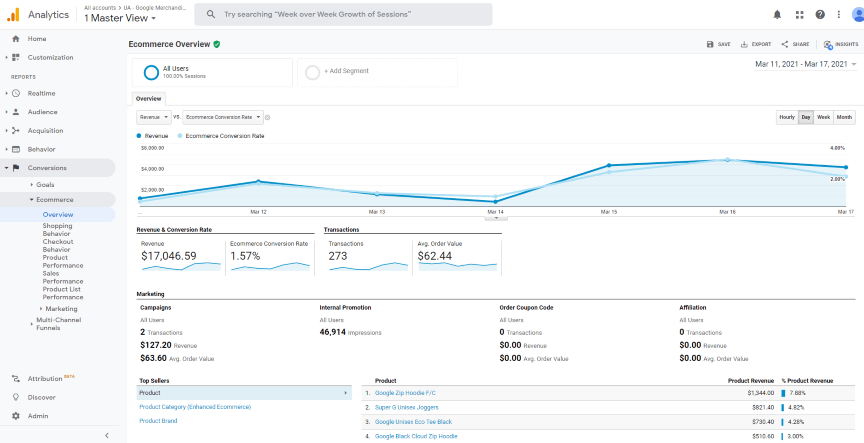 Average time on page
Average time on page is, as the name says, the average amount of time a user spends on a given page.
The higher the average time on page is, the more engaging the content on that page likely is. If you estimate how long it would take to read all the content on your page and then compare that to average time on page, you get an idea of how much of the page's content people are consuming. Keep in mind that many Internet users scan through content rather than reading every word.
Going beyond the website metrics definition
Now that you know the definition of website metrics, you should have a better understanding of how to evaluate your website's performance.
This knowledge is crucial to developing and carrying out a smart Internet marketing strategy. If you'd like to learn more about digital marketing, explore our other free resources. Or, sign up for our email newsletters to get the latest digital marketing tips delivered right to your inbox.
WebFX Careers
Join our mission to provide industry-leading digital marketing services to businesses around the globe - all while building your personal knowledge and growing as an individual.