Grow With Local Search Marketing Services
Whether you're a local business or franchise, people use search engines like Google and Bing to find your business. That's why local search marketing, also called local search engine optimization (SEO) is an invaluable tool for helping people find your company and become customers.
With local search marketing services from an experienced agency like WebFX (we have more than 20 years of SEO experience), you can bring more foot traffic and sales to your store, as well as earn more phone calls and quote requests from high-value leads.
Local businesses and franchises across the country trust our award-winning local search marketing company because of the results we drive, as well as the transparent reporting we provide. Just in the past five years, for example, we've helped our clients generate more than $2 billion in revenue.
Start helping your company generate more local revenue by contacting us online or calling us at 888-256-9448 to learn how our local search engine marketing company services can help your business get more foot traffic, leads, and sales!
Want to create a local SEO plan?
If you want to attract and convert more local customers, WebFX can help!
Explore pricing and plans for local search services
At WebFX, we implement cutting-edge local SEO solutions to help clients rank at the top of search results and increase foot traffic to their stores.
We offer a number of local SEO plans and pricing options, so you can choose the best plan for your business. Click an option below to learn more about our local business marketing services and local SEO pricing.
What do our local search marketing services include?
At WebFX, our local search marketing agency aims to provide your business with a complete solution to local SEO. That's why we provide you with a dedicated marketing team that includes search marketing specialists, web developers, and copywriters — they'll take care of everything you want for you.
Besides a personal search marketing team, our local search marketing services also include:
On-page local SEO optimizations
Local keyword targeting and integration
Quarterly local SEO content or Google My Business posts
Local citation management, like for Google My Business and dozens more
Review management
Monthly local SEO reporting
And more
We also provide you access to our local citation management software, LocalFX. This software helps automate the time-consuming process of claiming, updating, and optimizing local listings for search, which means you can start reaping the benefits of local search sooner.
Why does local search marketing matter?
Even though it's possible to buy products and services from any corner of the world, many people prefer to buy them from their own particular corner. Some things are easier to buy from local businesses, and personal relationships are hard to replicate online.
Before you can build these relationships, though, people have to be able to find you. That can only happen with the best local search marketing services, whether implemented in-house or by an experienced firm.
The Internet has become the primary source of listings for restaurants, auto shops, dry cleaners, and virtually every other type of local business. Consumers use search engines to find businesses for all of their needs, and the only way to convert these searchers into customers is to make sure they can find you online.
Did you know, for example, that 50 percent of search engine users visit a store within a day of conducting a local search?

Local search is the most effective way to reach consumers in your area. Despite the growing popularity of ecommerce, some things just aren't convenient to buy online. They need to come from a nearby business, whether from a national chain or a mom-and-pop store.
Consumers are savvy enough to incorporate location in their search for these products and services. The majority use large search engines like Google, and some also use location-based sites and directories. Either way, the only businesses that show up in these results are those that either do local search marketing in-house, or hire an agency that offers it as a service.
Over time, the need to optimize for local will continue thanks to the rise in mobile devices. Today, 60 percent of searches take place from mobile devices. This makes sense, since people are more likely to use these devices when they're out and ready to make a purchase.
Partner with a team of ecommerce masters!
WebFX campaigns have delivered more than 12,936,451 ecommerce transactions in the last 5 years
Read the Case Studies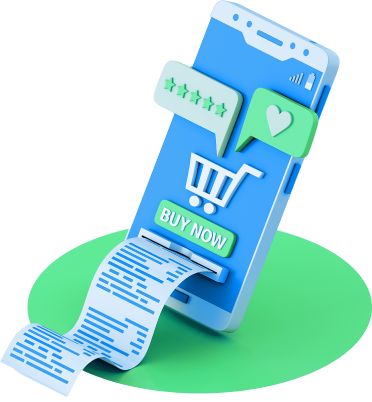 As the number of mobile searchers grows, so will the number of consumers searching for your business at the moment they're ready to buy. If your site isn't in front of them at that moment, you could be missing out on sales and customer conversions.
4 ways to get started with local search marketing

The best way for your business to reach potential customers is to utilize the same local search strategies people use to find businesses in their area. Here are a few to help you get started:
1. Local business directories and listings
Perform a search for a type of business (ex. restaurants), and you'll notice the top results include local listings — not just in the search results, but also on the map that appears somewhere on the page. Those businesses are more prominent because their websites were placed in local directories. Your business will appear there if you do the same.
Start by claiming your business profile on sites like Google My Business, and enter key information like your location, hours, photos, and more.
The easiest way to get listed is to leverage search engines like Google and Bing, as well as review sites like Yelp. However, not everyone uses search engines to find nearby businesses. Some use location-specific directories. Submit your site to those directories as well, and don't forget about sites for newspapers, magazines, and other local media.
2. Local SEO
Since local search accounts for a large portion of mobile searches, sites that employ local SEO services tend to rank well in these searches. Do you include your town or region prominently on your site? Do you include it in your page titles or descriptions? If not, it might be time to rework your local SEO strategy.
Do some keyword research to figure out how people are searching for businesses in your area. For example, if you're based near Philadelphia, include your town's name, but also include terms like "Philadelphia" and "greater Philadelphia area."
These keywords likely receive much higher search volume than your own town's name, and as long as your business is close by, customers won't mind that you're technically a mile or so outside of city limits. Still, be sure to include your business address—including ZIP code—on your contact page and the footer of all of your other pages.
3. Links from other local sites
Local marketing is a great way to attract new customers, but it's also a way of making your business a part of the local community. This can result in natural links from other local businesses, which is great for your overall SEO strategy.
Of course, we don't recommend that you bombard business owners with requests to link to your site. Not only is that annoying, but it likely won't get you anywhere. Instead, publish content on your site about your city or region, and link to other nearby businesses your customers might enjoy.
This can help you build connections, and become a part of the local business community, and possibly result in links from other sites who also actively publish content.
4. Local PPC ads
Although SEO is arguably the best way to be found online, paid ads are also a great option. Pay-per-click ads, in particular, are not only effective in local search marketing, but can also be cost-effective when done right.
Your ads will only appear when searchers use the keywords you specific, increasing the quality of leads. What's more, you only pay for the clicks generated, so your costs are directly linked to the performance of the ad.
FAQs about local search marketing services
Looking to learn more about local search marketing services? Browse our FAQ:
What are local search marketing services?
Local search marketing services increase your online visibility in localized search results via local SEO and digital advertising strategies like Google Local Services Ads, geofencing advertising, and pay-per-click (PPC) ads.
How much do local search marketing services cost?
Prices for local search marketing services depend on factors unique to your business, like your monthly ad spend, industry, location, and local search agency. Typically, companies will invest $300 to $2000 per month into local search services. For the most accurate pricing, request a quote.
Get started with local search marketing services!
Consumers in your area are already looking for local businesses just like yours, and local search marketing is the only way to reach them. Optimizing your site, getting listed in directories, and building relationships with other business owners will certainly require some time, but it will be more than worth it as new customers begin to find you.
That being said, we know it isn't exactly easy if you don't have the time or experience. If that's the case, don't hesitate to contact us! Our team of Internet marketing experts is more than happy to optimize your site for local search and help you start attracting increased customers and revenue. If you do have experience with local SEO, you'll love our client-managed local SEO services.