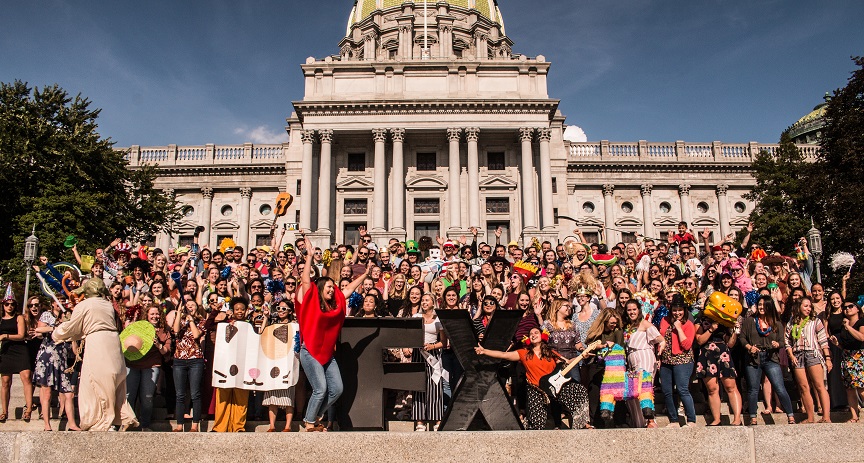 Client-Managed Local SEO: Manage Citations & Reviews With LocalFX
If you own a local business, you're well aware that your customers are your lifeblood. Without them, your business wouldn't be where it is today. But what if there was a way to ensure that your local business got even more attention and made even more sales? Enter client-managed local SEO.
Client-Managed Local SEO: Manage Citations & Reviews With LocalFX
Local SEO services are a great way to ensure that shoppers close by can find and visit your business, as well as increasing brand visibility and awareness. It can help you attract foot-traffic to your physical storefront in addition to increasing website traffic to ensure that you get more qualified leads than your competitors.
On this page, we'll talk about our proprietary client-managed local SEO platform, LocalFX, what it can do for you, and what local SEO services can do for your business overall.
If you want to learn more, keep reading, but if you'd rather speak directly to a specialist, feel free to give us a call at 888-601-5359! We'd love to speak to you about what local SEO can do for your unique business. We don't believe in cookie-cutter services, which means when you request a quote, it's based on your unique needs.
Are you ready to start optimizing your site with local SEO? Contact us online to chat with an experienced strategist from our SEO team about not only improving your company's search engine rankings but also earning more revenue for your local business.
WebFX Pricing: Client-Managed Local SEO Services
Have more than 1000 locations? Contact us for a custom quote.
What do our client-managed local SEO services include?
The thought of self-serve local SEO can be overwhelming, but it's a valuable campaign model for companies that don't want their account to be fully managed by a marketing agency.
You'll love our client-managed local SEO services if:
You currently have a local SEO campaign and are aware of how it runs. You're interested in taking over the campaign on your own.
You're just getting started on local SEO for your company, but you've had experience with it in the past.
You're not interested in hiring an agency to manage your local SEO campaign fully.
You want complete control over your local SEO campaign.
Any of these situations lend themselves well to our client-managed local SEO services!
So, what's our LocalFX software like and what kind of information can you gain from it? Read on!
Citation Management
Claiming your citations is one of the biggest and most important actions you can take when you're trying to ramp up your local SEO efforts.
If you fail to claim your local listings, you can lose tons of valuable site traffic, and more importantly, sales. Chances are your competition has already claimed their local listings and failing to claim yours can be a huge thumbs down to users.
Local citations make it easy for shoppers to find information about your business like where your storefront is located and how they can contact you. Your citations make a user's life easier by providing them with all the information they need to contact, visit, or purchase from your business.
Your citations refer to all the places that your business appears, like local business directories, apps, social platforms, and more. These may also be known as business listings.
Below you can see the Google Business Profile listings (formerly known as Google My Business), or local citations, for the keyword "wellness spas in Pittsburgh."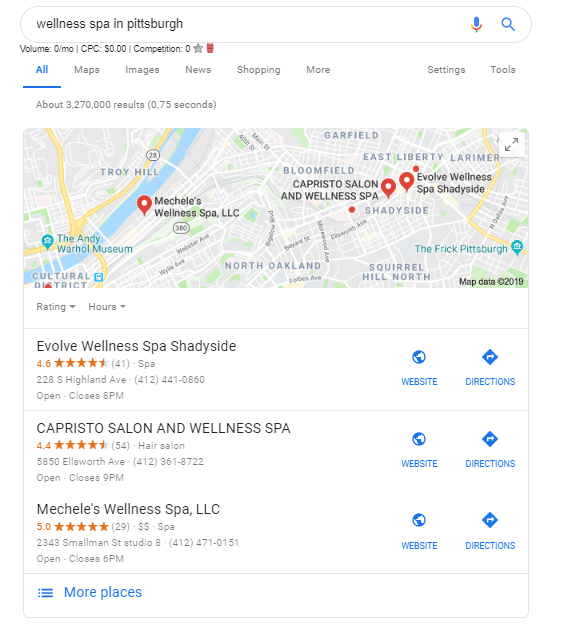 With our client-managed local SEO platform, LocalFX, you'll have access to the automatic citation claiming and management across all of our in-network references.
These locations include:
List items with an asterisk (*) indicate that you must authenticate your profile
Google Business Profile*
Bing
Yelp*
Facebook*
And more!
The WebFX team will take care of importing any initial citation information for all of your locations to automate the process.
In addition, your team will have 24/7 access to the software platform used to perform ongoing updates on your listings and citations. For example, if your hours of operation change, you'll easily be able to change that information in your citations with the click of a button.
Here are some other simple updates you'll be able to make on your own:
Hours of operation
Phone number
Website
Address
SEO categories
Business details and description
Payment methods accepted
Social media links
Business cover images
Business logo
Business name convention
And more!
The best part is, even if you decide not to work with WebFX or take advantage of our LocalFX platform in the future, your citation information will never be removed.
LocalFX SEO
SEO is extremely important to any marketing campaign — after all, it's what helps you to rank highly in search engines for target keywords that mean the most to your audience.
Without SEO, it's highly unlikely that your website will rank highly. That being said, we integrated SEO functionality into our LocalFX platform, so you can:
Optimize citation categories for SEO
Optimize citation descriptions for SEO
Create Google Business Profile promotional posts for all locations
Manage Google Business Profile Offer development for all locations
Ensuring that your citation categories, descriptions, and posts are optimized for SEO is a game changer. Our platform ensures that your target keywords appear in all the right places, as well as optimizing for spelling and grammar.
Review management and development functionality
Reviews are crucial to your local business, whether they're positive or negative. It's extremely important to interact with your reviewers to make them feel comfortable, understood, and heard — even if they review is less than accurate.
When you reply to positive reviews, you show those users that you value their opinion and appreciate them taking the time to provide a positive review. It also shows potential customers that you are consistently in touch with your satisfied customers and love to keep an open dialogue.
Even though it might not be as easy as replying to positive reviews, replying to negative reviews is just as important — if not more important. When someone provides a bad review of your products or services, don't panic. Even the best businesses get a few bad reviews!
The most important thing is to stay calm. You should calmly and professionally respond to the negative review with compassion and action. Let them know that you value their opinion, and if it's something that happened on your end, offer to make it right. Whatever you, never blame the customer.
Customers love great customer service, and this is one way to provide it to your customers.
With the LocalFX platform, you'll have 24/7 access to the review tracking dashboard, which helps you track reviews that come in about your business. You'll even get notifications for every review or social interaction that comes through on all of your tracked profiles.
Keep in mind that in order to track your reviews, you'll have to authenticate your profiles.
The best part? You'll be able to respond directly to reviews and mentions right from our LocalFX dashboard.
Reporting
Keeping track of everything that occurs within your marketing campaign is crucial to its success. Without reporting and analytics, you'll never be able to track what's going wrong, or where you can make improvements.
With LocalFX, you'll always have on-demand access to the reporting dashboard to stay on top of your local SEO campaign.
Keep in mind that in order to see your reports, you'll have to authenticate your profiles.
You'll be able to view reports for one location, or across all locations, and you'll be able to see important information including:
Profile views
Website visits from local profiles
Phone calls
Direct requests
This information helps you gain insight into the success of your current campaign, and where you might want to make changes to increase the effectiveness.
For example, if you're not getting as many phone calls as you'd like, you might take action and insert "Call now" buttons on important pages of your website.
SEO ranking tracker
SEO ranking tracker is a proprietary element of our LocalFX interface that helps you to fine-you're your local SEO campaign. This helps give you specific measurements of different elements of your campaign so that you're always in the know.
Here's what it measures:
Rising keywords (must manually add to track)
Declining keywords
Google local rankings
Google organic rankings
Bing search rank
The info provided by the SEO ranking tracker is equally important as your reports, since they provide insight into what you could change about your local SEO campaign to make it even more successful.
For example, if your Google local rankings are falling off the board, it might be time to turn off the heat on your local SEO. This could mean creating more content, targeting more keywords, or just sprucing up your current campaign.
As a whole, our client-managed local SEO services allow you to take control of your local SEO and track your success through a proprietary platform that can help you improve your campaign.
Are you interested in client-managed local SEO from WebFX?
If you enjoy managing your own campaigns, want to respond to your own reviews on demand, and keep track of your local citations, client-managed local SEO services from WebFX is the perfect option for you.
Not only does it give you complete control over your local SEO campaign, but it offers tons of great benefits that are unique to the LocalFX software.
If you're interested in learning more about how WebFX can help your business locations thrive online, contact us online for a free quote, or give us a call at 888-601-5359 to speak directly to a specialist!