Understand the return they would receive from achieving coveted top ranking positions with a pay-for-performance SEO pricing plan
Have experienced fluctuation in search engine rankings for traffic-driving terms that are most valuable to their site conversion metrics
Have experienced significant return on investment for individual keywords they are interested in targeting either in the past or in a pay-per-click campaign
The value of first page search engine results positions (SERPs)
Are you paying top dollar in AdWords for a specific keyword that brings you a significant ROI, but looking to cut costs? Have you made it to the first page and enjoyed the enormous value to this organic placement, but have since been bumped further down, or even to page two?
A pay-for-performance SEO ranking model is for companies that understand the return they will receive from achieving these important ranking positions in organic search results. This model is ideal for companies that are willing to invest in SEO activities to achieve the specific results they desire.
Sometimes called pay-on-performance SEO or pay-per-results SEO, we know how to achieve specific goals for our clients since so many businesses have their sights set on particular objectives. This is where pay-for-performance SEO excels, especially for companies who want to recapture rankings that they may have recently lost. Performance SEO is based on just that — performing well for one or more keywords.
What's the value of first page positions in Google?
What are these first page positions worth to you? With our pay-for-performance estimator, you can enter in the keyword you want to target and it will provide you with an estimated pricing structure of the monthly fee that WebFX charges after you reach the top ten, the five, or three positions for a certain keyword. That's the power of pay-on-results SEO — delivering exceptional results for specific goals.
Our tool provides a pricing formula to ensure your costs with WebFX are less than you would spend in Google AdWords or other pay-per-click models for the same keyword. You can pay Google for each click, or you could invest in ranking organically and acquire positive results in the organic searches for a fraction of the price. The choice is yours.
Is pay-for-performance the right strategy for me?
A pay-for-performance approach to SEO is much more aggressive than typical SEO packages. If you are interested in increasing exposure across multiple searches, our standard SEO plans will work better for your needs. But if you know the keyword that is a real sales driver for your company, then pay-for-performance may be the best strategy for you. WebFX will work with you to devise a strategy to get you to the placement that will bring you the highest possible return on investment.
While traditional SEO campaigns are broad and cover a variety of keywords, pay-for-performance offers a more targeted solution. Instead of spreading our resources out, we focus on one to five valuable keywords and concentrate our efforts on ranking those in the top search positions in Google. Pay-for-performance doesn't attempt to hit lots of targets with one swoop — instead, it goes after keywords on an individual basis.
When pay-for-performance is the right solution
Acquiring a first page organic position in Google for terms with a heavy monthly search volume will bring you a significant amount of traffic. An estimated 80% of users click on organic results as opposed to the paid results. So you're getting the majority of traffic for a lower investment on your end.
Consider this: would you rather pay per click and have access to only 20% of the traffic, or would you prefer to have access to the other 80% without having to pay for each and every click? A pay-for-performance model allows you to invest in results instead of merely paying for clicks.
However, pay-for-performance may not be the right solution for optimizing your website. By targeting only a few very specific and probably very competitive terms, you may not be giving enough attention to the long-tail keywords that users will be typing into search engines.
WebFX delivers
measurable

SEO results

WebFX has helped us expand our digital footprint not only in Central PA and the mid-Atlantic, but also throughout the Continental U.S.

All Pro Trailer Superstore

See the testimonial
113%
YTD SEO
Conversion Increase
46%
YTD SEO
User Increase
The importance of long-tail keywords
Long-tail searches, otherwise known as completely unique searches, account for roughly 70% of all searches online. It has also been estimated that 49% of users will change their search query if they don't find what they want on the first page of results. That's why it's imperative to optimize your site to match not only very specific search queries, but long-tail ones as well. You want to make your website a go-to source, and ensure that users are finding exactly what they're looking for on your website.
Most businesses see more success from SEO when it involves a large variety of keywords. While targeting highly competitive terms with a PFP plan can result in a sizable increase in traffic, it may not increase your sales or conversions. Unless your website is extremely relevant to those short terms, you may find that a majority of visitors are leaving without making a purchase.
To stay competitive on a large variety of keywords, and to make the most of all of your traffic and website visitors, WebFX usually recommends a SEO plan that targets a wider variety of keywords. Our basic SEO plan starts at 30 targeted words or phrases — including those valuable long-tail keywords.
Choosing the right SEO plan
Pay-for-performance SEO only allows you to target a few keywords. This may mean that your website is fully optimized for very specific and very broad words or phrases, but not fully optimized for long-tail keywords. This could result in up to 70% of your potential traffic being lost!
Although performance-based SEO can be beneficial in certain situations, the majority of businesses will benefit more from one of our other SEO plans. Our SEO pricing packages include a much higher number of targeted keywords, including "chunky middle" or long-tail phrases. This will help your search presence grow overall, and increase both your traffic and conversions, thanks to the presence of shoppers who are ready to buy.
If you know that you will succeed online from being ranked #1, perhaps due to past experience and higher sales from that position, then pay-for-performance may be the right solution for you. However, it's important not to lose sight of those long-tail keywords while optimizing your website. Every effort should be taken to target not just one very specific phrase, but multiple.
Pay-for-performance is only a piece of the puzzle
As with every component of SEO, a pay-for-performance SEO campaign should only be one part of your business's inbound internet marketing efforts. It's important to consider how much you are willing to spend on targeting very specific keywords that drive traffic — but not as many sales — at the same time as your other marketing efforts. In the long run, you may find that it is more cost-effective to choose an aggressive SEO plan that targets multiple keywords, and also improves the overall optimization of your website.
How is pay-for-performance SEO pricing determined?
The first page of results gets the majority of traffic, making your site nearly invisible when buried on a deeper page. Considering the first five positions get a very large percentage of this first page traffic, the better your rankings, the more traffic to your site. This distribution of clicks is what drives our Pay-for-Performance SEO pricing model.
If you know the value of your targeted keywords, reaching these positions can mean a large amount of traffic and possibly significant revenue for you. Think about the return on your investment. With each improved ranking you obtain you may be paying more, but your traffic and sales also increase.
Additionally, there is an initial investment to cover the costs of getting your site on the first page. This fee is determined by several different factors including, but not limited to, industry, keyword difficulty, current website quality, links and competitor links.
Don't Pay for Results That Haven't Been Achieved
With our pricing model, you don't pay until your website performs. WebFX's pay-for-performance pricing model consists of an initial optimization investment, but beyond that, there is no charge for you until you reach first page results. Our pay-for-performance SEO services agreements are for 14 months (including a 2 month initial campaign and 12 months in PFP agreement). The 12 month engagement begins when we achieve a first page placement for your keywords.
This revolutionary business model gives customers peace of mind impossible to find elsewhere. If you work with WebFX on PFP SEO, you don't pay a penny if we don't deliver results. Our Pay-for-Performance plans offer guaranteed results for a fair price.
Optimize your website simultaneously
Are you looking to rank for several terms with the same theme? WebFX is glad to offer a discount for multiple keywords with the same theme. Or perhaps you're looking for a large keyword silo of terms. We offer discounts for this, too. Using a pay-for-performance SEO model, WebFX will build up the authority and power of your website, as well as add relevant content. If all terms are essentially the same theme, your website should have no problem being viewed as relevant for the variations in keywords.
With pay-for-performance, you pay us for exact match searches. But when your site is relevant for the targeted keyword, also referred to as the "fat head" in the chart on the right, your website may be more relevant for other searches as well. You are likely to see positive rankings and a significant amount of traffic from the "chunky middle," the long-tail searches, and other stemmed keyword variations.
As we previously mentioned, long-tail keywords account for roughly 70% of all searches. It's for this reason that being relevant for broad match is so important. If you're relevant for exact terms, you are more relevant for broader terms as well. We don't charge you for first page rankings on search queries that are not an exact match. This means that when you begin to see rankings for long-tail and "chunky middle" searches, you are essentially getting free traffic.
Experience in Every Industry
We've driven results in hundreds of unique and challenging industries.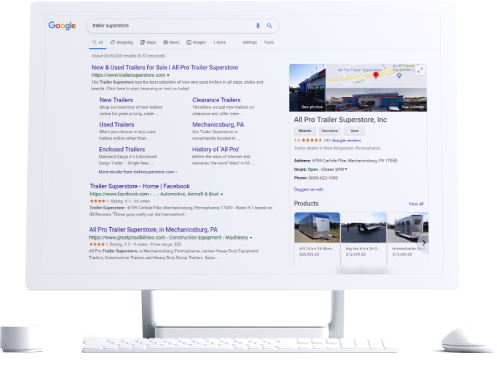 Advantages of pay-for-performance SEO:
Only pay for keywords most valuable to your business
Free traffic through Bing and other search engines
Free 'chunky middle' and 'long tail' terms
Free stemmed keyword variations
Clear-cut ROI
True partnership relationship
Provides opportunity to break AdWords and other pay-per-click addictions
Positioning reports run weekly
Our performance SEO services are not for everyone. In order to receive a return on your investment, it is important to know the value of the keywords you wish to target. WebFX will completely assess your website in advance to ensure first page results are feasible for your website and specified keywords. This way, you'll have the peace of mind knowing that your return will be worth the initial investment.
Proven results from WebFX
We have proven results for our customers who work with us on a SEO strategy. Our pay-for-performance and other SEO services give business owners a way to invest directly in their organic search results, and WebFX customers are consistently happy with the results we deliver.
To read and hear feedback from actual customers, visit our Testimonials page.