PPC Consulting Services for SMBs
If you're investing in pay-per-click (PPC) advertising, you want the best. That's why businesses choose and trust WebFX for PPC consulting. Our consulting services include custom strategies for Google Ads, remarketing, and Microsoft Advertising. Plus, you maintain complete ownership of your PPC accounts. Start working with one of the industry's top PPC consultants (and Google Premier Partners) today to drive better results from your PPC campaigns across Google, Bing, and more.
We've generated over
2,416,945,839
in client revenue
We've generated
6,271,747
leads for our clients
Google Partner with
FIVE
agency specializations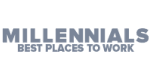 Explore PPC consulting plans
$0 - $12,000/month ad spend (paid to networks)
Up to 2,000 keywords targeted
Google Ads & Bing Networks
Strategic bid management
Tracking for 100 web lead phone calls
Transcription for 25 web lead phone calls
$12,001 - $50,000+/month ad spend (paid to networks)
Up to 10,000 keywords targeted
Google Ads & Bing Networks, plus Google Shopping
Up to 2 personal consultations
Fraud activity monitoring
Rule-based bidding management
$50,001+/monthly ad spend (paid to networks)
Up to 10,000 keywords targeted
Landing page template setup
MarketingCloudFX lead tracking
Banner ad design
Website conversion analysis reporting
Get started with a PPC consulting service package
At WebFX, we provide a turnkey approach to PPC, making it easy and hassle-free for your company to advertise across Google, Bing, and more.
Choose between three PPC consulting service tiers:
Basic
Aggressive
Market Leader
Learn more about what our packages include below! Or contact us online and let our experienced strategists answer your questions and provide you with a free, no-obligation proposal!
Are you ready to start PPC consulting? Contact us online to chat with an experienced strategist from our team about how PPC can help your company grow.
We get it — sometimes you want to speak straight to the source. To speak with a Digital Marketing Specialist about our marketing services, feel free to give us a call at:
888-601-5359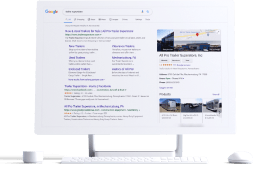 PPC Consulting Service Pricing
Features
Aggressive
Market Leader
Enterprise
Monthly PPC spend with PPC networks
$0 - $12,000/month ad spend (paid to networks)
$12,001 - $50,000+/month ad spend (paid to networks)
$50,001+/monthly ad spend (paid to networks)
Keywords in campaign
Up to 2,000
Up to 10,000
Up to 10,000
Google PPC Network
Bing PPC Networks
Google Text Ad Remarketing & Banner Remarketing (if banner ads are included, provided by the client, or creative banner design is paid for)
Google Display Network
Google In-Store Visit Reporting
Google customer match & audience match
Gmail Competitor Ads
MarketingCloudFX competitor intelligence
Initial campaign development & strategy
Advanced keyword research and selection
Industry analysis
Ad campaign copywriting
Ad copy performance testing
Ongoing keyword development and tweaking
Dynamic keyword insertion into ads
Google analytics integration & goal tracking
Results analysis/reporting
Strategic bid management
PPC account settings monitoring (Ex. Geotargeting)
Campaigns will be managed through client's Google Ads account (client will retain Admin/owner access of all campaigns created)
Single account representative
Up to two personal consultations per month
Up to 100 web lead phone calls tracked per month (Included for all WebFX clients)
Up to 25 web lead phone calls transcribed per month (Included for all WebFX clients)
Monitoring clicks, conversions and click fraud activity
Setup and management of rule based bidding
International PPC campaign management (English only campaigns)
Setup of 1 Unbounce Landing Page template (optional)
Website conversion analysis reporting
Initial banner ad design for display & remarketing
Add $900
1 set included
1 set included
Quarterly banner ad design for display & remarketing (a total of 4 banner ad sets a year)
Add $300
Add $225 a month (since 1 set is included each year)
Add $225 a month (since 1 set is included each year)
Website conversion analysis implementation
By Quote
By Quote
Social Media PPC Advertising
By Quote
By Quote
By Quote
Landing page performance testing
By Quote
By Quote
Monthly performance & analysis reporting
200+ SMEs behind campaign driving results
MarketingCloudFX Lead Tracking
Google Shopping Management
Included
Included
International Campaigns (Non-English) - Each additional language monthly management cost:
$275
$275
$275
Weekly Data Calls: Review campaign changes every 7 days
$400/month
$400/month
$400/month
Translation Services:
By Quote
By Quote
By Quote
One time setup
$750 + 1 Months Management Fee
$700 + 1 Months Management Fee
1 Months Management Fee
Progressive monthly management cost:
$450 or 15%, whichever is higher
12% of ad spend
12% of ad spend
GET STARTED
GET STARTED
GET STARTED

Budget over $50k/mo? Check out our enterprise campaign management offerings for campaigns from $50k-$2m/mo in ad spend.
What do PPC consulting services include?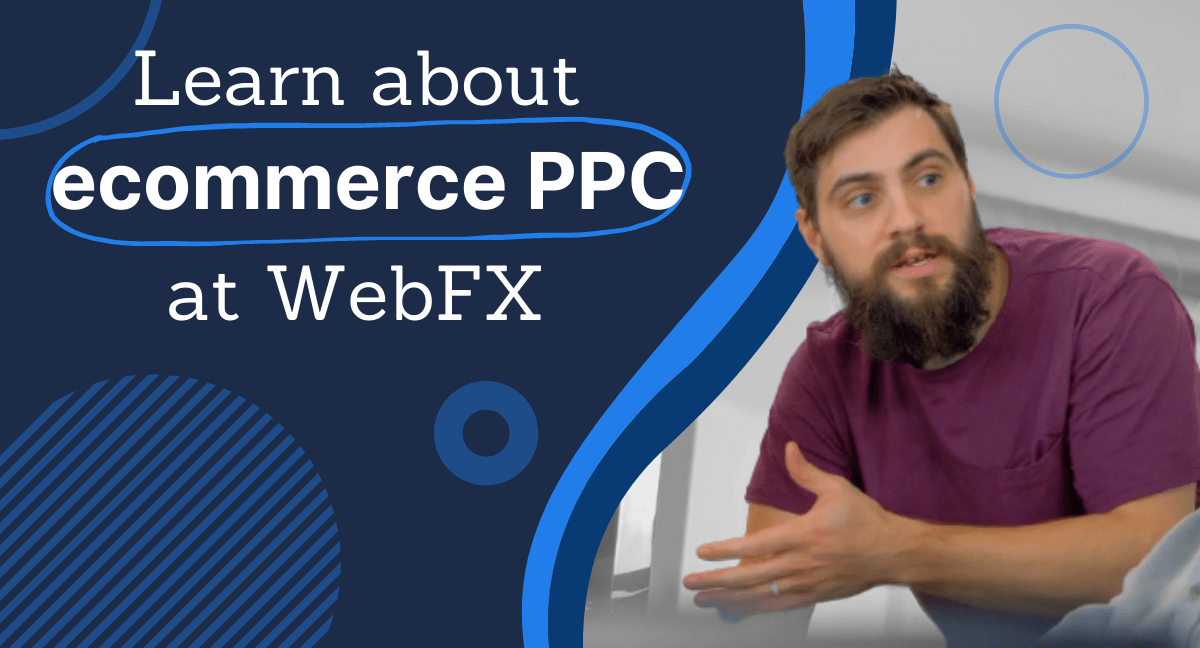 At WebFX, we take a different approach to PPC consulting. While others may adopt a copy-and-paste approach to paid advertising, we personalize your strategy to your business. Plus, we use some innovative (and proprietary) tech to take your campaign above the competition.
Get additional details about our pay-per-click consulting services:
In-depth business analysis
When you partner with WebFX, you receive a dedicated paid search consultant. They take an in-depth look at your current PPC strategy, as well as your goals and aspirations for future PPC campaigns. Your consultant also researches your business, industry, competitors, and products or services.
Your dedicated PPC consultant provides you with a consistent point-of-contact too. You don't get shuffled between consultants, which forces you to reexplain your business and goals. Not to mention, having a trustworthy PPC consultant saves your business time and money.
You also receive a personalized experience with WebFX, collaborating with a consultant that knows not only your business but also your name. This approach can have a tremendous — and positive — effect on your experience.
Google, Bing, and YouTube ads
With WebFX as your PPC marketing consultant, your business can advertise across some of the most popular channels for consumers today. Whether you're looking to promote your company and products on Google, Bing, or YouTube, it's possible with WebFX.
Your dedicated PPC consultant can also create a remarketing campaign for your business on Google. With a remarketing campaign, your company can target users that previously visited your website. This advertising tactic gives you another chance to convert those potential customers.
If you operate a brick-and-mortar store, our team can also track in-store visits generated by your ads. This feature provides immense insight into your campaign, plus demonstrates the usefulness of PPC to company leaders.
Strategic bid management
Even though your business sets aside a specific ad spend each month, our PPC consultants still work to make the most of your budget. That's why our PPC consulting services come with strategic bid management.
With strategic bid management, your consultant optimizes bids across your campaign. A competitive yet cost-effective bid can help your company earn more clicks and conversions from your ads. For your business, that results in a significant return on investment (ROI).
Ad copywriting and testing
For many companies, pay-per-click consulting saves your internal marketing team time. You don't have to worry about developing a campaign, writing ad copy, or optimizing your ads. Instead, your PPC consultant takes care of everything.

As a part of our consulting services, we include ad copywriting and copy testing.
Based on their in-depth research into your business, competitors, and products, your consultant develops compelling ad copy. Then, they test that copy, updating it to drive clicks and conversions.
Aggressive keyword targeting
When you partner with WebFX for PPC consulting, you receive an aggressive keyword targeting strategy. Our service packages can target as many as 10,000 keywords, allowing your business to reach your target market with success.
While your PPC consultant can target a massive number of keywords, they focus on keywords that offer the most value to your business. We dedicate our efforts to keywords, for example, that consistently drive sales, leads, and more. This approach helps your business get the most from your ad spend.
Monthly reporting
No matter which service tier you choose, your paid search consultant meets with you and your team via a phone or web conference every month to review your campaign's performance. For an additional monthly fee, your consultant can meet with your team on a weekly basis.
When you check-in with your consultant, they provide your business with a comprehensive report. They can also customize this report to your company's preferences, highlighting the data that your business and its decision-makers want to review.
You can also access, view, and share this report outside your meeting. This approach makes it fast, simple, and easy for your team to share campaign updates with company decision-makers, as well as review your advertising campaign's overall performance.
Advanced AI software
With WebFX, your business gains access to MarketingCloudFX. This advanced marketing suite, which we developed in-house, uses IBM Watson to provide data-backed recommendations for your advertising campaign.
For reference, IBM Watson is one of the most advanced artificial intelligence and machine learning applications available. With its design, IBM Watson can process and analyze billions of data points in a short amount of time.

The best part is that we feature years of data for analysis.
This data log allows your PPC consultant to analyze data specific to your industry, whether it's retail, manufacturing, software, or another sector. Other PPC consultants can't match this feature because they haven't invested in this kind of software.
Unmatched WOW Services
Net Promoter Score is the leading metric for customer satisfaction.
WebFX clients score 394% higher than the industry average.
comcast -9
industry average 16
apple 72
webfx 76
How much does PPC consulting cost?
We value complete transparency, which is why we publish our PPC consulting rates online. You can explore our prices online at any time. If you're looking to customize these plans, our experienced strategists can build a personalized package for your business.
View Our PPC Consulting Prices Now
If you have questions about our PPC consulting services, contact us online!
Bonus reading: 6 Common PPC Questions Answered
Why do businesses partner with WebFX?
For companies across the world, WebFX is a trusted partner and choice for PPC. Whether you're looking for PPC management services or search engine optimization (SEO) services, WebFX can provide what you need. That's why hundreds of businesses choose WebFX.
Learn more about the perks of being a WebFX client:
Experience
At WebFX, we have more than 20 years of experience in digital marketing, which includes PPC. Every day, we apply our decades of experience to hundreds of client campaigns, which span dozens of diverse industries.
Our extensive history demonstrates our ability to adapt to industry changes. We invest the time to stay up to date on the latest trends and standards. In comparison, many other PPC marketing consultants fail to grow with the industry, which doesn't help your business succeed at PPC.
With WebFX as your partner, you know that you're receiving the best service and strategy.
Personalization
If your company wants a positive and impactful experience, then you need a PPC consultant that tailors their approach to your business. For example, our PPC consultants consider your experience level, goals, industry, and more to build an easy-to-understand, yet competitive strategy for your business.
When you partner with our team, you feel like a person and not a number too. This level of personalization can have a tremendous impact on your experience. You feel comfortable with your consultant, which encourages your team to ask questions and expand your knowledge of PPC.
In comparison, other PPC consulting services can leave you feeling frustrated. Your consultant doesn't remember key details about your business, doesn't follow-up on questions or calls, and doesn't cover essential PPC aspects to ensure your team understands their strategy and recommendations.
With WebFX, you can expect a seamless and personalized experience with zero frustrations.
Excellence
At WebFX, we measure our success by your success. We want your business to succeed, which is why we serve as a direct partner to your team. It's also why our paid search consultants invest a significant amount of time researching your business, goods, industries, and competitors.
In response to our team's dedication, we've received more than 50 awards for our work. We've also earned recognition from top review firms like UpCity, Clutch, and The Manifest. These firms research marketing companies, like WebFX, by speaking to clients directly about their experiences.

On Clutch, for example, WebFX features more than 100 reviews from clients, resulting in an overall rating of 4.9. In their feedback, clients not only emphasize our quick communication but also our impressive results for these clients' campaigns.
As a full-service digital marketing agency, our reviews cover more than our PPC consulting services.
Satisfaction
At WebFX, your satisfaction matters to us. We want your business and your team to have a satisfying client experience, as well as stellar campaign results. That's why we focus on personalized experiences, in-depth client research, and more.
The commitment of our team is why we maintain an unparalleled client recommendation score. We base our client recommendation score on the Net Promoter Score (NPS), which measures a client's likelihood to recommend our team and services to a friend or colleague.
Our score is 488 percent higher than the industry average.
This massive gap demonstrates the distinct difference between everyday PPC consultants and WebFX PPC consultants. It also makes the decision of businesses easy. WebFX can deliver on your advertising needs.
Results
For your marketing efforts to earn support from company decision-makers, you need to show the worth of PPC. That's easy with WebFX. We measure our success by yours, which is why we track the performance of our clients' campaigns.
As an example, in the past five years, we've helped our clients earn:
More than 2,416,945,839 in revenue
More than 6,271,747 leads
More than 4.2 million phone calls
More than 11.6 million transactions
The results of our clients demonstrate the expertise and skill set we bring to PPC consulting.
Time To Level Up Your Sales
Our long list of services help you make waves in your industry and increase metrics that matter most - like sales.

Google Premier Partner
As a Google Premier Partner, you can trust WebFX to provide your team with a top-notch pay-per-click consulting experience. A Google Premier Partner, for background, is a certification awarded to agencies that pass exams designed and delivered by Google.

In short, a Google Premier Partner serves as an endorsement from Google. It demonstrates the expertise of an agency when it comes to Google Ads. The Google Partner program also requires applicants to deliver strong client and company growth.
If you want the best results from your consulting experience, it's essential to choose a Google Premier Partner. They offer the expertise and the results that your company wants when investing in PPC consulting.
Are PPC consulting services right for your business?
A common question that comes with any consulting service is, "Are consulting services right for our business?" For your team, it's essential to answer this question. You want to invest your budget wisely, as well as get the most value from your investment.
Discover if PPC consulting is right for your business by considering the following questions:
Do you have a limited amount of resources for advertising?
Whether your company lacks the software, time, or talent for PPC, you can benefit from PPC consulting. With PPC consulting, you eliminate the responsibility that comes with in-house management. Instead, you benefit from the expertise, resources, and talent of a trusted PPC consultant.
Is your marketing team's schedule already packed?
In some cases, your internal marketing team may have a background in PPC. Their current responsibilities, however, prevent them from developing, launching, and managing a campaign. This situation forces your business to abandon a lucrative marketing opportunity.
With PPC consulting, your company can take full advantage of PPC without overburdening your in-house team. Plus, you eliminate the time- and resource-intensive process that would come with hiring another full-time team member.
Does your business have minimal PPC knowledge?
It's common for marketing teams to know about PPC, but not know how to use it. Coupled with their other responsibilities, it's also difficult for your team to expand their knowledge. A PPC consultant can help your company overcome this challenge.
They can do the research, develop the strategy, and launch your campaign. In monthly check-ins, your team can ask questions and gain some background knowledge in PPC. At WebFX, our PPC consultants are always happy to answer your questions and encourage your curiosity.
Are you competing in a tough industry?
Depending on your industry, your business may have a difficult time with PPC. If you want to improve your campaign results, you need to adjust your strategy. That's where the expertise of a PPC consultant becomes valuable.
They can help your business discover new opportunities, as well as leverage MarketingCloudFX to uncover competitor weaknesses. Plus, with strategic bid management, they ensure your company gets the most from your monthly ad spend.
Do your PPC campaigns often underdeliver?
If your company continues to launch campaigns that flop, it's worth considering PPC consulting. They can help your team discover why campaigns continue to underperform, whether due to a weak strategy, low bid, or another reason.

Think your business could benefit from PPC consulting? Contact us online today!
FAQs about PPC consulting
Do you have additional questions about PPC consulting? Browse our FAQ for more information!
1. Do PPC consultants use my existing Google Ads account?
Yes — if your company already has a Google Ads account, your consultant will use that account. A suggestion to create a separate account can often suggest a lack of experience. Before you hire a consultant, ask them about their policies.
2. Do PPC consultants own my company's Google Ads account?
A PPC consultant does not own your company's Google Ads account. While they will require your login information to access your account and modify your campaigns, they do not have ownership of your Google Ads account.
Since you do provide your consultant with your login information, however, it's critical to research consultants in-depth. You want to partner with a trusted PPC marketing consultant with a positive track record. Don't accept anything less.
3. Do PPC consulting services require a contract?
This answer depends on your PPC consultant.
If you're working with an hourly PPC consultant, they often require your company to commit to a specific number of hours. For example, you may need to sign-up for at least six hours of consulting work to hire that consultant.
Agencies that offer PPC consulting services may also have a contract. For instance, you may need to commit to at least six months of service. Other companies, however, may operate on a month-to-month basis.
Before you sign with an agency, ask them if they require a contract.
4. How much does PPC consulting cost?
The cost of PPC consultants varies. If you partner with an hourly consultant, an average rate ranges from $10 to $500 per hour. For monthly PPC services, small-to-midsized businesses spend around $9000 to $10,000 per month.
Like many businesses, your team may feel pressure to choose a "cheap" PPC consultant. While your company may save money up-front, the cost of cheap PPC services comes with long-term effects that can impact not only your organization but also your future marketing budget.
As an example, your team may receive poor service that causes your campaign to underperform even more. Or, you may not even get your promised consultation hours or services. This scenario forces your business to reevaluate your strategy, hire another consultant, or abandon PPC altogether.
Get the best results from your consulting experience by looking at it as an investment. You want actionable recommendations and results-driven strategies that improve the performance of current and future campaigns. Work with the best PPC consultants in the industry to make that happen.
5. Where can you advertise with PPC consulting services?
Your business can advertise on multiple channels with PPC. In some cases, however, your agency may focus on specific platforms due to the popularity and use of those networks by users. As an example, an agency may specialize in advertising on Bing.

As a full-service PPC advertising company, WebFX can launch PPC campaigns across multiple networks, including Bing, Google, and YouTube. With a team of more than 200 digital marketing specialists, we also feature PPC consultants that specialize in advertising on these platforms.
For the best results, partner with PPC consultants that can grow with your company. While you may want to advertise on only one channel now, that may change in a few months. Work with an agency that can scale with your business.
Check out our complete PPC FAQ to learn more about pay-per-click advertising!
Get more revenue from your PPC campaign
Whether you're looking to earn more sales or leads, WebFX can help your business achieve its goals. With our comprehensive PPC consulting services, plus talented PPC consultants, we provide you with the tools and knowledge to succeed at PPC.
Learn more about our management services for PPC by contacting us online today!
Need help now? Call us at 888-601-5359 to chat with an experienced strategist.
We have offices around the United States from New York to Florida. We can't wait to help you wherever you are!