Why Does UX Matter for Ecommerce?
Your customers buy from you because they want the products, services, and benefits that only you can provide.
But if you want to sell online, you can't just rely on your products to sell themselves. You need to provide a good user experience (UX) that makes it easy for people to buy and encourages them to buy often.
UX is critical to ecommerce because it ensures your customers can easily navigate your website, find what they need, buy it, and move on. And when you make it easy for people to buy from you, they'll buy more frequently. That's why you have to make sure you company offers the best UX possible. You can contact us online or call 888-601-5359 today to learn more from one of our 500+ experts!
On this page, we'll dive into some of the most important parts of ecommerce UX so you can make sure your online store is designed to sell.
What are the elements of good UX for ecommerce?
Implementing a good UX on your site requires a lot of thought, work, and testing. Generally, these are the three major qualities that you need your site to have to provide a good UX.
We don't want to tell you about the work we do, we want to SHOW you.
View Our Portfolio

We've built over
Websites
in a variety of industries.
Simple navigation
When someone wants to buy from your site, they should be able to find it in no time. To help them do that, your site should have a logical organization that includes categories and products. The categories are general catch-all names for multiple products that help your customers narrow their search.
So if you sell all kinds of shoes, you might have some categories called "running shoes," "dress shoes," or "casual shoes." Depending on the size of your inventory, you could also have subcategories under those for "men's running shoes," "heels," or "high tops," respectively.
That kind of categorization means a customer can click a few links on your site to find what they want in a matter of seconds. And once they find it, they can move to the next important step.
Quick transactions
Since finding the product was so easy, your purchasing system should be easy, too. Ideally, it's possible to have a one- or two-click checkout.
But that's not possible for every ecommerce site. Instead, you can focus on having as few clicks as possible by only asking for essential information. That includes getting the customer's name, shipping address, billing address, and purchasing information.
Just like that, a customer only has to go through four pages to buy what they want. And it helps a lot when each page can load quickly, since slow-loading pages can frustrate users and turn them away.
Easy communication
The language you use on your site is critical to successful sales. You should write simply and clearly so that anyone reading could understand where they can find what they want and how they can buy it. The easier your site is to understand, the better UX you'll provide to all of your site's visitors.
Partner with a team of ecommerce masters!
WebFX campaigns have delivered more than 12,936,451 ecommerce transactions in the last 5 years
Read the Case Studies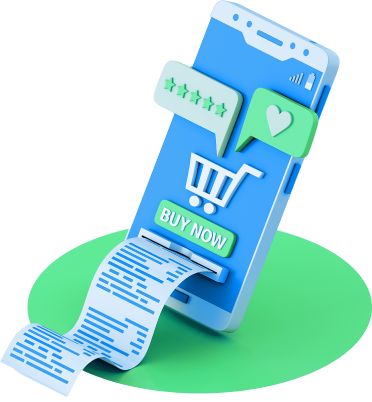 What can businesses do to ensure a good UX?
The best ways to provide a good UX on your site are to use some basic strategies. These are all common ways you can make sure your users enjoy their time on your site.
Creative 404 pages
404 pages aren't fun for users. They almost always mean that the page someone wanted doesn't exist anymore.
To keep users from getting frustrated with a 404, you can come up with a fun, creative way to tell users that their page isn't available.
Google famously uses a sketched robot, and other sites use fun graphics like a stick figure tripping down the stairs or a graphic of someone looking confused. Regardless of what you pick, make it light-hearted, unique, and fun.
You can also add a few links below your graphic to suggest similar pages to the one that someone was trying to reach. That way, the user stays on your site instead of closing their browser.
Writing short paragraphs
This is an old law of journalism writing, and it's true for the Internet, too.
Short paragraphs are easier to read than long ones, and people are more likely to read short paragraphs.
The reason is that long paragraphs make users feel overwhelmed, like they have to do homework. And that's the last feeling you want to convey on your website.
Instead, provide a good UX by writing crisp, concise paragraphs that encourage users to read every word of your page.
Using calls to action
Last, each page on your site should have a call to action that tells the user what they should do next.
Most importantly, that means telling users how they can get one step closer to becoming a paying customer.
Whether that means linking to your category pages, specific product pages, or just including a button that says "Buy now!" is up to you. All of them are smart ways to encourage new customers.

The best part about a call to action is that it's proven to drive results. There's a lot of psychology concerning calls to action, and you can use all that information to help your ecommerce company grow.
WebFX specializes in ecommerce UX
At WebFX, we have a full team of ecommerce specialists who know how to create an unbeatable UX for your site. From overall design to intuitive features, we'll help your company move more product and earn more revenue simply by improving your website.
Request a free proposal or call us at 888-601-5359 today to create a UX strategy for your ecommerce business!