As a jeweler, your goal is to increase the number of customers who buy from you, and perhaps to cultivate a long-term relationship in which they make multiple purchases from your store. Whether you are a local jeweler or based solely online, you're always looking for ways to encourage new customers to make a purchase from you.
One way that you can increase the popularity of your jewelry store or ecommerce website is through a method known as content marketing. Let's explore what content marketing is, why content marketing for jewelers is so effective, and three reasons you should try it for yourself.
Keep reading and give us a call at 888-601-5359 to learn more about how your jewelry business can use content marketing.
What is content marketing?
Content marketing is essentially what the name says it is: a method of marketing to your customers with content. Typically, content marketing involves the creation of unique content on a website or blog with the end goal of attracting more leads or customers to a business.
The content in a content marketing can take many forms. It may range from simple blog posts to lengthy, detailed articles to infographics. Content marketing also includes items like ebooks or whitepapers, as well as brand videos and graphics.
The end goal of a content marketing program is to move a potential customer or lead further through your sales funnel, to the point that they are ready to convert. Content is often the first introduction someone has to your business, and it may take them a long time to become a customer after absorbing that content. However, with content marketing, you have a better chance at reaching them in the first place, and can create a stronger relationship with your customers because of it.

Hear What It's Like to Work With WebFX!

"Our WebFX team was on top of everything. Best part is our lead contact felt like she was part of our company. She learned everything about our business so quickly and was able to be very efficient with our brand. Reacting to what we needed or wanted to change, making us feel so comfortable the whole way!"
Retail
Why does content marketing for jewelry stores work?
Many brands and businesses have found that content marketing is extremely effective for them. Why? There may be several explanations for this. But one of the biggest reasons businesses have come to rely on content marketing is that it has a very high ROI, due to its low cost. Since content can be produced by existing employees and placed on an existing website, the investment required is often minimal.
Content marketing also gives businesses a way to connect with customers on a level deeper than traditional sales pitches or advertising. Consider this: if you're having trouble with an appliance, you may go online to research the issue. If a local business offers you multiple tips and solutions you can use to try to fix the problem, wouldn't you be more likely to give them a call when you find out you need a new appliance?
93% of WebFX customers are extremely satisfied with their digital marketing results.
"Working with WebFX, everything is very organized and strategic. We're only a year into our partnership, and our expectations have definitely been met."
View More Client Testimonials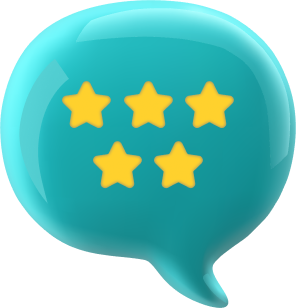 3 reasons jewelry stores should use content marketing
Now that you have a basic understand of how content marketing works, let's talk about why you, as a jeweler, might want to use this strategy as part of your overall marketing plan. These three reasons will hopefully convince you to give content marketing a try sometime soon!
1. Substantial content has a ranking advantage
Where does your website rank in search engine results for the words and phrases you closely associate with your business? Would you like to improve its ranking? If so, one of the biggest benefits of content marketing is that it has a strong correlation with stronger visibility in searches.
One study showed that the closer a page got to the top 10 of Google search results, the more words it typically contained: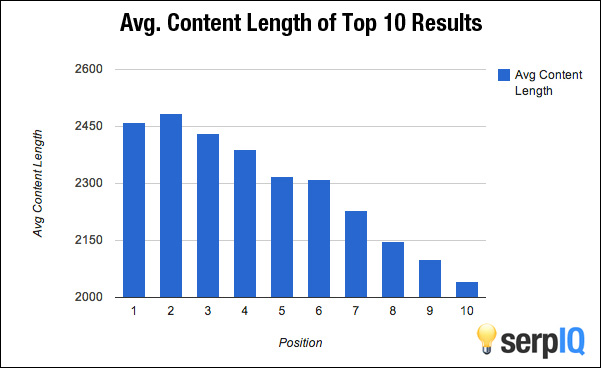 Does this mean that you should write thousands of words for each and every page of your website? No, definitely not. However, it does mean that for some searches—typically long-tail searches, or the search engine queries that consist of 4+ words—you have a better chance at showing up as a top search result if you write in-depth, informative, and substantial content.
For example, let's say you operate a jewelry store in New York City. Someone might do a search for "diamond ring New York City" (or an even longer, more targeted phrase). You could cross your fingers and hope to show up as a result for this search… or because you know this customer is looking for diamond rings in your area, you could write a page about this topic to meet their needs and keep them on your site for longer.
For this query, you could write a substantial page on any one of these topics:
How to find a reliable seller of diamond rings in New York City
How to choose the right diamond ring
Why ring shopping in New York City is difficult, or easy, or convenient… you get the idea
Where you can find the best diamond rings in New York City
With a little brainstorming, even local searches like this one can provide you with great topics with which to create your content, giving you a perfect chance to rank ahead of your competitors.
2. Sharing your knowledge establishes you as an authority
So far, you may be reading these ideas and thinking, "does this mean I need to give away my knowledge for free? Do I really need to do that?"
Much of content marketing revolves around education as opposed to sales pitches and in-your-face calls to action. This is because consumers who have grown tired of being advertised to are far more likely to feel gratitude when they come across the exact answer they want online. And this gratitude can translate into appreciation of your business… which can then translate into sales.
Positioning yourself as an authority on jewelry by sharing your knowledge can help drive even more customers to your store or ecommerce website. After all, if you can show that you know what you're talking about—that you're trustworthy—a consumer may be more likely to make a purchase with you as opposed to a brand or business they have absolutely no exposure to.
To give you an example, let's say you write a piece of content about how to inexpensively clean your wedding bands—probably a common query. If you can provide the answers that searchers are looking for, they'll look favorably on you. Additionally, if your content is really good, it may be linked from other sites, which not only makes you look authoritative, but also helps improve your website's search engine rankings.
3. Your visitors will be delighted
Content marketing for jewelers can certainly help improve your search engine rankings and increase your authority. But there's one other benefit that goes beyond these two, and one other reason you should use a content marketing program: delight.
Think about the last example we gave again. Let's say you provide a secret tip for getting a woman's wedding ring sparkling by using nothing more than typical household supplies. You may be on the receiving end of many grateful comments and emails as a result of this simple tip! And as you probably already know, someone who has a positive experience with you is more likely to make a purchase.
Happy content consumers are also very much like happy customers: they can't wait to tell other people about what they've found. It's not uncommon to see great pieces of content passed around on social media, or linked to over and over again, if they're an amazing resource. This kind of delight can then lead to even more customers who are exposed to your business through a link or social media share.
Time to Level Up Your Sales
Our long list of services helps you grow every aspect of your business with marketing strategies that are proven to increase bottom-line metrics like revenue and conversions.
In the past 5 years, we've managed more than 12.9 MILLION transactions across our client base.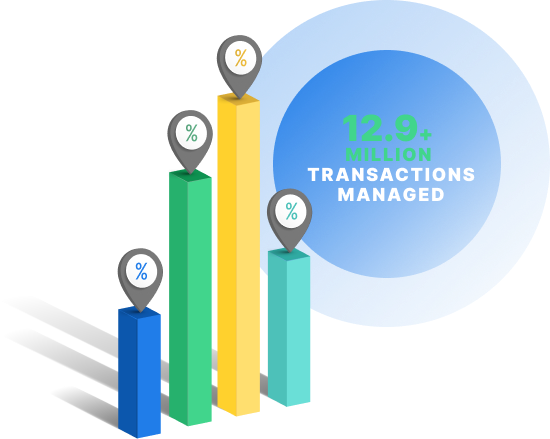 5 content marketing tips for jewelers
Now that you've learned the three reasons that you should try content marketing for your jewelry business, let's go over some important tips you should keep in mind if you start producing content:
The first thing on your mind may be making a sale, but for customers who rely on your content to solve a problem or teach them something, a strong call to action is the last thing they want to see. Try to keep CTAs or strong suggestions that a visitor should buy from you saved until the very end of the page.
Spelling, grammar, and readability are all extremely important. If you don't have faith in your writing skills, look into hiring a freelancer or a content marketing company to help you out.
Always try to write about content directly related to your jewelry business. Irrelevant content might rank well, but it won't help you acquire any customers. Someone looking to answer the question "how do I plant pumpkins?" probably won't be interested in buying a ring!
Stumped for content ideas? Try writing answers to your customer questions and putting them online. This is one of the easiest ways to get content ideas, and also one of the most beneficial, since you know the content is based on real questions!
Never copy content from another website, unless it's a manufacturer's product description. While duplicate content can't exactly hurt you, it also can't help you, especially if hundreds of others are using the same paragraph. Try creating your own content for a better chance at success.
Produce jewelry content that drives purchases with WebFX
Now that you're aware of the power of content marketing, you may be ready to try it for yourself. But if you don't have the time to create compelling content for your website, or don't have faith in your writing skills, you may be wondering where to turn for help. Why not let the content marketing experts at WebFX step in?
As a leading full-service marketing agency, content marketing is just one of our many specialties. We can put our expert copywriters and strategists to work on creating a content strategy for your website and producing the pages, articles, and blog posts you need to execute. We can also incorporate our leading SEO strategies and beautiful website designs with your content, giving you an even better chance at outranking your competitors.
To find out how we can help you attract more customers online with captivating content, simply contact us online or give us a call. We'll be happy to put together a custom quote for your business needs.
Earn a 20% greater ROI with WebFX