So, you have a great idea for an ecommerce business, you've figured out your business plan, and you're working on your website. There's a lot that goes into preparing an ecommerce website launch, so how do you know when yours is ready? Going through this ecommerce checklist (and watching our video) can help.
It covers the essential things you need to do to create an ecommerce website.
Want expert assistance to help you cross items off your ecommerce website checklist? We offer results-driven ecommerce website development and ecommerce marketing services. Contact us to learn more!
Partner with a team of ecommerce masters!
WebFX campaigns have delivered more than 12,936,451 ecommerce transactions in the last 5 years

Read the Case Studies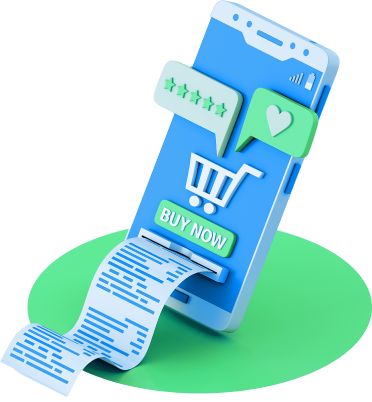 1. Choose an ecommerce platform
Today, you have lots of options when it comes to ecommerce platforms. While you can build an ecommerce site from scratch, ecommerce platforms offer lots of features that make creating and managing your site much easier. With ecommerce platforms, you can use templates to quickly create a website that already has ecommerce functionality built in.
You can customize the templates to fit your branding and use extensions to add functionality such as contact forms and currency converters. Some top ecommerce platform options include:
Bonus Reading: Is Amazon or Shopify Better?
2. Select a domain name
You'll also need a domain name — your website's name and what users type into the address bar to get to your website. Choose a domain name that's short, memorable, and relevant to your brand. You can purchase a domain through many ecommerce platforms as well as other domain registrars such as:
3. Choose a web hosting provider
You'll also need to choose a web hosting provider who will provide space on a server to store your website's files. Like with a domain name, you might be able to purchase web hosting through your ecommerce platform or another web hosting provider, many of which are also domain registrars. Some of the best web hosting providers include:
4. Ensure your site is secure
Security is essential for any website, but it's especially important for ecommerce sites since people enter their payment information. You'll want to purchase a Secure Sockets Layer (SSL) certificate and add an address verification system (AVS) and credit card verification value (CVV) to your checkout process. For more details, take a look at our site security checklist.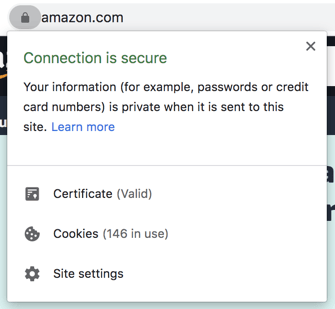 5. Add a content management system to your e-commerce site
You'll also likely want to add a content management system, or CMS, to your online store checklist. A CMS is a tool for creating, editing, and publishing website content. Most ecommerce platforms include this functionality.
If you built your website without an ecommerce platform, though, consider adding a CMS.
6. Set up payment processing for your online store
Check your payment process carefully before launching your site to ensure that customers can complete their purchases and that you get paid. You'll want to choose a reliable online payment system and make sure popular payment options, such as PayPal, are available to customers.
7. Create a terms of use document
One of the most important ecommerce website requirements is a professional, well-written terms of use document that customers can easily find on your website. This document describes the rules for using your ecommerce store and is essential for protecting you legally.
8. Write a privacy policy for your store
Another essential legal document to have on your website is your privacy policy. This policy helps establish trust with your users and protect you legally. Some third parties also require you to have a privacy policy before they work with you.
Make sure customers can easily find this document on your website.
9. Add a return policy to your ecommerce site
In addition to your privacy policy, it's also crucial to have a return policy on your site, which describes the rules and procedures for returning purchases. A customer-friendly return policy can help encourage customers to make purchases since they know it's easy to return an item that doesn't fit their needs. You can typically find documents such as terms of use, privacy policies, and return policies in the footer of ecommerce websites, such as in this example from Walmart's website.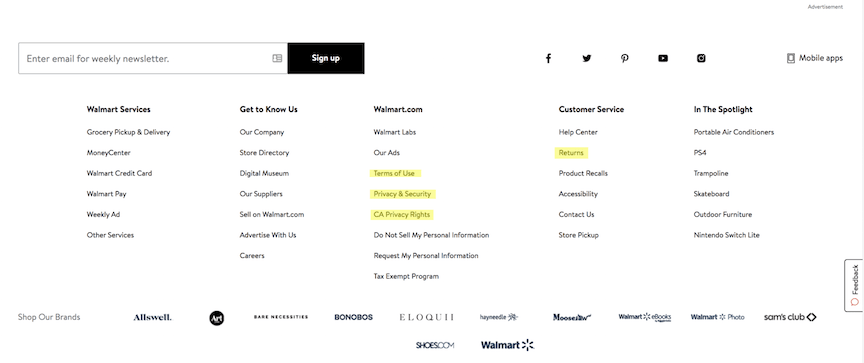 10. Ensure your site is PCI compliant
You'll also want to ensure your website is compliant with the Payment Card Industry Data Security Standard (PCI DSS). Major credit card companies require that organizations that accept their cards adhere to this standard, which aims to secure and protect credit card data. Your ecommerce platform may provide everything you need to be PCI compliant.
Make sure your site meets these ecommerce website requirements since if you're non-compliant, you may not be able to accept some credit cards and could face fines if a data breach occurs.
11. Obtain a business license
Another legal aspect to take care of is your business license. The rules and processes for obtaining a business license differ based on your location and the types of products you sell, so check your local and state laws. You'll need a federal license or permit if a federal agency regulates your business activities.
12. Optimize your online checkout process
Your checkout process is a crucial consideration when designing your ecommerce website. The process should be as user-friendly as possible to reduce cart abandonment. Make sure users can easily add products to their cart and get the information they need, such as shipping details.
Also, minimize the amount of information customers need to input.
13. Set up inventory management software
Controlling inventory is essential for ecommerce success, as it prevents you from overspending on inventory and missing out on sales due to low stock. Some ecommerce platforms offer features that help you manage your inventory. Shopify, for example, provides an inventory management solution called Stocky.
You can also use independent inventory management software such as Sellercloud, Katana, and ecomdash.
14. Ensure your site's design is consistent and professional
Your website needs to look professional to give your visitors a good impression of your business. Make sure your website has a consistent style throughout that speaks to your unique brand. This means using the same color palette, fonts, and design elements throughout your site.
Your ecommerce website's design should also be responsive, which enables it to appear and function correctly on various devices, including desktops, tablets, and mobile devices. Templates provided by your ecommerce platform can be a good start, but you can also work with a professional web design company that knows how to create an ecommerce website that drives results.
15. Add the essential pages to your website
Your ecommerce website should also contain at least these standard pages:
A homepage, which is often the first page people see
An about us page, which helps establish trust with potential customers
A contact page, which makes it easy for users to get in touch with you
Also, pay close attention to your product pages, as they play a vital role in your customer's purchase decisions.
Bonus Reading: Types of Ecommerce Websites
16. Optimize your site for search engines
As you design your website and write your copy, make sure you're keeping search engine optimization, or SEO, in mind. SEO is a broad set of strategies aimed at helping your website rank better in search results. You'll want to naturally integrate keywords for which you want to rank into your copy and ensure you have the necessary HTML tags on each page.
Choosing an SEO-friendly ecommerce platform can help with this. For more details on SEO, check out our ecommerce SEO audit checklist.
Bonus Reading: How to Optimize Your Shopify Store
17. Set up analytics tools
Before your ecommerce website launch, make sure you set up an analytics tool. Your ecommerce platform may come with built-in analytics, but you can also use a tool like Google Analytics. These tools are important for tracking your website's performance and learning more about your site's visitors.
Here's what the ecommerce overview report in Google Analytics looks like. In this report, you can get information about your transactions, conversion rate, marketing campaigns, and more.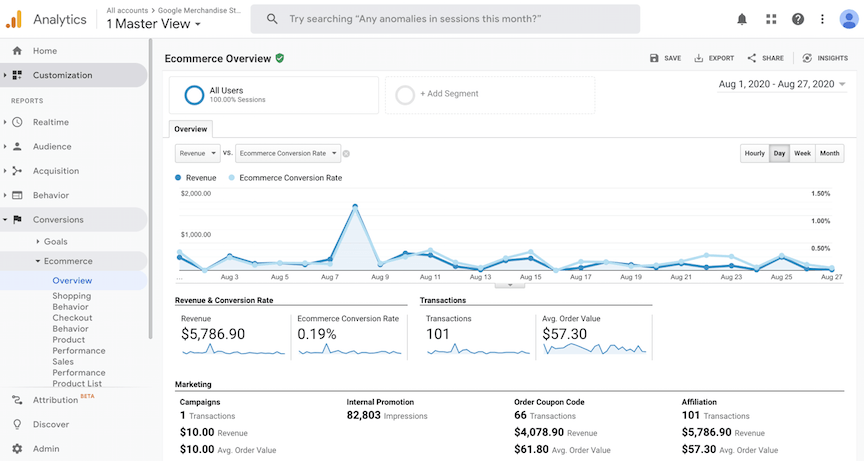 18. Configure email notifications
Email is a useful tool for following up with your customers, providing customer support, encouraging upsells and repeat purchases, and keeping your business top-of-mind. Sign up for email marketing software and set up some basic emails, such as:
Welcome emails
Order confirmations
Receipts
Shipping updates
19. Develop a marketing plan
Before you launch your website, have an online store marketing plan to support your launch and help grow your business moving forward. Your marketing plan can include a wide range of marketing channels, including:
Get expert ecommerce web design and marketing
There's a lot to consider when launching an ecommerce website, but this ecommerce checklist can help you make sure you have the essential items taken care of. If you want to maximize the success of your ecommerce store, consider working with an experienced ecommerce marketing company like WebFX. We provide expert ecommerce web design and digital marketing services that help you grow your business!
To get started with your custom website or Shopify digital marketing strategy, request your free quote today.
Get posts by email
Join 200,000 marketing managers and subscribe to Revenue Weekly!
"*" indicates required fields
WebFX Careers
Join our mission to provide industry-leading digital marketing services to businesses around the globe - all while building your personal knowledge and growing as an individual.