If you have an infinite supply of money to spend on marketing, you don't need to read this post. For everyone else, figuring out how to prioritize your marketing budget is an essential part of creating your marketing strategy. It also plays an integral role in helping you meet your business's goals. Which channels should you spend the most on?
Which audience should you target with your ad spend? Questions like these are key to getting the most bang for your marketing buck. In this post, we'll discuss how to prepare a marketing budget and go over marketing budget allocation best practices.
Keep reading to learn how to prioritize your marketing budget! If you want more marketing tips from our team of experts, join the more than 200,000marketers who subscribe to our email newsletters.
What is a marketing budget?
A marketing budget is a projection of how much you'll spend on marketing and a plan for how you will spend that money. Businesses often create quarterly or yearly marketing budgets. Your marketing budget should include all your costs related to promoting your company, products, and services.
What is included in a marketing budget?
Your marketing budget should include all your expenses related to promoting your business.
Some types of expenses to keep in mind include:
Software: Any software tools you use to manage your marketing strategy, create marketing content, distribute content, or track progress
Staff, freelancers, and marketing services: The cost of hiring and keeping employees, hiring freelancers, or working with a professional marketing agency
Advertising: Money spent on ad space on social media sites, search engine results pages (SERPs), and other websites
Content creation: Money spent on creating content, whether in-house or contracted out
Website maintenance: The costs associated with maintaining your website, including your domain name, Secure Sockets Layer (SSL) certificate, website hosting, updates, and tech support
How to prioritize your marketing budget
So, how should you prioritize your marketing budget? Below are some steps to follow and some marketing budget allocation best practices.
1. Define your business goals
An essential step in how to prepare a marketing budget is establishing goals for your marketing strategy. These goals should contribute to your overarching business objectives. To increase your goals' effectiveness, make them SMART goals.
SMART goals are:
Specific: Making your goals specific makes it clear what you're trying to achieve. Include specific metrics in your goals, such as website traffic, conversion rate, and cost per lead.
Measurable: You should also have a way to measure your goals so that you can track your progress and monitor your strategy's effectiveness.
Attainable: An unrealistic goal won't do your company much good, since you won't be able to achieve it. That's not to say you can't set difficult goals, but they should also be realistically attainable.
Relevant: Your goals should relate to your overall business objectives. Focus on metrics that contribute to those broader objectives, rather than vanity metrics.
Timely: Set a deadline for achieving your goals. Doing so will create a sense of accountability and help in measuring your progress.
Your goals will impact what is included in your marketing budget because they'll determine which channels you focus on with your spending. Different channels are better suited for accomplishing specific goals. For example, pay-per-click (PPC) ads are useful for converting leads who are close to making a purchase decision — 65% of high-intent searches lead to an ad click.
Educational-style blog posts are valuable for teaching top-of-the-funnel leads about your industry, products, or services.
2. Learn about your customers
Your marketing strategy should center around reaching the right prospects — those who are most likely to become customers. It follows, then, that when making your marketing budget, you should consider your customers. If you haven't already, you need to take some time to learn about your customers.
Create buyer personas — a semi-fictional profile of your ideal customers based on data about your existing customers. Include as much detail as you can in your buyer personas. List your ideal customers':
Demographic characteristics
Job titles
Company types
Motivations
Goals
Purchase habits
Typical online behavior
Purchase decision processes
Plus any other relevant details!
When it comes to marketing budgets, some of the most useful types of information are the channels customers use to find your company and how they make purchase decisions. Here's an example of a visual buyer persona: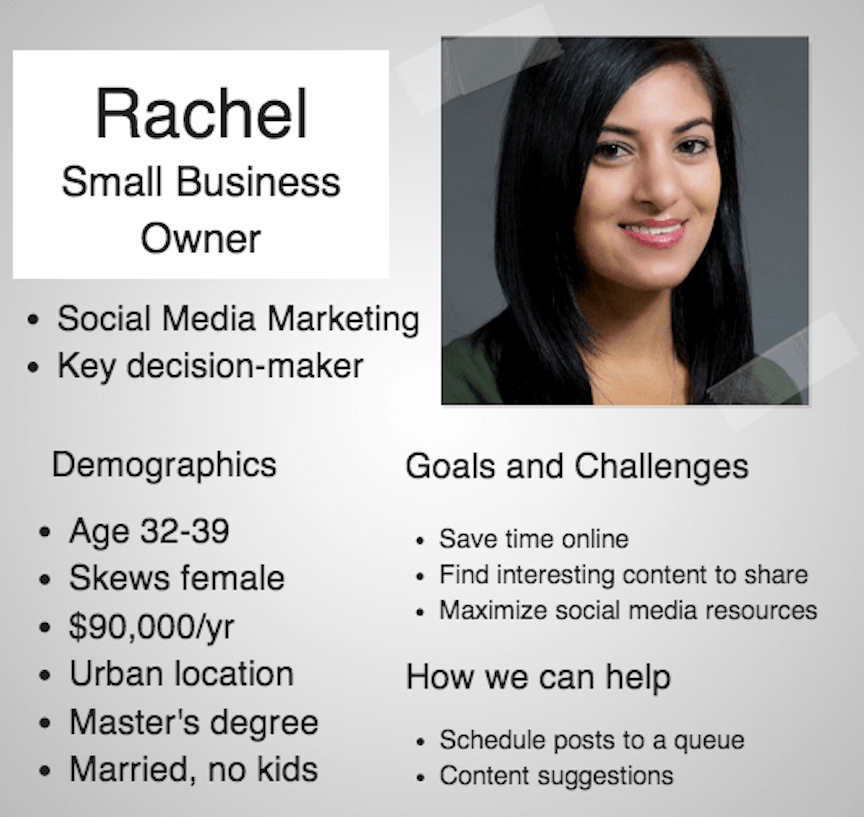 Where can you find information for your buyer personas? If you have a system for keeping track of customers and sales, such as a customer relationship management (CRM) system, it likely contains valuable customer details Tools such as Google Analytics can also provide information about who's visiting your website and clicking on your ads.
Another excellent method for collecting information about your customers is to ask them through surveys and conversations.
3. Analyze your competitors
Another valuable step in how to prepare a marketing budget is analyzing your competitors. In combination with learning about your customers, this will help you understand your market. Researching your competitors can give you ideas about which marketing methods are working in your industry and what you'll need to do to surpass the competition.
You might also identify opportunities your competitors aren't taking advantage of that you can use to get ahead of them. For example, maybe your competitors are creating blog posts but aren't using PPC ads on Google, which means you may be able to win ad space for a relatively low cost. You can look through competitors' websites and social media profiles, Google them, and see what content is showing up in the top results for terms relevant to your industry.
You can also use competitor analysis tools, like SpyFu or Ahrefs, to analyze your competitors' websites and search engine rankings.
4. Choose your marketing channels
Your goals, your research into your customers, and your analyses of your competitors will all impact the marketing channels you choose — and how much you want to spend on each one. You have a wide range of options when it comes to marketing channels. You have traditional advertising media like television, newspapers, and billboards, as well as digital marketing channels.
Your digital marketing options include:
Search engine optimization (SEO): SEO involves using various methods to improve your website's rankings in search engine results for relevant keywords.
PPC advertising: PPC advertising involves bidding on ads, such as paid search results, website display ads, and social media ads.
Social media marketing: Social media marketing involves establishing a presence on social media through both standard and paid posts.
Email marketing: Email marketing involves communicating with users who sign up for your email list and is an excellent way to nurture leads.
Web design: Your website plays a key role in your digital marketing efforts, so you may decide to invest in design and functionality updates.
And much more
While your costs will vary depending on your strategies and the services you use, the following list gives you an idea of what costs to expect for each digital marketing channel:
SEO: $500-$20,000 per month
PPC: 5-20% of monthly ad spend
Email marketing: $300 – $5,000/month or $0.1 – $0.5/email
Social media marketing: $250 – $10,000/month
Website design: $2,500 – $100k
5. Track your spending and results
One of the most important marketing budget allocation best practices is to closely monitor your spending and the results of your marketing efforts. Tracking your spending will ensure you don't spend more than you planned. Monitoring your results lets you see what's working well and what you need to change.
Tracking both spending and results enables you to calculate your return on investment (ROI). Try to stick to your budget as much as possible, but don't be afraid to adjust based on the data you collect. Just make sure that you base any changes on a careful analysis of your data and that you make your adjustments carefully, so you don't end up overspending.
You can also use the data you gather by tracking your spending and results to inform how to prioritize your marketing budget in the future.
Start prioritizing your marketing budget today
Ready to start prioritizing your marketing budget? Our team is here to help! At WebFX, we have more than 25 years of experience in digital marketing and work with clients across a variety of industries.
We also have an industry-leading client retention rate of 91%. If you'd like to talk to a strategist about budgeting for the right marketing channels, contact us online or at 888-601-5359 today.
WebFX Careers
Join our mission to provide industry-leading digital marketing services to businesses around the globe - all while building your personal knowledge and growing as an individual.