You've probably heard before that you should track your marketing campaigns to see which ones successfully generate leads.
When generating leads, companies face the problem of properly attributing leads to campaigns. If someone becomes a customer, they might tell you that they found you online, but what does that mean? Did they convert because of your search engine optimization (SEO)? Your pay-per-click (PPC) advertising?
That lack of clarity is the reason you need to know how to track leads. Lead tracking can help you see which campaigns generate leads, allowing you to accurately assess your marketing performance.
If you aren't sure where to start with your lead tracking strategy, just keep reading. Below, we'll cover several lead tracking tactics you can use. Then subscribe to Revenue Weekly — our email newsletter — to have more marketing tips delivered straight to your inbox!
Why should you track your leads?
You might be wondering why you should bother with lead attribution in the first place. After all, as long as you're driving leads and conversions, what's the issue?
There are two primary reasons you should track leads. The first is that you need to know who your leads are to nurture them. Lead nurturing is a crucial step toward driving conversions, but you can't nurture your leads if you don't know who is a lead for your business.
If you're curious about lead nurturing, you can find out more in this video:
The other reason for having a lead tracking strategy is that it shows you which campaigns drive results. If you don't track leads, you don't know which strategies drove them to your business. Maybe they became leads through your paid ads, or maybe through social media.
When you track leads, you can see where your leads originate. That tells you which campaigns effectively drive qualified leads for your company.
How to track leads for your business
Now that we've established why a lead tracking strategy is so vital, let's address how to track leads. There are a few different methods you can pursue, and those methods vary depending on your audience.
Here are four lead tracking tactics for your company to try!
1. Form submissions
The first method for tracking leads is to use form submissions. When users fill out contact forms or subscribe to your email lists, they're handing you the information you need to know to keep up with them — their name, their contact information, and more.

On top of whatever information they fill out directly on the form, you can learn how they accessed the form. Did they submit a form you provided on one of your paid ad landing pages or through your blog? The answer tells you which of your campaigns led them there.
2. Phone call tracking
Another valuable method for tracking leads is phone call tracking.
If you put your phone number on your website, you have people calling your business to ask about your services or get product information. And the last thing you want is to not know which campaigns drove those calls.
Using a phone tracking tool, you can figure out where people found your phone number. You can also get a sense of what sorts of questions people have — if six people call with the same question, that tells you that you should maybe update your website information on that topic.
In that way, phone call tracking helps you improve your marketing and better serve your potential customers!
3. UTM parameters
One of the most useful lead tracking tactics is to use Urchin Tracking Module (UTM) parameters. UTM parameters are pieces of code you can add to the end of your website URLs that lets you track traffic to and from those URLs.
That means you can trace leads through the different pages they visit, see how they arrived at certain pages, and where they went after that. Doing so will help you determine which pages or campaigns drive the most leads for your company.
4. Invest in some lead tracking tools
As we've alluded to in the previous tips, it's a good idea to obtain digital tools to help you track your leads. At the end of the day, trying to do it manually is time consuming.
A customer relationship management (CRM) platform is one type of tool you can use. Some CRMs come with functionalities for tracking the leads you generate through your marketing.
You can also use tools like Google Analytics, which allows you to view plenty of metrics related to traffic on your website. Analytics doesn't provide much information related to specific leads, but there are other tools that do — tools like MarketingCloudFX.
MarketingCloudFX: The ultimate lead tracking software from WebFX
If you're looking for a lead tracking system to help you manage all your lead tracking needs, MarketingCloudFX (MCFX) is the platform for you. MCFX is our in-house marketing automation software, specifically designed to be an all-in-one hub for your marketing strategies.
Part of MCFX is LeadManagerFX, which — among other things — will help you track your leads across all your campaigns. MCFX also includes CallTrackerFX to help you track all your phone calls and retain transcripts of each one.
In short, MCFX is your ideal tool for enacting every single one of the tips listed above. Plus, it's not limited to tracking leads — it can also help you generate and nurture those leads, helping you drive more purchases and earn more revenue!
To access MarketingCloudFX, just partner with us for our digital marketing services. Not only will you gain access to the software, but you'll also get the help of our expert team when it comes to operating and optimizing the results you drive through it.
Meet MarketingCloudFX:
One platform tracking countless metrics and driving stellar results.
Learn More About Our Proprietary Software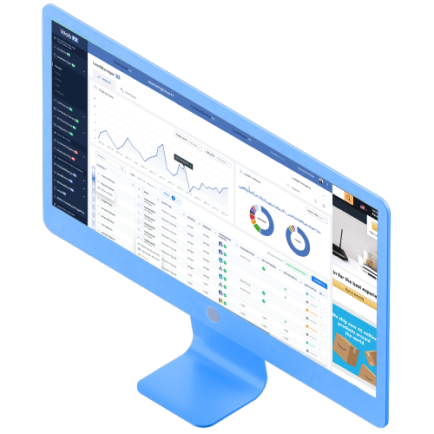 Partner with WebFX to get help tracking leads
Want a helping hand with your lead tracking strategy? WebFX would love to give you a boost! When you partner with us for our lead generation services, we'll help you drive more leads and conversions, plus we'll help you optimize your tracking.
Not sure of our qualifications? Rest assured we know what we're doing — in the past five years alone, we've generated over 7.8 million leads and $3 billion in revenue for our clients. When you partner with us, you'll gain access to the same high-quality service we provided to those businesses!
To get started with us, just call 888-601-5359 or contact us online today!
WebFX Careers
Join our mission to provide industry-leading digital marketing services to businesses around the globe - all while building your personal knowledge and growing as an individual.