Considering your next big move as a business? Digital marketing grows increasingly complex, but there are still a few tried and true channels that deliver results time and time again.
If you haven't already, it's not too late to learn why email marketing should be part of your marketing repertoire in 2023. Below, we'll cover why and how email marketing can be used to stay ahead of the competition and communicate directly with your customers.
Want to get more tips and tricks for marketing your business through channels like email marketing? Join 200,000 savvy marketers by subscribing to Revenue Weekly!
Why Is Email Marketing an Effective Channel?
In a sea of responsive ads and interactive webinars, email marketing may seem like an outdated tool for communication. However, with 4 billion daily email users, email remains one of the most effective messaging channels.
This number is set to grow to 4.3 billion by 2023, meaning half of the world's population will turn into email users. Why not try reaching your audience where they already are ­–– in their inbox?
Not only will you reach a wide audience through email marketing, but you will also see the greatest return on investment (ROI) out of any modern marketing channel when investing in email. Email marketing averages a return of $44 for every dollar spent, which is an astonishing 4400% ROI!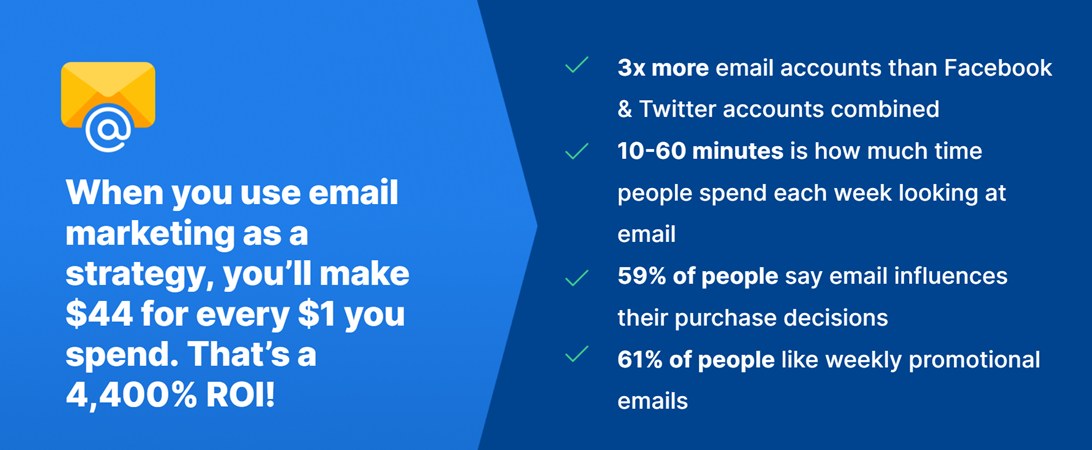 How Can You Use Email Marketing for Your Business?
Now that you know a bit more about why email marketing is an effective channel, you may be wondering how to leverage it to reach your specific business goals. Luckily, there are tons of ways to use email marketing!
From company updates or thank you emails to sharing new product launches or coupon codes, the possibilities are only limited to your imagination. We've compiled a list of five ways to use email marketing to connect with your audience and provide value in their inbox:
1. Keep your audience engaged and updated
With the whirlwind of changes and uncertainty from the past few years, you may be looking to re-engage your audience and keep them updated on what your business is all about. Email is one of the best ways to get your message directly in front of users.
Try letting your audience know about an upcoming event, your support on a specific issue, or that their favorite product is back in stock. Focus on creating value and sharing information that is helpful and useful to your audience.
2. Connect with your audience through personalization
Did you know there is a way to make your email content feel tailor-made for your audience that's as simple as the click of a button? If not, allow me to introduce you to personalization. Email personalization takes data from your contact list, such as a first name, and allows you to insert it into your email subject lines or content.
Subscribers love this personal shout out! In fact, research shows personalized subject lines improve open rates by 41%. You can also try personalizing your offers or coupons for different types of subscribers to show them you understand their needs.
Dynamic content takes personalization a step further, using subscriber data to dynamically change content based on their behaviors. You can use dynamic content to serve two versions of the same email copy to two different subscribers.
For example, you may send Person B a coupon for 10% off, whereas Person C receives a coupon for 30% off because they already visited the product page on your site and are more likely to convert.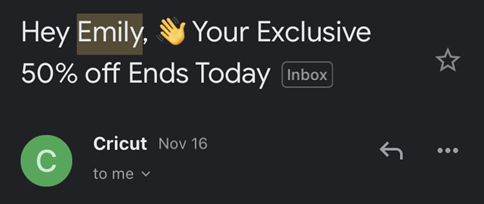 3. Share testimonials and other user-generated content
Sharing positive words from real customers is an effective way to get your target audience ready to convert. We know that 54% of U.S. shoppers pay attention to a company's star rating, so the value of customer testimonials is immense.
However, earning testimonials or reviews is only the first step. You still need current clients and potential customers to see this user-generated content.
Email provides an outlet to push these messages to your target audience right when they need them most. You can use testimonial images or incorporate star ratings as a staple of your email's design.
There is no right or wrong way to add a testimonial to your email, but make sure to keep the subscriber's experience in mind when implementing this type of content. If your audience is at the very top of the sales funnel, a review may not be the most helpful piece of content to share.
4. Send the right message at the right time with email automation
What better way to share testimonials and other targeted content than through email automation? By using an autoresponder or trigger, you can meet users where they are in the sales journey with relevant and valuable email content.
For example, you could send out an automated welcome email whenever a user subscribes to your newsletter. Since 74% of people expect to receive a welcome email when they subscribe to an email list, this option is a great way to introduce yourself and turn new leads into customers in no time.
Take automation a step further and try setting up a lead nurturing campaign. Lead nurture campaigns consist of a main trigger and subsequent workflow of multiple automated emails that are sent at a set interval. Common triggers include lead form submissions or cart abandonments. With a lead nurture campaign, you can really tailor your content to each step of the sales journey and nurture subscribers along the way.
5. Reach users where they are with mobile email optimization
All these strategies will not work if your subscribers can't properly see your emails. People open more than half of their emails on mobile devices, so making sure your emails are optimized for mobile devices is crucial.
An easy way to ensure your email is viewable on mobile phones is to create a mobile-responsive email template. Once the template is created, you should use an email testing tool to test its responsiveness across different devices.
Also, try writing subject lines that are within 25-30 characters to ensure they display properly on small screens. You can even test the effectiveness of adding emojis to the end of your subject lines to make them more visually appealing to subscribers.
Create a custom email marketing strategy with WebFX
Ready to test some of these strategies to meet your business goals in 2022? WebFX's team of email experts can help you formulate targeted email campaigns to send to your audience of potential customers.
Our proprietary email marketing software, EmailMarketingFX, allows you to send batches of emails to your audience at a competitive price. Our software also provides tracking and reporting features, so you can see the success of each campaign and adjust your strategy as necessary.
If you are considering an automated email campaign, LeadNurtureFX may provide the solution you need. With this proprietary software, you can create automated workflows from a variety of triggers, including intelligent triggers that use firmographic data to send out targeted emails.
No matter what email strategy you're looking to test to reach your business goals, the experts at WebFX are here to help. Browse our email marketing plans today, or get in touch with our team for a custom solution by calling 888-601-5359!
How is your website's SEO?
Use our free tool to get your score calculated in under 60 seconds.
Get posts by email
Join 200,000 marketing managers and subscribe to Revenue Weekly!
"*" indicates required fields
WebFX Careers
Join our mission to provide industry-leading digital marketing services to businesses around the globe - all while building your personal knowledge and growing as an individual.