When you set up your ecommerce site, you spend a lot of time making it visually appealing for your audience to attract them to your product pages. Creating a visually appealing site is only half the puzzle, though — you need to have a technically sound website, too. That means that technical search engine optimization (SEO) is a critical component of your ecommerce website.
You need to optimize your site's backend to ensure you deliver a positive experience on the front end. If you want to get started with technical SEO for ecommerce, follow these tips:
Keep reading to learn more about these tips and see where your SEO currently stands by using our free SEO checker!
Looking for an all-in-one SEO audit tool? You've found it.
SEO Checker provides data on key metrics to give you:
Complete SEO score
Content Grade
Site Speed Analysis
and more.
1. Use breadcrumb navigation
If you want to know how to do technical SEO for ecommerce, start by creating a breadcrumb navigation. Breadcrumb navigation is navigation that shows the path to getting to a specific page. Essentially, it's how your pages are organized on your website.
For example, let's say you're an art store, and you sell paintbrushes. The breadcrumb navigation for that site may look like this:
Home > Art supplies > Painting > Paint Brushes
You can see a similar setup on Michael's site.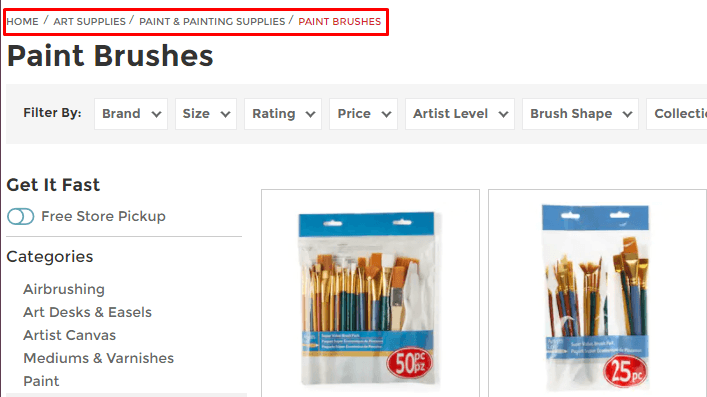 Essentially, breadcrumb navigation creates an organized path for getting to products on your site.
This setup helps both users and search engines navigate your site more effectively.
2. Improve site load time
With ecommerce technical SEO, you want to take time to focus on improving your site load time. Your site load time impacts whether people stay on your site — 53% of users will abandon your site if it takes more than three seconds to load. A slow page speed leads to lost sales for your business, too, as slow-loading websites cause $2.6 billion in revenue loss annually.
If you want to prevent this from happening, you need to improve your site load time. You can discover your current load time by using a tool like Google PageSpeed Insights. You can get a lot of information about your site's load time, as well as suggestions for improving your load time from this free tool.
If your site load speed isn't up to par, you can improve it by:
Reducing redirects
Minifying HTML, CSS, and JavaScript
Reducing image file sizes
Enabling browser caching
Hosting videos on an external platform
By improving your site's backend, you can help your website load faster and provide a better experience for shoppers.
3. Have a clean URL structure
If you want to know how to do technical SEO effectively, start by creating a clean URL structure. A clean URL structure means having a URL with a logical navigation path that doesn't contain random numbers and letters. You want to have a clear navigation path that shows where users are on your site, so users and search engines know where they are on your site.
If you saw this URL, would you know where you are on a site?
www.artsupplies.com/dhwi=3ff/jgu00en0=e/eG4g
There's a good chance you wouldn't know where you were on that site — and neither would a search engine. With a clean and structured URL, though, you can tell where you are:
www.artsupplies.com/painting/canvases/burlap-canvas
When you create pages on your site, make sure you optimize the URL so users and search engines can read them. Also, optimizing your URLs provides you with an opportunity to integrate your keyword — it can help your page appear more relevant and rank in relevant search results.
4. Use structured data
If you want to do technical SEO for ecommerce, you must include adding structured data as part of your to-do list. Structured data enables you to enhance your product listings so you can rank better in search results. This data provides search engines with information or clues about a page's content.
So, for an ecommerce business, you can add information like:
Product name
Rating
Price
Availability

This information can help indicate that your pages are product pages, which helps you rank in more relevant product searches. Not to mention, it can help drive more people to click on your pages and check out your products if they see you have a 4-star product in stock at their price point!
5. Make sure your site is secure
A critical component of technical SEO for ecommerce is site security. When users purchase products on your site, they're inputting sensitive personal information and want to feel safe when they submit it. You need to secure your site to ensure that people feel comfortable buying from your site.
You can secure your site by getting a Secure Sockets Layer (SSL) certificate.
This certificate will ensure that sensitive data gets encrypted and protected. Users will know your site is secure by the closed padlock symbol and "HTTPS" in your address.

6. Implement an XML sitemap and robots.txt file
When you learn how to do technical SEO for ecommerce, you learn about two critical site components:
XML sitemap: XML sitemap is, as the name implies, a map for how search engines should navigate your site. You want to implement a sitemap to help guide search engines to crawl and index your most important pages to rank in relevant search results.
txt file: Your robots.txt file indicates what pages you don't want search engine bots to crawl and index. While it doesn't block these bots from crawling those pages completely, it does prevent bots from overloading your site with crawl requests and slowing it down.
These two components are critical to technical SEO for ecommerce because they impact how Google crawls your site. If you want to rank in search results, Google needs to discover, crawl, and index your pages. These two directives help guide Google to crawl your site effectively.
7. Use canonical tags
The last thing we'll cover on this list of tips for technical SEO for ecommerce are canonical tags. Canonical tags are critical to your SEO because they tell Google that a specific URL represents the primary copy of a page. As your site grows and scales, you often move, delete, and replace pages.
In this process, you may end up with pages that are considered duplicates. Duplicate content can be similar content on the same domain or across multiple domains. If you have the same page more than once on your site, it can cause confusion with search engines — it won't know which page to rank.
The canonical tag fixes that problem — you can tell search engines which page is the "main" page, so it ranks that page in search results. Here are some places where you'll want to use canonical tags for your ecommerce site:
Product options: If your products have individual page URLs for sizes or colors, you'll want to create a canonical tag to guide search engines to the primary product listings.
Products on multiple pages: If you have a product listed in multiple categories, you'll want to choose the main page for that product listing and implement the canonical tag.
Index pages: If you have product category pages that stretch across multiple pages, you'll want to use a canonical tag to establish the main page.
Need help implementing technical SEO for ecommerce?
Implementing technical SEO best practices is no small feat. It requires knowledge about coding and optimizing the backend of your site. If you don't have that experience, you don't want to risk messing up your site's coding and creating an even bigger problem.
That's where the experts at WebFX can help. We have a team of over 500 marketing experts that can help with your site's technical SEO. From improving site load time to building a breadcrumb navigation, you can feel confident that we can optimize your technical SEO to drive the best results.
Want to improve your site's performance in search results? Contact us online or call us today at 888-601-5359 to speak with a strategist about our ecommerce SEO services!
How is your website's SEO?
Use our free tool to get your score calculated in under 60 seconds.
Get posts by email
Join 200,000 marketing managers and subscribe to Revenue Weekly!
"*" indicates required fields
WebFX Careers
Join our mission to provide industry-leading digital marketing services to businesses around the globe - all while building your personal knowledge and growing as an individual.