Do you feel like your ads aren't driving the results they did before? If so, you (and your target audience) may be experiencing ad fatigue. Luckily, there are simple fixes for helping you combat this issue and drive better results with your ads.
So, what is ad fatigue, and how can you combat it? On this page, we'll answer, "What is ad fatigue?" and provide you with seven tips on how to avoid ad fatigue. If you want to stay on top of the latest digital advertising tips and trends, subscribe to Revenue Weekly!
What is ad fatigue?
Ad fatigue is when your audience sees your ads so often that they lose interest and stop engaging with your ads.
When ad fatigue happens, your click-through rate (CTR) drops as your frequency increases. As a result, your campaign becomes less effective, and you don't see a great return on investment (ROI).
How to avoid ad fatigue
Now that you have an answer to "what is ad fatigue," you're probably wondering how you can avoid it. If you're worried that your advertising campaign is suffering from digital advertising fatigue, don't worry!
Keep reading to learn seven tips on how you can avoid ad fatigue:
1. Monitor your ad campaign
The first step to preventing ad fatigue is to monitor your ad campaign. You won't know your audience lost interest in your ads if you're not tracking your ads' performances. The first step to combating ad fatigue is monitoring your ad campaign to see how your audience interacts with your content.
When you regularly watch your ads, you can see when audience engagement starts to drop.
So, what metrics should you monitor for ad fatigue?
Frequency and CTR:
Frequency: One of the most important metrics to track for digital advertising fatigue is frequency. Frequency is the average number of times people see your ad. If your audience starts seeing your ad close to ten times, they see it too frequently.
CTR: Your CTR is another metric you'll want to monitor for ad fatigue. Your CTR is the number of times people click on your ad divided by the number of impressions. Check your industry CTR to see if you need to cycle your ad out to drive a higher CTR!
By monitoring your ad campaign, you can pinpoint ad fatigue faster and alter your campaign to drive better results.
2. Create multiple ads and rotate them
If you want to know how to avoid ad fatigue, start by creating various versions of your ad. Creating different versions of your ad allows you to deliver the same content in a new way. It keeps your ad content fresh for your audience because each advertisement will appear different.
Once you have different versions of your ad created, you can rotate your ads. Ad rotation is one of the top recommendations for keeping your ad content fresh and exciting. With ad rotation, you pull out ads that are underperforming and replace them with another copy of your ad.
As you continue to advertise, you can circulate your ads and keep your content fresh. To rotate your ads, you'll need to log into your ad account, whether it's Facebook or Google. At that point, you'll decide how you want to rotate your ads.
You can choose to optimize your ad rotation, where the platform will select the ad it thinks will perform the best, given the keywords, targeting, etc. With the other option, your ads don't show based on projected performance, but in any order. On platforms like Facebook, you can set a time duration for each ad so that you can run an ad for a few days or a few weeks.
This strategy isn't recommended because you may waste time running ads that don't perform as well as others in your set.
3. Change the colors on your ad
If you don't want to create multiple ads, you can take steps to improve the ad you already have created. The first trick you can try for eliminating digital advertising fatigue is changing the colors in your ad. Sometimes, all it takes is making small color changes to give your ad a fresh look!
In general, you'll want to stick to the same colors you have in your ad color scheme, but you'll want to change the color for different elements. For example, let's say you're running an ad that advertises a sale you're having for the week. After running this ad, you see that your audience engages less with it.
To help breathe new life into your ad, you create a new version of your ad, with the same information, and change the colors.
The ad has the same content, but the colors have switched. It's a small color change, but it's enough to make your ad appear fresh and new. By changing your ad's colors, you'll help your ad perform better and garner new engagement with your ad content.
4. Reword your ad content
If you want to know how to avoid ad fatigue, try to present your ad content in a new way. Your ad may look beautiful and have valuable information, but you might not convey your message in an exciting and compelling way. By rewording your ad content, you can create compelling ad copy for your audience.
So, let's go back to the ad where you're having a sale. Currently, saying you're having a "crazy sale" may not resonate with your audience. As a result, you could change up the ad content to make it more interesting.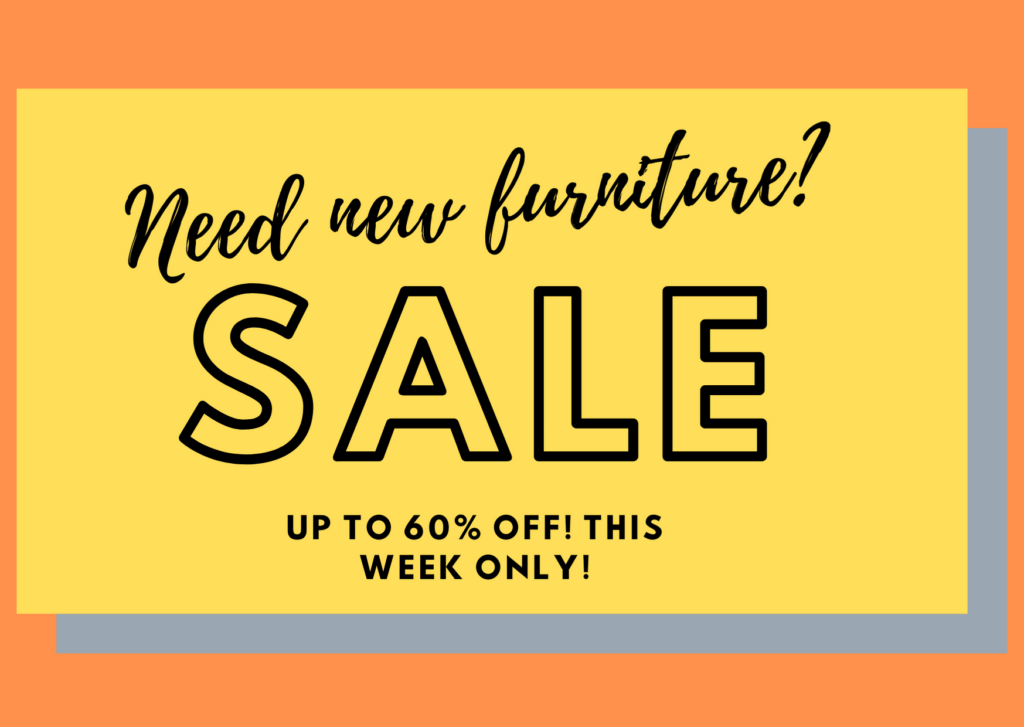 Now, instead of saying, "Crazy sale," the new heading says, "Need new furniture?" By creating this new headline, you create a new way to attract people to your ad and get them interested. You don't always need to change the entire content of your ad — sometimes, all it takes is changing one or two pieces of text to make a more engaging ad!
5. Change up the visuals on your ad
Another way to combat digital advertising fatigue is changing up the visual of your ad. Your visual is an essential aspect of your ad because it's what catches your audience's attention and gets them to engage with your content. If you're using images, consider swapping out your ad's photo for a different picture.
Let's say you're a furniture company running an ad for a sale of up to 60% off furniture. In your current ad, you have a picture of a brown sofa set. After analyzing your ad, you see that performance declined.
To combat ad fatigue, you want to change the image to make it more engaging.
As a furniture store, you have numerous options for ad images.
You could use a picture of a:
Different sofa set
Dining room set
Bedroom set
Home office set
And more
You could try these images to see what gets people interested. You may find that, even though your sale applies to all furniture, people are most interested in a specific type of furniture, like a new bedroom set or home office set. As an alternative, you can shy away from images and try to use videos instead.
Videos are a great way to boost ad engagement. If you want to combat ad fatigue by creating a more visually interactive ad, try using videos to step up your advertising game!
6. Try using a different call to action (CTA)
Your call to action (CTA) is a critical component of your ad. It entices your audience to click and take the next step. If you're experiencing ad fatigue, you may need to change your CTA to get more people to engage.
Let's say you're running an ad about your furniture financing program. You want to advertise this to your audience to try to get more people in the door to buy your products. Currently, your CTA says, "Apply Today," and when users click, they visit a page that details the program and allows them to sign up.
After reviewing your ad metrics, you see you're experiencing ad fatigue. People aren't engaging with your ad like you'd hoped. You may find that tons of people are looking at it, but only a few people click on your ad.
As a result, you could try changing the CTA to something that might fit the ad better. In this case, you may try "Learn More" as your CTA so that people can get more information about your financing program. You may find that this CTA works better and gets more people to click, so they can learn more about the program, rather than apply immediately as the old CTA asked!
7. Change the ad format
If you're experiencing digital advertising fatigue, you may need to change the ad format. Your ad format may not deliver information in the best way possible for your audience. Combat ad fatigue by changing your ad format.
The kind of ad you use will depend on the platform. For example, if you're running an ad on social media, you can try formats like:
By changing up the ad format, you'll present the same information in a new way that may be more interesting to your audience.
Our digital marketing campaigns impact the metrics that improve your bottom line.
See More Results

WebFX has driven the following results for clients:

$3 billion
In client revenue

7.8 million
Leads for our clients

5.2 million
Client phone calls
Ready to put an end to digital advertising fatigue?
Digital advertising has the power to drive valuable leads for your business, but if your ads aren't working for your audience anymore, you're missing the potential to grow online. By monitoring ad fatigue, you'll stay on top of your ad's performance and improve your ad content for better results.
At WebFX, we have over a decade of experience in running advertising campaigns. We'll help you create compelling ad content, monitor your ad performance, and make changes to improve your ad copy and conversions. Ready to start driving better results with your ad campaign?
Contact us online or call us today at 888-601-5359 to speak with a strategist about our paid advertising packages!
WebFX Careers
Join our mission to provide industry-leading digital marketing services to businesses around the globe - all while building your personal knowledge and growing as an individual.