Amazon has more than 300 million active customers. With this many people frequently using Amazon, it's the perfect opportunity to reach leads that are interested in your products. As we roll into 2023, it's important that you optimize your Amazon SEO campaign. So, how can you nail your Amazon SEO campaign this upcoming year?
In this post, we'll provide you with six best practices for acing your Amazon SEO campaign. Let's get started!
1. Optimize listings for relevancy
The first step to optimizing your Amazon SEO for 2023 is creating relevant product listings. If you want to earn more conversions, you must make your product listings relevant to searchers. So, how can you do this?
Optimize your title
Start with your title.
It's one of the first things your audience will see when they find your listing. If you want to drive valuable leads to your page, you must optimize your title. When you create a title for your products, make sure it is legible.
You don't want your audience to look at your title and not be able to read it. Make sure it is clear and not too overpacked with descriptive terms. Make sure you incorporate your most important keyword in the title.
This is the keyword that your audience will see when searching. Amazon will register this keyword first and rank you for that keyword. Here are a few additional tips to follow:
Spell out measurements (ounce instead of oz)
Write numbers as numerals (9 instead of nine)
Capitalize first letter of each word in your title
Don't input special offers or symbols
By optimizing your title, you'll help drive more valuable leads to your listing and get them to click on it.

Find relevant keywords
Keywords are an important part of Amazon SEO. They determine where your product listing appears in the search results.
If you want to appear in relevant search results, you must choose relevant keywords. You can use Amazon-specific keyword tools to find relevant keywords for your product listing. Tools like Sonar will help you focus on keywords that will optimize your product listing to reach relevant leads.
You'll want to find numerous relevant keywords to put in your listing. Amazon only requires you to use a keyword once to rank for it, so this provides the opportunity for you to rank for multiple keywords.
2. Optimize for backend keywords
When you conduct keyword research, you'll have many keywords you can't fit into your listing. You don't want to overstuff your product listing, but you also don't want to miss an opportunity to rank for other relevant keywords. So, what do you do?
This is where backend keywords will help your product listings. These are keywords that you input on the backend of your product listing. They don't appear anywhere on your page, but you still rank for them.
Amazon has a limit of 250 characters for your backend keywords, so choose them wisely. Focus on keywords that will drive the most valuable traffic to your listing. Don't waste space by repeating keywords from your listing or adding punctuation.
Optimizing for backend keywords will help your Amazon SEO campaign drive better results for your business.
3. Optimize product description
Once you have your keywords settled, you'll want to optimize your product description. This is a crucial Amazon SEO tip for 2023. If you want to get leads to convert, you must provide them with the necessary information to convince them to convert.
Your product description lists the features of your product. This description appears at the top of the page, so you'll want to take time to optimize it with valuable information. List the most important features in this product description section.
It's beneficial to think of questions people would ask about your products, and then answer them with product details. For example, someone might ask, "What materials are this product made out of?" Instead of someone having to ask that question, you can include a bullet point that says, "Made out of 50% cotton, 50% polyester." In addition to providing valuable information, show your audience how your products will benefit them. Highlight all the great features of your product and show your audience how it will add value to their lives.

4. Use quality photos
When Amazon users search for products, one of the first things your audience will see is your product photos. People will judge your product based on the photos you choose to include. If you want to make a positive impression, you must select the right photos.
It's best to choose high-quality photos that showcase your product. Since people can't see your products in person, high-quality photos are the next best thing. Your main photo should take up 80% of the photo and have a white background.
This is a standard for every Amazon product photo posted online. The photo should focus solely on the product and have no distractions. As for the rest of your photos, you can provide different angles of your product and people using your product.
This will help your audience get a better sense of your product. It will also help you earn more conversions.
5. Earn reviews
Reviews play an important role in the purchasing process. Before purchasing, many people consult reviews to see if the product is worth buying. If someone is going to invest money into one of your products, they want to feel safe about it.
It's a challenging process when people can't see the product before them. Reviews help build trust in your product. It can be challenging to earn reviews for your products.
People will often buy your products and forget to review. If you want to earn more conversions for your business, you must obtain reviews. A great way to do this is by sending a follow-up email after purchase.
Once leads receive your product, you can email them and ask about their experience with your product. Encourage them to leave an authentic review of your product.
6. Consider using Fulfillment by Amazon
As you're working to optimize your Amazon SEO campaign for 2023, consider using Fulfillment by Amazon. With this program, Amazon handles all the packaging and shipping of your products. You send your products to Amazon's warehouses.
Whenever someone buys your product, Amazon will package and ship it for you. They'll also handle any returns or replacements of your products. This takes the pressure off of your business to meet shipping deadlines.
Many businesses lose their seller status because they can't keep up with shipping demands or oversell for the number of products they have in stock. Fulfillment by Amazon is a great investment for your business because it helps you earn more conversions. People trust that the products are safe to buy because it's fulfilled by Amazon.
People are more likely to buy it because they know Amazon will handle their issues if anything goes wrong. It's something valuable to consider for your business. You can help build your business's trust and earn more conversions in the process.
The first step to increasing your SMB's Amazon sales is getting a FREE proposal.
One of our experts will be in touch within 24 hours!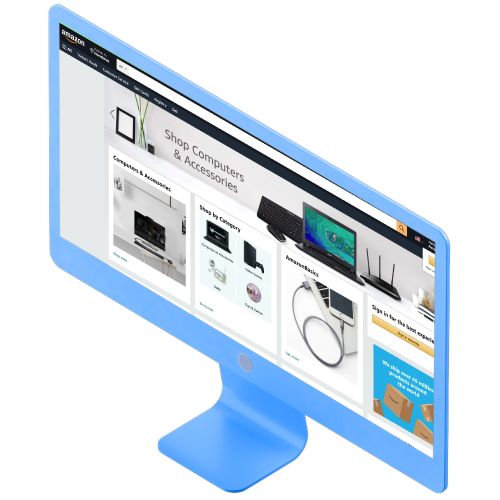 Ready to start optimizing your Amazon SEO campaign?
Optimizing your Amazon SEO campaign will help you drive more valuable leads to your products. You'll help your products appear in front of more people that are interested in purchasing. As we roll into 2023, don't hesitate to optimize your Amazon SEO campaign to start driving better results!
Give us a call at 888-601-5359 or contact us online to see how our team can help!
How is your website's SEO?
Use our free tool to get your score calculated in under 60 seconds.
WebFX Careers
Join our mission to provide industry-leading digital marketing services to businesses around the globe - all while building your personal knowledge and growing as an individual.