Any good digital marketer (like yourself), understands the massive potential in advertising on Facebook. At the very least, you've explored the idea of advertising on such a popular source of traffic. Even if you've seen a healthy amount of conversions from Facebook advertising, you can't help but wonder how your conversion rates measure up.
Comparing your results to the average conversion rates for Facebook ads can give you a good benchmark. It shouldn't be what drives every decision you make with your advertising budget, though. Keep reading to learn about average Facebook ad conversion rates and more importantly, how to determine your company's success with Facebook ads.
Average Facebook advertising conversion rates by industry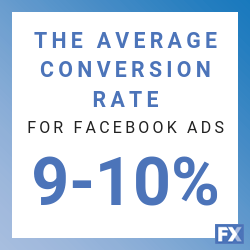 One of the most significant advantages of advertising on Facebook is that you have an unlimited number of ways to advertise to a wide range of different people.
Statistically, this makes it challenging to measure average conversion rates across the board. Despite this, it can be helpful to see where you stand, compared to others in your industry. Wordstream, a SAAS advertising platform, has crunched some numbers to give us a benchmark for this situation.
Overall, the average conversion rate for Facebook ads is between 9-10%. View the list below for an industry-by-industry breakdown of conversion rates for Facebook ads. Apparel 4.11% Auto 5.11% B2B 10.63% Beauty 7.10% Consumer Services 9.96% Education 13.58% Employment & Job Training 11.73% Finance & Insurance 9.09% Fitness 14.29% Home Improvement 6.56% Healthcare 11.00% Industrial Services 0.71% Legal 5.60% Real Estate 10.68% Retail 3.26% Technology 2.31% Travel & Hospitality 2.82% Overall Average 9.21% Remember, it isn't exactly fair to compare your conversion rate to a conversion rate in a different industry or the collective whole either.
For example, based on the average conversion rates above, the industrial services industry sees an average conversion rate of .71%. On the other hand, the fitness industry sees a 14% conversion rate on ads. It wouldn't be fair to say that the industrial services industry is worse at advertising on Facebook than the fitness industry.
A single contract with an industrial services company may add up to millions of dollars in revenue. Whereas, a business that is advertising in the fitness category may be selling $10 water bottles with highly targeted Facebook ads. The target audience is likely a lot smaller for industrial services companies too, and conversion rates in general for such big contracts are low in the first place.
Does that make advertising on Facebook a bad idea for industrial services? Absolutely not! The company selling water bottles has to convert a LOT of traffic to compete with a single conversion in the industrial services space.
So how do you know if your Facebook ads have a good conversion rate?

What is a good conversion rate on Facebook?
It's always tempting to compare yourself. While it isn't bad practice to check average conversion rates with Facebook advertisements, it's essential to take them with a grain of salt. For you, a reasonable conversion rate may depend on a lot of different things.
You can offer various sales or even free trials to bump up your conversion rate. You might improve your ad targeting to make sure the people most likely to convert into paying customers are the ones that see your ads. But the most critical question is this: What is the return on investment (ROI) for your Facebook ads? ROI is the key performance indicator for measuring your success.
With that in mind, you can gauge what your average conversion rates on Facebook should look like.
Check your conversion rate with our free calculator!
Find your own average Facebook ad conversion rate
You can certainly use the average conversion rate chart above as a reference for your first campaign or two. However, an easy first step to finding out what conversion rate you need to aim for is to calculate it yourself. When you do that you can estimate the traffic, click-through rate, and conversion rate you need to see a positive ROI.
Open up an Excel spreadsheet and run the numbers yourself! Bonus Facebook advertising ROI Calculator I put together this spreadsheet that you can copy and use to calculate your own ballpark metrics for making a winning Facebook ad campaign. https://docs.google.com/spreadsheets/d/1aPtfh5_FPFIoQLykP5qzjokanVXe3K0KND1wyrdf_WY/edit?usp=sharing

Use past campaigns for the ad spend, impressions, and click-through rate columns.
Keep in mind that you can always work to improve those factors in addition to bumping up your conversion rates to get a better ROI!
Does your Facebook conversion rate bring in the ROI?
This is the fun part. Whether your Facebook ads bring in a positive ROI (or not), you can always test things to achieve an even better ROI. The conversion rates on your last campaign can become the new benchmark that you'll aim to beat in the next one.
Everything can be improved one way or another, and as long as that ROI keeps going up, you know you are on the right track. Your average Facebook conversion rate may not look exactly like the rest of your industry's. As long as it's helping you grow and scale your business, you've succeeded in your Facebook advertising efforts.
If you're looking for a CRO agency to maintain (or improve) your Facebook ad conversion rates in a way that meets your business goals, don't hesitate to view our social media advertising packages or give us a call at 888-601-5359 today!
How is your website's SEO?
Use our free tool to get your score calculated in under 60 seconds.
Get posts by email
Join 200,000 marketing managers and subscribe to Revenue Weekly!
"*" indicates required fields
WebFX Careers
Join our mission to provide industry-leading digital marketing services to businesses around the globe - all while building your personal knowledge and growing as an individual.