Earn a Higher ROI From Your Ads With a Facebook Advertising Agency
Make advertising on Facebook easier and more profitable with WebFX, a Facebook advertising agency that's helped its clients earn more than $2.4 billion in revenue over the past five years. As your Facebook ads company, we'll create, optimize, and monitor your Facebook ads so your business can attract more followers, shares, and sales.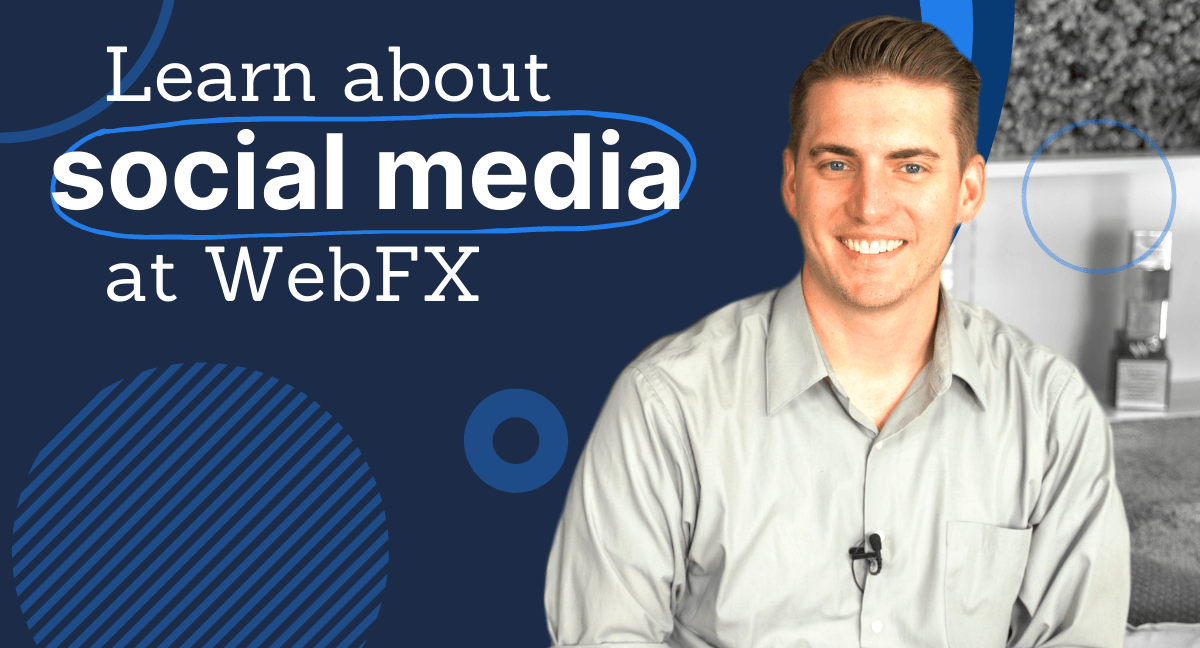 Meet your advertising goals with a Facebook ad agency
Whether you're looking to attract more followers, earn more online sales, or generate more leads, our Facebook ad agency can help.
Get a turnkey solution to advertising on Facebook with our Facebook advertising services, which include:
Dedicated social media account manager
Custom Facebook ad strategy
Setup of Facebook ad account (if applicable — you will retain full ownership of your account)
Development of Facebook ad campaigns
Creation of Facebook ad campaigns and ads
Optimization of Facebook ad campaigns and ads
Monthly consultation
Monthly reporting and performance analysis
And more
As one of the biggest social media networks, Facebook offers your business the chance to reach your target market and turn them into followers and customers. Facebook also places your company in stiff competition with competitors, though, which is where our Facebook ad company can help.
Contact us online or call us at 888-601-5359 to learn more about partnering with our award-winning team of social media specialists. Plus, discover why our Facebook advertising agency maintains an unprecedented client recommendation score — it's 488% higher than the nationwide average!
74% of people use social media when making a purchasing decision.
Make their decision easy with a stellar social media presence. See how your brand can level up by requesting a no-obligation proposal today.
One of our experts will be in touch within 24 hours!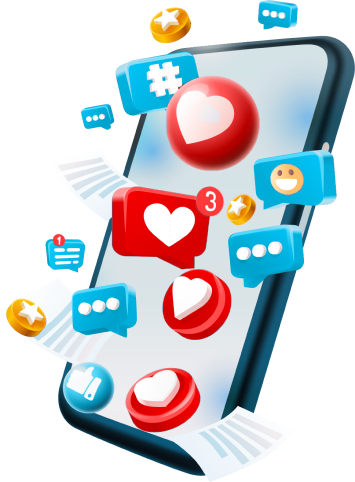 Get everything you need with our Facebook advertising agency
You have enough on your to-do list, which is why our Facebook advertising agency provides you with a complete solution to advertising on Facebook. From building your ads to developing your ad creatives to measuring your ads' performance, we take care of everything for you.
Just check out this preview of what our Facebook ad services include:

Choose ad formats
Unless you're already well-versed in Facebook advertising, you'll likely need some advice when it comes to what kind of ads to choose for your business.
Each Facebook ad format offers different benefits, and when you work with our Facebook ad company, your dedicated account manager will recommend what ad format to use to help you reach your goals.
Decide which keywords to target
Randomly choosing keywords to target with your ads isn't the most efficient way to get results.
When you work with our Facebook ad agency, we'll do keyword research to help you determine the most successful keywords for your campaign.
You won't waste money targeting keywords that don't have the potential to drive results for your business.
Determine your target audience
When you work with our Facebook advertising agency, we'll ask you questions about your company to learn more about your target audience. If you're not quite sure, that's okay!
We can also help you determine your target audience based on demographics, interests, online behavior, and more.
When you know your target audience, your ads are bound to produce real results.
Create your ads
The way your ad looks can make or break a click. That's why our Facebook ad company features an in-house design team, so we can create an ad that showcases your brand and entices users to click.
This component is especially important to those who are running a business and have no prior design background.
Launch your ads
Sure, designing your ads and determining your target audience is important, but what happens when it comes time to launch?
As one of the best Facebook advertising companies, we will help you take your ads across the finish line by helping you launch them successfully.
A/B test your ads
How do you know if the ad you've launched is the best possible version? Would your audience prefer something different? Would different text better engage users?
If you have these questions, don't worry! Our Facebook agency will A/B test your ads, which means they'll test two versions to determine which is the most successful.
This step is crucial in Facebook ad success since it helps guarantee that you get the most bang for your buck.
Monitor your ads
If you don't monitor your ads, you're not making the most of Facebook advertising.
To determine what's working and what's not, ad monitoring is a crucial part of your campaign, and our Facebook advertising agency for small business can help you do it.
Why make WebFX your Facebook advertising agency?

WebFX offers unmatched experience and results when it comes to Facebook advertising. That's why we're a trusted partner to SMBs across industries, from manufacturing to ecommerce.
Learn more about why businesses like yours choose our Facebook advertising agency:
We know Facebook advertising
Facebook advertising agencies like ours are home to social media specialists that live and breathe social advertising. Day in and day out, they work on social advertising campaigns just like yours, making them experts at their craft.
Since we work with a variety of clients in different industries, we have the experience to guide future campaigns. For example, if you're a clothing retailer, working with a Facebook ad agency that has experience working with clothing retailers is a huge win for your business.
That experience goes far and can help inform campaigns like yours.
We provide turnkey service
If you run a business, the last thing you have time for is Facebook ads. Although the benefits are astounding, you likely don't have the time.
Working with our Facebook ad agency takes the hard work off your plate and transfers it to someone with better capabilities.
We analyze, report, and improve
To keep your campaign in tip-top shape, our Facebook advertising company will analyze and report on your campaign.
We'll look at strategies that work and strategies that don't and help suggest next steps to get your campaign back on track if it were to fall off the rails.
Analyzing your campaign also helps to give you a tangible feel of results that they're driving,
What to look for in a Facebook advertising agency
There are a few things to look for when you're vetting Facebook ad companies.

Here are a few of the most important:
Transparency
The best Facebook ad agencies offer transparency about everything involved with your campaign.
They'll likely publish their pricing online, which is a huge trust signal since it shows that there aren't any hidden fees.
Not to mention, they'll answer any questions you may have about results that they've driven and the length of campaigns, for example.
Cost
Everyone wants to work with an affordable Facebook advertising agency, but it's important to remember that you usually get what you're willing to pay.
You shouldn't aim to work with the cheapest agency, but you also should stay away from the most expensive. If you choose the cheapest agency, you'll get what you pay for — a small cost likely means small results.
On the other hand, if you opt for the most expensive Facebook ad company, they could easily be taking advantage of a business like yours.
You'll want to pay attention to cost and go with an agency that fits your other criteria while also offering a standardized, reasonable price for their services.
Testimonials
You should always look for customer testimonials when vetting Facebook ad companies. Testimonials are unsolicited statements made by previous customers that have something wonderful to say about an agency.
They could be in the form of a written statement or even a video, and the more an agency has, the better.
Reviews
Reviews are a little different from testimonials because they're not always positive. You'll want to do some research on different Facebook advertising agencies to determine what reviewers say.
If they have more negative reviews than positive ones, you'll likely want to look elsewhere for Facebook ad services. You'll want to find an agency that has a high volume of legitimate positive reviews.
Don't let one or two bad reviews spoil an agency for you, though! Everyone has a different experience, and something that isn't a big deal to you might be a huge deal to someone else.
Keep that in mind when reading over Facebook advertising agency reviews and ratings!
Responsiveness
You should receive a phone call or email within a day of contacting a Facebook ad agency, and if you don't you can guess that they're not as responsive as they should be.
This lack of responsiveness can put a dark cloud over your partnership since communication and responsiveness is key. You want to find an agency that gets back to you right away and is eager to help.
Personality
Before signing on the dotted line with a Facebook advertising agency, you'll want to speak with them on the phone, or meet up with them in person. You can learn a lot about a business simply in the way they talk and communicate, and you should look for an agency that has a great personality.
Otherwise, you could have a long, draining partnership.
Talking on the phone is okay, but meeting them face-to-face is even better to help you determine if they're a good fit for your business.
WebFX is a partner businesses trust.
Hear from HydroWorx, who saw a 236% increase in organic sessions with WebFX services.
Watch the Video Testimonial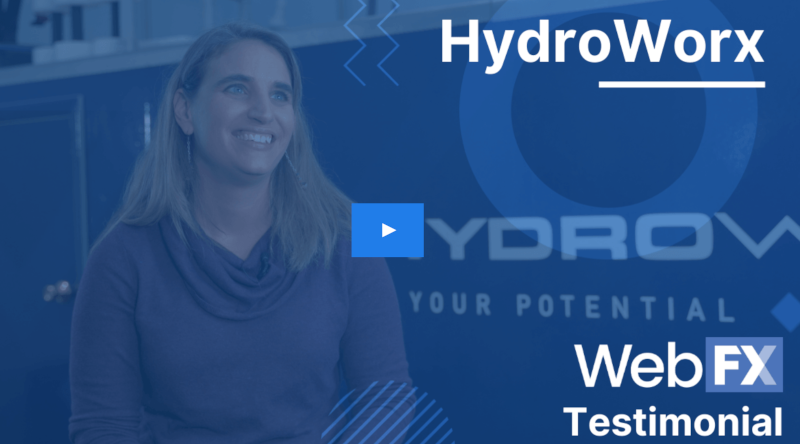 FAQs about Facebook advertising and Facebook ad agencies
Got questions about advertising on Facebook or working with a Facebook ad agency? Check our FAQ!
What is a Facebook advertising agency?
A Facebook advertising agency is an agency that offers Facebook advertising services to help companies grow their brand awareness, online following, and revenue. Businesses that use these services, as well as hire a top Facebook advertising company, generally see a positive return on investment (ROI).
Who can advertise on Facebook?
Any business can sign up for Facebook ads under one condition — you have to have a Facebook business page. This page is free to everyone and a breeze to set up.
After you've created a Facebook business page for your company, you'll reap all the benefits of Facebook advertising.
ORGANIC OR PAID FACEBOOK ADVERTISING? SEE WHAT THE EXPERTS SAY
Who can you target with Facebook ads?

Facebook's ad platform makes it easy for you to target your ideal customers — allowing you to make more sales than ever before.
You can target Facebook users based on:
Location
Demographics
Interests
Behavior
Connections
You can also target Facebook users with custom audiences, which consist of:
Contact lists that you already have
Site visitors collected by Facebook pixel
App users
Finally, you can choose to target lookalike audiences or audiences that share characteristics that are like your ideal audience. This kind of targeting expands your reach and helps you advertise to users that are most likely to take interest in your products or services.
Where do Facebook ads appear?
When businesses first start running Facebook ads, many wonder where their ads will show up.
Based on the ad formats that you choose, the location will differ. However, here are the three places where Facebook ads appear:
Desktop newsfeed
Mobile newsfeed
Right column of Facebook (desktop only)
What kinds of Facebook ads can Facebook advertising companies use?
There are a wide variety of Facebook ads that can help you achieve different business goals.

Facebook ad formats include:
Image ads: Feature a single image of your product or service.
Video ads: Feature a video of your choice to advertise your product or service.
Slideshow ads: Feature your choice of images, videos, text, and sound. You can use 3-10 images or one video.
Carousel ads: Feature up to 10 images or videos in a single ad — allowing you to advertise more than one product in one ad.
Instant Experiences: An Instant Experience opens when someone clicks your ad on mobile and provides a full-screen experience that speaks to your brand, product, or service.
Collection ads: Features multiple products and opens into an Instant Experience.
BONUS READING: WHY WE THINK SIMON COWELL CRACKED THE CODE TO FACEBOOK MARKETING
How much do Facebook ads cost?
So how much does it cost to advertise on Facebook? Would you believe us if we told you that you get to choose exactly how much you spend on Facebook ads?
The beauty of advertising on a pay-per-click model, which is how Facebook operates, is that you can see results with any budget.
You'll be able to set your budget and bid for each click, set your objective and Facebook will do the rest.
Over time, you'll be able to determine exactly how much you need to invest to get a worth-while return-on-investment (ROI). For example, depending on the keyword that you want to target, your ad bid may have to be higher to beat out the competition.
A Facebook advertising agency can help you determine the best bid for your unique keywords and help you get the most from your Facebook ads.
RELATED READING: HOW MUCH SHOULD YOU SPEND ON FACEBOOK ADS?
Start improving your ROI with a top Facebook ad agency
If you've decided that you want to hire an affordable Facebook advertising company to help your business earn more revenue with Facebook, you're in the best hands with WebFX.
We're a full-service digital marketing agency, which means we offer far more than just Facebook advertising strategies. Since we're full-service, we understand the importance of creating marketing campaigns that work together across all platforms and can help you create a strategy that is unique to your business.
We also offer services including:
If you want to work with a group of experts WebFX is here for you. We're transparent with our customers and publish all of our pricing online.
We know that every company is different, which is why we offer FREE custom quotes. You can get yours now by contacting us online, or give us a call at 888-601-5359!