As Art Director over at Vintage, I have had the opportunity to build and grow an outstanding web design team. Together, our team has managed to work on plenty of innovative, award-winning projects. I would like to share some of my tips and techniques for hiring, helping cultivate the skills of team members, and creating a productive team culture.
Hiring
In the web design industry, there is no shortage of potential employees. A highly-driven individual with a bit of talent, a computer, and Internet access has the capacity to learn the basics of web design. This low barrier to entry is a blessing and curse—as an employer, you have to put in a lot of time and hard work to find a gem in a pile of rhinestones.
To help choose and make sure potential team members are a good fit for our design team, I use these five principles:
Growth
So, let's say you have found and hired some people. Your job isn't done, it has just begun. Here's my advice for cultivating the skills of your team members and helping them flourish in their roles:
Team Culture
Eventually, you will be able to help junior designers become calibrated to the standards, culture, style, and other base requirements of your design team. But what will it take for you to help them progress towards producing masterwork-quality designs?
My grandfather told me once that hard work makes a person. I never really believed that until I became an art director. Many people think that design is an innate ability, as if a person is born with (or without) a special gift that somehow automatically allows them to create world-class designs.
But looking back at my experience, I can undoubtedly say that even the most talented designers in the world would not be able to achieve their level of success without a strong desire to keep learning and improving, the hunger to be the best at what they do, and the diligence to put in the hard work. These are the concepts that must be championed in a design team. If you manage to build a team that has continuous self-improvement, excellence, and hard work as its foundation, there will truly be no project on this earth that's impossible for you to do.
Principles of Building an Award-Winning Design Team
Below is a visual of the tips and techniques discussed in this article. You may want to print this image for future reference. Click the image to enlarge it.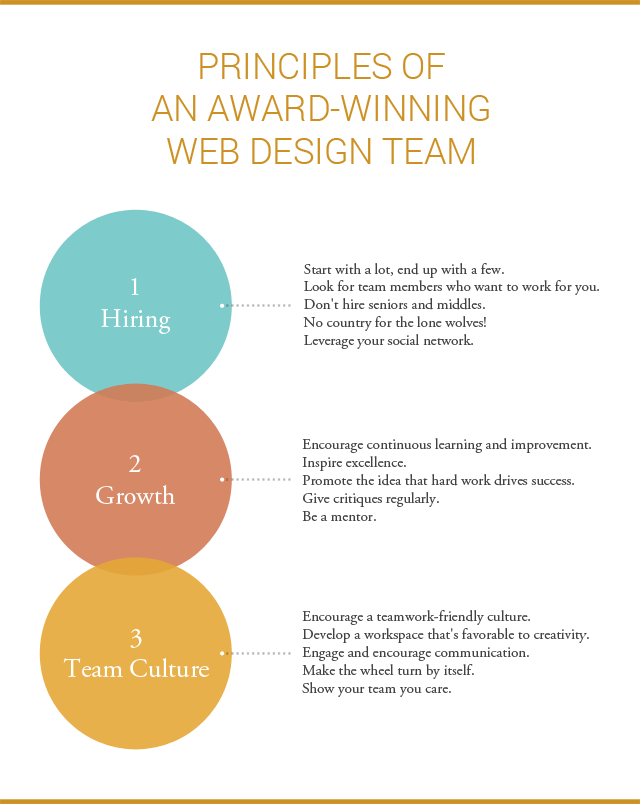 Related Content