Learn

The Beginner's Guide to Effective Email Marketing: Which Email Platform is Right for You?
The Beginner's Guide to Effective Email Marketing: Which Email Platform is Right for You?
So you know what you want to put in your emails, and you have a general idea of what you want them to look like. The next step is picking the email platform you want to use.
Table of Contents:
The Beginner's Guide to Effective Email Marketing
The email platform you pick will determine a lot of things, including:
How much you pay for email marketing
What your templates look like (assuming you don't hire a professional designer to create a template from scratch, which is always a possibility!)
What kinds of signup and opt-in forms you'll be able to use
What other add-ons and applications you can integrate with (ex. pop-ups)
Let's take a look at some of the most popular email platforms available and examine their benefits to determine which one is best for you.
MailChimp
As far as entry level email marketing platforms go, MailChimp is arguably the most popular. Its flexibility, numerous integrations, and easy-to-use, fully responsive templates make it an ideal choice for the new email marketer. And best of all: it's free for most users.
MailChimp is free for businesses with up to 2,000 subscribers (or 12,000 monthly emails). Once you exceed that point, your monthly cost goes up to $10 and grows from there. This makes MailChimp one of the most affordable solutions available, especially for a company just starting its email program.
A huge perk of MailChimp is its interactive email designer. The drag-and-drop designer allows you to build a reusable email template in a flash, positioning text, images, and links simply by dragging them around a blank canvas.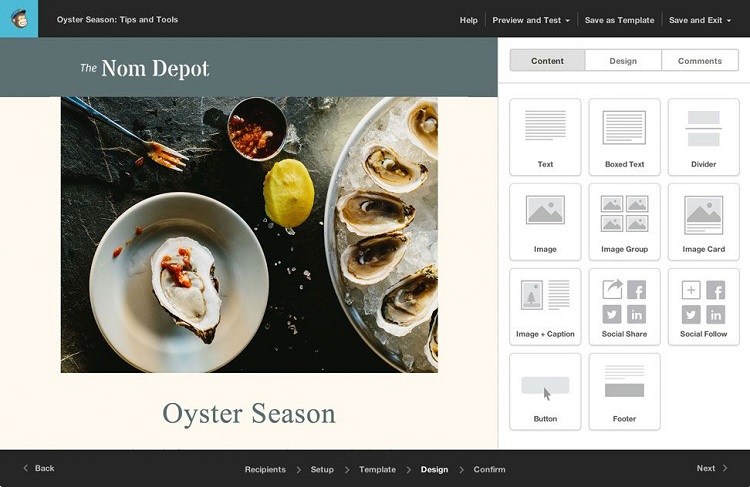 Having said all this, if you want to go beyond basic email marketing, MailChimp may not be the best solution. Using it for transactional email on an ecommerce site requires integration with a separate platform, Mandrill, and the provided email automation is minimal at best.
AWeber
AWeber is another affordable email marketing suite specifically designed for small businesses. They offer a free plan for lists of 500 subscribers or less, and their monthly pricing scales up from there.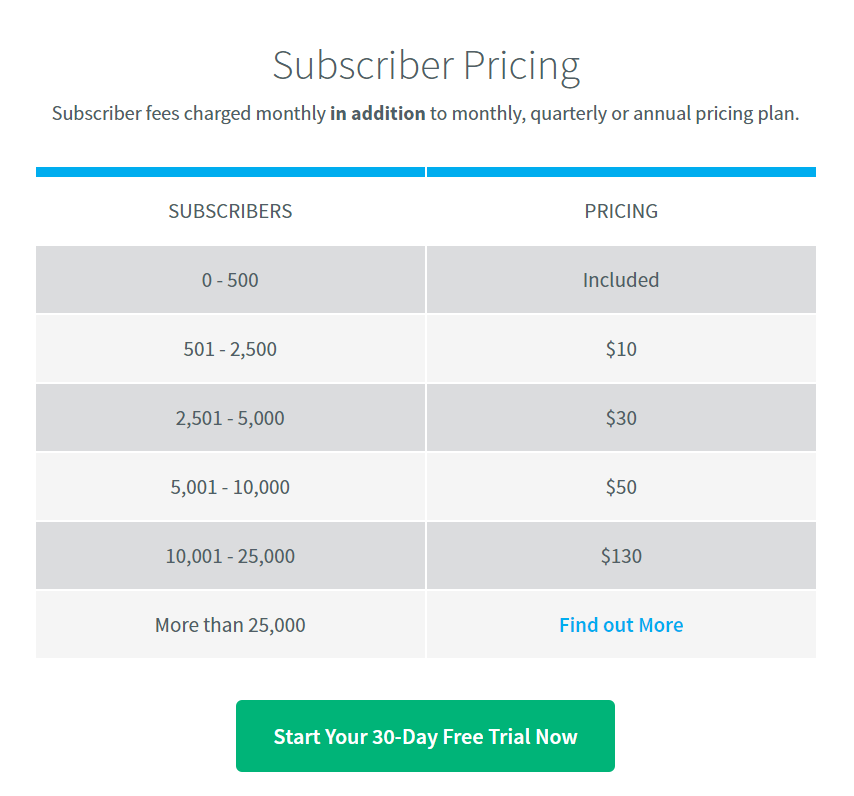 AWeber offers more than 700 email templates, as well as an email builder that allows you to create messages on the fly. But the real perk of AWeber is that they offer custom email template design, which means they'll design a completely custom email design based on your ideas or sketches.
For those of you not sure if AWeber is the right solution, the company offers a 30 day trial to new users. However, if you're just starting your email list, chances are good that the platform will be free for you to start.
Constant Contact
Constant Contact is one of the oldest and well-known email marketing platforms available. Much like MailChimp and AWeber, they offer a drag-and-drop email composer that makes creating your messages simple. But they also have some more robust features and integrations that bigger businesses might find desirable.
Constant Contact's pricing is higher than other email platforms, starting at $15 per month for up to 500 subscribers. However, they do not limit the number of emails you send per month (or ever), which is a great bonus. Additionally, they offer discounts for pre-paying your plans, as well as for nonprofit organizations.
Due to its age and prevalence, Constant Contact has an enormous directory of apps and integrations. You can connect your email list with everything from an opt-in form on Facebook to Quickbooks, and many of the integrations offered are free.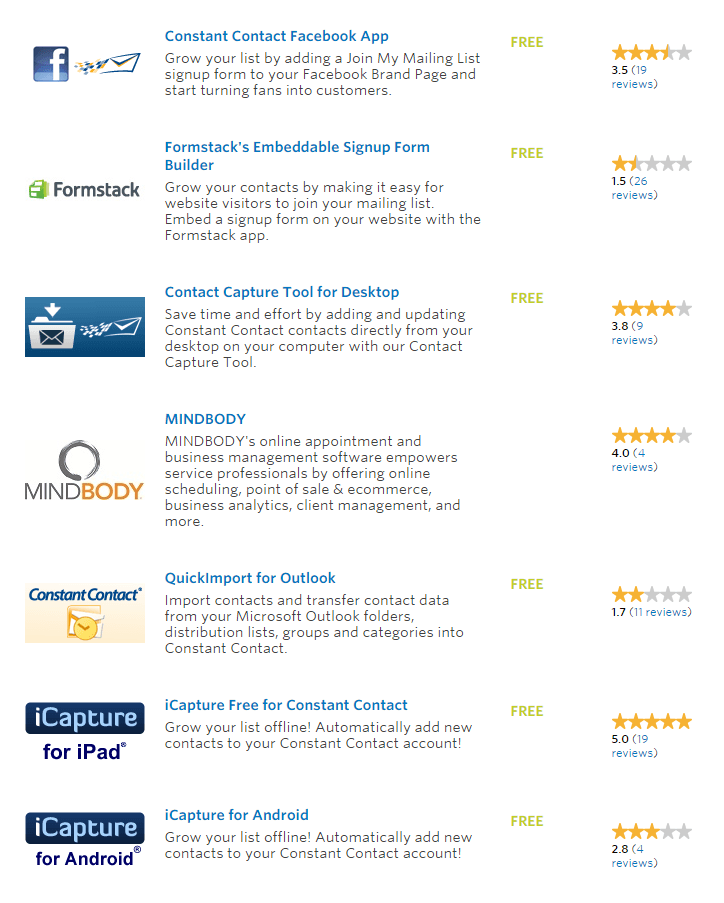 Campaign Monitor
Campaign Monitor is an email marketing platform with a twist: it allows you to send email either for yourself, or on behalf of clients.
For individuals, Campaign Monitor is a basic email client with fairly good capabilities. It has an email builder, although it's not nearly as robust as the ones you might find elsewhere, meaning you're better off creating a custom HTML template to import and reuse instead. It also has a standard set of integrations with various websites and applications.
There are two places where Campaign Monitor really shines. The first is in its email automation, which allows you to quickly and easily set up emails that automatically send to recipients who end up on a specific list (see chapter 9 for more). The reports associated with these automated emails are detailed, and allow you to make changes based on data.
Secondly, if you're working as an agency or on behalf of several clients, Campaign Monitor allows you to essentially set up their email marketing platform as your own. You get to customize the dashboard with your logo, colors, and anything else of your choosing. Clients can send emails themselves, or you can send for them. And the best part? You get to set the pricing your clients pay, which means you can effectively make a profit off of using Campaign Monitor.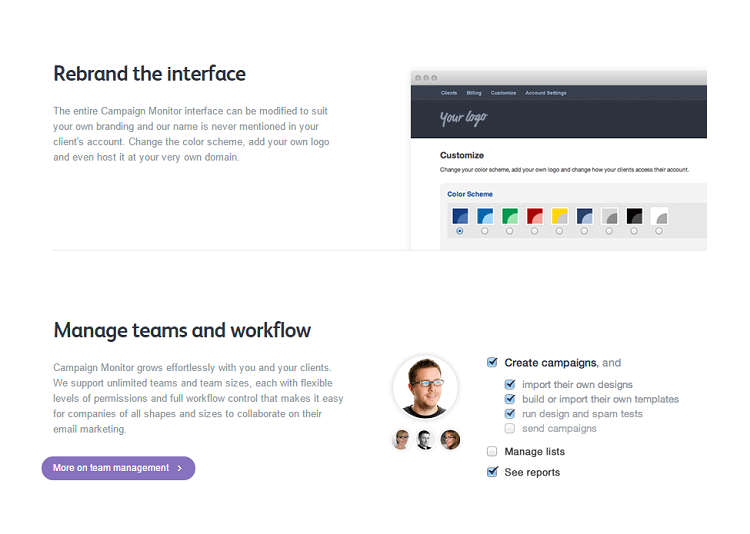 Which One Should I Choose?
The email marketing platform that's right for you is going to depend on a lot of factors. There are a lot of email marketing providers, and it isn't enough to just blindly pick one or the other because their price is better, or because you think their website looks nicer.
Ask yourself these questions while you're evaluating the options we've presented (or any other email marketing platform you may be considering):
How many subscribers do I expect to send to?
How much time and money do I want to invest in this program?
Do I have the capability to design my own template from scratch?
How often will I be sending emails?
Will I be sending emails just for myself, or do I also plan on sending email on behalf of a client or customer?
Are there any apps or programs I need my platform to integrate with?
By answering these questions, you should be able to get a better idea of which platform is best for your specific needs.
Keep in mind that if your needs change over time, you can always change email platforms. These companies don't own your email list: you can export it at any time. In fact, every one of the platforms we highlighted here have an "import" option that allows you to bring over subscribers you accrued in another platform.
Now that we've compared email marketing platforms and discussed the pros and cons of each, let's move on to the big first step of your campaign: sending your very first email!