18 minute read
Sarah Berry is a Google Analytics-certified Web Marketing Consultant at WebFX. She's written over 400 articles on digital marketing, covering topics like SEO, CRO, and Amazon. When she isn't polishing her Time Magazine Person of the Year Award, she's spending time with her flock of ducks.
Welcome to the definitive email marketing guide for small-to-midsized businesses (SMBs). If you're looking to make the most of your marketing budget, this guide to email marketing basics is for you. In this guide, you'll learn the basics, plus how to build, measure, and maintain your strategy.
Keep reading to learn how to start email marketing and deliver a campaign that "wow's" your company's leaders. For professional help with any of these steps, from designing your email to managing your campaigns, contact us online or give us a ring at 888-601-5359!
Time to Level Up Your Sales
Our long list of services helps you grow every aspect of your business with marketing strategies that are proven to increase bottom-line metrics like revenue and conversions.
In the past 5 years, we've managed more than 12.9 MILLION transactions across our client base.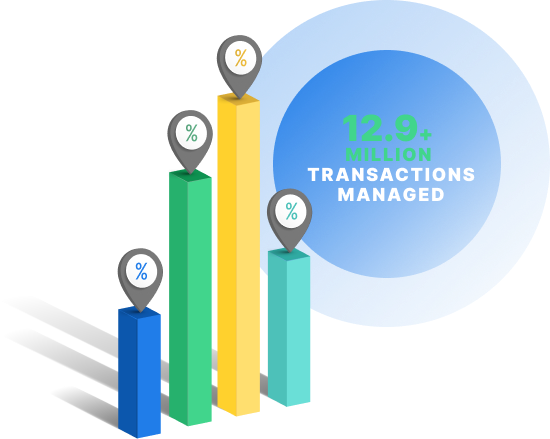 5 email marketing basics for getting started
As an introduction to our email marketing guide, we've compiled a list of five email marketing basics that everyone should know before getting started. If you're already familiar with what email marketing is and how it works, go ahead and skip ahead!
1. What is email marketing?
Email marketing is a digital marketing strategy that uses personalized email communication to support every stage of the buying funnel, from building brand awareness to nurturing leads to driving first-time and repeat purchases.
2. How does email marketing work?
Any guide on email marketing will tell you that email marketing works by sending the right message at the right time to drive an action, like purchasing a product or reading an article. With personalized emails, great content, and segmented subscribers, businesses can get email marketing to work for them.
3. How much does email marketing cost?
Email marketing pricing depends on your number of subscribers, frequency of communications, and management choice. SMBs that self-manage their email marketing, for instance, spend $9 to $1000 per month. In comparison, SMBs partnering with an email marketing agency invest $300 to $500 per month.
4. Why invest in email marketing?
Companies of all sizes invest in email marketing for a few reasons, including:
Email marketing delivers an average return on investment (ROI) of $44:$1
Email marketing provides direct access to current and future clients
Email marketing offers personalization at scale, like with first names or time zones
Email marketing scales well, which makes improving and automating your strategy easier
Email marketing gives immediate feedback through metrics like open rates and links clicked
While building your initial email marketing strategy can take time, your business can't ignore email marketing's benefits. With email marketing, you can help your company earn more revenue every year. Plus, you can demonstrate your impact since email is measurable.
5. Who should use email marketing?
Every business should use email marketing. Whether you have 10 or 10,000 subscribers, your company can use email to nurture people into clients. You can also use the techniques outlined in this email marketing guide to grow your list and amplify email's value.
If you'd like to learn more about these email marketing basics, check out these resources:
Email marketing 101: The definitive guide to email marketing
In this definitive guide to email marketing, you'll find each of the basics of email marketing, from growing your list to testing your emails, covered below. Read the guide in order or move between the topics that matter most to you!
Setting your email marketing goals
Before you start drafting your first email, you need to set some goals. Establishing email marketing goals will help your business build a better email marketing strategy. You'll know what you want to accomplish, when you want to accomplish it, and how you will accomplish it, which provides you with an excellent foundation.
Some tips for setting email marketing goals include:
Make your goals S.M.A.R.T. or Specific, Measurable, Attainable, Relevant, and Timely
Understand your audience and what they want from an email
Learn your industry's averages for open rates, bounce rates, and more
Align your goals with company-wide objectives, like increasing lead quality
Determine your team, from in-house marketers to freelance designers
Based on your goals, you can decide how much of your marketing budget should go towards email.
Choosing your email service provider
Your email service provider (ESP) or email marketing platform plays a critical role in your email strategy. That's because ESPs help your business send the right email at the right time to the right person. Essentially, ESPs make segmenting audiences, organizing email lists, and sending emails easy.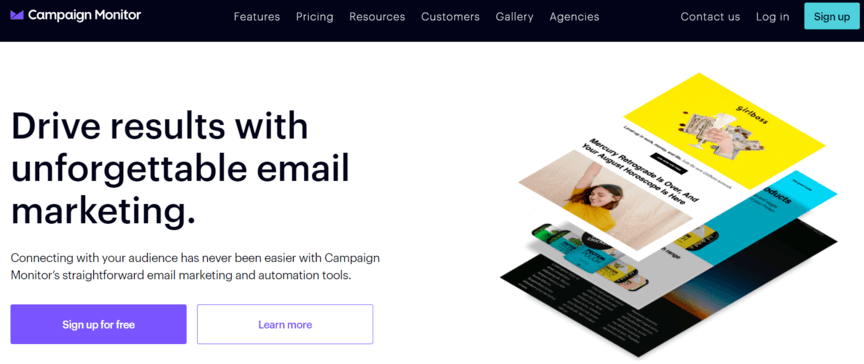 Some examples of ESPs include:
When choosing your email marketing platform, ask the following questions:
What tools or features do I need now and in the future?
How many subscribers do I have?
What is my budget?
Do I need the platform to integrate with another tool, like Salesforce or OptinMonster?
These questions can save you time because you only focus on the ESPs that match your needs. For example, you don't look at a platform that doesn't offer the customer relationship management (CRM) integrations you need.
Building your email list
Every email marketing strategy focuses on growing its number of subscribers. While you can attract new subscribers in dozens of ways, this email marketing 101 guide focuses on the most successful tactics for both business-to-business (B2B) and business-to-consumer (B2C) companies.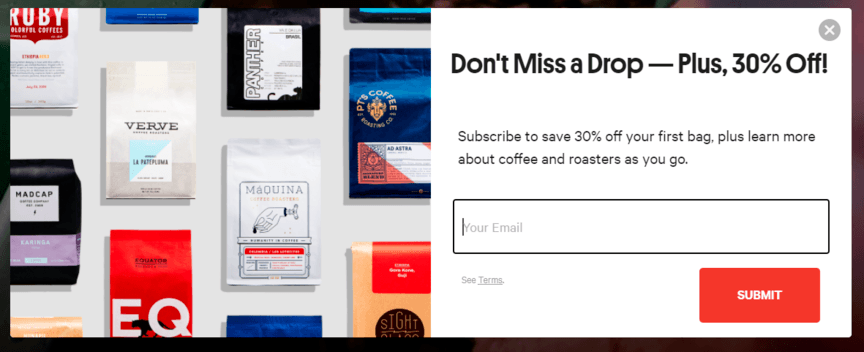 A couple of the most effective ways to build your email list include:
Downloadable resources: White papers, ebooks, and other miscellaneous PDFs are the most common ways to attract new subscribers. However, for these downloadable resources to succeed, you need to offer a fantastic piece of content and pair it with a compelling offer.
Discount offers: Another effective way to build your subscriber list is through discount offers. Ecommerce companies, for example, will often provide website visitors a one-time discount code for joining their email list. Keep in mind that this tactic can lead to high unsubscribe rates.
One-time events: Events like a webinar, pop-up shop, or consultation can all drive email sign-ups. These one-time events require a bigger investment of your time and resources, but they tend to bring more qualified or interested users to your email list.
Interactive features: Something as simple as a quiz or discount wheel can motivate people to sign up for your email list. You can also use the data provided, like from a quiz, to segment users and send them more relevant emails.
No matter which tactics you use to grow your email list, remember to follow these best practices:
Make every offer or resource relevant to your audience
Deliver the resource, coupon code, event information, or quiz results via email fast
Use a double opt-in to maximize the quality of your email list
Limit the number of form fields for users to sign-up
Besides brainstorming which opt-in strategies you'll use to grow your list, you'll also need to investigate your options for making these strategies a reality. For example, will you use a third-party tool, like OptinMonster, or work with an in-house developer?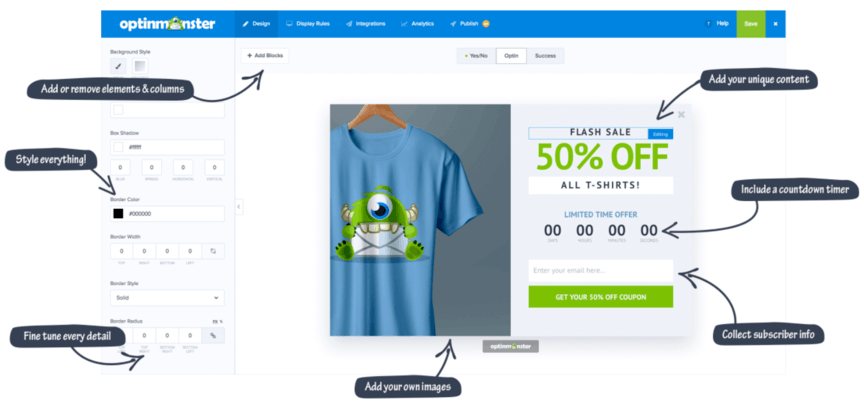 You'll also need to decide:
Where the offer appears, like on your blog posts or product pages
What the offer says, like whether they'll receive $10 off their first or next order
When the offer appears, like when a user goes to leave your site
Who the offer appears for, like for non-subscribers only
For the fastest and most convenient setup, use a third-party tool like OptinMonster. Even if you want to build an in-house solution, a tool like OptinMonster can help you attract new subscribers while your solution gets built.
Segmenting your email list
Every guide to email marketing covers email list segmentation. Why?
Segmenting your email list is one of the best ways to personalize your emails without using the typical tactic of addressing someone by their first name.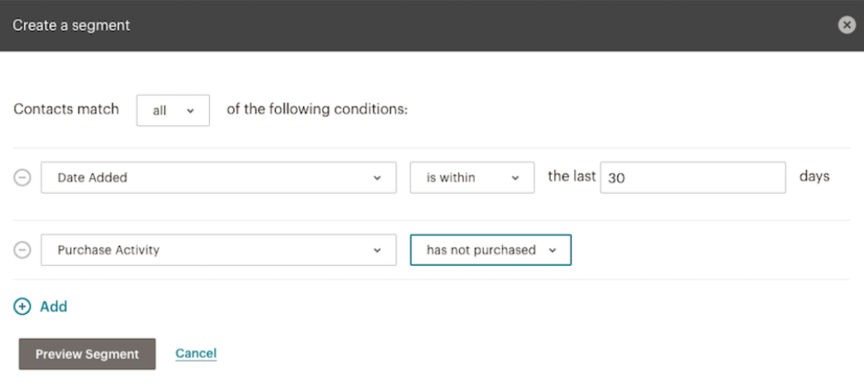 For example, you can segment subscribers by:
Location
Interests
Age
Gender
Behavior
Birthday month
Open rate
Shopping cart
And more
Instead of sending a general email about your upcoming sale, for instance, you could tailor that email to different email segments. Someone interested in your candles vs. bath soaps, for example, will see an email that advertises how they can get their next candle 25% off. With email marketing tools like EmailMarketingFX and Mailchimp, it's easy to segment your audience. The challenge is acquiring the user data.
Since less is more for acquiring subscribers, many companies only know a subscriber's email address and first name. If you want to get more information, you need to monitor a subscriber's behavior. For example, you could look at:
Which links in your emails a user clicks
When users open your emails
Which products subscribers add to their cart and then abandon
Once email subscribers convert, like by completing a contact form or purchasing a product, you can make even better guesses about what kind of content they'd like to read or promotions they'd like to hear about, which can lead to even better email marketing results.
Designing your emails
Your email designs will influence whether people act on your call-to-action (CTA) and even if they stay subscribed. That's why it's worthwhile to invest in professional email design services vs. relying on a pre-made template.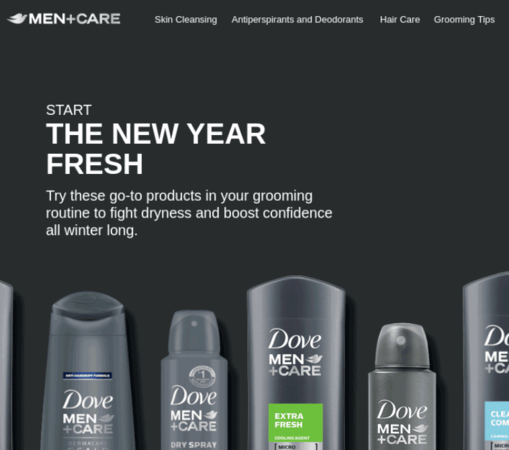 No matter which route you take, follow these best practices:
Use colors that match your brand
Stick to one to two fonts
Build a mobile-friendly design
Add visuals to support your email's message
Incorporate trust signals, like in your email footer
Include an unsubscribe link in your email footer
Depending on your email marketing strategy, you may create a few email templates for different campaigns. For instance, you may have an email design for abandoned shopping cart emails and another for limited-time promotions.
Creating your email content
Every email needs great content, whether it's text, images, or video. Before you start creating your email content, get some ideas by asking these questions:
Why did people subscribe to our emails — what did we promise them?
What does our target market like to learn or hear about?
What subscriber segments do we have — and how can we create tailored content for them?
Based on your answers, establish a foundation for your email content.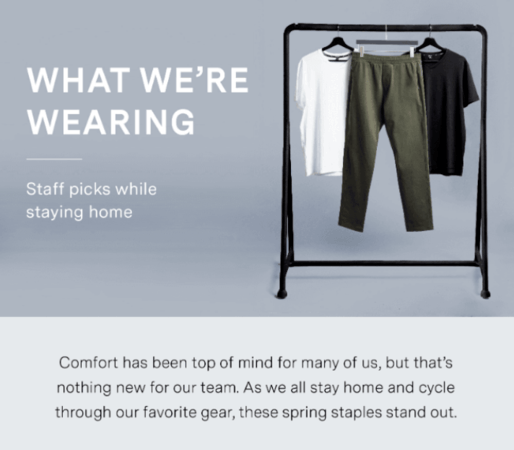 As an example, you could create a campaign for advertising promotions and limited-time sales. You could also make a campaign that helps subscribers stay up-to-date on the topics in your industry that matter most to them.
If you're still searching for inspiration, some general content topics include:
Product announcements
Promotions
Event recaps
Top social media posts
Most popular blog posts
Holidays, like shopping guides for Valentine's Day
For the best results, plan, but don't plan too far ahead with your content. Since email provides instant feedback, you'll often find yourself modifying your strategy and content based on user data. If an email about organizing your closet space, for example, doesn't get a lot of engagement, you may switch up your next topic.
That's why it's essential to remain flexible with your content and not get too far ahead of yourself. Aside from establishing a foundation for your content, remember to follow these best practices:
Break your text up with paragraphs, bullet points, and visuals
Include your CTA, like viewing your on-sale products or registering for your webinar
Describe your visuals, from images to GIFs, with alt text
Keep your word count to 400 words or less — you can experiment as you gain data
Proofread your email content — you can even use a free tool like Grammarly to help
Remember to follow one of the basics of email marketing: Focus on your audience. Yes, you may want to sell more products, but if your audience isn't ready, they won't make the purchase. Instead, they'll unsubscribe.
So, keep your focus on your audience and what they're looking to get from your emails.
Writing your email subject lines
When it comes to email marketing 101, subject lines are one of the most talked-about topics. That's because your subject lines influence whether someone will read your email or leave it unread. If you can't get someone to open your emails, you can't get them to engage with your business, which directly impacts your email marketing goals.
Start getting more people to open your emails by following these best practices:
Compile at least 5-10 options
Limit subject lines to 50 characters or less
Use proven subject line formats, like listicles or how-tos
Say what your email contains, like a promotional code or organizing tips
Add time-sensitive phrases, like "Today only," when appropriate
Personalize with a user's first name, location, or another feature
Depending on your workflow, you may find it more helpful to write your subject lines before creating your content or vice versa. Experiment and see which approach works best for you so you can develop the best subject lines possible.
Sending your emails
Every email marketing guide covers sending emails because it's one of the most critical email marketing steps. While sending emails to hundreds or even thousands of users can seem intimidating and time-consuming, your email marketing tool will make this process painless.
That's because email marketing tools like EmailMarketingFX will allow you to:
Select which segments should receive your email
Select which segments should not receive your email
Choose when your email should send
For the least embarrassing results when sending emails, create a checklist like the following:
Verify the subject line is typo-free
Check the content for typos, broken links, and mobile issues
Confirm the email footer contains a working unsubscribe link
Send a test version to your email address and view the email on your desktop and mobile device
Once you've completed your version of this checklist, go ahead and schedule (or send) your email.
Testing your emails
When it comes to email marketing 101, it's worth mentioning email testing. While you may not have the audience size to start testing your emails (the ideal audience size is 1000 total subscribers), you will someday. That's why you want to keep email testing on your list of plans.
With email testing, you can experiment with your:
Send times
Subject lines
Email content
CTAs
Landing pages
Audience segments
And more
These experiments provide your business with valuable data that you can use to improve your email marketing campaigns. If you discover sending your emails in the afternoon vs. evening leads to more opens, for instance, that will change your default send time. In most cases, your ESP will offer email testing options, like A/B testing.

Depending on your plan, you may need to upgrade your subscription to access email testing.
That's why, when choosing an email service provider, you should consider whether they offer what you need now and what you will need in the future. If you're looking to experiment with something like landing pages or where a user will "land" when clicking a link, then you'll want to use a free tool like Google Optimize. With Google Optimize, you can quickly set up these landing page experiments and even sync the data with Google Analytics.
Some best practices for email testing include:
Have an audience size of at least 1000 total subscribers
Go for bold changes for bigger results, like a different layout vs. a different button color
Run an A/B test for every email campaign, whether it's for the content or subject line
Determine which metric, like opens or clicks, will decide your winner
If you want to see what it's like to set up an email A/B test, try a demo version of EmailMarketingFX!
Measuring your email performance
Measuring your email performance is another email marketing basic you need to know. By measuring your email performance with regular email marketing audits, you can demonstrate to company decision-makers the impact of your email strategy on the organization. Typically, most businesses will track the following email metrics:
Open rates
Click-through rates
Conversion rates
Bounce rates
Unsubscribe rates
Spam complaints
Besides informing your company's leaders, these metrics will also inform you. You can look at your open, click-through, and bounce rates, for instance, and search for ways to improve your email marketing campaign. Maybe you'll invest more time in brainstorming subject lines, for example, or revise your content strategy to create more compelling topics for readers.
Not to mention, analyzing these metrics provides you with a better idea of how subscriber actions add value to your business. Your promotional emails, for instance, may boast high open rates but post low conversion rates, which doesn't add the kind of value or impact you want. So, look at your email data and investigate its impact on your company.
Your email marketing platform should make this process easy. For instance, applications like EmailMarketingFX and Campaign Monitor will provide a performance summary for every email, which you can look at to evaluate your performance.
Since EmailMarketingFX also supports (and automates) UTM parameters, which add tracking information to URLs, you can see email's impact in website analytics tools like Google Analytics, too.
For example, you can view what percentage of site traffic came from email. No matter which email marketing or website analytics tools you use, commit to measuring and evaluating your performance. Generate a quarterly report, for instance, to show decision-makers the impact and ROI of your work.
Automating your email campaigns
What comes after knowing how to start email marketing?
Learning how to automate your work. With email marketing, you can create automated journeys based on user actions, like:
Completing a purchase
Abandoning a shopping cart
Signing up for an event
Clicking a link
And more
These automations save you time and allow you to send the right email at the right time. Someone that abandoned their shopping cart, for instance, may need a reminder a few hours later, which your automated email will provide.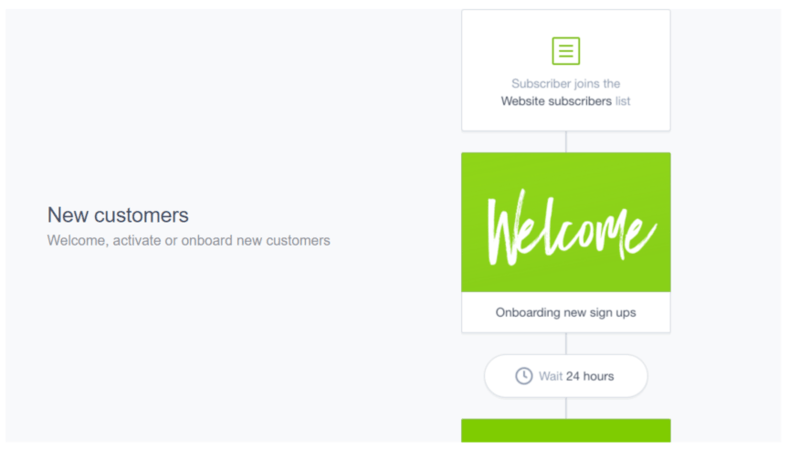 Like many email marketing basics, you'll want to use your email marketing platform for this task.
Most platforms allow you to create automated journeys via drip campaigns. These drip campaigns typically operate by someone entering a segment, like "Closet Organization Webinar." Once that person enters the segment, they start receiving a series of personalized emails. Email automation may seem above email marketing 101, but it's smart to create automated journeys when getting started with email marketing.
That's because many of these automations, like abandoned shopping cart reminders, make an immediate impact by recapturing lost revenue.
Maintaining your email list
Achieving subscriber milestones, like 1000, 10,000, or even 100,000 subscribers is great, but every email marketing guide will offer the same advice: Remove your inactive subscribers and spammy email accounts. While email list maintenance will decrease your number of subscribers, it will help you by:
Optimizing your email costs by investing your money into the most valuable readers
Helping your business create a high-quality vs. high-quantity email list
Enhancing your results from A/B tests
Improving your email deliverability
When it comes to inactive subscribers, use your email marketing platform to check subscriber activity. Before removing these subscribers, send an email that asks if they'd like to remain a subscriber. If that email stays unopened, go ahead and remove them from your list.
For spammy subscribers, use an email list cleaning tool like:
How often you clean your subscriber list will depend on your business and email marketing strategy. Most companies, however, should aim to remove inactive subscribers or spammy email addresses quarterly.
BONUS READING: 4 Reasons to Outsource Your Email
Start building your first email marketing campaign in EmailMarketingFX
Congrats, you've finished this email marketing guide and now know how to start email marketing! If you're looking to begin creating your first campaign, starting your first test, or developing your first email drip campaigns, then get a preview of what's possible with a free trial of EmailMarketingFX, which provides you with everything you need to get started!
Contact us online or give us a ring at 888-601-5359 if you have questions!
Sarah Berry is a Google Analytics-certified

Web Marketing Consultant at WebFX

. She's written over 400 articles on digital marketing, covering topics like SEO, CRO, and Amazon. When she isn't polishing her Time Magazine Person of the Year Award, she's spending time with her flock of ducks.

WebFX is a full-service marketing agency with 1000+ client reviews and a 4.9-star rating on Clutch! Find out how our expert team and revenue-accelerating tech can drive results for you! Learn more
Try our free Marketing Calculator
Craft a tailored online marketing strategy! Utilize our free Internet marketing calculator for a custom plan based on your location, reach, timeframe, and budget.
Plan Your Marketing Budget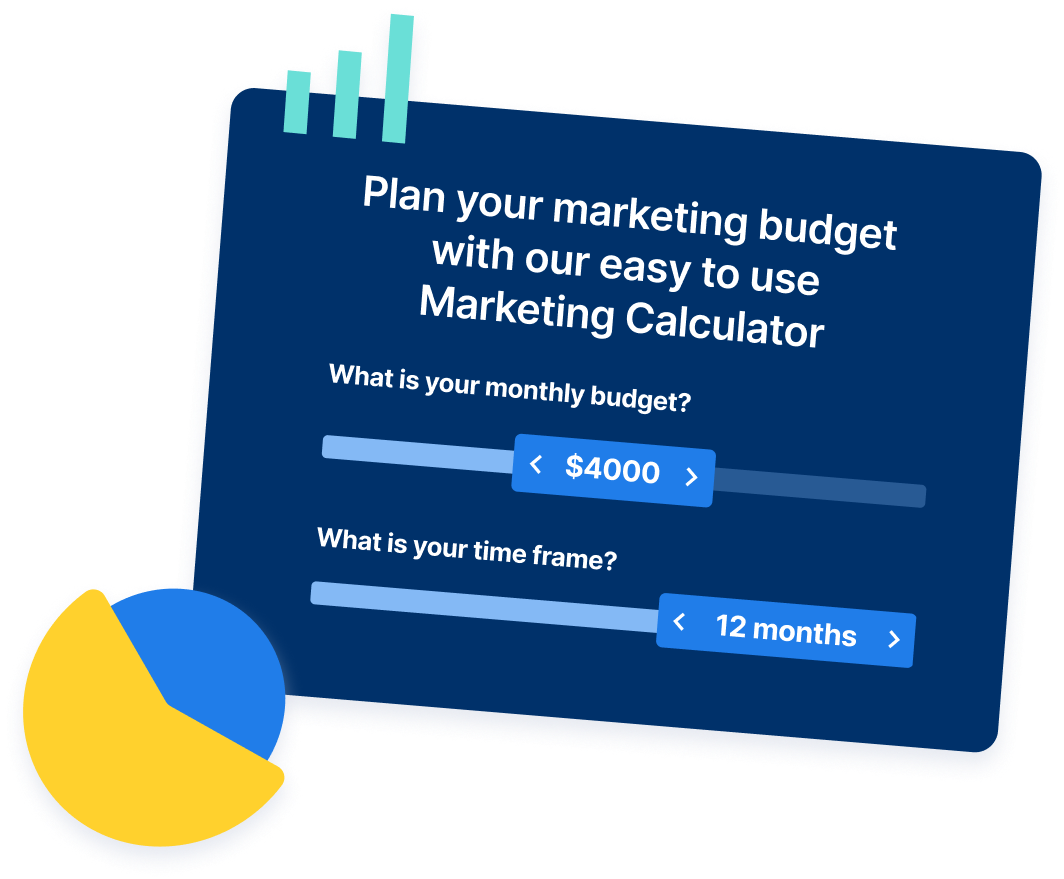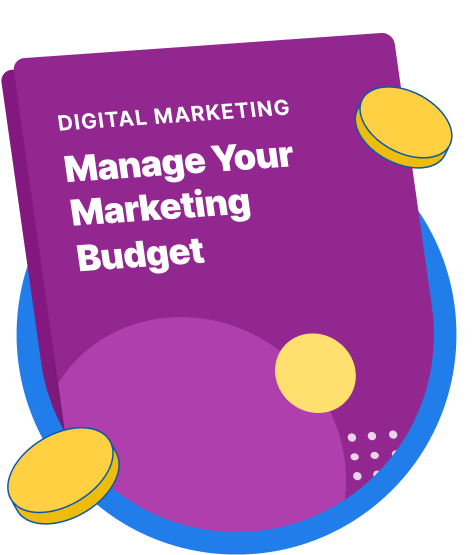 Maximize Your Marketing ROI
Claim your free eBook packed with proven strategies to boost your marketing efforts.
Get the Guide
Try our free Marketing Calculator
Craft a tailored online marketing strategy! Utilize our free Internet marketing calculator for a custom plan based on your location, reach, timeframe, and budget.
Plan Your Marketing Budget