Your restaurant is the best in your area. You know it, your servers know it, and the chef knows it. But do hungry potential customers know it, too?
From fancy new restaurants to well-established ones, you likely have some stiff competition. All restaurant owners want to get people out of their own kitchens and away from easy takeout options at their local grocery stores and into their dining rooms. So how do you make sure that when your potential customers make the decision to go out, they choose your restaurant?
There are many marketing strategies that can work for restaurant owners, but in today's Internet-driven world, some of the most effective involve social media. And although most of your competitors already have Facebook pages, there's another network that can be extremely useful for restaurant owners: Pinterest.
If you'd like to speak with a social media specialist before reading on, you can contact us at 888-601-5359.
Time to Level Up Your Sales
Our long list of services helps you grow every aspect of your business with marketing strategies that are proven to increase bottom-line metrics like revenue and conversions.
In the past 5 years, we've managed more than 12.9 MILLION transactions across our client base.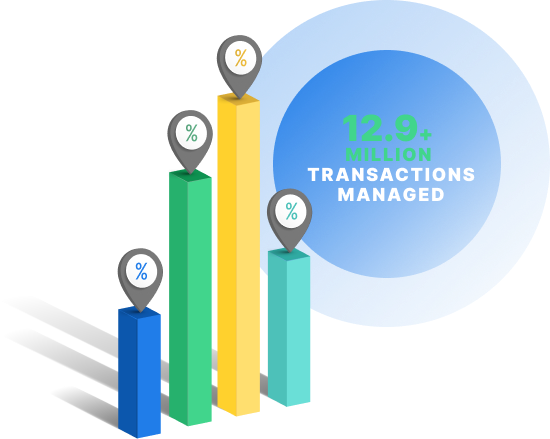 10 best Pinterest ideas for restaurants to win customers
Pinterest, which enjoyed a 66 percent growth from March 2014 to March 2015, is a dream come true for restauranteurs. Why? Consider this: It's all about the visual.
Since humans haven't quite been able to develop a system that allows us to smell or taste your food over the web, they have to use their imaginations through images. This is where Pinterest excels, and where you can, too.
Below are 10 of the best restaurant Pinterest ideas we've seen so far.
1. Upload pictures of your best dishes
Make a great-looking plate? Take a snap of it before you send it out to be eaten. Then, upload it to Pinterest and pin it to one of your relevant boards. Remember that the picture doesn't have to be professional quality, but it should at least look good enough to make people want to come and try it for themselves.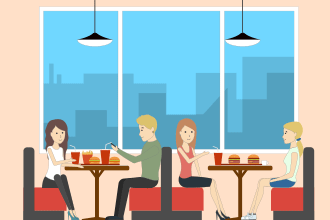 2. Upload pictures of your restaurant
In addition to photos of your food, photos of your physical location can also be useful. If you have an interesting building, interior design, or atmosphere, pin a few photos to a separate board. If you use relevant tags, who knows who you could attract?
3. Start numerous boards
One of the most exciting features of Pinterest is that you can have different boards. This enables you to organize your images and pin them in places where they'll be likely to be seen. For instance, you may want to start a board called "special of the day", or a board called "design inspiration", or even a board called "our restaurant history" featuring older photos if your restaurant has been in business for a while. The more boards you have, the easier it will be to determine where an image should go.
4. Visit other Pinterest accounts
This is where a lot of restaurants miss the mark. They forget that Pinterest, like all social media, is about engagement, not self-serving boasting. You have to be willing to visit other boards, and to like their images or even pin them to your own board.
This doesn't necessarily mean helping out your direct competitors, though. Instead, think about images that could directly link to your specialties, such as images of locally grown foods if you buy most of your ingredients from local suppliers, or pictures of exotic ingredients that you're featuring on your menu.
5. Keep your Pinterest up-to-date
We all know it can be tough to maintain social media pages, especially when business is booming, but this will pay off in the end—we promise! Take just 5-10 minutes a day to spend on your Pinterest page (or have one of your most trusted employees do it for you) and you'll see the results.
6. Host a contest on Pinterest
Everyone loves a good contest, especially when the reward is food at a restaurant like yours. A contest should be simple, such as asking people to take pictures of themselves enjoying food at your eatery, and then pinning them to their walls with a particular hashtag.
You could also host a contest that asks people to take photos of their favorite ingredients they'd like to see in a special dish created just for them by your restaurant. Make sure your contest has a great prize, and advertise it internally to patrons, so they know about it.
7. Support the community and talk about it
Many restaurants host special evenings where a portion of their business is donated to a local charity. This doesn't have to be an every-month kind of event, but when you do something like this, it's a good idea to take pictures and talk about it. There's no bad advertising when it comes to touting your charitable contributions to the community!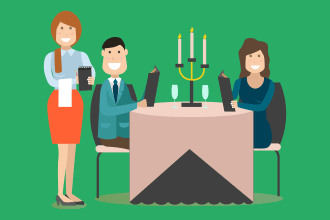 8. Create a board dedicated to the waitstaff, cooks and crew
Chances are good that your employees are already on at least one social media site, and probably numerous ones. So why not have a Pinterest board that celebrates how awesome they are? You can upload pictures of them doing what they do best: Making customers smile!
9. Start a blog board
If you already have invested in blogging, a blog board will enable you to get more traction for the blogs that you write. People can visit your blog board and click on the topic areas that most interest them.
10. Scope out the competition
Although you don't want to spend more time on this than your own accounts, you can do a little investigation to see what your competitors are doing with social media. See if they have Pinterest accounts, and if so, what kinds of posts have been successful.
This can be a great way to get ideas if you're having trouble coming up with them. And while we'd never recommend that you copy someone else's strategy completely, it's an easy way to see what your target customers like.
Measuring the metrics that affect your bottom line.
Are you interested in custom reporting that is specific to your unique business needs? Powered by MarketingCloudFX, WebFX creates custom reports based on the metrics that matter most to your company.
Leads

Transactions

Calls

Revenue
Learn More

Hear What It's Like to Work With WebFX!

"I work with a couple other companies across our portfolio and I certainly have the best working relationship and success with WebFX. I appreciate the collaboration, patience and always prompt response with our last minute requests. The WebFX team always presents "guinea pig" ideas that we can test on the properties, some of which come from completely different types of establishments. I truly appreciate the ability to pivot and think outside of the box, especially during these most challenging year!"
Restaurant
Need help marketing your restaurant on Pinterest?
WebFX is a full-service Internet marketing agency that can help take your restaurant to the next level with the use of social media platforms including Pinterest.
Check out our video below to understand our pricing model!
Hopefully, these Pinterest marketing ideas were helpful to you, but if you're still not sure how to get started, feel free to contact us. Our dedicated social team is more than happy to assist you in creating a strategy for all of your social media efforts.
Earn a 20% greater ROI with WebFX