A dental website has specific requirements that make it unique when compared to websites for other industries. For starters, many people fear going to the dentist, so your website should be friendly, calming, and informative. So how can you achieve this?
Keep a few basic goals in mind when creating your site. As a dental professional, you should aim to educate your patients, show them that you operate a trustworthy practice, and highlight the services and specialties you offer.
Now that you know what you should aim to do, let's take a closer look at what current and potential patients expect from a dental website.
Call 888-601-5359 to speak with a strategist about web design services from WebFX, or keep reading to learn more about effective web design for dental practices.
Functionality
Although it might be tempting to focus on the aesthetic side, your dental website must be designed with functionality in mind. If your gorgeous website is impossible to navigate or make sense of, the users will abandon the site and your efforts will be wasted.
Prominently display basic information
Most visitors to your site are likely looking for the same few pieces of information. Make things easy on them by displaying it on every page, so that no matter where they land on your site, they can easily find what they are looking for.
Include information like your address, phone number, and hours, in addition to your individual dentists' names and credentials. You should also include a link to a contact page, where users can complete a form to have you contact them via email.
Provide answers to frequently asked questions
Although it's easy to create a basic site and list a phone number with the hope that potential patients will contact you, not everyone wants to (or has the time to) pick up the phone just to have their questions answered. Because of this, you should create detailed pages to answer common patient questions.
This should include services provided, insurances accepted, and pricing. Creating these pages should be relatively easy, as all it requires is typing out the answers you are likely used to speaking on a daily basis, but the more information you provide, the more likely it is that potential patients will feel comfortable coming into your practice.
Reduce clicks
Aim to require as few clicks as possible in order for your potential patient to gain everything he or she needs from your website. Complex navigation systems and confusing sidebars can frustrate users, and even cause them to abandon your site in favor of another, more user-friendly one.
Use responsive design
Offering a highly functional website today means that your website is optimized for mobile devices, such as tablets and smartphones. These websites are known as responsive, which means they look the same and are just as functional regardless of the device a visitor uses to access them. Considering that a majority of people now use devices other than computers to browse the web, it is important to make sure that your site is accessible even when users are not on their desktops.
High-quality images
Images and aesthetics are vital to any website. You may not think that you have much to photograph and share as a dentist, but photos can put people at ease and make them more comfortable when they come in for the first time.
Provide high-quality images of the inside and exterior of your practice, so patients know what to expect. Avoid stock photos of dentists and dental assistants, and instead aim for high-resolution photos of the real people who work at your practice.
Friendly and professional language
After you choose a design, layout, and color, it's time to think about the language that will compose your website. The tone should be casual but professional, but both of those terms can be implemented to different degrees.
Consider the following two excerpts:
Excerpt 1: We are ABC Dentistry. Our practice is composed of eight board-certified dentists who take their work seriously. We offer a variety of general dentistry procedures such as fillings, crowns, veneers, and implants. We are known for our meticulous work in a professional setting, and we look forward to hearing from you soon.
Excerpt 2: Welcome to ABC Dentistry! When you walk through the doors of our practice, rest assured you're in good hands. Every one of our eight dentists is board certified and greets every patient with a smile. We offer basic general dentistry services, like fillings, crowns, veneers, and implants. Whether it's been six months or six years since your last dental visit, we hope to see you soon! Until then, feel free to view our patient testimonials as a testament to the service you can expect at your visit.
The information conveyed is basically the same, but the tone is drastically different. Number one is strictly informational. It's very professional but comes off as a little cold. It doesn't use contractions or exclamation points and emphasizes no frills—just a job well done in a professional setting.
Number two is undoubtedly friendlier from the beginning, as it welcomes visitors to the site with an exclamatory statement. It's still professional, but a little more casual. It uses contractions and more colloquial language. Think about how you want your practice to come across, and use an appropriate tone across your entire site.
If you'd like to talk about your custom web design needs, contact us online or call us at:
888-601-5359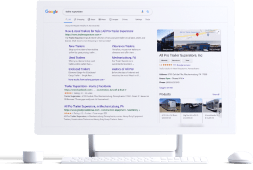 Consider adding a blog
Blogging is a great way to inform your patients and keep your site up-to-date and relevant. Business owners in almost every industry realize the power of blogging, and many have had success with it, even with topics that are not traditionally blogged about. A blog can be a great component of a successful dental website, especially if you frequently update it with helpful and authoritative posts.
As you can see, there are many ideas to consider as you contemplate your dental website. The best thing you can do is keep your patients in mind as you design. After all, they're the ones you really need to impress.
To reach more patients online, you can check out our creative dentist marketing ideas and our SEO tips for dentists.
Need help coming up with a design for your dental practice? Contact us today to learn how our talented team can create a beautiful and functional site that will attract new patients and keep current ones happy.
Earn a 20% greater ROI with WebFX