We all know the struggle: Nearly everyone wants to be in better shape, but for many people, it's hard to find the motivation to go to the gym. That's why, as a gym owner, it takes some work to persuade people to come.
Of course, this isn't unique to gyms. All businesses have to put in the effort to draw in customers, and it starts with generating leads.
But what exactly is lead generation for gyms, and how can you make it happen for your business? Here we'll go over what lead generation is, and four of the best methods for generating gym membership leads.
Read on to learn more. Then, for more help with your digital marketing campaign, consider partnering with WebFX — the agency with over 1020 client testimonials!
37% of marketers say that generating high-quality leads was one of their biggest challenges.
We want to decrease that percentage.
WebFX can help you generate high-quality leads with a customized marketing strategy.
Learn More About Lead Generation Services
What is lead generation for gyms?
Creating loyal customers is a lot like growing plants. You have to start by planting the right seeds, and then you have to water them and tend their soil to make them grow. Even once they've blossomed, you still have to keep watering them to maintain their health.
Lead generation describes the early stages of that process. You want your sprouts to blossom — to become loyal customers — but to do that, you first have to produce sprouts to start with.
Generating leads isn't the same thing as generating conversions. Conversions are when people actually purchase or sign up for something from your gym. Leads, on the other hand, are when people first become a point of contact for your business at all.
Essentially, someone becomes a lead when they go from an anonymous Internet user to a specific person on your gym's advertising radar. This could be because they get a free trial, give you their email, or simply visit your website.
Either way, leads are essential for your gym's marketing campaign. You have to have leads before you can have conversions.
Hear What It's Like to Work With WebFX!

"WebFX gets it done! They've done a great job working with our changing vision and goals, and their turnaround times are wonderful. All staff are professional, timely, and friendly."
Healthcare
How can you drive fitness studio lead generation?
The key to generating gym membership leads comes down to having a good digital marketing campaign. In particular, there are four tactics that can do a lot to drive up leads and propel the success of your gym.
1. SEO and content marketing for gyms
One of the oldest and most reliable digital marketing methods out there is the winning combination of search engine optimization (SEO) and content marketing.
The idea behind this combo is simple: Create content on your website that people will be interested in reading, and then target users with it through Google search results. You want users to visit your site, and informational content gives them a reason to do so.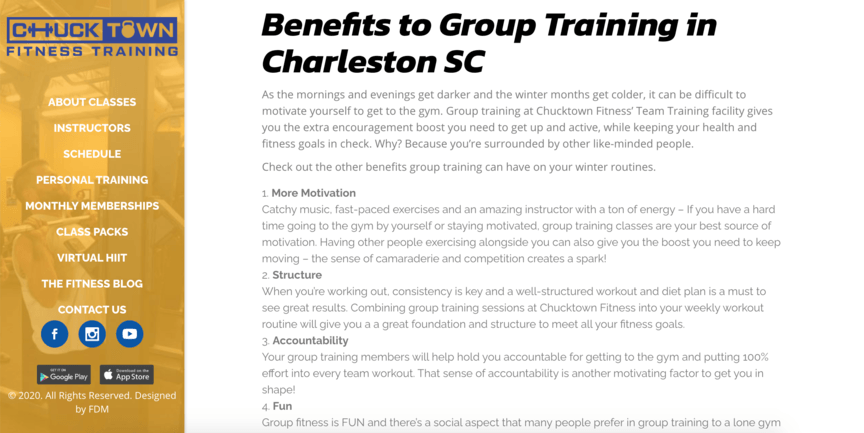 Chucktown's website, for example, features blog posts on topics like nutrition tips and the benefits of group training. This content isn't outright advertising — it's simply providing useful information. That information gives users a reason to stick around.
And to help direct this content to users, you can optimize it to answer specific Google search queries. In the case of the above article, Chucktown could target the keyword "Charleston gym group training."
By writing content that answers that query and includes the keyword itself throughout the text, they could possibly get that article ranked in the top search results for that phrase. That would increase the number of users who click on it and visit Wellbridge's site.
And once users are on your website, there's a good chance they'll end up being inspired to try out your gym.
2. Pay-per-click (PPC) advertising for gyms
Another highly reliable option for generating gym membership leads is to use pay-per-click (PPC) advertising. In a way, PPC takes a similar approach to SEO, in that it aims to use search results to direct users to a specific website page. The difference is in how it does it.
PPC is much more overtly salesy than SEO. Instead of leading users to pages with informational content, it takes them to landing pages that directly advertise membership with your gym. And instead of appearing in organic search results, PPC shows up as paid ads in Google.
You can create PPC ads through Google Ads, which will let you bid on your chosen keywords. Whenever those keywords are searched, Google will display the PPC ads of the highest bidders. The best part is that you only have to pay for your ads when they get clicked on.
Like SEO, PPC is a fantastic fitness studio lead generation tool because it specifically targets users who are already actively searching for things related to your gym. In other words, it taps into a group of people who already have a vested interest in fitness.
3. Social media marketing
When you're trying to advertise, one of the most common-sense strategies is to go where the people are. In today's digital world, that most often means social media platforms. The average user spends 28% of their Internet time on social media, making it an advertising hotspot.
In some ways, this overlaps with PPC, as you can advertise directly on social media with tools like Facebook Ads. Beyond that, though, you can boost your marketing simply by running social media accounts for your gym and posting regularly on them.
There's no end to what you can share on your social media accounts. From advertising seasonal membership discounts to sharing weight loss success stories, you have plenty of options for harnessing people's interest.
The more engaging your content, the more people will follow you. Why is this significant? Because over half of Americans that follow a brand on social media remain loyal to it. That means that every single follower you gain becomes a new lead!
4. Email marketing
The fourth tactic for generating gym membership leads is to harness one of the oldest forms of communication on the Internet: Email. Despite having now existed for decades, email is as widely used as ever. With so many people using it, it's an excellent way to quickly reach a large audience.
One of the best things about email marketing is that it allows for a high degree of personalization. Since email ads are sent to specific users' inboxes, they can include information unique to each user, beginning with something as simple as their names.
Another great thing about it is that it works fantastically for retargeting. When a user visits your website for the first time, they might read one piece of content, but then leave without converting. But if you capture their email address while they're on the site, you can follow up.
The best way to do this is to use email capture forms on your website pages. Maybe users have to enter their email to view a certain piece of content, or they're prompted to sign up for a newsletter when they leave.
Either way, if you can get people to give you their email address, you'll have an incredibly effective means of generating new fitness leads.
Good agencies have more than 50 testimonials.
Great agencies have more than 100 testimonials.
WebFX has over 1000+ glowing client testimonials.
See What Makes Us Stand out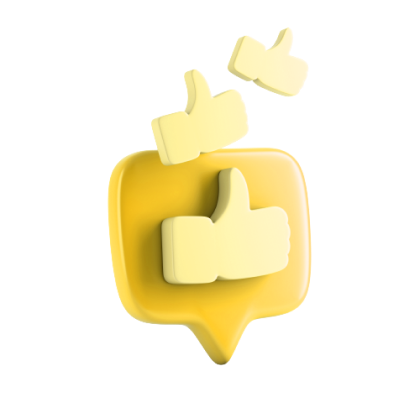 Boost your fitness studio lead generation with WebFX
Ready to start bringing in new customers for your fitness studio? WebFX can help!
With over 25 years of experience in the digital marketing industry, we know what it takes to create effective lead generation for gyms, and we'd love to apply that knowledge to your business!
To get started with us, just give us a call at 888-601-5359 or contact us online today!
Earn a 20% greater ROI with WebFX