Are you happy with your healthcare practice's current return on investment (ROI)?
If the answer is no, or you're not sure what your practice's ROI is, you've come to the right place! Keep reading to learn more about healthcare marketing ROI and get answers to questions like:
What is ROI in healthcare?
What metrics should I track for healthcare marketing ROI?
How do I improve ROI in healthcare marketing?
If you find you need help improving your practice's ROI, our team of over 300 marketing experts can help! Contact us online or call us today at 888-601-5359 to learn more about our digital marketing services!
What is ROI in healthcare marketing?
ROI in healthcare marketing is the money you get back from investing in digital marketing strategies. This measurement can show the profit or loss from your marketing efforts. You can calculate your healthcare marketing ROI by using this formula:
((Profit-Costs)/Costs) x 100 = ROI
Hear What It's Like to Work With WebFX!

"WebFX has completely transformed my practice. With their support, I have expanded my practice significantly and grown exponentially. I could not have expanded to this degree, nor this quickly had it not been for the incredible efforts provided by WebFX and my team."
Healthcare
3 key healthcare marketing ROI metrics to track
When you look at your digital marketing campaigns, you'll find dozens of metrics you can track through platforms like Google Analytics. So, how do you wade through this list of metrics to find the ones that indicate your ROI?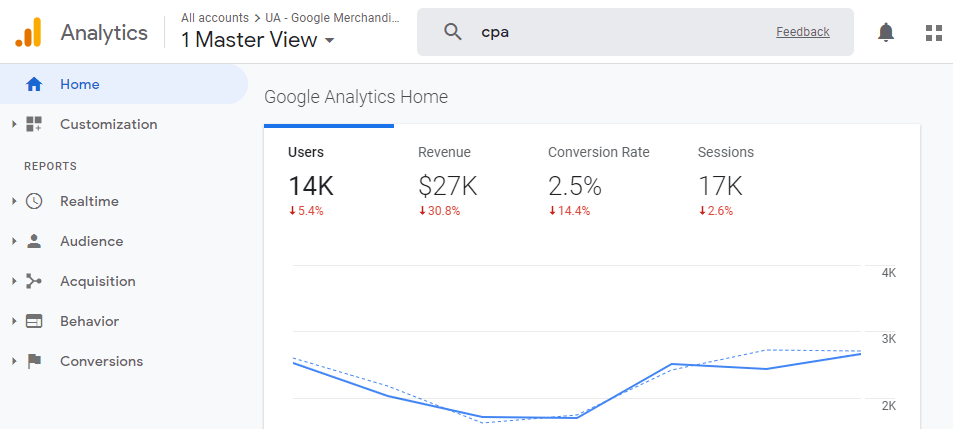 To help you find the ROI of your healthcare marketing strategy, check out these three key metrics you can track:
1. Cost per Acquisition (CPA)
Regardless of the healthcare practice you run, you aim to get more patients through the door. To attain these new patients, you want to ensure that you don't spend more money marketing your practice than your patients spend.
That's where cost per acquisition (CPA) can help you determine if you spend effectively. CPA measures how much you're spending in marketing to obtain new patients. You take the amount your new patients spend and divide that amount by your marketing costs.
Your CPA should be lower than the average amount a patient spends for your services. If you find that your CPA is much higher, you must analyze your marketing strategy to see where you can improve, or contact WebFX to help!
A great way to track your most effective strategies is to use a Customer Relationship Management (CRM) tool, like Nutshell, to help you identify which channels drive leads. CRM for healthcare can help you readjust your marketing strategy to improve your healthcare marketing ROI.
2. Engagement
When you analyze the digital marketing ROI of healthcare, one of the most critical sets of metrics to look at is engagement. Engagement indicates if people interact with your practice online and spend time getting to know you through your website.
Engagement encompasses numerous metrics that vary depending on which strategies your business uses. You can track engagement through your website, social media posts, or emails.
Some standard engagement metrics include:
If you want to track engagement on your website, for example, you might focus more on metrics like clicks, dwell time, and calls. With your social media posts, your focus may fall heavily on shares, comments, and CTR.
By tracking engagement metrics, you can see if your strategies work. It can give you some insight into your marketing campaigns' effectiveness and understand how these strategies impact your healthcare marketing ROI.
3. Conversion rate
If you want to improve your digital marketing ROI for healthcare, you must look at your conversion rate. Your conversion rate indicates how many leads turn into patients for your practice. By tracking this metric, you can see if your marketing works effectively for your practice.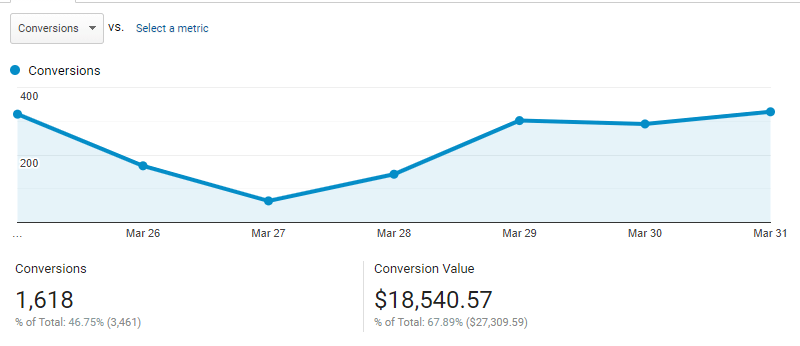 Not sure what your current conversion rate is? Use our free conversion rate calculator to find out!
By calculating your conversion rate, you can if your marketing efforts turn leads into patients. If you have a low conversion rate, you may need to revamp your marketing efforts to increase conversions for your business, and therefore can improve your healthcare marketing ROI.
WebFX helps clients in the healthcare industry grow their practices.
"My practice has grown quickly and improved our accessibility to those we serve or hope to serve within our community. WebFX is directly responsible for our growth and the fact that we have more than doubled our revenue in six months."
— Merrimack Valley Psychological Associates
See Case Study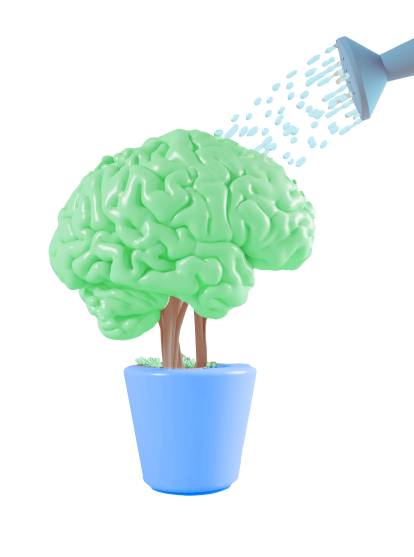 How to improve healthcare marketing ROI
If you look at the digital marketing ROI of your healthcare practice and aren't satisfied, don't worry! There are ways you can improve marketing ROI to drive the results you desire.
Here are three tips for increasing the ROI of your healthcare marketing:
1. Set goals to keep your marketing campaigns focused
One of the biggest mistakes companies make is not setting marketing goals. While it may not seem important, digital marketing goals play a fundamental role in shaping your strategy. Without goals, you'll aimlessly try different methods and see what sticks. As you might have guessed, this strategy isn't the most efficient or effective way to run a marketing campaign.
When you set goals, you keep your practice focused on what matters most, which leads you to focus on the strategies that are most likely to help you achieve your goals. Goals prevent you from wasting money on strategies and campaigns that won't drive results for your business.
When you set your goals, make them SMART goals. SMART stands for:
Specific
Measurable
Attainable
Relevant
Timely
Your practice's goals should be relevant to what you want to achieve for your practice, have a deadline, and be achievable for you and your employees. These types of goals will help you keep your marketing campaign focused.
2. Use marketing automation
You've probably heard the phrase, "You've got to spend money to make money." Marketing automation tools are the embodiment of this phrase. While it may seem counterproductive to spend money on marketing automation, investing in this software can substantially improve your healthcare marketing ROI.
Marketing automation software, like MarketingCloudFX, enables you to accomplish more in less time and make your marketing more efficient. Instead of doing repetitive tasks — big or small — you can leave them to automation.
By automating tasks, like sending appointment reminder emails or welcome emails, you don't have to dedicate time to repetitive tasks. Instead, you can focus on more intricate marketing projects or focus on helping your patients.
When you save time, you save money. As a result, you leave more room to increase ROI through healthcare marketing.
3. Test campaigns often
If you want to improve your healthcare marketing ROI, you need to test your campaigns. The first version of a campaign isn't always the best version — your tenth version may not be the best either! Digital marketing continually evolves, and people's likes and online behaviors constantly change, so your practice must change with it.
One of the best ways to do this is to test your campaigns often. You can use A/B testing to test your ads, emails, and more. This testing enables you to see if you can create a better version of a campaign, leading to increased engagement and leads — ultimately leading to an increase in ROI.
Testing your campaigns enables you to continually improve your marketing efforts to deliver a better and more relevant experience for your future patients.
Start improving your healthcare marketing ROI today
Your healthcare marketing ROI is a critical component in determining if your marketing is effective. If you look at your healthcare marketing ROI and are unsatisfied, WebFX can help you improve.
With over 25 years of experience, we know digital marketing. We're no strangers to helping our clients increase leads and sales — we've driven over $3 billion in revenue and over 7.8 million leads for our clients in the past five years.
As a full-service digital marketing company, we're experienced in multiple strategies and know how to optimize those strategies to improve your healthcare marketing ROI.
Ready to improve your ROI? Contact us online or call us today at 888-601-5359 to speak with a strategist!
Earn a 20% greater ROI with WebFX