Pharmaceutical companies are among the biggest business-to-business (B2B) companies, selling to pharmacies rather than to customers. When you integrate B2B marketing strategies, your pharmaceutical company will generate more leads, driving greater revenue for your products and services among online audiences.
WebFX is a top lead generation agency, committed to helping your B2B company see results. For weekly tips, sign up for our email newsletter, Revenue Weekly!
Don't miss our Marketing Manager Insider emails!
Join 200,000 smart marketers and get the month's hottest marketing news and insights delivered straight to your inbox!
Enter your email below:
Inline Subscription Form – CTA 72
"*" indicates required fields
(Don't worry, we'll never share your information!)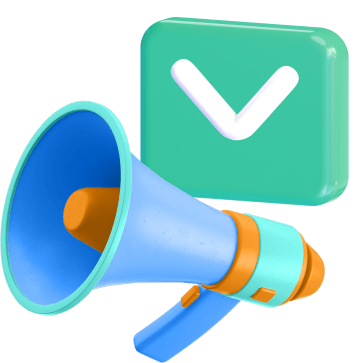 Top 7 lead generation tactics and how to utilize them
You can implement the following marketing strategies to generate more leads for your pharmaceutical business.
1. Run paid ads
Paid online advertising is one of the most direct and versatile ways to campaign for your business, and it takes on several forms, such as display ads or Google paid search ads.
Specifically, paid advertising works by showing your featured ads on designated websites. Your company bids on keywords against competitors for top spots in a search queue.
One of the most common paid advertising strategies is pay-per-click (PPC) bidding. You'll only pay when someone clicks on your advertisement. The total price can vary depending on the demand for your desired keywords and the quality of your ad. Since you only pay for interested individuals, you increase your likelihood of conversions while maintaining a budget.
2. Improve your SEO
Search engine optimization (SEO) is a marketing strategy websites use to appear at the top of search engine results. Like paid search ads, SEO will get your page noticed and increase traffic based on keywords. However, unlike paid search ads, SEO is completely organic.
SEO is driven exclusively by keywords and relevant searches. The ultimate goal is for your audience to find your page when searching for relevant topics within your industry, causing them to click and become leads.
3. Take advantage of social media
Another valuable platform for online marketing is social media. Social media is designed to feature organic content on a user's feed according to an algorithm. Many social media users utilize hashtags to expand their brand and encourage people to interact with their business.
Many platforms also give an option for businesses to create paid social media ads. These ads look like organic posts as they show up in a user's feed within the platform's structure. For example, an Instagram ad will feature a photograph or video with a caption — just like a regular post. The only difference is the word "Sponsored" underneath the business's username on the ad's heading.
You might think social media is more of a business-to-consumer (B2C) strategy than a B2B one. However, other businesses also use social media and can view or interact with your own strategy to learn more about your company.
4. Post positive reviews
Positive reviews are essential for any business generating leads, especially for pharmaceutical companies. Pharmacies are looking for reliable medications to stock their supply and give to customers. For this reason, many target businesses will want to look into your reviews before buying from you.
Take some time and put in the effort to earn positive reviews. If you already have a trusted relationship with other loyal pharmacies, ask them to submit a testimonial. On the other hand, keep an eye out for any negative reviews and address their concerns right away.
5. Start a blog
Starting a company blog is a helpful resource companies can use to find valuable information from your site. When used correctly, a blog keeps your site fresh and proves you to be an information leader in your industry. It also allows you to post frequently on social media channels and invite people to your site.
The key ingredient to a successful business blog is to post regularly and keep it updated. While it may be a challenge to get the hang of at first, the reward is worth it. Before you know it, you'll have more leads than ever!
6. Learn to webcast
Webcasting is an up-and-coming way you can utilize today's technology to provide information to interested businesses. A webcast is a one-way presentation through a live video.
While it's different from a webinar — a two-way participation presentation — webcasts can engage a large group of people and teach them directly about your brand. Interested parties can then reach out to you separately for more information and you can nurture those leads further.
7. Nurture leads with marketing management tools
With marketing management tools, your business can capture leads and direct them toward a conversion. Taking advantage of these tools will help you keep track of who is interested in your business so you can send them messages for engagement.
Many lead generation tools fall under the marketing management umbrella. These strategies allow you to do more with lead generation while simultaneously handling several aspects of marketing campaigns.
37% of marketers say that generating high-quality leads was one of their biggest challenges.
We want to decrease that percentage.
WebFX can help you generate high-quality leads with a customized marketing strategy.
Learn More About Lead Generation Services
Drive qualified leads with WebFX
There's a lot to consider when creating a lead generation strategy. If you don't know where to begin, partner with WebFX, your top B2B lead generation agency!
In the past five years, we've driven over 7.8 million leads for our clients. Watch your company thrive when you choose us as we'll work with you to create successful marketing campaigns that fit your needs.
For more information on our marketing services, contact us online or give us a call at 888-601-5359 today! Our award-winning team is ready to assist you with all your marketing needs.
Increase your leads, sales, and revenue with digital marketing