Many consumers turn to social media to discover new businesses and products, searching for companies they can trust and develop personal connections with. Any organization, whatever its industry might be, should establish a consistent social media presence if it wants to attract new customers and drive more revenue.
Social media can provide a host of opportunities and benefits for engineering firms. Read on to learn more about social media's essential role, or call us at 888-601-5359 to speak with a strategist about how social media can transform your engineering practice.
Growing your social presence with WebFX is a walk in the park.
"WebFX allows growing your social media platforms to be stress-free! They are knowledgeable and adapt to your company needs!"
Learn More About Our Social Media Services

5 reasons why engineering firms need social media
Social media offers many opportunities for professional connections and business growth, allowing firms to develop relationships with clients while attracting new ones simultaneously. Social media can benefit your engineering firm in several ways, including:
1. Cementing brand authority
When you create a consistent online presence, your audience will see you as a relevant and trustworthy market leader. Creating useful content, offering meaningful connections, and providing valuable industry insights will help your firm appear as an authority to prospective and current clients.
2. Improving communication
Social media allows instant communication, enabling you to address questions and concerns and capitalize on the interest of your viewers. As you consistently communicate with your audience and others in your industry, you can develop beneficial relationships that will drive growth and revenue for your firm.
3. Driving website traffic
The engaging, helpful content you post on your social media will drive more traffic to your website, generating more leads for your firm. It will also help your audience see the value your services provide, encouraging them to visit your website to learn more.
4. Boosting search engine optimization (SEO)
Social media can enhance your SEO, helping you rank higher in search engine results. The more people share your content on their social media accounts, the more links search engines will see. These links help them interpret your content as reputable, meaning they will display it higher in the search results.
5. Guiding clients through the sales funnel
Social media allows you to accompany your audience through the sales funnel, from discovery to purchase. Whether your content focuses on building brand awareness or encouraging your followers to buy a specific product or service, you can use social media to engage with your audience wherever they may be on their customer journey.
How to use social media to promote your engineering firm
Take advantage of all social media has to offer by implementing these social media best practices:
Set clear goals
Before jumping into social media, define your goals for your marketing efforts. Some common objectives are to build relationships with your customers, increase awareness for your services, and establish more credibility for your brand.
Ensure every post you create aligns with your goals, offering educational content or encouraging purchases as necessary to achieve your vision and meet customer expectations. Establish clear measurements to help you evaluate the effectiveness of your posts, assessing metrics such as:
Click-through rates

Follower count

Number of likes or shares
Create helpful content
Your social media efforts will be most successful when you focus on providing value to your followers. As a result, your content should focus on their needs and interests while demonstrating your credibility, reliability, and professionalism.
A few different types of posts you could consider creating include:
Showcasing your presence at a trade event.

Highlighting employees.

Displaying your offices.

Celebrating awards you've won.

Promoting blog posts on your website.
Posting regular and compelling content will help your business stay top-of-mind, building recognition and trust among your audience. Regular posting will also help your followers feel engaged with your firm, encouraging them to learn more about your services.
Focus on connection
In addition to consistent posting, be sure to communicate regularly with your followers. Take the time to respond to comments and messages, like and share posts from other industry leaders, and address reviews. Your prompt responses and active involvement will show your followers you are approachable and aware of customer needs.
Many consumers want to purchase products and services from businesses they feel personally connected to. Social media allows you to humanize your brand, giving your current and prospective customers the transparency they need to trust your company and employ your services.
Utilize multiple platforms
Study your target audience to determine which platforms would offer the most valuable opportunities for growing your business. A few social media platforms that may be helpful for your engineering firm include:
LinkedIn:

This platform provides a professional space for connecting with industry leaders, sharing expertise, and expanding your knowledge.

Twitter:

Stay updated on the latest news and trends in your industry or provide helpful insights to build your credibility on this social media platform.

Facebook:

With such a large user base, this platform offers the widest audience reach for sharing general information about your business, upcoming events, and relevant news stories.

Instagram:

If your engineering firm completes a lot of visual projects, this platform offers many opportunities to showcase your talents, spark interest, and drive website traffic.
Establish clear branding
Social media is one of the best ways to promote your brand image, so you'll want to ensure your branding is solid. Decide how you want your audience to remember you by crafting a unique tone and utilizing a memorable color scheme. Be consistent with your branding across your social media accounts and website to help your audience develop trust in your business.
74% of people use social media when making a purchasing decision.
Make their decision easy with a stellar social media presence. See how your brand can level up by requesting a no-obligation proposal today.
One of our experts will be in touch within 24 hours!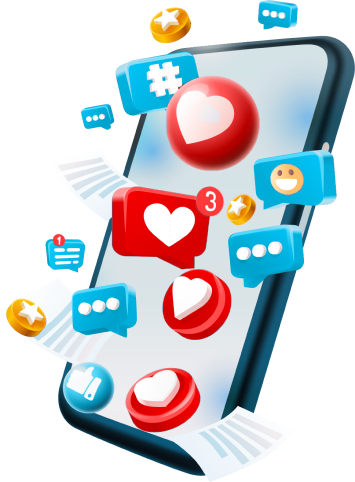 Manage your social media with help from WebFX
Since 1996, WebFX has helped businesses across industries reap the benefits of digital marketing. We have the expertise and experience you need to improve your social media strategies and grow your business. Contact us today to learn how we can transform your social media marketing efforts!
Increase your leads, sales, and revenue with digital marketing
Find Us Driving Revenue Nationwide