These days, people spend quite a bit of time online — and for the average user, 28% of that time is dedicated specifically to social media. On top of that, seven out of 10 Americans use at least one social media platform. That means a lot of people use social media, a lot of the time.
With social media being such an influential part of people's lives, it's the perfect outlet for marketing your translation services. You can create an account for your business and start marketing yourself where people are sure to see you.
But what's the best way to develop social media for translation and interpretation services? How can you get the best results? We'll answer that question below, so read on to learn more about translator social media.
Then consider partnering with WebFX — the agency with 1020 client testimonials — for our expert social media services. Just call 888-601-5359 or contact us online to get started!
Growing your social presence with WebFX is a walk in the park.
"WebFX allows growing your social media platforms to be stress-free! They are knowledgeable and adapt to your company needs!"
Learn More About Our Social Media Services

8 ways to improve social media for translators
Social media is an incredible tool for speaking to large online audiences, so you won't want to miss out on it. By creating an account on at least one platform, you can start putting out content that will draw in potential customers and drive conversions.
Here are eight ways to optimize your interpreter social media for maximum results!
1. Interact with your audience
There's a reason social media is called what it's called — it's a platform built entirely around being social. For that reason, if you don't use your account to socialize directly with your audience, you're missing out on the core benefit of the platform.
On social media, it's crucial that you interact regularly with your audience, and that's one of the things that distinguishes social media from other marketing strategies. While most strategies rely on one-way communication, social media is intrinsically two-way.
Don't just project information to your audience — have conversations. Read their comments and replies, and be sure to respond to as many as you can. When you keep in touch with your potential customers, they'll develop far more loyalty to you.
2. Share testimonials
You can use social media to talk yourself up all day long, but people will naturally take your own opinion of yourself with a grain of salt. When your customers rave about you, on the other hand, people are far more likely to buy into the hype and think highly of your services.
That's why you can benefit from displaying customer testimonials on social media. You can gather those testimonials simply by asking your customers directly, either in person or in follow-up emails.
Once people submit their positive feedback, you can display it on your social media page, so your audience can see just how happy you make your customers.
3. Share helpful infographics
Social media is a great place to convey information to a large audience, but it's also where people tend to have the shortest attention spans — many users will be apt to scroll past a post with a lot of text. Fortunately, infographics offer a solution.
When you post infographics from your account, you can convey information about translation that people will find interesting or helpful. Maybe you inform people about your different services, or maybe you provide some basic translation facts.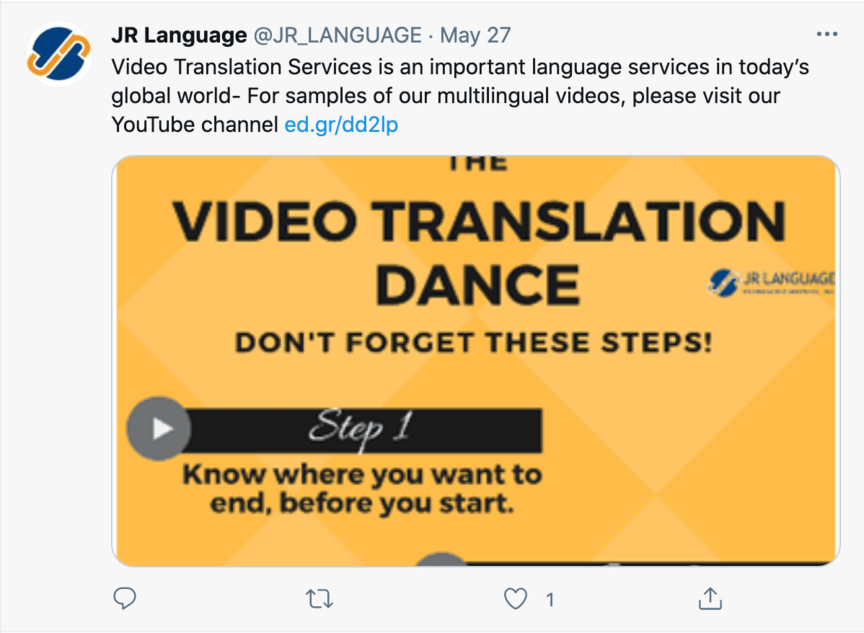 Infographics can convey this information, and their format allows them to do so in a simple and visually compelling way to attract people's interest.
4. Run contests and promotions
Another way to improve social media for translators is to run contests and promotions from your page. If there's one thing you can trust people to gravitate to, it's the chance to win a prize — so a great way to draw a crowd is to give them that chance.
Social contests and giveaways can take various forms. Maybe all you require people to do is submit their name and email address, or maybe they have to participate in a photo contest. Maybe you're offering a generic gift basket, or maybe some discounts on your services.
Whatever the specifics are, a contest is a fantastic way to drive bigger and better results for your translator social media.
5. Create a social media calendar
Your interpreter social media posts have the potential to draw large audiences online — but to retain those audiences, you have to continue posting regularly. Whether it's once per day or once every two weeks, your posts have to be consistently scheduled.
To help you schedule your posts, you can create a social media calendar. Platforms like Hootsuite or Buffer are excellent for doing this. A calendar allows you to create posts in advance and then schedule them to go live at set times later on.
With a social media calendar, you can put out new posts even on days when you don't have time to work on your social media!
6. Create compelling videos
If you're looking for a way to spice up your interpreter social media content, videos may be the way to do it. As previously established, many social media users have short attention spans and will often scroll past content — but videos are fantastic for catching those users' eyes.
The moving visuals of video content are incredibly engaging, and you can use them to convey useful information or to directly market your services. You can use your videos to introduce your team or to explain how your services work, among countless other things.
When people come across your videos in their feed, many of them will pause their scrolling to watch, leading to more engagement and higher conversion rates.
7. Harness paid social media advertising
Posting organic content from your account isn't your only option for marketing on social media. You can also launch paid social media ads, which you can display in users' feeds — even for users who haven't yet discovered your main page.
Paid social media ads are a fantastic way to reach new users who may not have yet encountered you organically. They're also useful for advertising to people who've developed an interest in your brand but haven't yet converted.
You can even harness targeting features to direct your ads to specific groups of people based on features like age, gender, location, and more.
8. Respond to reviews
As a final tip, be sure to respond to reviews on social media as often as possible. People will frequently take to social media to express their opinions, and when those opinions are about your services, you'll want to chime in.
Respond to positive reviews by thanking the people who post them. For negative reviews, respond by apologizing publicly for the issue, and then privately message the reviewer, so you can work with them to make up for their bad experience.
Responding to reviews is one more way to help your audience feel heard and increase the overall effectiveness of your translator social media.
WebFX can optimize social media for translation and interpretation services
Struggling to get your social media campaign off the ground? WebFX would love to help! Our team of over 500 experts knows social media for translators, and we have all the skills and dedication necessary to optimize it for your business.
With our social media services, you'll get help optimizing your campaigns for all the tips listed above and more. You'll also receive a dedicated account representative to keep you informed of everything we do for you.
To get started with us, just call 888-601-5359 or contact us online today!