Convincing people to live in your apartments isn't often easy. After all, if there's one thing people will care strongly about, it's the place they live. That means you need to have a killer marketing campaign to drive sales.
You can accomplish some of this through tactics like search engine optimization (SEO) and email marketing. But one of the best marketing strategies you can undertake on the Internet is pay-per-click (PPC) advertising.
But what is PPC advertising, and how can you make it work for your business? Below, we'll discuss the answer to both of those questions.
Read on to learn more, and then consider partnering with WebFX's team of over 500+ experts for more help managing your PPC campaign. Call us at 888-601-5359 or contact us online to get started!
What is PPC for apartments?
The first question we'll answer is: "What is apartment PPC?" To find the answer, we must first talk about what PPC is intended to do, and then about how it works.
What does PPC advertising do?
The idea behind PPC advertising is primarily to put online ads in front of people when they search for relevant terms in Google. If you search Google for something and the first few results have the word "Ad" in the top corner, you know those are PPC ads.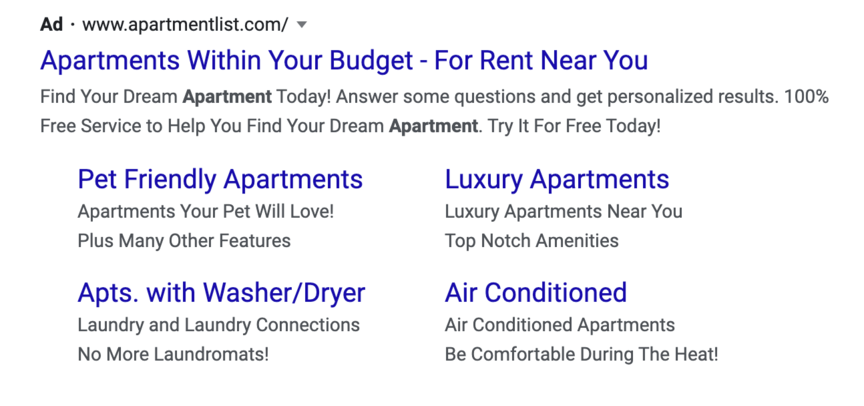 PPC ads can also take the form of banner ads in the margins of third-party websites, which are directed to users based on their Google search history.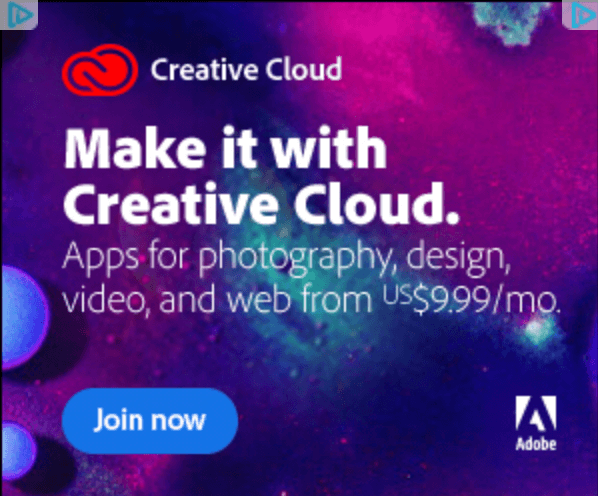 While these ads do require you to pay, you only pay for an ad when someone clicks on it, making PPC a relatively cost-effective strategy.
How can you set up a PPC campaign?
To start creating PPC ads, you'll need to set up an account through a PPC platform. The most common platform is Google Ads.
Once you've created an account, you can create however many PPC ads you want to run. You must select the keywords you want to target with your ads.
Your chosen keywords should be relevant to your business, and likewise, your ads should be relevant to the keywords they target so that users will click on them. Once you know which keywords you want to target, you can bid on them in Google Ads.
Whenever a keyword is searched, Google will display the ads of the top bidders for that keyword. Again, you only pay the amount you bid if someone actually clicks on your ad.
Additionally, you want to create PPC ads with landing pages tailored to the target keyword so users get relevant information.
Hear What It's Like to Work With WebFX!

"We were referred to WebFX and have been wowed with their company culture, professionalism and attention to our business needs. It has been a great few months working with them and we look forward to continuing our relationship with them and enhancing our seo!"
Real Estate Agency
5 ways to improve PPC for apartments
Now that you understand how PPC works, let's talk about how you can make the most of it for your business. Here are five ways to boost your apartment PPC strategy.
1. Target branded keywords
When you set to work selecting keywords to bid on, you'll want them to meet a few different criteria. You want to choose long-tail keywords — keywords that are several words long — that are relevant to your ad.
You also don't want to miss out on branded keywords, which are those that include the name of your business. Whenever people search for your business specifically, you want to make sure your content is the first thing they see on the page.
On top of everything else, failing to bid on your branded keywords could leave room for your competitors to do it instead, stealing traffic that was directly intended for you.
2. Spy on your competitors
Speaking of your competitors, it's a good idea to keep an eye on what they're doing. While some businesses have the luxury of being the only such business in their area, apartments are not one of them. Everyone needs somewhere to live, so you'll have a lot of competition.
Because of that, you can expect plenty of other apartments to be bidding on your desired keywords and trying to steal your traffic. The best way to prepare to compete is to know exactly what your competition is doing.
You can use platforms like MarketingCloudFX to get insights into each competitor's apartment PPC strategy, so you can plan your strategy accordingly.
3. Use negative keywords
Another way to narrow your keyword selection is to compile a list of negative keywords, which you can do in Google Ads. Negative keywords are keywords for which you don't want your ads to appear.
Imagine that you own apartments in Athens, Georgia. It's logical for you to target the keyword "apartments in Athens." But then imagine that someone searches for "apartments in Athens, Greece." That keyword clearly isn't relevant to you.
The good news is, Google Ads allows you to list negative keywords — in the above example, "Greece" — so you don't waste your ad resources on traffic that isn't relevant to your apartment complex.
4. Narrow your audience
When you run your apartment PPC ads, you aren't trying to advertise to everyone on the Internet. There are specific demographics of people most likely interested in leasing one of your apartments than others.
Just as you can target specific keywords in Google Ads, you can also target specific groups of people. In particular, you may want to target people based on geographic area, since each of your apartment complexes are inherently local to one specific location.
If you have apartments in different cities or states, you'll want to use a different ad targeting strategy for each location.
Some other features you can target are:
Age
Sex
Race
Education level
Income
5. Monitor and test your ads
No matter how much care and preparation you put into your apartment PPC strategy, it won't be of any benefit to you unless you monitor its progress and test out new tactics.
The great thing about Google Ads is that nothing is ever set in stone. If you try something out, and it doesn't work, you can stop running it. Or if an ad gradually stops being effective, you can go in and pause it, so it doesn't appear in any more searches.
Take advantage of this feature by tracking the progress of your campaign in Google Ads. See which ones are driving the most clicks and conversions, and devote more of your resources toward those.
You can also test out different options. Even once you've found something that works for you, there's always the chance you can create something better. Dedicate a portion of your budget each spending period to trying out new ideas. If they don't work, you can simply stop them.
Get more help with your apartment PPC ads from WebFX
Still not sure how best to optimize your apartment PPC ads? Don't worry — you don't have to handle it on your own. WebFX has over 25 years of experience with digital marketing, and we know all the ins and outs of PPC for apartments.
We can help you through every step of the PPC process, from setting up your Google Ads account to optimizing all the right targeting strategies on the list above. We'll also provide you with a dedicated account representative to work with you on every step of the process.
Ready to get started with our PPC services? Just call us at 888-601-5359 or contact us online today!
Earn a 20% greater ROI with WebFX