Earn More Revenue From the Web With the B2B Web Design Agency Behind 1200+ Sites
Your website is your online hub for lead generation — which makes B2B web design essential to your company's growth. With our B2B web design agency, your business will receive a custom site built for driving leads. Learn more about partnering with our agency now!
Trust the web design firm behind 7.8 million client leads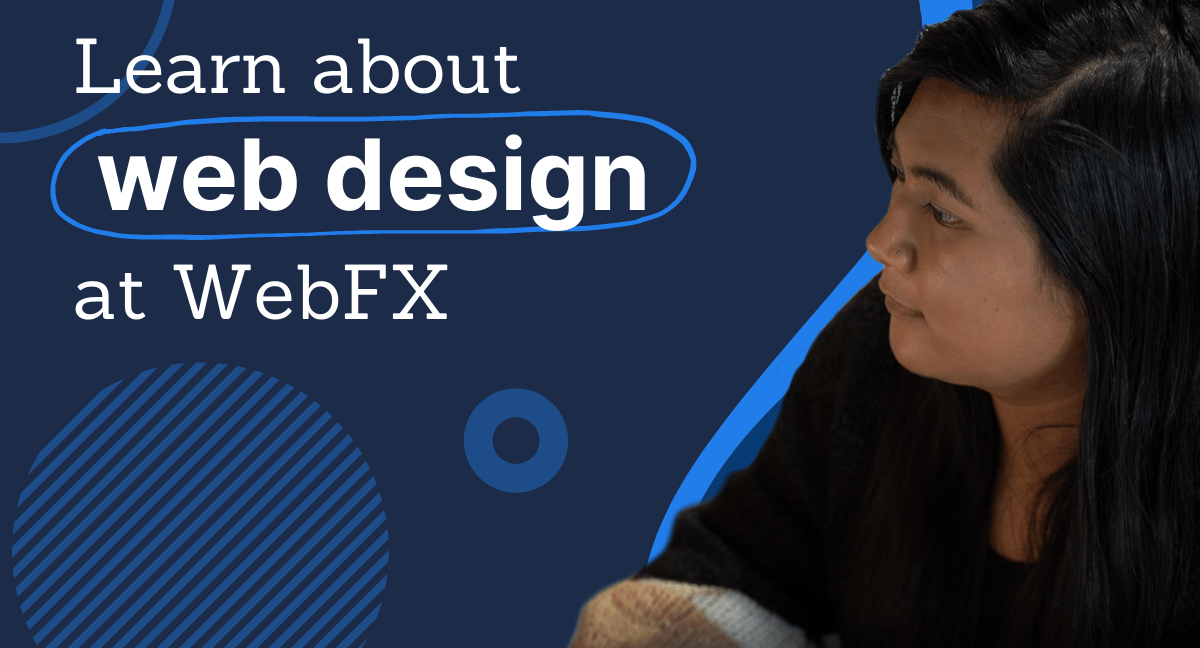 If you think of digital marketing like a web of different strategies, your website lies at the very center. It's the point that all your other marketing materials lead back to, the place where users convert into customers.
Building a modern, user-friendly website is key to helping your business engage prospects and turn them into clients. As an award-winning B2B web design agency, WebFX is an unmatched partner for building websites that will grow your business's online presence. Learn more about our web design services here:
When you partner with us, we'll craft a custom design that's tailored to deliver a conversion-driving experience for your audience. Choose WebFX as your B2B web design agency and gain access to 500+ digital marketing experts with over 25 years of experience perfecting website designs.
To get started with us today, call us at 888-601-5359 or contact us online!
WebFX is a partner businesses trust.
Hear from HydroWorx, who saw a 236% increase in organic sessions with WebFX services.
Watch the Video Testimonial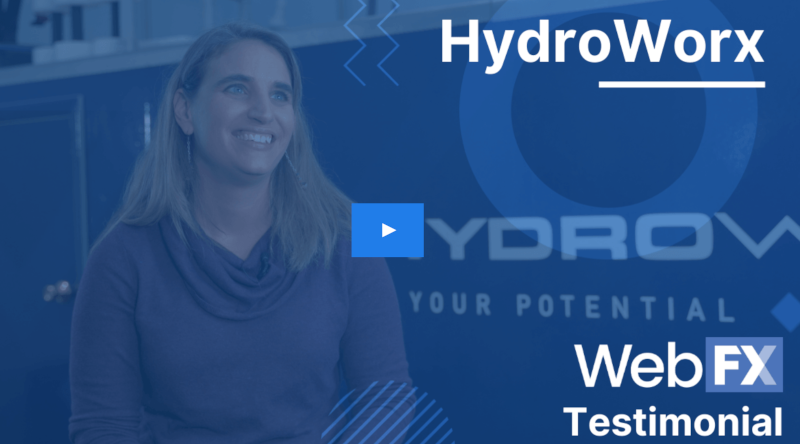 Your one-stop shop for B2B web design
With web design services from WebFX, you'll get everything you need to build a user-friendly B2B website design. Here are just a few features you can expect from our web design services:
Custom web design
Functionality and aesthetics are two key components to your website's success. Not only does your site need to work, but it needs to look good too. On top of that, you want to deliver a unique and branded experience for your audience.
That's why at WebFX, we create custom websites for our clients. Not only will your site be aesthetically pleasing, it'll also encompass a visual design that promotes your site's unique brand.
Branding is an element of web design that many businesses forget, but it's one of the most important. If you don't design your site in a way that reflects your unique brand, none of your visitors will remember that it belonged to you.
WebFX knows the importance of branding, and we'll be sure to craft a website for you that reflects all the most important facets of your business. From your color scheme to your font choice to your language style, we'll piece together all the elements that best represent you.
As a result, we'll help you make a lasting impact on visitors that keeps your brand at the forefront of their minds.
Responsive design
Not everyone who visits your website will do so on a computer. Many people will do so on a mobile device, which is why it's critical that your site be optimized for mobile. When we design your site, we'll implement responsive design into your site.
With responsive design, your site will look good on both desktop and mobile. Your website will adjust to fit the screen of each device, which delivers the best experience for the visitor.
As a result, you'll keep prospects engaged on your site longer, which leads to higher rankings in Google and more clients for your B2B business.
Ecommerce functionality
If your business wants to sell products through your website, you'll want to have an ecommerce store set up, and WebFX can make that happen.
We'll help you set up your product listings, and we'll also integrate your store with any inventory management platforms you use so that your store can always accurately reflect what's in stock.
Additionally, we'll help you set up HTTPS and additional security software on your site to ensure safe and secure transactions for all your customers.
Copywriting services
In addition to stellar B2B web design and supreme functionality, you need to have compelling content that informs your visitors. That's why we provide copywriting services with our web design packages.
Our team of professional copywriters will help craft a variety of written pages for your site. We can help you craft compelling product and service pages that provide your audience with all the information they need to make a decision.
SEO optimization
When you have a beautifully designed site, you want people to find it. To put your website where people will see it, you need search engine optimization (SEO), which involves optimizing your site to appear in Google search results.
Our team at WebFX is the expert at SEO, so we'll help you implement various SEO tactics across your site. Some of the tactics we use to improve rankings include:
Once your site starts appearing in Google, far more potential customers will discover your business and learn about what you offer.
User-friendly design
If users come to your website and find that it loads slowly or is hard to navigate, they won't stick around. That's why WebFX will make sure your site delivers a high-quality user experience.
One of the most important features on any website is the navigation setup. Users want to easily find their way around your site. Without a user-friendly website, you risk users getting frustrated and leaving for a competitor's website.
To prevent those problems, WebFX will build an intuitive navigation setup into your site right from the start. We'll organize your navigation to make it easy for users to find what they need fast.

We can even implement breadcrumb navigation to help users see where they are on your site at any given time, making it easier for them to navigate.

On top of that, we'll craft a site that loads quickly so that users get what they need fast. With fast-loading pages, you'll drive more traffic and keep that traffic engaged on your website longer!
Choose WebFX for a revenue-driving site you'll love
You can benefit greatly from partnering with a B2B web development agency to make your website. But what makes WebFX the ideal choice?
WebFX isn't your average web design agency. Here are a few reasons you'll want to choose WebFX as your B2B web design agency:
We have decades of experience
When you choose a B2B web development company, you want to partner with an experienced one. An experienced agency will know how to craft websites that deliver a positive experience for users.
Our team at WebFX has extensive experience in web design. We've been designing custom sites for our clients for over 20 years. Our unmatched expertise makes us a top choice to be your B2B web design agency.
We have an award-winning team of designers
At WebFX, you get access to a team of over 500 marketing experts that can help you design your dream website. Not only is our team experienced, but they're award-winning too.
We've earned over a dozen awards for our top-tier web design. When you partner with us, you'll gain access to all the skills and dedication that earned us those accolades!
We communicate openly
When you partner with a B2B web development agency, you want to be involved in the creation of your website. You need a company that keeps you informed about their progress to ensure you get the website of your dreams.
That's why at WebFX, we communicate openly with our clients. We provide you with a dedicated account representative that you can contact with questions, concerns, or ideas. You'll always be in the loop on how your website's development progresses.
We offer more than web design
For many businesses, a beautifully designed website is just the beginning. Once you have your website, you want people to discover it. That means you need to invest in other digital marketing strategies to promote your business.
If you partner with an agency that just offers web design, you'll have to hire additional agencies to manage other aspects of your marketing. It creates more of a hassle for you, as you have to communicate between the companies to make sure everyone is on the same page.
Instead, opt to partner with a full-service digital marketing agency like WebFX. In addition to web design, we also offer:
As your B2B web design agency, we can help you scale your marketing as your business continues to grow online.
We drive top-tier results
As your B2B web design company, you can feel confident we'll deliver a website that drives results for your business. We have a rich history of driving superior results for small to midsized businesses (SMBs) like yours.
In the past five years alone, we've generated over 7.8 million leads and $3 billion in revenue for our clients. Our client-first approach drives results for our clients, and it will drive results for your business too.
You can also check out our extensive web design portfolio to see examples of sites we've built in the past!
We deliver campaigns our clients love
The final major benefit WebFX offers is that we deliver campaigns that make our clients happy. We treat all our clients as unique, individual businesses and build websites tailored to them.
If you don't believe us, just ask our clients! We've earned over 1000 testimonials from happy clients that testify to the awesome work we do for them.
Why partner with a B2B web development company?
While building your website entirely in-house is certainly an option, partnering with a B2B web development agency can give you access to a variety of benefits you wouldn't have on your own.
Here are four advantages to partnering with an agency:
1. A B2B web design company is more experienced
When it comes to B2B web design, experience matters. B2B web design companies have years of experience designing websites for their clients. If you're new to web design or have minimal experience, it's difficult to match the expertise of a web design company.
When you partner with an agency, you gain access to that experience and all the website optimization knowledge that comes with it!
2. A B2B web design company has better tools
Designing a website isn't something you can do without tools. You need to have a toolbox equipped with various digital resources to help you design all the elements of your site, from your pages to your multimedia.
Partnering with a B2B web design agency gives you easy access to some of the best tools available. Most agencies have plenty of top-quality web design tools to create your site.
These agencies also know how to use them. You might access tools on your own, but you may not have the deep familiarity with them that an agency has.
With a B2B web development company partnership, though, you don't have to worry about learning to use the tools — your agency will handle that for you!
3. A B2B web design company has more time
You can only afford to dedicate so much time to your marketing. After all, you have a business to run. You must talk to clients, manufacture products, plan budgets, and so much more. With such a packed schedule, it's hard to find the time to design and optimize your site.
When you partner with an agency, though, it's not a problem. Web design agencies can work on your site full-time. Not only does that allow you to focus your efforts on all the other tasks you have to do, but you can also get a beautifully designed site without lifting a finger.
4. A B2B web design company has a larger team
Web design is an intricate task that takes time to complete. If you rely on a single individual to design your site, it will take more time to develop it, hence why it's better to have a large team on the task. When you partner with an agency, that's exactly what you'll get.
Most agencies tend to come with a team of web design specialists who can work together to build a functional, beautifully-designed website for your business. Having so many people on the job allows you to get your site designed faster, so you can start driving clients to your website sooner.
We don't want to tell you about the work we do, we want to SHOW you.
View Our Portfolio

We've built over
Websites
in a variety of industries.
WebFX is the B2B web development agency for your company
If you're looking for help building your website and optimizing it for online marketing, turn to the results-oriented agency behind 7.8 million leads and $3 billion in revenue for our clients. When you partner with us, you'll unlock access to the web design experts who have created 1600+ revenue-driving sites.
With our web design services, you'll get help optimizing every single page on your site. You'll also receive a dedicated account representative to serve as your point of contact throughout the optimization process.
Ready to skyrocket your B2B website? Call us at 888-601-5359 or request a free proposal today!
Earn a 20% greater ROI with WebFX