How to Redesign Your Website for Mobile
Did you know that 60% of Internet searches come from mobile devices? It's becoming increasingly important to optimize your site for mobile users, especially with the announcement of Google's mobile-first index.
So, how can you make sure that your site is accessible to mobile users? The answer is responsive design.
On this page, we'll take a look at why responsive design is so important, as well as 3 responsive design tips to help you get the most out of your online presence. We'll also cover 3 tips for finding a responsive design agency to help you attract and convert more mobile users.
Keep reading if you want to learn more, and give us a call at 888-601-5359 to speak with a strategist.
What is responsive design?
Responsive design allows your website to automatically adapt to any screen size or browser a visitor uses to access to your site. This allows users to visit your website from any device website without having to zoom in to view the text or awkwardly tap tiny links.

Whether someone uses a 30" desktop, 15" laptop, or 5" smartphone screen, your site will look and function the same. Responsive design ensures that your site will perform well across a number of platforms, and prevents people from leaving due to poor user experience.
Why is responsive design important?
Today, the number of mobile Internet users outnumbers desktop, and that number will only continue to grow with global smartphone accessibility.
A few years ago, Google also announced a shift to a mobile-first index, meaning sites that don't perform well on mobile devices will also have their desktop rankings affected. Sites that are not mobile-friendly will experience drops in search rankings, which could have a major impact on their digital marketing success.
Since responsive design allows you to reach both desktop and mobile users, it's the best way to provide a great user experience to convert more customers.
Let's take a deeper look at five benefits of responsive design.
1. Cost-effective
With responsive design, you only have to invest in one site that reaches visitors on all devices. This can save your business money, while allowing you to connect with more potential customers.
A responsive site lets you reach both desktop and mobile users, which is significantly more cost-effective than creating and maintaining separate sites for desktop and mobile users.
2. Improves user experience
When people have a positive experience on your site, it is easier to convince them to come back and ultimately become customers. If your site doesn't use responsive design, you run the risk of delivering a poor user experience to mobile visitors.
With responsive design, you can ensure that all visitors have a great experience on your site, no matter the device they use to access it. Responsive design eliminates unnecessary zooming, makes navigation easier, and leaves a positive impression on site visitors.
3. Boosts your SEO
As we mentioned, Google gives preference to mobile-friendly websites. Using responsive design can help your site rank higher in search results for keywords and phrases related to your business.
The higher your website appears in search results, the more traffic you'll attract from organic search. You'll also improve brand awareness and appear more credible to search engine users.
In fact, the first organic ranking in Google search results receives 33% of clicks. So boosting your rankings with responsive design is extremely valuable.
4. Increases leads and revenue
Since responsive design allows you to reach mobile and desktop users, you will be able to attract and convert more qualified leads. Without responsive design, you could be missing out on valuable leads using mobile devices.
Responsive design allows you to connect with more leads online and provide them with the information they need to move through your sales funnel and ultimately become customers – generating more revenue for your company.
5. Easy to manage
With responsive design, you can quickly and easy make changes to your site. You'll only need to update one site, instead of a separate version for mobile and desktop, which means you'll save time updating and managing your website.
Responsive design eliminates whether you should post the link to your mobile or desktop site on social media, or whether your redirect links will take searchers to the right site. It also means it eliminates the need to test new pages on multiple devices, because you can be confident that they'll display and function well on any browser and screen size.
If you want a stress-free way to manage your website, responsive design is the way to go.
3 tips to get you started with responsive design

If your site isn't yet responsive, there are a few things you'll want to keep in mind as you switch to responsive design.
1. Add mobile call buttons to your website
One of the biggest advantages of attracting traffic from smartphone users is that they can contact your business on the same device they're already using. As you design your site, you want to make it as easy as possible for them to call you.
Adding mobile call buttons to your website allows mobile users to quickly reach your business with a single click. Call buttons can result in faster conversions, and site visitors will enjoy a more user-friendly experience.
2. Improve your mobile page speed
Making sure your website loads quickly is extremely important, since mobile users expect fast results as they search on the go. In fact, if your website takes more than 3 seconds to load, you could lose valuable traffic because you're not supplying users with the information they need fast enough.
Non-optimized images are among the main culprits that can slow down your site's loading speed. With tools like Kraken.io, you can easily pare down large images and improve your site speed in the process.
Not sure if your site speed is up to par? Check out our page speed optimization services.
3. Eliminate unnecessary elements
Ridding your site of unnecessary elements can streamline user experience for mobile visitors.
While images, graphics, and buttons are all important, too many of these elements can make your site feel cluttered and lead to a poor experience for mobile users.
Eliminating unnecessary elements is also a great way to improve the speed of your site and deliver information to your visitors faster.
How to choose the best responsive design company
Responsive design is essential for businesses that want to increase online leads and revenue. But how can you choose a responsive design partner to take your site to new heights?
If you're considering working with an agency to help you implement responsive design to reach more mobile users, there are three things you should consider.
1. Does the company use responsive design?
This should go without saying, but if you're looking for a responsive design partner, the agency you choose should have a responsive, user-friendly website. If you pull up their site on your mobile device and find it difficult to use, this is probably a good sign that they aren't a reputable agency.
So before you make a decision, make sure the agency you choose has a fully responsive website.
2. Do they have a responsive design portfolio?
A reputable responsive design partner will have a design portfolio on their website.
This will allow you to get a feel for work they have done. If they provide links to sites they have created, you can peruse the sites on various devices to ensure that they look and perform well across a host of platforms.
Agencies should be proud of the work they do for clients, and browsing their portfolios will allow you to get a firsthand look at what they can do for your business.
3. Does the company have positive reviews?
Finally, responsive design agencies should publish reviews and testimonials from clients.
Are people happy with the work they've done? Do they communicate well and work in a timely manner?
Online reviews and testimonials can give you with the proof you need to decide whether an agency is reputable. So if they don't publish reviews on their website, that may be a red flag – and you may want to consult third-party review sites for more information.
Time to Level Up Your Sales
Our long list of services helps you grow every aspect of your business with marketing strategies that are proven to increase bottom-line metrics like revenue and conversions.
In the past 5 years, we've managed more than 12.9 MILLION transactions across our client base.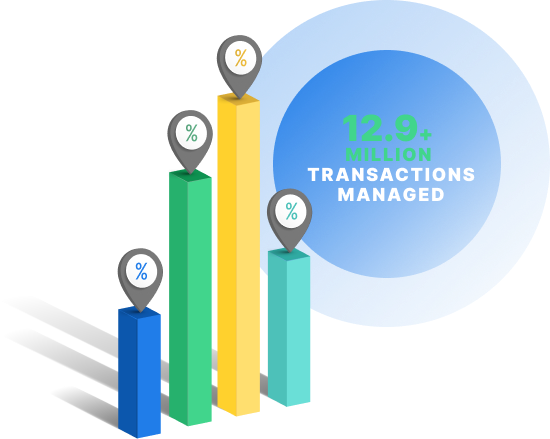 WebFX is an award-winning responsive design agency
WebFX is an award-winning Internet marketing company, and we have years of experience creating responsive websites that are as beautiful as they are functional.
If you're looking for an agency to create a responsive website that not only looks great, but also performs well in search results, we can help. All of our websites are fully responsive, and they're designed with SEO in mind.
Our designers and developers have years of experience creating responsive websites to help clients reach both mobile and desktop visitors. We help clients reduce bounce and cart abandon rates, reach more leads, and earn more revenue from mobile sales.
Want to hear what our clients have to say? Check out our reviews and testimonials from more than 500 clients in a variety of industries.
Want to learn more?
Interested in learning more about how you can redesign your website for mobile users? Check out our responsive design plans, and contact us today to speak with a strategist.
We're excited to hear from you and can't wait to help you in your website redesign process!