Amazon B2C: Should Your Brand Sell on Amazon?
Just how many times have you ordered something off of Amazon? Did you ever check who the seller was? If you didn't, that is okay! It really doesn't matter for the users. However, as you will soon find out, Amazon is a great platform for business owners.
B2C
Home B2C Amazon Marketing Services to Drive Up Your Revenue Amazon is such a successful ecommerce platform partly because it doesn't just sell its own products — it allows other businesses to sell theirs as well. You can harness Amazon's […]
What is Amazon B2C?
So what exactly is Amazon B2C? To put it simply, it allows any business to sell its products on Amazon. Much like Facebook Marketplace, businesses can post their product on Amazon, and customers will be able to buy those products. Regardless of the size of your business, both small and large companies use Amazon to sell their products.
Why should your B2C business sell on Amazon?
If you are struggling to grow your business, the Amazon platform allows you to reach 300 million-plus active customer accounts in 180 plus countries.
This means you can expand your target market in many countries.
If you are a top-brand company, the chances that your competitors are already on this platform are high. By using the Amazon platform, you can still stay in the game! Now more than ever, it is essential to stay relevant! With more competition from around the world, Amazon can keep you in contact with your target customers.
Whatever product you are looking to sell, selling it on Amazon can have a high impact on your business goals. It is vital to make sure that you are doing it correctly.
Want help getting started with Amazon or optimizing your Amazon store? Find out more about our Amazon marketing services today!
How to start selling B2C products on Amazon
Before you get started with B2C Amazon marketing, it's a good idea to first understand what exactly you need.
First, register your business with a selling plan. The two options are Individual and Professional.
Keep some basic information handy (e.g. bank account numbers and routing numbers).
Understand the different types of fees that you might get charged for.
Understand the Seller Central managing software that Amazon uses. This is important to know since most of the listing and product changes will be done there. There is also an app to make things a little easier.
Once you have a better understanding of the Amazon platform, you can now list your products.
It is significant to make sure that you have gone through the listing process successfully, as it will directly impact your business launch. It would also be a good idea to have an optimized product detail page.
The next major step is choosing how to deliver the products.
If you are a company that does not have the sources to ship and handle the products, you can use Fulfillment by Amazon or FBA service. This service provided by Amazon will take your products and do packaging, labeling, and shipping for you.
After setting up your account and making your first sale, you need to make sure you are getting a good return on your investment. Some things to keep in mind are:
Looking at key performance metrics
Understanding and using the customer reviews on your products
Looking at future opportunities for business growth
All of this seems like a lot of information to take in. However, as you may have realized, the opportunities for growth through selling on Amazon are worth the investment.
Meet WebFX:
Your world-class, tech-enabled marketing agency with over 1.6 million hours of combined expertise.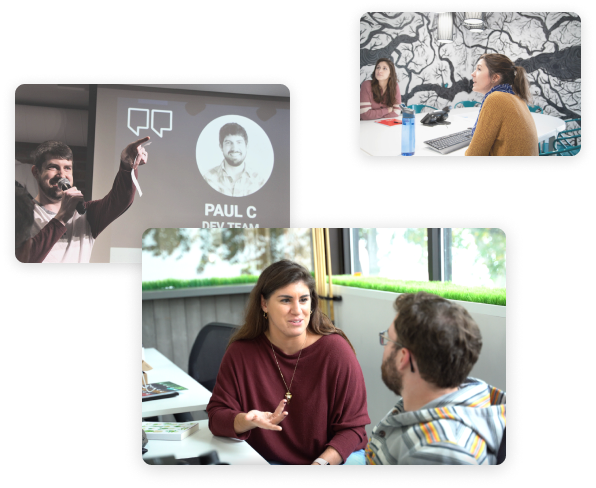 Grow your B2C business on Amazon with WebFX
If you are a small-to-midsize business (SMB) interested in getting started with Amazon but are still unsure about how, consider working with us! If you have an existing Amazon storefront, we can also help you optimize it for improved results.
At WebFX, we will customize your Amazon marketing solutions for your specific needs.
These are some Amazon services we provide for SMBs:
With our Amazon store and marketplace launch, we can help you get started from scratch. If you already have a business, we can help you optimize your Amazon store. We can provide category and subcategory suggestions, product description copywriting, competitor analysis, and much more.
Amazon has become a top source for new product searches. Using our SEO services for Amazon can help get your products to your customers more quickly. This service can increase your sales and revenue. Some services under this category include the initial product analysis, keyword research for individual products, and product category optimization.
With so many listed businesses on Amazon, competition is very high.
To increase sales and growth of your Amazon store, you need more than SEO. Pay-per-click advertising is another service WebFX provides. With a PPC campaign on Amazon, you can increase your earnings. Some types of services provided under this category are ad creation, campaign setup, and management of both automatic and manual campaigns.
If you're looking for expert Amazon advice, consider our Amazon consulting services. Under this service category, we offer product content consulting, monthly activity reporting, advertising consulting for Amazon, SEO consulting, and more.
Reviews are a key influencer for buyer decision-making. If you need review management services for Amazon, WebFX can help you with negative review responses, product question and answer management, and sales response emails.
There are also many more services available under each of these categories.
Regardless of what stage you are in with your Amazon store, WebFX can help! Contact us today for more information on the services we can provide. Let us help you drive meaningful results for your business.