Amazon Marketing for SMBs: Everything You Need to Know
What is Amazon marketing for SMBs?
New to marketing on Amazon? No worries!
When it comes to Amazon marketing for SMBs, the goal is simple — improve your brand's visibility on the platform to boost brand awareness, sales, and growth for your company. Depending on your goals, you may extend your digital marketing strategy to other areas, like social media.
A few examples of strategies for marketing your SMB on Amazon include:
Like your products, however, every marketing strategy is unique and custom to your business.
What does Amazon marketing include?
Whether you're overseeing your marketing in-house or partnering with a trusted digital marketing agency, it's essential to learn about Amazon marketing before opening your Amazon Store. When you know what an Amazon marketing strategy includes, your team — or agency — can launch your campaign with realistic expectations.
The most common features of an Amazon marketing strategy for SMBs include:
Amazon SEO
With more than 50 percent of product searches starting on Amazon, rather than Google, it's critical for your products to appear first for shoppers. If a user searches for a product you offer, and your product doesn't appear until the second page of results, it's unlikely shoppers will see or purchase your goods.
Why? Around 70 percent of Amazon shoppers find what they want on the first page of results.
That's why SEO for Amazon f — also known as product optimization — focuses on improving your visibility in relevant search results. For example, if you sell handmade soap, you would want to appear at the top of search results for, "handmade soap bar," but not, "shampoo for women."

How do you optimize your products for Amazon? Improve the following elements of your product listings:
Product title
Product features
Product description
Product images
And more
Before you start optimizing your inventory, however, you need to do some research.
A few preliminary product optimization steps include keyword research, which focuses on finding relevant, high-value keywords used by your target audience to discover your product, and competitor analyses, which analyzes your competition's keyword and marketing strategy to inspire yours.
For many businesses, product optimization seems like a once-and-done project. It's the exact opposite, though.
Like the latest shopping and product trends, user search trends are always evolving. That's why ongoing product optimization is a must. If your team doesn't audit and improve your Amazon SEO on a routine basis, you will lose your visibility in search results — and all the benefits that come with that, like sales.
If you're serious about marketing your SMB on Amazon, make Amazon SEO a core part of your strategy.
Amazon PPC
As the third-most-popular advertising platform, it's no surprise that businesses are investing in Amazon ads. Even as an SMB, your company can take advantage of the various advertising options available on Amazon, like Sponsored Product Ads, to reach your target shopper and drive your sales upward.
For reference, here is a quick summary of ad options on Amazon:
Sponsored Product Ads: These ads appear in search results and product detail pages related to your targeted keywords. They promote one product. If you use Sponsored Product Ads, you can target by keyword, products, and product categories.
Sponsored Brands: With Sponsored Brands, your business can advertise up to three products in search results. This ad appears at the top of search results, which makes it an excellent option for capturing shopper attention. Target options include product categories, products, and keywords.
Product Display Ads: This advertisement shows up in product detail pages and promotes one product. With Product Display Ads, you can target users by their interests or target products similar or related to yours.
All ads on Amazon, from Sponsored Product Ads to Product Display Ads, require a minimum daily budget of $1. In most cases, companies — including SMBs —spend more than $1 a day on their ads. The higher spend is the result of a few factors, including the average cost-per-click (CPC) of keywords.
For instance, in the example below, "handmade soap bar," has a CPC of $1.33.

While optional, advertising on Amazon can offer a tremendous return on investment (ROI) for SMBs. Sponsored Product Ads, for example, feature the highest sales-per-click, emphasizing that shoppers not only click on these ads but purchase the products in them.
Ads also provide your products with the best real estate in search results. With Sponsored Brands, for example, your products appear first, followed by Sponsored Product Ads. Even when your ads appear in product detail pages, they allow you to reach and snatch shoppers from your competitors.
That's why PPC is a critical part of Amazon marketing for SMBs.
Amazon review management
People trust reviews — that's why reviews can influence your ranking in search results on Amazon. They can also shape the decisions of shoppers, motivating them to buy your product or your competitors'. That's why review management has become an essential tool for marketing your SMB on Amazon.

If you want to maximize your visibility in search results, it's critical for your products to have a high number of high-quality reviews. For the best results, you want verified reviews, which means shoppers that purchased your product on Amazon, versus your website, left a review.
Review management is about more than earning glowing reviews, though. It's also about responding to the less-than-thrilled reviews. Instead of ignoring displeased customers, your team needs to connect with them and discover what you can do to improve their satisfaction.
Additional review management tasks include:
Responding to questions in the product and answers section
Generating responses to sales emails
Using review generation tools like Amazon Vine™ or Early Reviewer Program
Depending on your product line's size, this task can demand the full-time attention of a team member. That's why many SMBs partner with an agency like WebFX. With 200+ digital marketing experts, our team will provide the time and dedication your review management — and marketing strategy — needs.
Amazon storefront management
A growing part of Amazon, Amazon Storefront features more than 20,000 SMBs. It's a useful platform for business owners because it provides shoppers instant access to SMBs. Plus, Amazon Storefront features a homepage that highlights various businesses, compiles product collections, and more.
All these features offer your company the chance to gain valuable exposure — and sales.
While an invite-only platform, you can become eligible for Amazon Storefront if you're enrolled in Amazon Brand Registry. This service requires an active, as well as registered, image or text trademark. It's free to sign-up for Amazon Brand Registry.
If Amazon extends an invitation to your business, your marketing strategy can focus on your Amazon Storefront or Amazon Store presence. For example, if you've earned a spot in Amazon Storefront, you can work to earn a feature in, "Meet the Business Owner," which highlights you and your products.

Plus, you can earn the top spot in, "Storefront of the Week," which displays near the top of the page. It also offers tremendous page real estate, plus showcases up to five of your products. Shoppers can click on your products easily too, which helps your team move even more inventory.

Your SMB can also earn a feature in the following sections:
Exclusives: If your products are exclusive to Amazon, they can grab a spot in Amazon Exclusives. This product compilation features unique and innovative products from emerging brands. Shoppers can filter their results by category, average customer review, and shipping.
Handmade: For artisan SMBs, Amazon Homemade is a valuable section. Amazon Homemade highlights artisan goods, like gifs, pet supplies, stationery, and more. Users can shop by category, event, featured artisan, and more.
Launchpad: If your company occupies the tech market, Amazon Launchpad can also help showcase your Amazon Storefront. It features everyday items from tech-focused SMBs. Amazon Launchpad offers a product and company spotlight too, helping your business reach even more shoppers.
What if your SMB isn't on Amazon Storefront? Market your Amazon Store.
Amazon store management
If you're a vendor or seller that's a brand owner you can create an Amazon Store — in short, you're not a reseller.

With your Amazon Store, you create a virtual storefront for shoppers that want to learn more about your brand and products. Plus, you can experiment with your product display. For example, Amazon allows you to handpick or use dynamic widgets to determine which products to feature on your store.
A dynamic widget relies on user data to generate your product display. A shopper's past searches or recommendation history, for instance, can influence which products the dynamic widget displays in your store. In comparison, handpicking your products highlights the same products to every single user.

When you look at your Amazon Store and Amazon Storefront from a marketing perspective, you can improve its impact on your company's sales and growth. From making your Amazon Store user-friendly to earning valuable shout-outs on your Amazon Storefront, you can make both platforms work for your business.
It's critical, however, to make your Amazon Store apart of a multi-faceted marketing strategy. When you combine your Amazon Store optimizations with your Amazon SEO and PPC campaigns, as well as review management, you can amplify the results of your Amazon marketing.
5+ reasons to market your SMB on Amazon
Hesitant about investing your time and money into promoting your SMB on Amazon? Consider these six reasons:
1. Expand your reach
Amazon features more than 300 million active user accounts — and more than 100 million Amazon Prime members. As the world's largest ecommerce platform, Amazon offers unmatched access to the world's shoppers, and your company can benefit from that.

With advertisements, as well as product optimizations, your SMB can connect with the 70 percent of shoppers that stick to the first page of search results. Even better, you can benefit from the fact that the first three products in search results earn 64 percent of all clicks.
Plus, with Amazon Storefront, you can earn a unique feature that highlights your business and products to your target audience — people who want to buy from SMBs. It's a useful tool for SMBs, helping your company gain a competitive edge over larger sellers.
2. Reach your target shoppers
While users rely on Google and Amazon to discover their next purchase, more shoppers turn to Amazon first. If your business doesn't appear in search results on Amazon, it can exclude your product from a user's consideration and make it difficult for your company to earn that shopper's attention again.
Develop a well-researched marketing strategy for Amazon, and your SMB avoids that scenario.
For example, investigating the pain points of your target audience can help your business create compelling product features and product descriptions that address these pain points. If a short warranty is an issue, for instance, you can emphasize that your product arrives with an extended warranty.
This information can persuade shoppers to choose your company's product — not your competitor's.
3. Outrank your competition
On Amazon, you're competing against more than one million other SMBs. While many aren't your direct competitor, there are enough to force your company to reconsider its marketing strategy on Amazon. If not, you risk sales, growth, and success.

With Amazon marketing for your SMB, you ensure your business remains competitive. Plus, you capitalize on competitors ignoring the power and impact of marketing and advertising. When you do that, you can gain valuable market share from your competition.
As your SMB claims more sales from its competitors, you gain the necessary revenue to expand your business. Whether you're looking to expand your product line, hire a few more team members, or build a physical storefront, you can do it with the results of marketing and advertising.
4. Increase your sales
During the holidays alone, shoppers buy more than one billion items from SMBs on Amazon. That's a massive amount, and emphasizes the continued dependence of users on Amazon, whether for everyday items, specialty products, or holiday gifts.
With a competitive and smart marketing strategy, your SMB can boost your sales year-round.
For example, you can invest in Amazon SEO to improve your rankings in relevant search results. Or, you can launch an advertising campaign to promote your products in high-value searches and rival product listings. Even better, your team can use dynamic widgets in your store to provide personalized product recommendations.
5. Improve your brand awareness
Brands don't drive searches on Amazon. Only 30 percent of searches on Amazon include brand names, like Nike or Dasani. The remaining 70 percent of searches are generic, focusing on the product or user need, rather than the company.

For SMBs, this user behavior is a massive opportunity.
Shoppers are open to discovering new products or brands. They're not focused on brand names, which allows your company to build valuable brand awareness. A Sponsored Brands advertisement, for instance, can help your business introduce itself to shoppers.
6. Grow your business
Like any business owner, you want your company to thrive and succeed. With a results-driven digital marketing strategy, you can achieve that goal, helping your SMB reach new levels of success. It's critical to emphasize, however, that you need to power your plan with data-backed research, not hunches.
As an example, consider the success of Little Flower Soap Co., an SMB that produces handmade soaps. Little Flower Soap Co. started selling on Amazon in 2016, and with their marketing strategy, they've doubled their sales. Their success led to the creation of new jobs in their community.
With SMBs selling more than half of everything sold on Amazon, there is an immense opportunity for your business.
Why invest in professional Amazon marketing services?
For many SMBs, marketing their company on Amazon seems like a full-time job. That's because it is, requiring an immense amount of time, skill, and effort from your team, which is why many SMBs opt to invest in professional Amazon marketing services.
Why? A few reasons, including:
Get unmatched expertise
While you know your business and products, marketing and advertising is a whole new arena. You want to grow your sales and your company, but you don't want to waste money learning how to market your business. With a trusted and experienced digital marketing company, you make sure that doesn't happen.
WebFX, for example, comes with more than 20 years of experience. Our decades of experience demonstrate that we know not only marketing but customer service too — as shown by our more than 1020 testimonials. If you're investing in professional marketing, go with an experienced agency to get the most from your budget.
It also helps to partner with an agency, versus a consultant.

Go with a consultant, and you're working with one person, who's probably juggling multiple clients. That can result in unoriginal strategies, repeated delays, and lackluster results. In comparison, the experience is significantly different when working with an agency.
We partner you with a dedicated account manager, which provides you with that one-on-one experience. WebFX features more than 500 digital marketing specialists, however, ensuring your business receives a custom, results-driven strategy that starts on-time.
Access advanced marketing tools
When it comes to digital marketing, tools are critical. With analytics software, as well as keyword research tools, you can build a competitive, data-driven marketing strategy. Those applications cost money, however, and often exceed your marketing budget.
With professional marketing services for Amazon, however, you avoid that cost.
Agencies often have access to a wide variety of marketing tools, which allows them to create performance-driven strategies that adhere to your preferred budget. Plus, agencies like WebFX have access to proprietary software to deliver even better marketing campaigns.
IBM Watson, for example, powers several of our proprietary software applications, including ContentGeniusFX and MarketingCloudFX. With the machine learning and artificial intelligence (AI) features of IBM Watson, our team can discover high-value keywords overlooked by competitors, providing your business a new way to reach shoppers.
If you can develop a smarter marketing strategy, with better results, then why wouldn't you?
Save valuable time
SMBs have a limited amount of time — you have a lot to do. That's why marketing and advertising are often intimidating to owners of SMBs. How can you develop, launch, and manage an advertising campaign with everything else you need to do?
With a professional digital marketing agency, you pass on that responsibility. When you have a trusted marketing partner, you don't have to worry about your campaign. Instead, you check-in each month with your dedicated account manager to see how your strategy's performing.

If you partner with WebFX, you can also monitor your performance 24/7 via MarketingCloudFX.
Agencies can also save you and your team time by explaining complicated topics. For example, if you're unfamiliar with interest- or product-based targeting for Product Display Ads, your dedicated account manager can explain these targeting options in a way that makes sense — without your team having to invest hours researching it.
Improve marketing results
While established enterprises may manage their marketing in-house with success, it's often a challenge for SMBs. With dozens of responsibilities and only so many hours in the day, it's difficult to manage and maintain a successful marketing campaign.
That's why many SMBs decide to partner with a digital marketing agency.
Not only does your agency save your team valuable time but they also develop a stronger campaign. They can leverage their years of expertise, plus marketing software, to build and nurture a strategy that continues to drive results for your company.
For many businesses, that results in an impressive ROI.
If you're looking for an Amazon marketing agency, partner with one that cares about your results. For our team, it's how we measure our success. That's why we're happy to share that we've generated more than $3 billion in revenue for our clients — not to mention, we've managed more than nine million transactions for our clients.
Partner with a team of ecommerce masters!
WebFX campaigns have delivered more than 12,936,451 ecommerce transactions in the last 5 years
Read the Case Studies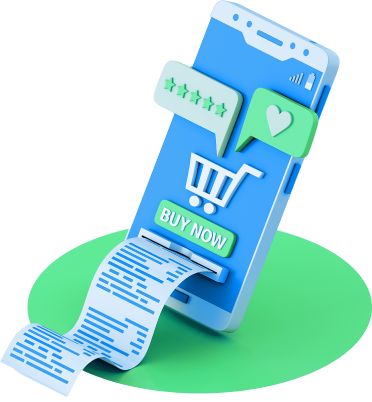 Need help marketing your SMB on Amazon?
With more than 25 years of experience, WebFX is a trusted partner to SMBs worldwide. As an SMB, we understand the desire to grow your business, as well as preserve what makes your company unique. That's why SMBs trust our award-winning team — and why more than 90% make us their lasting partner.
Learn how we can help your business succeed on Amazon by contacting us online or calling 888-601-5359 today!