Amazon Email Marketing & You: 5 Email Marketing Strategies for Sellers
Email marketing is one of the most powerful tools sellers can use to drive purchases and reviews. However, the problem is that email marketing for Amazon sellers is one of the most difficult strategies to master since Amazon limits seller communications with shoppers.
That's why we've compiled five of the best Amazon email marketing strategies:
Keep reading and learn how to use these strategies in your Amazon email marketing campaign! For even more ecommerce marketing tips and tricks, sign-up for Revenue Weekly and start receiving curated content from our award-winning team!
1. Automate review requests with email marketing software for Amazon
Shoppers on Amazon may feel like your customers, but they're not.
From Amazon's perspective, those customers are their clients. You sell on Amazon.com and benefit from the power of the Amazon brand, whose website earns more than 2 billion visits per month and generates more than 40% of online sales.
Since Amazon lends your business access to its customers, it can limit your interactions with them.
Email is one of the biggest areas where Amazon maintains strict rules about shopper and seller interactions. While you can request reviews once per sale via email for orders handled by Fulfillment by Amazon (FBA), Amazon restricts further communication with shoppers.
For example, you cannot send messages with the following:
Coupon offers
Review update or removal requests
Review requests for positive experiences only
Marketing or promotional language
Review requests that offer an incentive, like a gift card
External links that do not link to Amazon or are unnecessary for order completion
Email addresses
Tracking pixels
Since reviews matter so much to Amazon's algorithm, which determines where your product listing appears in search results, it's important to at least take advantage of the email communication that Amazon permits: "Request a Review."
"Request a Review" is a time-consuming tool to use because you must manually submit review requests for every order. That's why one of the best Amazon email marketing tips is to invest in some email marketing software that automates the process.

SageMailer, for instance, is one of the best Amazon marketing solutions because you can use it to:
Automate review requests
Test different email versions
Maintain compliance with Amazon standards for email communications and review requests
And more
While you won't receive a review for every email you send, an email marketing tool like SageMailer saves your business from manually requesting reviews via the "Request a Review" tool. Instead, SageMailer sends the request for you automatically.
2. Build a subscriber list that Amazon doesn't own
Want to know the best strategy for email marketing for Amazon sellers? Build your own email list.
When you own your email list, you have full control over your communications. You can send subscribers whatever content you like and whenever you like, which is a significant difference from the rules of Amazon email marketing campaigns.
Start building your subscriber list with these sub-strategies:
Strategy #1 for building a subscriber list: Create a blog
A blog is one of the best ways to attract email subscribers because blog posts:
Educate readers
Provide a go-to resource for your industry niche
Build brand awareness and reader trust
Bring traffic to your site
And more
The idea behind launching a blog for email marketing is that your content will offer so much value and insight that users will want to sign-up for your email campaign. They'll want to hear more about what you have to say because they trust and respect you.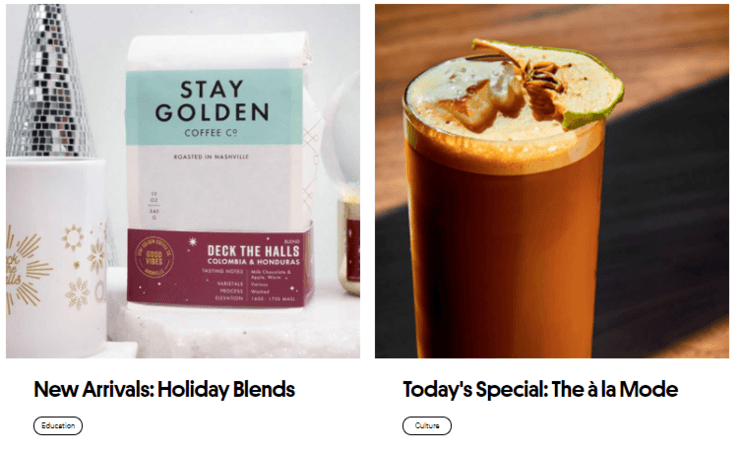 Building trust and respect with shoppers takes time, but it's worth the investment.
That trust will translate to purchases, as well as word-of-mouth recommendations, which can grow your online following and revenue even more. While a blog takes place outside the Amazon ecosystem, it's one of your best ways to earn an online following — and a high-quality email list.
Strategy #2 for building a subscriber list: Offer gated content
Besides writing and maintaining a blog, you can also grow your subscriber list with gated content.
Gated content is content that require users to fill out a short form before they can access it. Most pieces of gated content, for example, will require readers to supply their name and email address. It's rare for gated content to require actual money.
Some examples of gated content include:
Guides
Templates
Research results
With some research into your audience, like by browsing forms, social media, and even competitor websites, you should get some gated content ideas. A coffee supply company, for instance, may write a guide about the different roasts and flavors of coffee and how to choose the best one.
Strategy #3 for building a subscriber list: Add opt-ins to your website
Besides producing a blog and gated content, you need to add opt-in forms to your website.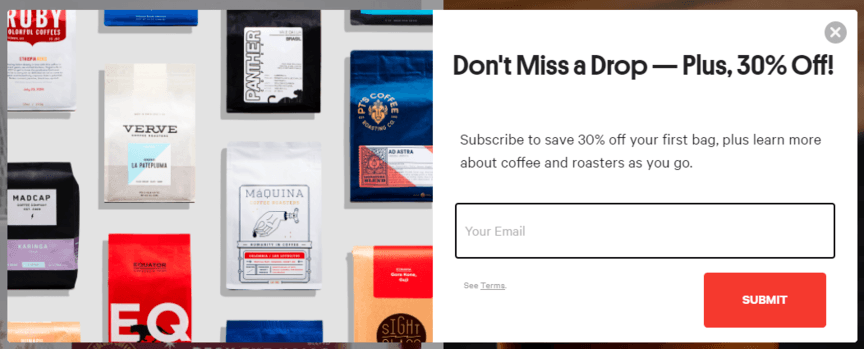 An opt-in form announces your email subscription to users, promotes its value, and allows users to sign up. Browse any ecommerce website, and you'll often see an opt-in form that pops up and offers a discount on your first purchase.
Opt-in forms can appear in other places too, like your:
Footer
Sidebar
Header
And more
When adding opt-in forms to your website, avoid overwhelming your pages with them. If you push your email subscription offer too far, you'll annoy users. Even worse, you may distract them from more valuable actions, like purchasing your products — if your website features an online store at least.
Strategy #4 for building a subscriber list: Optimize content for search engine optimization (SEO)
Search engine optimization is one of the best ways to get your content discovered.
While shoppers may find your products on the first page of Amazon search results, your website may appear almost nowhere when it comes to Google. That's why it's critical to optimize your site and its content for Google SEO.
Google SEO is similar to Amazon SEO.
For example, like your Amazon product listings, you'll optimize your website content with relevant keywords. Unlike Amazon SEO, however, you don't have to worry about star ratings, as well as a variety of other factors.
In most cases, your content efforts will coordinate with your SEO work.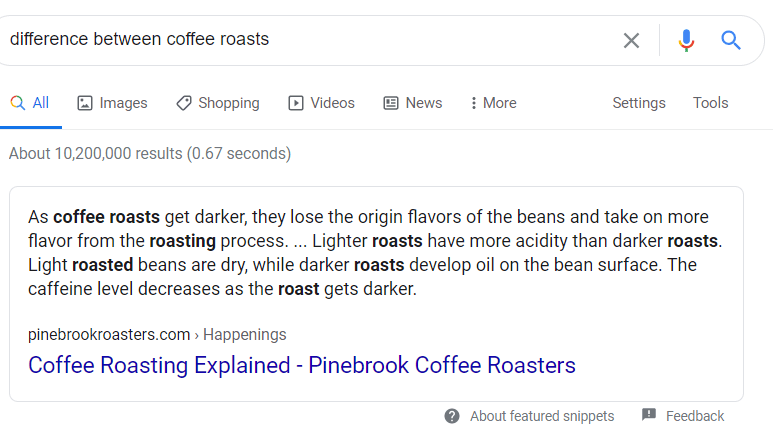 You'll often use SEO, for instance, to research topics and keywords for blog posts or gated content. This approach ensures you're making the best investment of your time because you're writing content that meets your audience's needs and receives significant search traffic.
Since SEO is a massive topic, we recommend checking out our Google SEO guide to learn more!
While building an email list separate from Amazon takes time, it's one of the best ways for Amazon sellers to use email marketing. You gain the freedom to interact with your target audience and some marketing independence from Amazon.
3. Send promotional emails to existing subscribers
As you continue to build your email marketing list, you can begin sending promotional emails.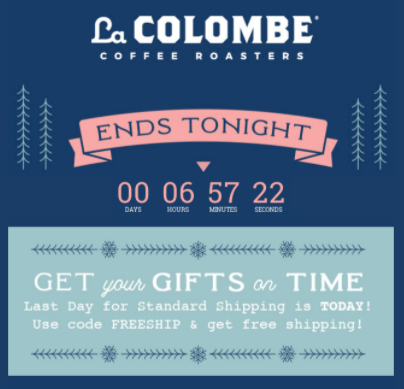 Promotional emails tell your audience about:
Upcoming sales
Discounted items
New products
Exclusive coupon codes
And more
Within promotional emails, you will likely include a link to the relevant product page.
Here, you will have to decide between sending users to your website, Amazon listing, or both. In some cases, sending users directly to Amazon will increase conversion rates because it's often more convenient for them to checkout there.
Remember when sending promotional emails to avoid overwhelming your audience. While 61% of people like weekly promotional emails, exceeding that amount can quickly lead to an increase in people unsubscribing.
That's why it's best practice to balance your promotional emails with educational ones.
4. Create email drip campaigns for new subscribers, specific products, and more
Your business should also take inspiration from one of Amazon's email marketing strategies.
Amazon uses a variety of automated email campaigns to generate sales for its business. For example, if someone adds a product to their cart, they may later see a reminder to complete their purchase. Or, after buying a product, a shopper may receive additional product recommendations.
Copy this strategy for your email marketing, and start creating drip campaigns that:
Highlight a product's benefits, uses, and maintenance
Educate users about a potential purchase, like the basics of espresso machines
Follow-up with users to leave a review after purchasing from your website
Recommend related products based on a user's past purchases
A drip campaign does require email marketing software.
Typically, this software is separate from the software you would use to automate Amazon review requests due to differences in design and features. For example, you wouldn't use SageMailer to create and manage your non-Amazon emails. Instead, you would use a tool like Mailchimp or EmailMarketingFX.
With EmailMarketingFX, you can set your drip campaigns to send to specific segments or groups of subscribers.
For example, you can create segments based on:
Opt-in location
Subscriber location
Past purchases
And more
You can then arrange for your drip campaign to send when a user enters (or even leaves) a specific segment. For instance, someone who purchases from your website could enter a segment that triggers EmailMarketingFX to send a follow-up email to request a review.
You can create a variety of drip campaigns for your business and use each one to drive results.
5. Run A/B tests to increase email open rates and conversion rates
How can you get more people to open your emails and act on your call-to-action (CTA)? With A/B tests.
An A/B test allows your business to experiment with two variations of your email. A lot of companies, for instance, test different subject lines. You can go beyond subject lines, though, and try different copy, design elements, and more.
In most cases, you'll want to start with subject line testing.
When you experiment with different subject lines, you increase the chances of more people opening your email. Once you know which tactics work well, like using emojis or asking questions, you can begin to experiment in other areas.
Tools like EmailMarketingFX make it easy to set up A/B tests.
In five minutes, your business could create an A/B test that could lead to significantly more email opens or product purchases, which is a great way to prove (and measure) the value of email marketing for Amazon sellers.
The first step to increasing your SMB's Amazon sales is getting a FREE proposal.
One of our experts will be in touch within 24 hours!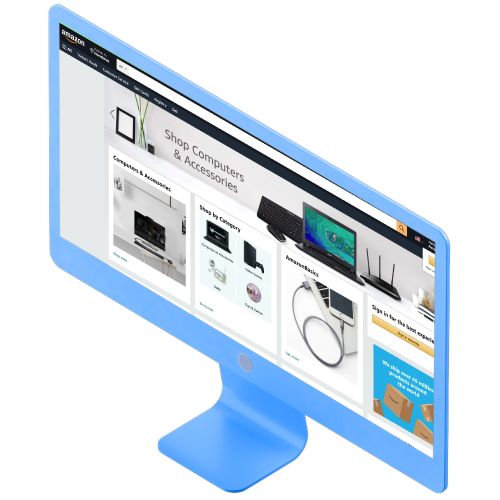 Get more sales with email marketing for Amazon sellers
Email marketing is one of the most effective online marketing strategies, boasting a 44:1 return on investment (ROI) — that's $44 for every $1 invested. That's why every company needs to use email marketing, including Amazon sellers.
Of course, email marketing for Amazon sellers is a tremendous undertaking. It goes beyond setting up automated review requests and encompasses a range of other tactics, from content marketing to search engine optimization.
So, if you're looking to get started with email marketing but without the time investment, check out our email marketing services. They provide your ecommerce store with an all-in-one solution that lets you work on the tasks that matter most to your business.
Contact us online or give us a ring at 888-601-5359 to learn more today!
Earn a 20% greater ROI with WebFX