4 Important Google Analytics Goals
One of the most important elements of any Internet marketing campaign is measuring your results. Having accurate data on your campaign is the best way to determine if your marketing budget is being well spent, and it can help you make informed decisions moving forward.
But there are so many metrics available in tracking platforms like Google Analytics that it's impossible to use all of them.
That's where goals become helpful.
Determining your site's objectives and turning them into quantifiable actions makes it easy to track your performance and get a quick understanding of how your site is doing. But even within Google Analytics, there are many types of goals you can set.
On this page, we'll discuss the most important Google Analytics goals to track. Keep reading if you want to learn more, and give us a call at 888-601-5359!
Want to set up Google Analytics on your site?
Our digital marketing campaigns impact the metrics that improve your bottom line.
See More Results

WebFX has driven the following results for clients:

$3 billion
In client revenue

7.8 million
Leads for our clients

5.2 million
Client phone calls
What are Google Analytics goals?
Google Analytics goals track and report how often your site visitors take specific actions on your site. You might also hear these goals sometimes referred to as objectives and key results (OKRs).
The actions include visiting a page, spending a certain amount of time on that page, completing a form, and many others. But they're all designed to represent a visitor's steps towards becoming a customer.
This means that before you can set effective goals, you need to determine what kinds of actions you want your visitors to take. Do you want them to request a quote? Watch a video? Make a purchase?
These goals – and more – are all trackable in Analytics.
You can access your site's goal settings in Analytics by clicking the "Admin" tab, then clicking "Goals" in the View column.
If there are any existing goals set up on your site, you'll see them here. You'll also be able to set up and configure any new goals you'd like to add.
There are four basic types of goals you can create within Google Analytics: destination, event, duration, and pages per session. If you use Google Ads, you can also use Smart Goals to track qualified visitors to your site from a pay-per-click campaign.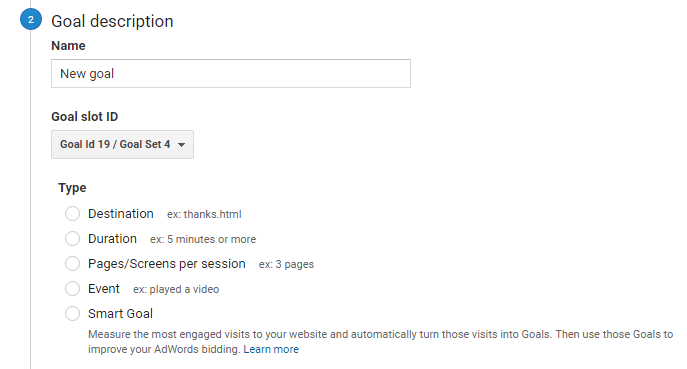 In order to choose the most important Google Analytics goals for your business, you first need to determine which of these goal types works best for what you want to measure (and set up your Google Analytics account). In most cases, you'll end up with a combination of at least two or three.
Destination
Destination goals allow you to set a specific page as a goal. They display in Analytics as conversions. You can have as many destination goals on your site as you want, and every time a user visits one of those pages, it's counted as a conversion for your goal.
These goals are most commonly used to track form submissions and other actions that send users to a thank-you page. Although you can't track form data itself in Google Analytics, counting the number of visits to a thank-you page gives you a way to track those conversions.
Duration
A duration goal tracks how much time someone spends on a page.
If you're looking to measure engagement, these goals are a good way to track visitors who browse your pages, read your content, and learn about your company.
Unlike traffic, which measures all visits (even those that only last a few seconds), duration goal completions represent people who are actively engaged with your site.
Pages/Screens per session
Pages/Screens per session goals are another way to track engaged site visitors. Instead of counting conversions based on how long a visitor spends on your site, they're based on the number of pages a user views.
Event
Event goals are based on specific user interactions that you've already set up as Events on your site.
These interactions include watching a video, downloading a piece of content, engaging with interactive elements, and more. For more information on setting up and tracking these goals, check out Google's guide to the subject.
4 important Google Analytics goals for your business
When you consider all the actions your visitors take on your site every day, the possibilities for goals are virtually endless. However, it's essential to determine which of those actions are most important to your business.
Some of these actions are obvious, like ecommerce purchases and contact form submissions. But identifying smaller conversions that lead to these actions is also important.
One of the best ways to start is by looking at the goal templates available in Google Analytics.
Goal templates show up whenever you create a new goal, and they're tailored to your industry and business model.
If you run an ecommerce store, for example, you can use a Revenue template to track on-site purchases. If you run a B2B service company, on the other hand, you can use an Inquiry template to track requests for information.
These templates let you create the most important Google Analytics goals for your company.
If you don't see any templates on the goal creation page, you may need to edit your settings with Analytics and select an Industry Category. The industry you choose tells Analytics which templates to use for your site, and without a selection, they won't show any at all.
Once you've selected an industry, you can use the templates to create goals based on Revenue, Acquisition, Inquiry, and Engagement.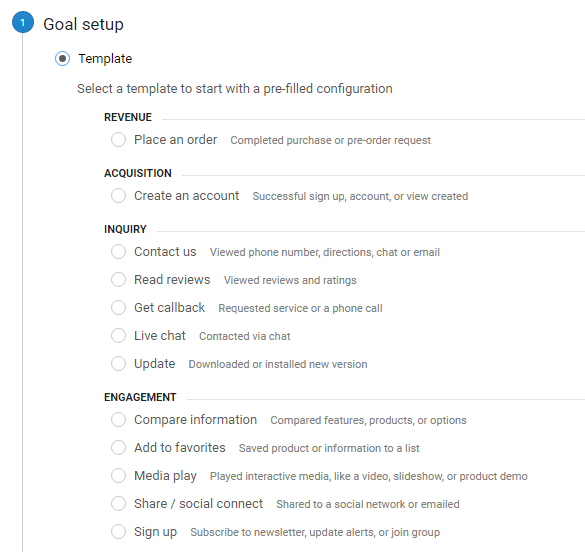 1. Revenue
Revenue goals allow you to track completed purchases and pre-order requests.
If you're an ecommerce business, this type of conversion is important. It represents the visitors that converted into customers – the ones who directly generated revenue for your company.
This should be one of your first priorities when creating goals in Analytics. That being said, it shouldn't be your only goal. After all, it only allows you to track the final step in a visitor's buying process, which may come months after their initial interaction with your site.
To get an effective look at your overall success, you should also set up goals for the actions leading up to that final purchase.
2. Acquisition
Acquisition goals track account creations or signups on your site. If your site allows users to create accounts (to save products, speed up the checkout process, etc.), that's a valuable conversion to track.
Even though accounts don't directly contribute revenue to your company, creating one demonstrates a user's intent to return to your site in the future – and possibly become a paying customer.
3. Inquiry
Inquiry goals track actions your visitors take that indicate interest in learning more about your business.
These actions include viewing your phone number, email, and other contact information. You can also set them up to track someone reading reviews of your business, requesting service, utilizing live chat (if enabled on your site), and more.
These goals are most important for B2B and service-based businesses. Your potential clients can't make purchases directly on your site, but contacting you for information is the closest they can get to becoming a paying customer.
The other goals in this set (like reading reviews and looking at directions) also indicate clear intent to work with you. Tracking them can give you an accurate picture of the qualified visitors on your site.
4. Engagement
Engagement goals allow you to track specific user interactions on your site.
These interactions include comparing products, saving products to a list, playing interactive media, sharing content, or signing up for a newsletter.
Many of these interactions take place at the beginning of the buying process, but they indicate that a visitor wants to learn about your products or services.
Tracking these goals can help you determine how many of your visitors could be potential customers. If you look at where these conversions come from, you can also determine which channels and marketing strategies are attracting qualified traffic to your site.
WebFX is a partner businesses trust.
Hear from HydroWorx, who saw a 236% increase in organic sessions with WebFX services.
Watch the Video Testimonial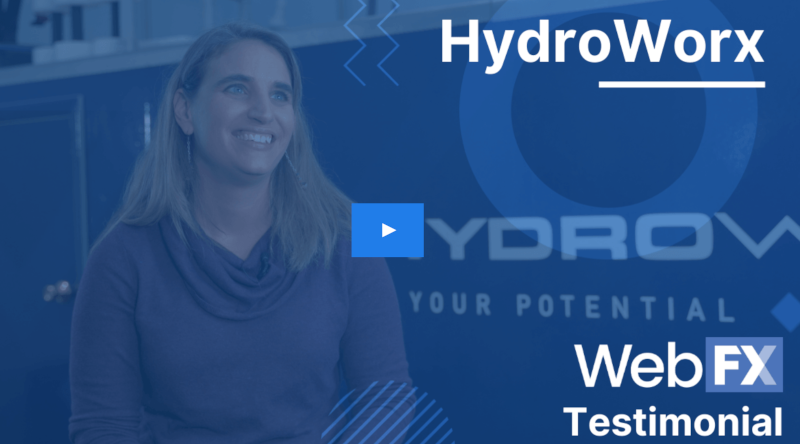 How to decide which goals to create in your Google Analytics account
Google Analytics makes it possible to create goals for virtually every action a visitor takes on your site.
But you don't need to track every one of them. Instead of setting up every possible goal you can, consider what kinds of conversions are most valuable to your business.
Do you want to generate contact form submissions? Phone calls? Sales? Something else?
Your Google Analytics goals should reflect your business's overall goals, so determining what is most important is essential before you create them. Then, you can either use relevant templates to set them up, or create custom goals tailored to your needs.
After you've created these higher-level goals, you can work backwards to determine the steps that lead to those conversions. This is where you may want to use Analytics' templates for goals that track Engagement.
Although you may not think of users browsing and interacting with your site as conversions, these goals are absolutely necessary for getting an accurate understanding of visitor behavior.
Want to improve your company's online analytics?
Tracking your digital marketing strategy is challenging, and setting relevant goals is essential.
At WebFX, we have years of experience creating and monitoring Google Analytics accounts for clients in hundreds of different industries. We understand that each one requires a unique strategy, and we get to know each of our clients' businesses and goals before creating them.
If you'd like some assistance with your Google Analytics account, we'd love to help. We'll work with you to understand what you're looking to accomplish with your website and online marketing strategy and use that information to create goals that reflect it.
Contact us today for more information and a free quote!