For many business owners, it often feels like there just aren't enough hours in the day to accomplish everything that needs to be done. Between delegating tasks, responding to emails, and simply trying to stay productive in an age when social media and thousands of interesting (but unimportant) websites exist, time management can feel like an uphill battle.
Thankfully, the fact that it's a common problem also means that there are new productivity tools being created and launched all the time – and many of them cost nothing at all.
Here are some of my favorite free productivity tools that can help you cut down on the amount of time you spend on less important tasks, and allow you more time to focus on the ones that matter.
1. Freedcamp
There are many online project management apps and sites on the market, but the majority of them come with a sizeable price tag. If you work with a team on a regular basis, Freedcamp is a great free option for planning, organizing, and scheduling projects.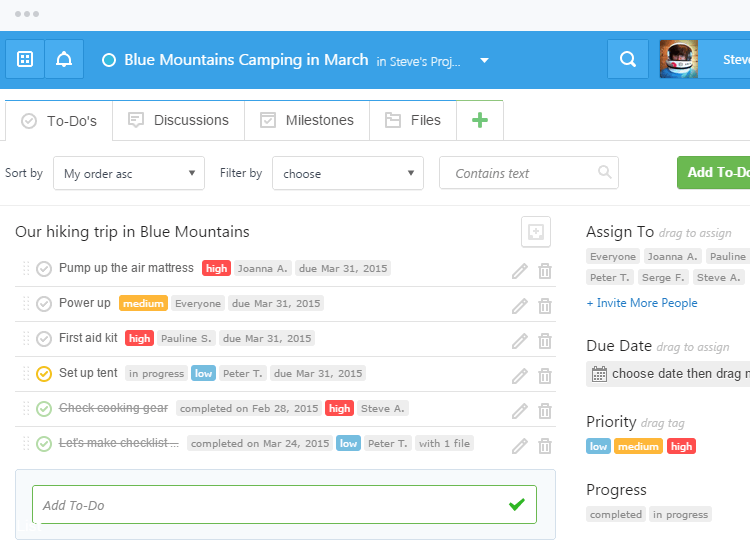 Of course, if your projects require more than 200MB of storage (and they likely will), you'll need to pay for the additional space. That being said, at $2.49 per month for 1GB of storage, you won't find anything cheaper.
Depending on what industry you are in, you might be able to find a customized option for project management.
For example, if you are an owner of a construction company, GenieBelt is a great option!
2. Boomerang
If you use Gmail as your primary email client, Boomerang is a useful plugin for scheduling your emails in advance. It will also send you notices if you haven't heard back from a certain person within a set period of time, meaning that you'll never have to worry about remembering to follow up on important emails.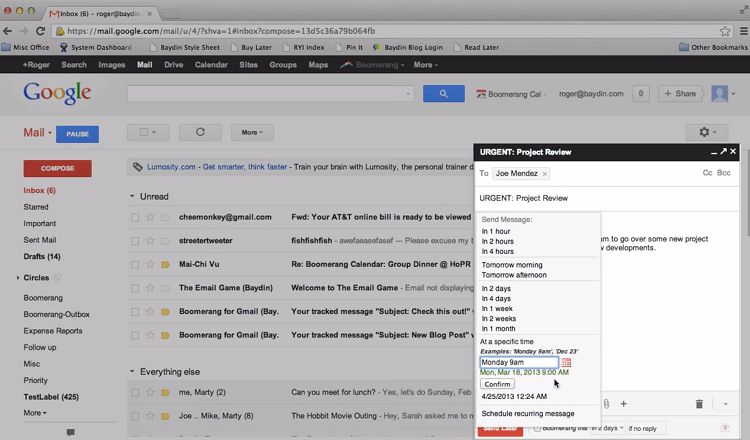 As an added bonus, it's also a great tool for those who tend to be their most productive late at night, but want to convince others that they keep a normal sleeping schedule. Just kidding… kind of.
3. MailChimp
If you want to get serious about email marketing, you need to choose an email client. But if you're just starting out, you may not want to invest a significant amount of money in a bunch of features you don't yet need. If that sounds like you're situation, MailChimp could be the perfect solution.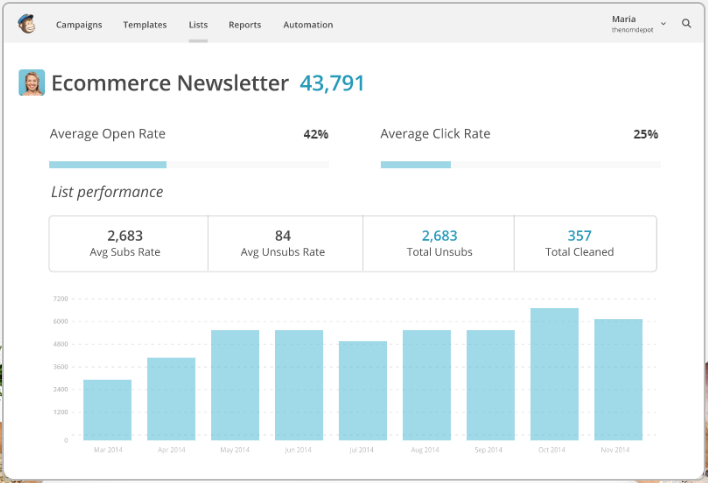 The email client is free as long as you have fewer than 2,000 subscribers, and you can send up to 12,000 emails per month.
You can see basic metrics like open, click, and unsubscribe rates, as well as access more advanced features like send time optimization and subscriber profiles.
4. Buffer
If you manage your company's social presence singlehandedly, Buffer might be your new best friend. It allows you to pre-schedule and analyze posts to your Facebook, Twitter, LinkedIn, and other social platforms all in one place, without even having to go to the actual sites.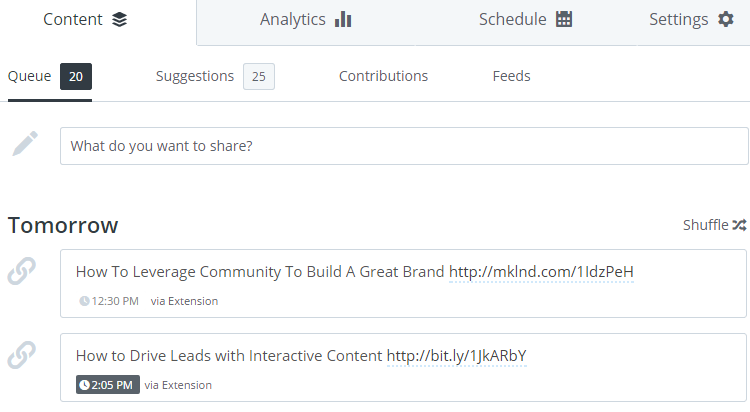 With the free version, you can add one social account for every platform and have 10 posts in your queue at any given time. And if you install their extension, you can share articles or pages with your followers instantly.
5. Tweetdeck
I almost hesitate to include Tweetdeck on this list because I sometimes spend way more time on it than I should, but if you're not already aware of it, it's an excellent tool of keeping track of your brand on Twitter.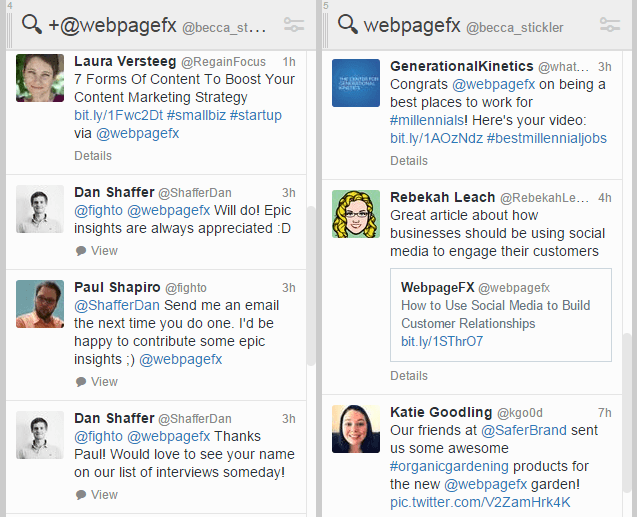 You can create columns for a number of different categories, like notifications, direct mentions, and even links to your site that don't mention your brand at all. It's an easy way to keep track of every single time your company is being discussed, meaning that you can always respond to both positive and negative feedback in a timely manner.
6. Cold Turkey
If you often find yourself getting distracted online, Cold Turkey could be just what you need. The program allows you to block certain sites for a set amount of time, meaning that you won't be able to waste your time on sites like Facebook during work – even if you want to.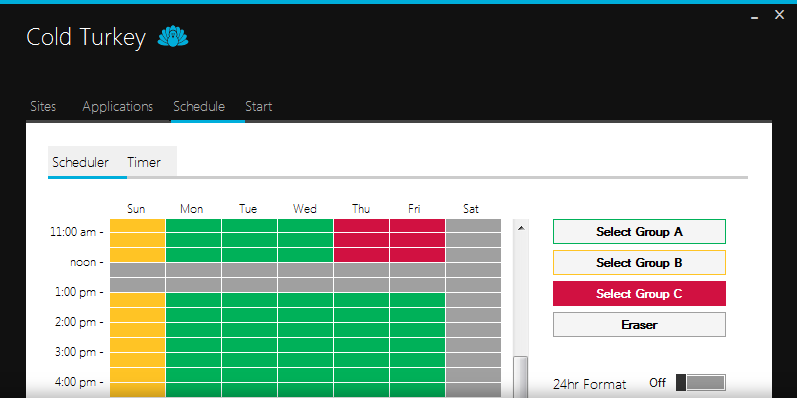 It's almost like a self-imposed parental control, which is great for procrastinators. However, it is only available at this time for Windows.
If you work on a Mac, SelfControl is a similar app.
7. RescueTime
Unlike most of the tools on this list, RescueTime doesn't require any sort of conscious effort to use throughout the day. Instead, it runs in the background of your computer and mobile devices and tracks the time you spend on various programs, applications, and websites.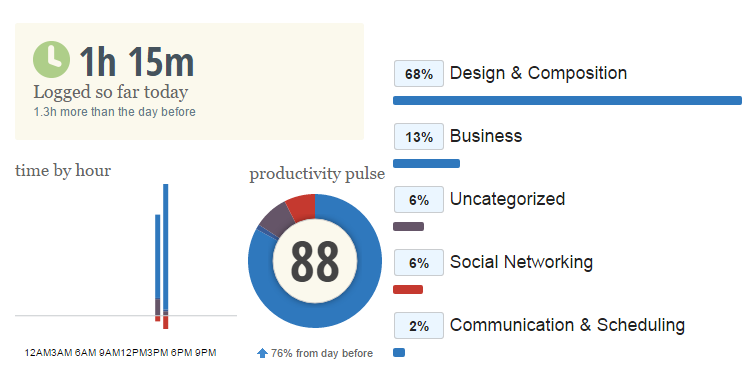 This provides you with a comprehensive look at how you spend your time, as well as when you're at your most productive. You can also sign up for weekly reports based on your activity, which can help you understand you daily habits.
Personally, I find that just having the program running in the background while I work keeps me motivated.
When I know I have an app holding me accountable (and will be receiving a detailed productivity report), I'm much less likely to waste an extra ten minutes on Twitter.
8. Pocket
Keeping up with industry news is important for any business owner, but clicking on every interesting headline you see throughout the day can be a huge time sink. That's where Pocket comes in handy.
Pocket allows you to save articles, videos, and other content for later, and is accessible in your desktop browser, smartphone, and tablet.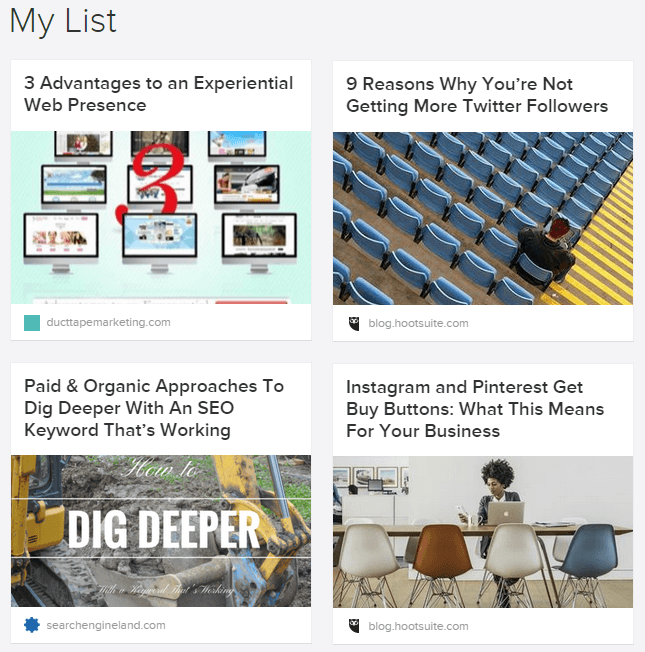 That means that if you happen to notice an interesting article while at work, you can simply click the browser extension button to save it, then read it later on your smartphone when you have a free minute or two. It also strips everything but text from the articles, meaning that you won't have to worry about getting distracted by advertisements or pesky pop-ups.
9. Trello
If you're the type of person who is constantly coming up with new ideas (or has to come up with new ideas as part of your job), you may find that Trello can help you keep track of them. The site enables you to organize ideas and tasks into different boards and lists.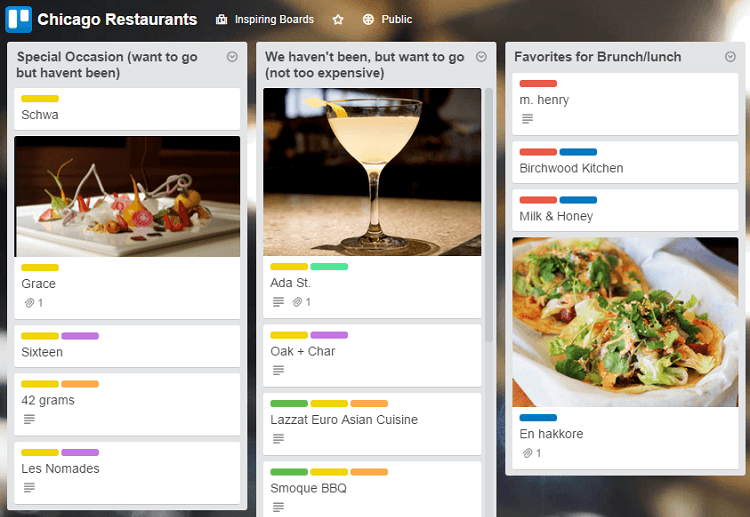 This is great for visual types, and also makes collaboration extremely simple. Our marketing team keeps separate Trello boards for our blog, email newsletters, and other content ideas, meaning that we're constantly sharing ideas, and on the same page about where each one stands.
10. Google Alerts
Have you ever wished there was a way to know when people were talking about you? By setting up Google Alerts, you can. You can opt to have Google let you know whenever specific phrases are mentioned in articles, news sites, blogs, or anywhere else on the Internet.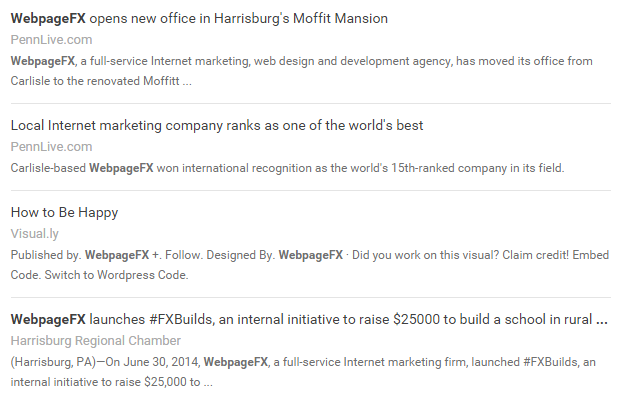 This means that you never have to worry about what's being said about your company (or you) online.
You'll know as soon as anything is published, and be able to respond right away.
Hopefully, at least one or two of these tools will help you better manage your time and get more out of your workdays. If you find any of them particularly useful, or if you know of any other productivity tools I didn't mention here, please let me know in the comments below!
WebFX Careers
Join our mission to provide industry-leading digital marketing services to businesses around the globe - all while building your personal knowledge and growing as an individual.