June 12, 2022
12 minute read

Macy is a marketing writer with over five years of experience creating content for dozens of industries including food and beverage, home services, and education. She also specializes in creating SEO and PPC content. Her work has been featured by Search Engine Journal, HubSpot, Entrepreneur, Clutch, and more. In her free time, Macy enjoys trying new crafts and reading comic books.
Did you know that 88% of business-to-business (B2B) marketers use content marketing? If you're not part of that 88%, you're falling behind your competition and missing a prime opportunity to reach and engage leads for your business. Luckily, we've created this B2B content marketing guide to help you get started with writing and distributing high-quality content for your audience. Keep reading to learn how you can get started with creating B2B marketing content!
Get your content up and running, get inspiration for your posts with our three steps content tool kit
P.S. You can get the latest tips and tricks for marketing your business online by subscribing to our email list!
WebFX specializes in B2B client success.
Wheeler Machinery Co., saw 82% higher average time on site after partnering with WebFX for SEO, CRO, web design and development, and website content services.

See Case Study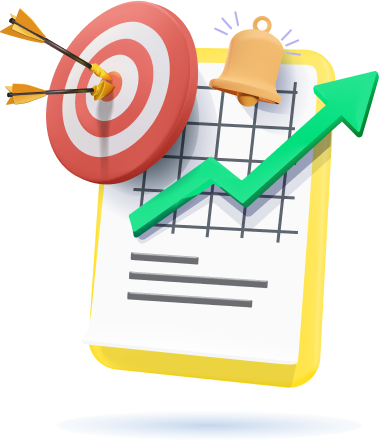 What is B2B content marketing?
B2B content marketing involves using content to reach your target audience, strengthen brand association, and drive leads and sales for your business. This content focuses on delivering information to companies and professionals from those companies, rather than consumers themselves.
What's the difference between B2B content marketing and B2C content marketing?
Now that we answered, "what is B2B content marketing?" the next common question is, "what's the difference between B2B and business-to-consumer (B2C) content?"
B2B audiences are smaller and driven by value rather than emotion. These audiences also have a longer buying cycle, so it takes longer to get these leads to convert.
B2C audiences, on the other hand, tend to be larger and driven by emotion and impulsion. B2C consumers also have a shorter sales cycle, so sales turnaround is quicker. The most significant difference in content creation between the two is that B2B content takes a more professional approach. In contrast, B2C content can take a more relaxed and easy-going approach to creating and sharing content.
Think of B2B content marketing like a boss and B2C content like a co-worker. When you talk to a boss, you keep it professional. You may share a joke or laugh, but generally, the interaction is cordial and focused on business. You may have more casual conversations with a co-worker, like about your favorite TV show or what you did over the weekend. There is still an element of professionalism, but these conversations tend to be more laid-back. Here's an example of how a B2B company approaches its message versus a B2C company. IBM, a B2B company, shared a social media post about its IBM Cloud. The post was professional and concise.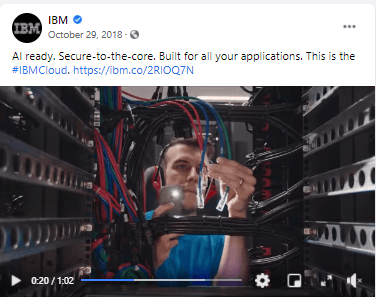 PlayStation, a B2C company, shared a post with emojis and a short video of a character dancing to promote a video game that just released on their console.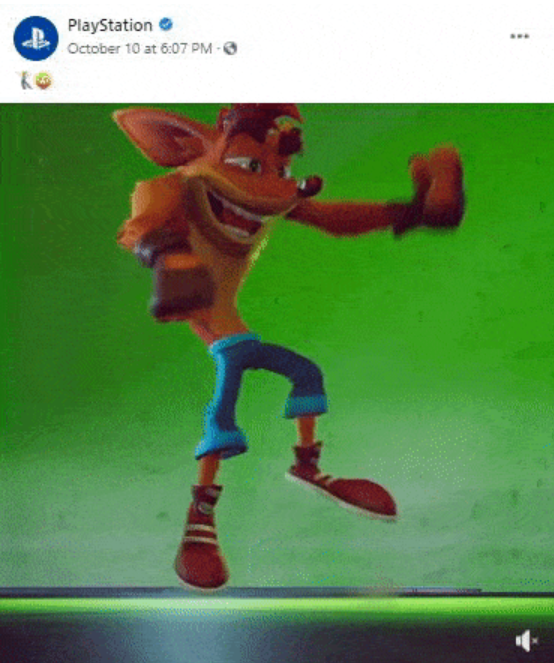 So, one of the biggest differences between B2B and B2C content is the level of professionalism in the content. In addition to that, B2B companies face the sales challenge of long sales cycles, so they aim to target their audience's specific wants and needs, which are different needs than B2C customers.
How to do B2B content marketing
Now that you have an answer to "what is B2B content marketing?" let's look at how to do B2B content marketing. Here are seven tips to help you get started with B2B marketing content.
1. Identify your audience
The first step in creating content marketing for B2B companies is to identify your audience. You need to know who you're targeting to create content that appeals to them. To help you identify your audience, look at your current clients who use your services, or buy your products. You can also use a tool like Google Analytics to help you identify who interacts with your website and shows interest in your business. When you're identifying your audience, you need to take two steps. First, you need to identify the type of companies you're targeting. Gather information like:
Type of company
Number of employees
Revenue each year
Company location
Company size
When you know information like this, you'll have a better idea of the types of businesses you attract to your company. Once you know the types of companies, it's time to look at that company's decision-makers. You'll want to pull information like:
Number of decision-makers
Department
Position in company
Language
Identifying this critical information will help you form buyer personas. Buyer personas are fictional representations of real customers that help you identify new clients for your business.
2. Identify and understand your sales funnel
The B2B sales funnel is a crucial part of your business. The sales funnel is the path prospects take from being leads to becoming customers. A typical funnel has the following stages:
Awareness: People discover your business and learn about the products or services you offer.
Consideration: Prospects gather a list of companies that fit what they need.
Evaluation: Prospects look at their options and narrow down their list to figure out which business fits their needs best.
Action: Completing a conversion, whether it's filling out a form, buying a product, or signing up for services.
While this is a typical sales funnel, this may not be your sales funnel. As a B2B business, you have a longer sales cycle than other companies, which means you may have more stages in your sales funnel, or prospects will bounce between stages for a more extended period.
Additional Reading: How to Develop an Effective Sales Funnel
Look at your current sales cycle to determine the appropriate stages in your funnel. Once you have your sales funnel established, make sure you understand how your prospects interact with your business at each stage so you can deliver content that resonates with them at each level.
3. Find relevant content topics
One of the essential B2B content marketing strategies involves finding relevant content topics. Finding topics is one of the most challenging aspects of B2B content marketing, regardless of whether you're a company that just started creating content or you've been doing it for years. When you first start creating content, you may not know where to get content topic ideas. A great place to start is social media. You can use social media to see what people are talking about in your industry. A tool like BuzzSumo will help you see what's trending in your industry and what people are talking about on relevant social media platforms. This tool can help you generate topic ideas that you know your audience will like because they discuss those topics.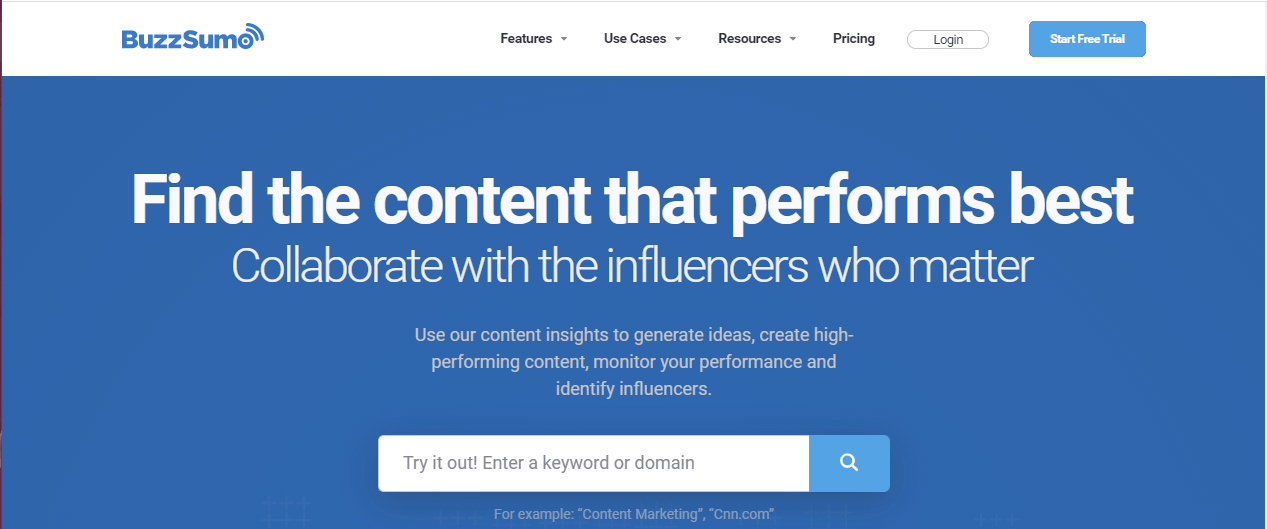 When you know what's trending in your industry, you can capitalize on that trend and create content on it, or you can take a new angle on the topic. If you don't want to use a tool like Buzzsumo, you can search key terms related to your business on Google or social media platforms to see what content already exists. What articles have companies published, or what are people saying about a topic on social? This process is an excellent way to generate ideas for topics that you can turn into content on your site. Additionally, if there are common questions your company receives from clients and prospects, consider creating a content piece that answers those questions!
4. Try different content formats
When you do content marketing for B2B, don't limit yourself to one type of content. Creating diverse content enables you to appeal to different decision-makers by delivering content in the format they like. Some standard content formats include:
As a B2B company, you're appealing to multiple decision-makers. You may have one decision-maker that loves videos, while another one finds guides the most helpful. Creating different content formats enables you to appeal to various decision-makers and deliver content that they enjoy.
Read: B2B Marketing Ideas You Can Employ
5. Focus on delivering informative and engaging content
The biggest mistake companies make with B2B content marketing is creating content with no purpose. You need to create content that provides your audience with valuable information while also providing a great experience. So, how do you deliver content your audience will love?
Check the user search intent for your topic
When you know what topic you want to cover, make sure you conduct a quick search on Google to see the search intent for it. You want to match search intent when you create personalized content to ensure you're delivering information relevant to your audience. So, for example, let's say you're writing a blog post on the topic "how to choose a new office supply vendor." When you search this term on Google, you see that multiple articles focus on steps or tips for finding an office supply vendor. The top result offers a numbered list of ways to find the right vendor.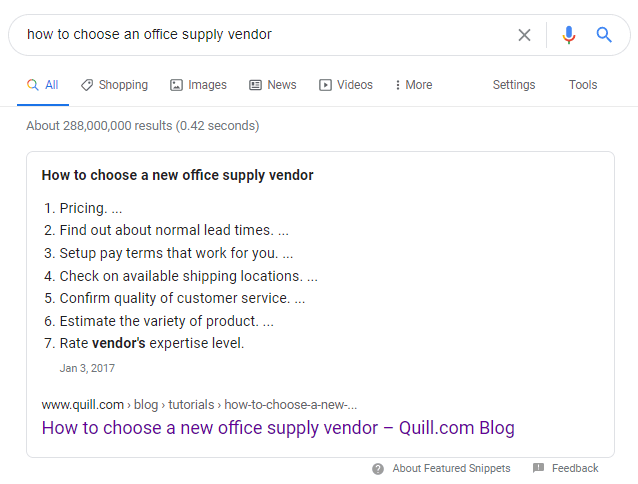 So, based on this information, you would want to follow a similar format to ensure that your content ranks in the search results and fulfills the user's search intent.
Avoid the fluff
When you create content, make sure it provides value to the reader. Don't include information in your content to meet a word limit or to make your content seem more informative. As soon as users read or watch it, they'll see it's not helpful and bounce from your site. Instead, focus on information that your audience will find valuable. Be concise and get to the point.
Format your content to make it readable
If you're creating written content, you need to ensure it's readable for your audience. First, make sure you choose the right font for your website. If you have a font that's difficult to read when information is in a paragraph, users won't engage with your content. Use web-safe fonts to ensure your audience can read your content. Additionally, when you write content, make sure you break it up into paragraphs of three or fewer lines. If you have long paragraphs of information, your audience won't be able to skim it and feel overwhelmed with all the information. Readability is key to boosting engagement with content. We also recommend implementing features like a listicle format or using bullet points within a section. Elements like these make content easier to read, which means your audience can gain more valuable information in a shorter amount of time. Lastly, use images and videos to break up text on your written content. Multimedia makes your content easier to read and can also help your audience understand a topic. Screenshots and videos are especially helpful in aiding readers' understanding of your content.
6. Optimize your content for search engines
A critical component of B2B content marketing is optimizing your content for search engines. Search engine optimization (SEO) is a crucial component to helping leads discover your content since users turn to search engines to help them find useful information. If your site pages aren't optimized for SEO, your content won't rank highly in search results, which means you won't see much website traffic. Here are some SEO best practices you'll want to follow to ensure your content ranks in search results:
7. Promote your content
One of the most fundamental B2B content marketing strategies is promoting your content. Although SEO can help users find your website and drive exponential traffic, you shouldn't rely on SEO to do all the work. Using a variety of methods to promote your content can help more interested leads find your information. One great option is to share your content on social media. Whether it's LinkedIn, Facebook, or another platform, social media is an excellent place for you to share your content with people you know are already interested in your business. Additionally, if you use email marketing and have a subscriber list, you can send articles to your subscribers based on their interests. It's a great way to nurture these leads towards conversion. By promoting your content on different platforms, you'll help drive traffic to increase your content's ranking in search results.
A hole in your marketing funnel will drain your sales.
Learn how to patch it with our free tool.
Fix Your Marketing Funnel

Get started with B2B content marketing
Creating B2B marketing content will help your business drive more valuable traffic to your site. If you're feeling overwhelmed with the amount of work you need to do, WebFX is here to help. We have a team of over 500 marketing experts that can help you create and manage your B2B marketing content. We know how to create content that drives results. In the past five years, we've driven over $3 billion in sales and over 7.8 million leads for our clients. You can feel confident that our team of marketing experts can create a killer content campaign that helps your business grow. Ready to start amplifying your online presence by creating content? Contact us online or call us today at 888-601-5359 to speak with a strategist about our content marketing services!
Macy is a marketing writer with over five years of experience creating content for dozens of industries including food and beverage, home services, and education. She also specializes in creating SEO and PPC content. Her work has been featured by Search Engine Journal, HubSpot, Entrepreneur, Clutch, and more. In her free time, Macy enjoys trying new crafts and reading comic books.

WebFX provides digital marketing solutions with expert marketers, designers, and developers to increase visibility, conversions, and revenue.

Learn more
Try our free Marketing Calculator
Craft a tailored online marketing strategy! Utilize our free Internet marketing calculator for a custom plan based on your location, reach, timeframe, and budget.
Plan Your Marketing Budget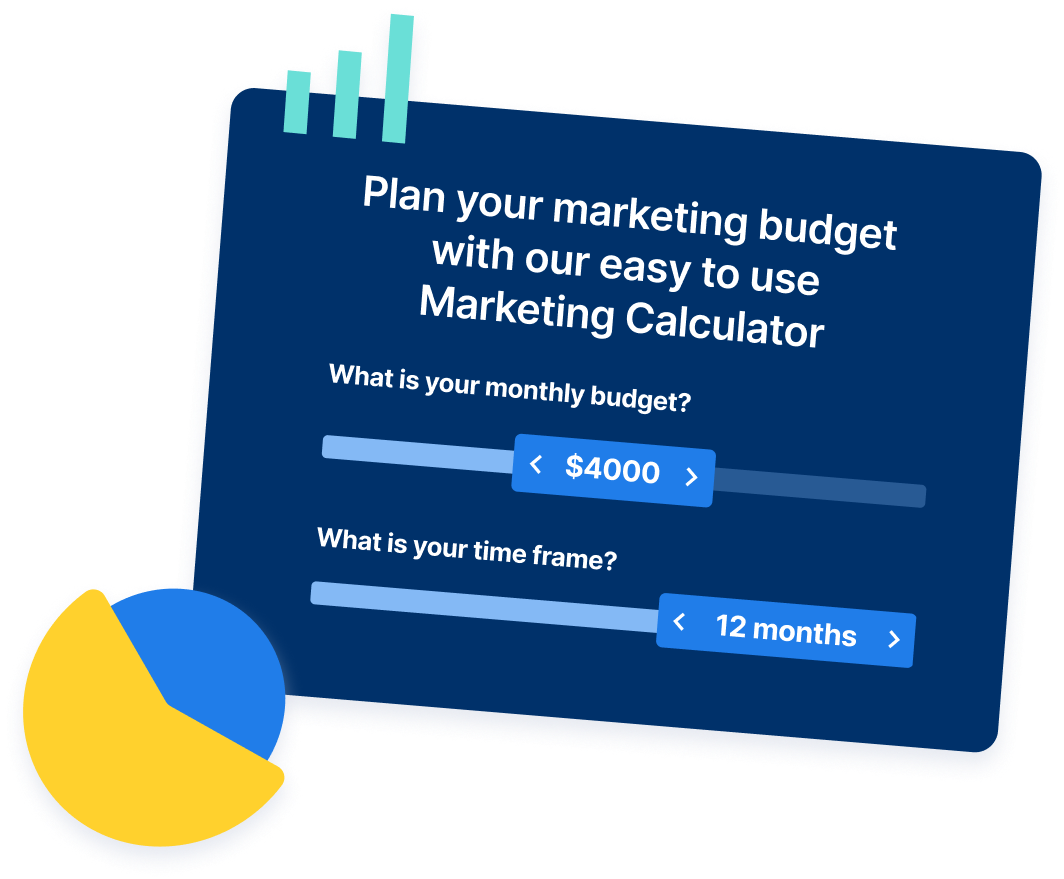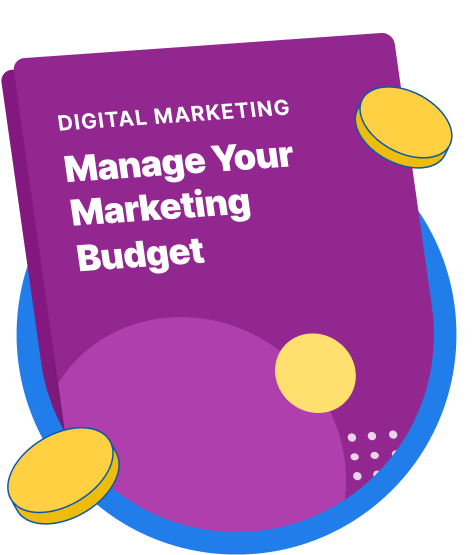 Maximize Your Marketing ROI
Claim your free eBook packed with proven strategies to boost your marketing efforts.
Get the Guide
Try our free Marketing Calculator
Craft a tailored online marketing strategy! Utilize our free Internet marketing calculator for a custom plan based on your location, reach, timeframe, and budget.
Plan Your Marketing Budget