July 28, 2022
14 minute read

Kayla is a content specialist with a B.S. in marketing. She is certified in Google Analytics and Google Ads Search and Display. When not writing, she enjoys reading, playing with her dog, and baking.
Are you launching a new product or expanding into a new market? You'll need to conduct market research to glean information about your audience and the competitive landscape.
Conducting market research is intensive, but you have access to many market research tools that simplify the task. Online tools for market research help you find information about audience demographics, interests, competitors' strategies, and more.
To get you started, check out these 16 online market research tools for 2023:
Jump to the tool that most interests you or keep reading to see how they all can help build your marketing strategy!
And while you're here, would you like to receive more digital market advice delivered straight to your inbox? Subscribe to Revenue Weekly to receive our favorite digital marketing tips!
16 best market research tools
Market research is an extensive process that involves understanding your audience, competitors, and the environment in which your business operates.
When you conduct market research, you might want information about market size, number of competitors, audience interests, or even economic factors.
Because of the breadth of this information, these 16 market research tools cover everything from demographics to competitive analysis. Check them out to see which you might want to add to your toolkit!
1. U.S. Census Bureau's Business Builder
Price: Free
The Census Bureau publishes vast amounts of demographic data for you to use. But what's most impressive is the Business Builder, which shows you a demographic overview of your potential market, including the number of businesses like yours operating in that location.
You start by selecting your industry, business type, and location.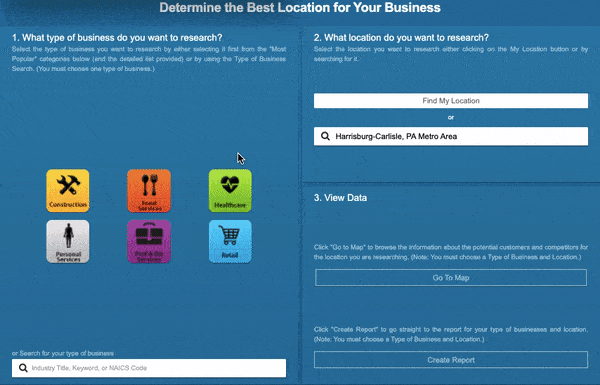 Then, the site will generate a report specific to your type of business. The report will feature data about the area's population, such as the percentage of the population broken down by:
Gender
Age
Race
Education level
Employment status
Health insurance coverage
And more
The Census Bureau also reports data about your potential competitors, such as:
The total number of businesses like yours in the area
Percentage breakdowns according to number of employees
Average revenue
And more
Business Builder is one of the best free market research tools for obtaining a general overview of your market's demographics and competition based on location. Use this information as a starting point as you dive into the rest of your market research.
2. Pew Research Center

Price: Free
Another one of the most popular free market research tools is Pew Research Center, which provides demographic and statistical information you can use for your business.
On Pew Research Center's website, you'll find survey reports with information about topics like:
The social media platforms your audience uses
How your audience uses social media
Their political views
How they feel about national topics, like sustainability
Their lifestyles
How much they trust the media
And much more
This tool allows you to dive into specific data about your audience according to demographics like gender or age to inform your communications strategies.
Where should you market to your target audience online? What sorts of messaging might resonate with them? You can even start to understand the topics or benefits your audience might value.
Pro tip: Use the information you gather to inform subsequent market research, like surveys.
3. Statista

Price: $59+ per month for a single account (Free plan available)
For more easy-to-digest statistics about your industry and consumer behavior, check out Statista. The site publishes vast amounts of research data you can use to inform your marketing strategy.
Research topics Statista covers include:
Social media usage
Smartphone usage
Market share by industry
Sales numbers for specific product types
And more
These reports help you see at a glance how sales in your industry have changed over time in the U.S. or globally. You can also gain additional insights into how consumer behavior has changed to tailor your business strategies.
4. Think with Google
Price: Free
Obtain the latest insights straight from the search engine that over 1 billion people use every month.
Think with Google is a suite of online market research tools featuring reports and articles about:
Consumer behavior trends
Technological developments that might affect your business plan or marketing strategy
Marketing strategies insights
Want to leverage Google's vast data to understand your target segment better? Dig deeper than demographic data with Google's Find My Audience tool.
Find My Audience provides information about consumers Google determines to be in the market for or interested in your products or services.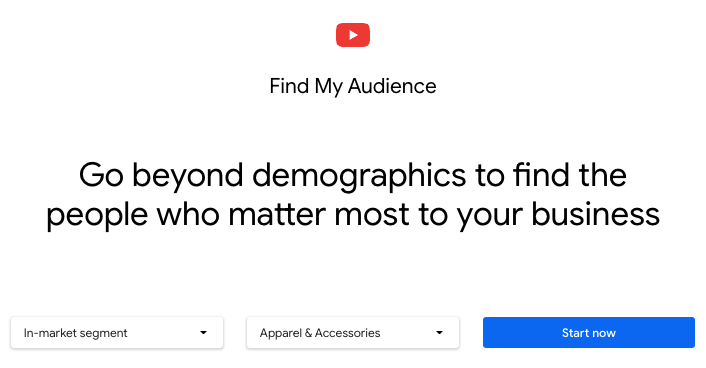 You can also use Google's Market Finder tool to conduct market research into global markets.
5. FAQFox
Price: Free
Start your marketing strategy off right by basing it on the questions your audience wants answered. If you know the information they need, you can frame your product and positioning to meet those needs.
With FAQFox, you plug in a topic and select sites for the tool to scrape. Unsure which sites to choose? Select a category for an auto-generated list!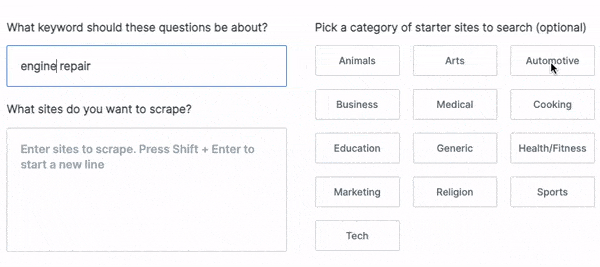 You'll end up with a list of pages where users talk about their pain points. Use this qualitative information to supplement the quantitative research tools mentioned so far.
What do I mean by qualitative and quantitative research? Qualitative market research refers to more open-ended responses and information, while quantitative analysis consists of numerical or statistical data.
You'll want to use qualitative market research software alongside the statistics you obtain from quantitative research tools. Why? Qualitative tools like FAQFox allow you to analyze audience insights in the consumers' words — which will supply invaluable information for customer-first marketing strategies.
6. KeywordsFX
Price: Free
Likewise, keyword research is one of the most powerful market research tools. When you know the keywords your audience searches for, you gain insights into the information they want to know and what matters to them.
Head over to KeywordsFX to generate a list of keywords related to your topic. Or check out six more awesome keyword research tools:
Once you have your keywords list, plug them into Google to understand what information those searchers want to find. When analyzed correctly, search trends alone can form a profile of consumer behavior.
7. BuzzSumo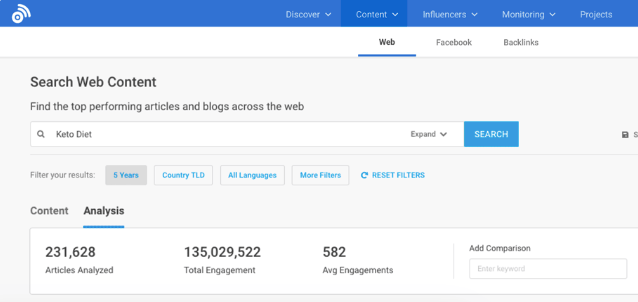 Price: $99+ per month (Free plan available)
For an expansive tool that gives you insight into the types of content already published online, check out BuzzSumo's Content Research tool. With this market research software, you can scan website and social media content to view trends or popular formats within your niche.
To take this tool a step further, you can also use it to conduct competitor analysis. See the types of high-performing content your competitors have published by refining your search to focus only on their domains.
8. Google Alerts

Price: Free
Do you have a particular topic you want to conduct more research into? Maybe you want to see new developments as they happen, or you need to discover more details about how your audience and competitors engage with this topic.
If so, Google Alerts could be an excellent market research tool to include in your kit.
With Google Alerts, all you have to do is type in your search term, and Google will alert you to new content published online about that keyword. Use these alerts to stay at the forefront of critical new developments so you can respond accordingly!
9. Hootsuite Insights
Price: Contact for quote
Alongside searches, social media also helps you find how consumers are talking about products and discover what they care about in their words. Use market research software designed for social listening to gain these insights in a more conversational setting.
With Hootsuite Insights, you can: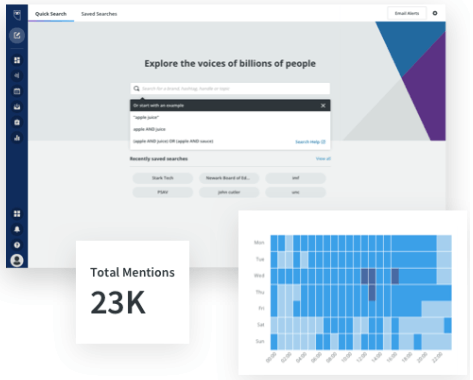 Use the information to understand what your audience says about topics related to your industry — especially the competition. The insights you gain can help you position your offerings to align with customers' real-time sentiments.
10. Social Searcher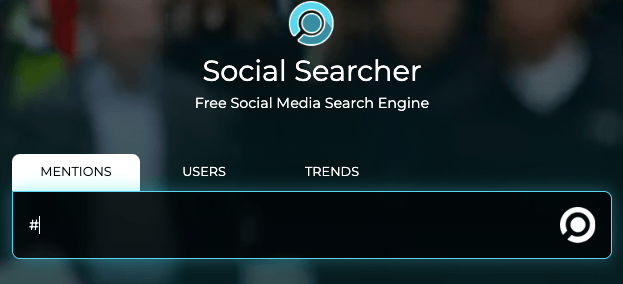 Price: $3.68+ per month (Free plan available)
Another social listening tool, Social Searcher, allows you to see what people say about your brand, the competition, and specific topics online.
An impressive feature of Social Searcher is its user-friendly sentiment analysis tool. With this tool, you can plug in any topic to see the overall sentiment for posts that mention that topic by platform.
When you know whether audiences feel positively or negatively about a topic, you can approach your marketing planning accordingly.
For example, suppose you're considering emphasizing a subject or technique in your marketing strategy and find it more controversial than expected. In that case, you can determine how best to adjust for these sentiments before getting too deep into your marketing plan.
You can also use Social Searcher to see the number of posts for a given topic on each social platform. Where are users talking about topics in your industry, and how do they feel about them?
11. TweetDeck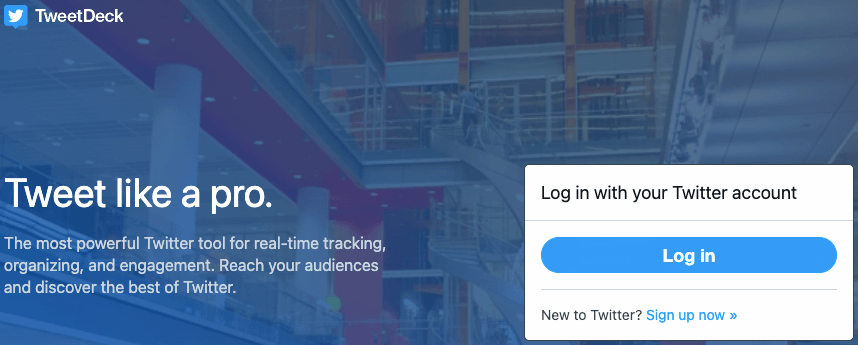 Price: Free
Did you know 85% of small-to-midsized business (SMB) owners use Twitter for customer service? Also, because of the platform's rapid-fire nature, it's often home to recent developments and critical discussions about niches.
To stay informed of your audience's current feelings toward topics related to your business, you'll want to pay special attention to Twitter. As a result, consider adding TweetDeck to your band of market research tools.
TweetDeck is a social listening software that focuses on Twitter. You can use the platform to manage your Twitter accounts, but you can also:
Search for tweets about particular topics
Add a positive or negative sentiment filter to these searches
Organize tweets into collections for analysis
12. Ontolo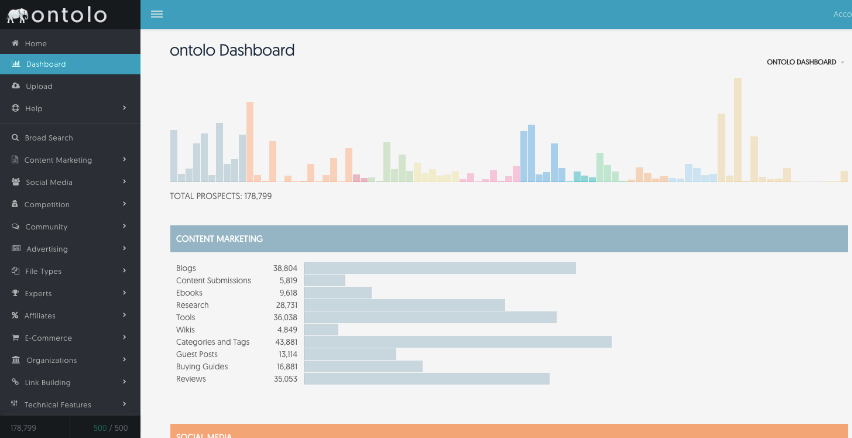 Price: $97+ per month
Many of these tools for market research help you understand how your audience feels about specific topics, but what about your competition? What sort of information do they provide their readers, and how do their readers respond?
Use Ontolo's competitive research tools to dive into your competitors' content. You'll receive information about the sorts of messaging your competitors use so you can set yourself apart.
13. SurveyMonkey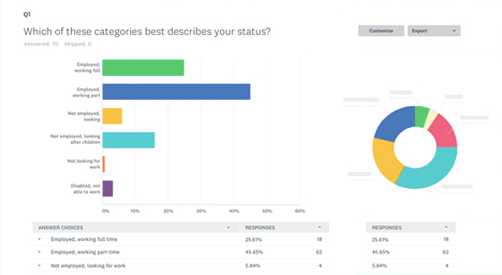 Price: $99+ per month (Free plan available)
Once you have a solid starting point for your market research, use surveys to collect specific information for your business. Dive deeper into who is in the market for your offering and their wants, needs, and pain points.
SurveyMonkey is a free online survey tool that allows you to create surveys with various question formats, such as:
Multiple choice
Sliding scale
Open-ended
Once created, you can send your survey to your pre-established audience or use SurveyMonkey's audience panels to reach the right respondents for your business.
14. Typeform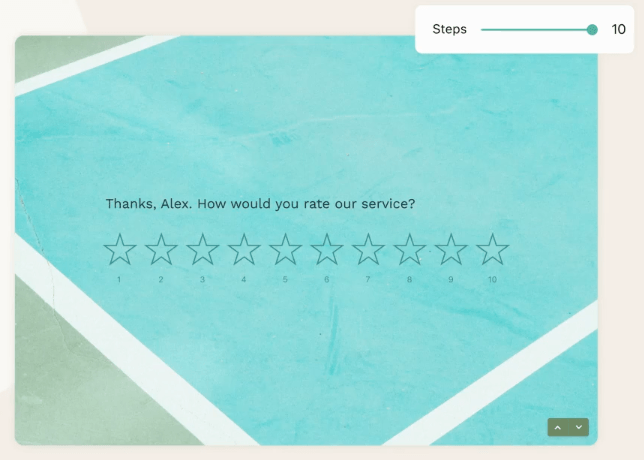 Price: $25+ per month
Another survey platform is Typeform, which prioritizes making your surveys engaging for your audience.
Typeform shows your respondents one question at a time, and it allows you to choose aesthetic themes for each question. You can also add photos and similar design elements throughout your survey.
Like many survey tools, Typeform offers conditional logic to show your respondents only the questions relevant to them. It also provides reports and data exporting features to help you analyze your findings.
15. Tableau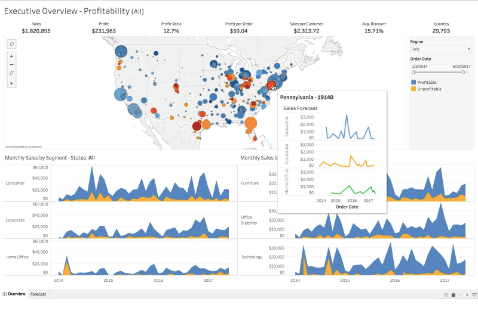 Price: $70 per month per user
As you conduct your market research, you'll gather substantial data. Tableau helps you visualize your data so you can make sense of it.
With Tableau, you can:
Analyze data in tables, charts, or graphs
Spot trends in your data
Share your data with others in your organization
While data forms the backbone of your market research, none of it means anything if you can't understand it well enough to see how your findings impact your business. Make the most of your market research with a data visualization tool that empowers you to apply your results to your business strategy.
16. Zoho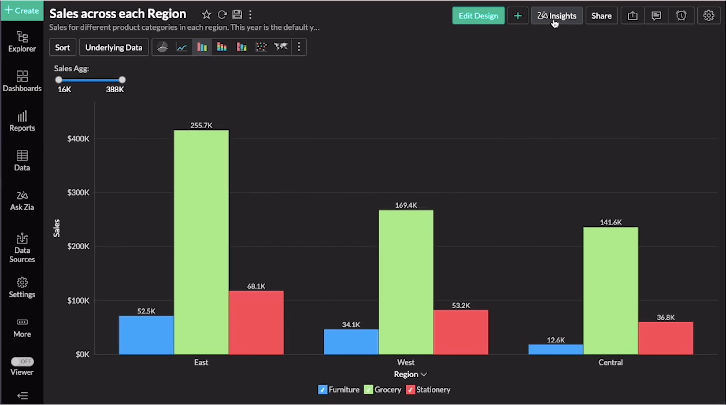 Price: $24+ per month (Free plan available)
Want another data analysis option to organize your market research? Check out Zoho's analytics platform!
Once you've imported your data, Zoho allows you to clean and catalog your data to prepare it for analysis. Then, you can run analysis and predictions based on your data using Zoho's artificial intelligence (AI).
As with Tableau, Zoho also allows you to create interactive reports to visualize your data and share it with other stakeholders.
How to use these tools for market research
Whether you're launching a new business, product, or needing to stay informed of your current operational landscape, these market research tools will help. Software like those on this list are invaluable because they allow you to:
Understand your audience so you can better market to them
Know how your competitors are performing so you can set yourself apart
Stay abreast of recent developments so you can respond accordingly
Understand the economic and social environment you're operating in so you can make strategic business decisions
Depending on your current background information, you'll want to use these tools in various ways.
For example, you might need to begin with the demographic information that Pew Research Center and Statista offer. Or, you might already have that data and need to explore more in-depth topics through keyword research and social listening.
Alternatively, you might have substantial market information but need a way to organize and analyze it. That's where data analysis tools like Tableau and Zoho will come in.
Market research is a complex process, but equipping yourself with the right tools for every stage will empower your business to make informed decisions that drive bottom-line results.
Use these market research tools to inform your digital marketing
Once you've conducted your market research and you're ready to form a marketing strategy, consider how digital marketing benefits your business.
Digital marketing meets your audience where they spend their time, and it rounds out your customers' experience with your brand.
From your website and social media to your online advertisements and content marketing strategy, your market research will form the backbone of your digital marketing strategy. Learn more about digital marketing with our library of free guides, and start leveraging your market research today!
Kayla is a content specialist with a B.S. in marketing. She is certified in Google Analytics and Google Ads Search and Display. When not writing, she enjoys reading, playing with her dog, and baking.

WebFX is a full-service marketing agency with 1000+ client reviews and a 4.9-star rating on Clutch! Find out how our expert team and revenue-accelerating tech can drive results for you! Learn more
Try our free Marketing Calculator
Craft a tailored online marketing strategy! Utilize our free Internet marketing calculator for a custom plan based on your location, reach, timeframe, and budget.
Plan Your Marketing Budget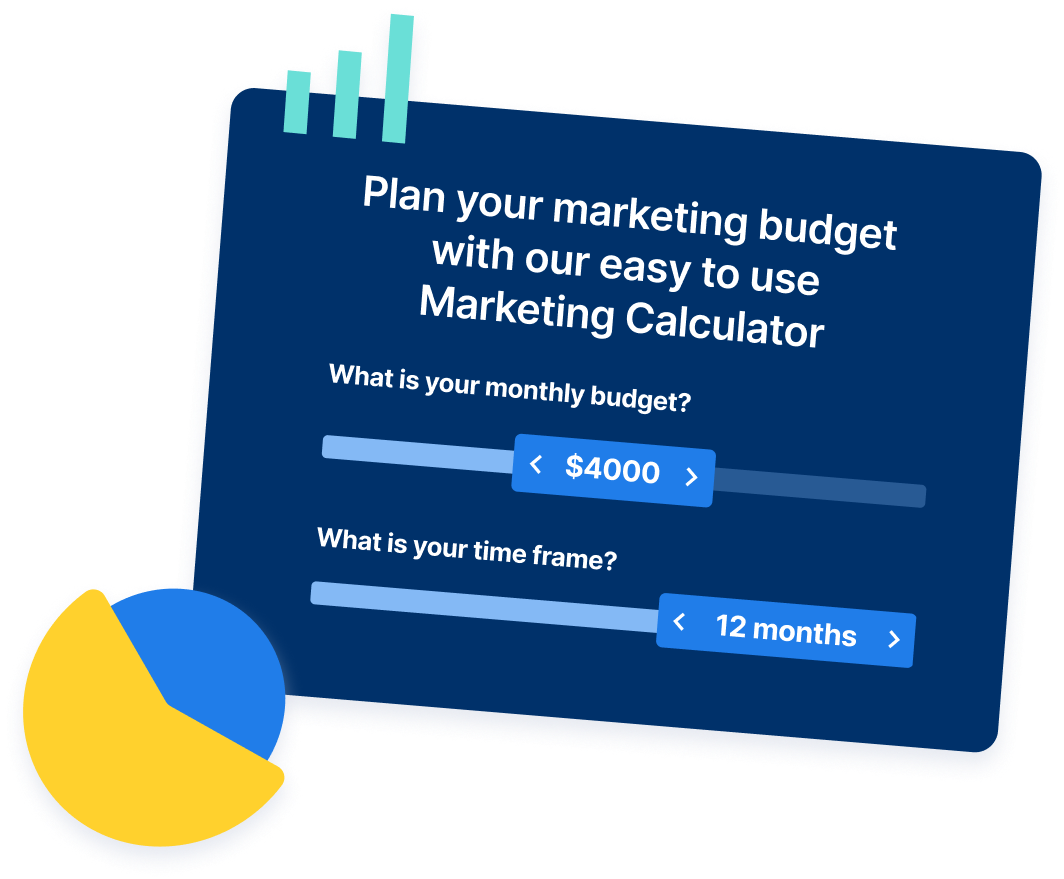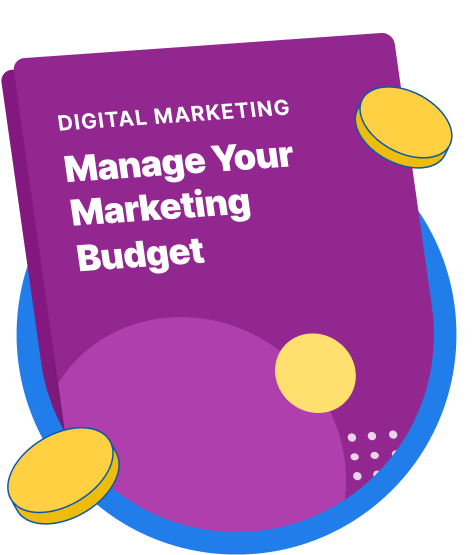 Maximize Your Marketing ROI
Claim your free eBook packed with proven strategies to boost your marketing efforts.
Get the Guide
Try our free Marketing Calculator
Craft a tailored online marketing strategy! Utilize our free Internet marketing calculator for a custom plan based on your location, reach, timeframe, and budget.
Plan Your Marketing Budget