Are you familiar with martech? The term stands for marketing technology, and it refers to any number of digital tools designed to help you get more from your online marketing efforts. If you know anything about martech, you know it's a fantastic resource to have at your side.
But so far, you may have picked martech tools at random, without considering how they work with one another. If that's the case, it's worth looking into building a martech stack. What is a martech stack, though?
If you're wondering how you can make your martech do more for your online marketing, keep reading to find out how martech stacks work. Then subscribe to Revenue Weekly to get more digital marketing tips delivered right to your inbox!
What is a martech stack?
A martech stack is a group of marketing tools which, when brought together, cover all the major areas of marketing to help improve your campaigns. A good marketing technology stack will include tools that manage everything from paid ads to analytics.
In short, a martech stack helps you automate multiple aspects of your marketing without paying for overlapping tools.
You can learn more about martech stacks in this video:
Why do you need a martech stack?
If you're unsure what a martech stack can do for you, consider this hypothetical scenario.
Let's say you want to build a shed in your backyard. You know you'll need some tools to help you. You could grab a few tools without thinking too much about it and head out immediately to start building. But it's likely that you'd realize partway through that you don't have everything you need.
Alternatively, you could avoid that issue by carrying out every tool you own so you don't have to worry about forgetting anything. But that would force you to carry an unnecessarily large number of tools. After all, you don't need six different hammers for this task.
The optimal strategy would be to simply take a few minutes to think through the task ahead of you and figure out exactly which tools you need for the job. Then you can gather those tools and go build the shed. You don't leave anything out, nor do you overload yourself.
A marketing technology stack is the same way. By taking the time to build a martech stack, you can ensure that you have all the tools you need for your marketing, but without buying multiple tools that do the same thing.
6 types of martech stack tools to consider
Now that we've explored what a martech stack is and why you need one, you might be wondering what tools your stack should include. The specifics depend entirely on your individual company. Not every business is the same, so everyone's needs are different.
That said, there are a few core types of martech stack tools you'll want to include. Here's a brief overview of each one!
1. Content management system (CMS)
The first type of martech tool you'll want to include in your stack is a content management system (CMS).
A CMS is a tool designed to help you build and create content on your website. It prevents you from having to rely on creating the entire website from scratch. In fact, some CMS tools offer drag-and-drop features to help you put together your web pages.
There are several useful CMS platforms on the market –– One of the most well-known is WordPress. Finding the right CMS depends on the type of site you want to build — Shopify is excellent for ecommerce sites, for example.
2. Customer relationship management (CRM) platform
You should also consider adding a customer relationship management (CRM) platform to your martech stack.
CRMs help you pull data on your customers from your marketing and your website. You can then assess that data and learn about your target audience to boost the quality of your sales and marketing in the future.
A CRM tool helps you keep up with all your leads and nurture them toward becoming customers. You can also retain data on your existing customers to continue to market to them.
3. Search engine optimization (SEO) tools
One of the most important components of digital marketing is search engine optimization (SEO), which is the practice of getting your website to rank in search results. SEO can be hard to do manually, which is why you'll want to include some SEO tools in your stack.
You might choose different tools depending on the strategy you use. Tools like MarketingCloudFX are great for keeping up with Google rankings, while others (like Google Search Console) can aid you in optimizing your website.
4. Paid advertising platform
Another vital marketing strategy is paid advertising. Running paid ads online is a fantastic way to reach relevant audiences. But to run paid ad campaigns, you'll need an advertising platform.
Google Ads is arguably the most well-known ad platform. You can use it to build your ads, launch them, and keep up with how they're performing. You can even use it to target your ads to highly specific audiences.
Whatever tool you choose, you'll want to add an advertising platform to your marketing technology stack.
5. Email marketing tools
Yet another type of marketing strategy that's vital to your online growth is email marketing. You can get people to sign up for your emails on your website, and then send out emails to your subscribers that encourage them to convert.
You don't have to do it all manually, either. There are several types of email marketing martech tools you can use. Some tools will help you design your emails, while others will automate the process of sending them out. And some, like EmailMarketingFX, can do both!
6. Analytics tools
Finally, it's essential to include analytics tools when you build a martech stack. Analytics is the only way you can see how your marketing performs, and it helps you learn how you can improve.
Google Analytics is a great example of an analytics tool, as it can help you monitor traffic on your website, see what strategies drive sales, and more.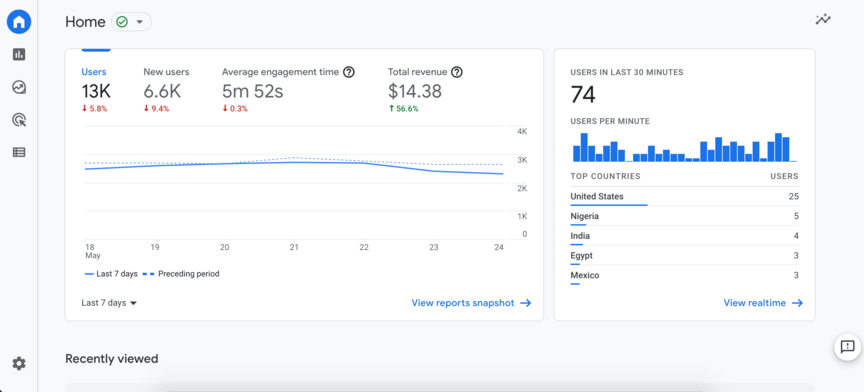 You'll also want to consider adding a data management platform (DMP) for gathering the data you'll need in your analytics.
Meet MarketingCloudFX:
One platform tracking countless metrics and driving stellar results.
Learn More About Our Proprietary Software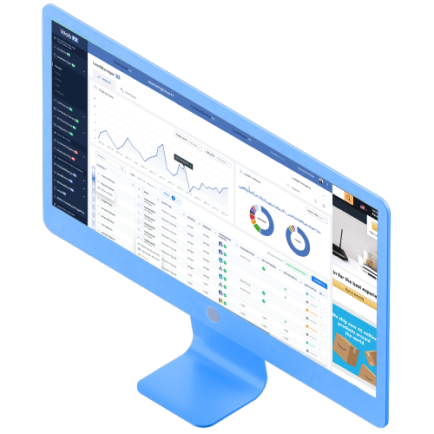 Boost your marketing technology stack with MarketingCloudFX
When you're building a martech stack, one of the easiest ways to consolidate it and cut down on tech stack costs is to use platforms that encompass more than one function. That makes MarketingCloudFX (MCFX) one of the best tools to include.
MCFX is WebFX's own proprietary marketing software. It can help you handle numerous tasks, from tracking your website performance to analyzing your SEO. Best of all, when you partner with us to access it, you'll also receive help from our team of marketing experts.
To get started with us, just call 888-601-5359 or contact us online today!
WebFX Careers
Join our mission to provide industry-leading digital marketing services to businesses around the globe - all while building your personal knowledge and growing as an individual.