Amazon is the world's biggest ecommerce platform, so it isn't surprising that it frequently gets mentioned when discussing where to sell online. It's not shocking, either, that it's making more companies ask, "Should I sell on Amazon or my own website?" The answer to that question depends, and it depends heavily on your business. This post, however, aims to provide you with all the information you need to decide.
Keep reading to learn more about the pros and cons of selling on Amazon versus your own website so that you can choose the best platform for your business.
P.S. If you're looking to find out more about selling and marketing online, read Revenue Weekly!
The pros of selling on Amazon
Amazon offers several perks to companies looking to become professional sellers on the platform:
Reach
More than 40% of online sales come from Amazon. Sell on Amazon, and your business can reach a massive audience of shoppers.
According to reports, Amazon features more than 300 million user accounts, as well as more than 100 million Amazon Prime members. Overnight, people can start finding (and buying) your products.
Audience
"Nine out of 10 consumers will check Amazon for a product, even if they found that product on another site."
Amazon also offers access to an audience with a transactional mindset. People on Amazon are looking to buy a product.
They're researching, comparing, and ordering when they go to Amazon. One study even found that nine out of 10 consumers will check Amazon for a product, even if they found that product on another site. Becoming a seller on Amazon allows your business to focus on people that want to buy.
For perspective, almost 50% of people buy something from Amazon once a month. It's a frequent place to shop. Whether people make a one-time or regular purchase (think Subscribe & Save), Amazon is where they go.
The best part is that shoppers buy from sellers. In fact, 50% of Amazon sales come from sellers.
Convenience
For many companies, Amazon is also convenient, compared to selling on their own websites. Amazon takes care of all the maintenance, costs, and management that comes with running an ecommerce site.
You don't have to worry about web hosting or redesigns. When you sell on Amazon, Amazon handles those tasks. For example, Amazon is responsible for:
Maintaining Amazon.com and Seller Central
Keeping Amazon.com and the site's product listings live and accessible
Providing a secure shopping, ordering, and seller experience
Delivering seller payment and ads
Offering seller support
Resolving customer support issues specific to the Amazon.com site
You can even outsource tasks to Amazon, like with Fulfillment by Amazon (FBA).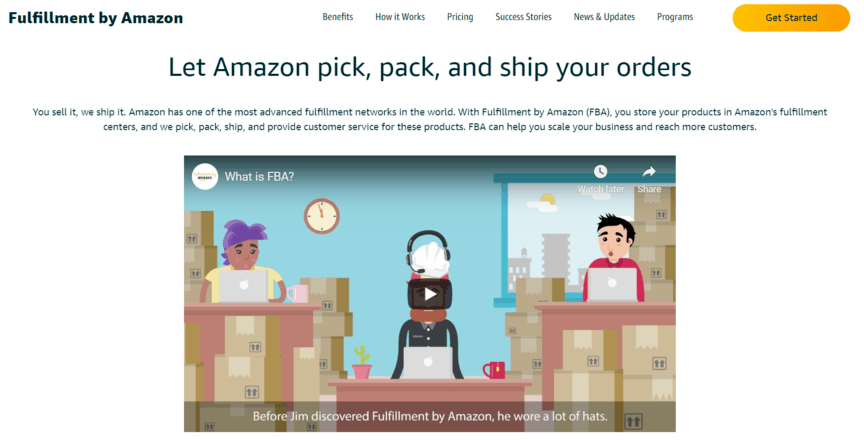 With FBA, you can pass on the responsibility of fulfilling and shipping orders to Amazon, as well as the process of handling returns. Marketing and advertising are also to-dos that you can contract out, like to an Amazon agency.
Tasks that you do oversee, like adding product listings or creating an Amazon Store, are easy.
Protection
Choosing to sell on Amazon versus your own website can also offer your brand protection. With Amazon Brand Registry, your company can get protection against knock-off versions of your products. You can also report copy-cat sellers.
This program helps your business protect its brand and increase its sales.



In comparison, outside of Amazon, your company must monitor and protect its brand by itself.
Community
More than one million other small-to-midsized businesses (SMBs) sell on Amazon.


With so many companies selling on Amazon, this large community serves as a great resource for your business. Amazon maintains a seller forum that you can use to connect with these companies too. Post questions ask for advice, and more on this forum.
The cons of selling on Amazon
Selling on Amazon isn't perfect.
The platform comes with some disadvantages, including:
Competition
Remember how over one million other companies sell on Amazon? That's also a downside of the site. Depending on your industry and products, you may compete with a significant number of sellers, which can make it more difficult to profit on the platform.
Even if you invest in product optimization and pay-per-click (PPC) advertising, you may not get the results you want from Amazon. The intense competition on Amazon also leads to pricing wars. Since price serves as a ranking factor for Amazon search results, sellers must maintain competitive prices if they want to earn a top spot in search results, as well as compete with competitors that offer lower prices.
Most shoppers (around 64%) click on the first three search results, so your product must appear on the first page of search results if you want to generate a profit. For your business, that means pricing your products competitively. Before you start selling on Amazon, research how much competition you'll have on the platform.
Amazon
When discussing the pros and cons of selling on Amazon, many sellers will mention Amazon as a con.
Sellers usually see Amazon as a problem because of the company's various brands, like AmazonBasics and AmazonFresh, which also sell on the platform. These brands earn sales easily because users know (and likely trust) Amazon.



They don't have to research a product or seller in-depth. Instead, they can "Add to cart" and check out.
Many sellers feel that Amazon also guides its brand and product development based on top-selling products from third-party sellers. For example, if you sold a kitchen table, Amazon may develop an AmazonBasics version to sell at a lower price. As a direct competitor, Amazon is tough to beat and requires a marketing and advertising strategy.
When you build and launch a marketing and advertising strategy for Amazon, your business gives your products the best chance of reaching shoppers. A bigger reach translates to more product views and purchases, which bumps up your bottom line. Optimizing your product listings for search, for instance, can help you attain page-one rankings, which means more traffic and orders.
Meanwhile, an ad campaign can give your products the top spot in search results, which can help with brand awareness and sales.
Fees
When you sell on Amazon, you must pay several different seller fees, which include:
A seller plan (either Individual or Professional) provides your business with the ability to sell products on Amazon. The Individual plan does not require a subscription but maintains a $0.99 fee for every item sold. In comparison, the Professional plan requires a $39.99 monthly subscription.
A referral fee is your payment for accessing Amazon's audience of shoppers. The minimum referral fee is $0.30 per item. Most referral fees are percentage based, ranging from 6% to 96%, depending on the item category.
While optional, FBA can help your business streamline order fulfillment and customer service. Not to mention, using FBA improves your product listing optimization, which can lead to higher rankings and sales. FBA costs depend heavily on your product price, weight, and type.
Additional fees that come from selling on Amazon include variable closing fees ($1.80 per media item), rental book service fees ($5 per textbook rental), and high-volume listing fees ($0.0005 per month for applicable items). If you're thinking about selling on Amazon, your company needs to review the potential costs. Calculating your Amazon fees will help you see whether selling on Amazon could offer a profit and return on investment (ROI).
Rented
Amazon is a rented platform, which means your company doesn't own it.
Instead, you "rent" the site for selling online. By renting instead of owning, you have less control over your business's presence on the website. Following a basic product listing template, paying fees, and competing with other sellers are all examples of the cons that come with using a rented platform.
Before you decide between Amazon vs. your own website, review all the pros and cons of selling on Amazon. Or, start with a free seller account to get a preview of operating on the platform and its potential value to your business.
RELATED: Is Selling on Amazon Worth It for SMBs?
The pros of selling on own website
Selling on your own website, instead of Amazon, offers a few benefits, including:
Owned
You own your website, which means you have complete control over it. From your product page design to your checkout process, you sign-off on everything.
As the owner of your website, you also eliminate all the competition that comes with rented platforms like Amazon, Walmart Marketplace, Sears Marketplace, and Target+.
Bonus Reading: Should You Sell On Walmart or Target?
Of course, even if you sell on your website, you still want to look at your competition. What your competition does, whether on their website or their Amazon Store, influences your business strategy. For example, you may decide to tweak your product page design or use product videos based on a competitor's design and strategy.
Customers
If you sell on Amazon, Amazon provides you access to its customers.
Even if someone buys your product, they remain an Amazon customer. This arrangement makes it difficult for Amazon sellers to build a relationship with shoppers and establish shopper loyalty. When you sell on your website, however, your customers remain yours.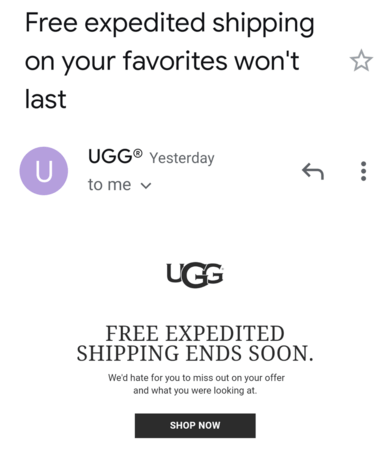 Owning your customers (versus borrowing them from Amazon) allows you to take full advantage of digital marketing. With digital marketing, you can use strategies like social media marketing, email marketing, and paid advertising to generate sales from existing and future customers. For example, using email marketing, your business could create a campaign that targets abandoned shopping carts.
These emails can persuade users to come back and finish their purchase, which helps you generate another sale. With customer ownership, you get access to a range of strategies for growing your business. In comparison, Amazon limits your business, which can impact its short- and long-term growth and potential.
Data
Like customers, data is also a valuable tool (and perk) of selling on your website.
While you can access analytical data on Amazon, it isn't as in-depth as your site analytics. For example, you can see details about how long a user spent on a page, as well as what pages they visited when on your website. This data can help you create a better, stronger site that generates more orders and sales.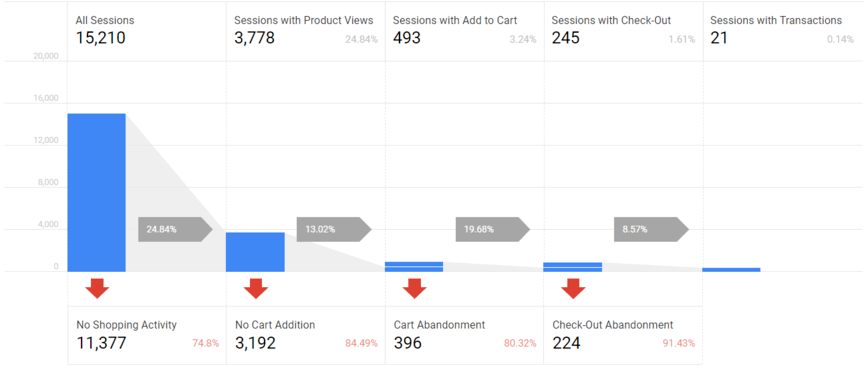 For example, if you notice that a lot of users don't complete your checkout process, you may experiment with a different checkout experience. Instead of multiple steps, for instance, you may make checkout a single step, which could improve order completion rates. Of course, to take advantage of this perk, you need to look at, analyze, and take action on your data.
The cons of selling on own website
Selling on your own website comes with some disadvantages too, including:
Management
When you make your site your marketplace, you take on all the responsibilities of managing and maintaining a website.
From choosing a web hosting provider to adding a new product page, it's up to your company to keep your site operational. For many SMBs, website maintenance and management is a severe pain point. Most don't have an in-house development team, which can lead to a neglected site and unhappy shoppers.
You can resolve this issue, however, by working with a web design and development agency. They can serve as your team and take care of your website.
Cost
The decision to sell on your website versus Amazon requires an instant and substantial investment. That's because you need to create your site.
For perspective, a professional ecommerce website can cost $12,000 to $150,000 to design and launch. This price is significantly more than starting an Amazon Store. However, you should compare that upfront cost to the advantages of selling on your website.
Reach
While Amazon offers a massive reach, your site doesn't — at least at the start.
When you launch your site, no one will know about it. While you can share your website on social media, as well as with friends and family, you will need a strategy for growing your reach if you want your business to survive.
"If you can invest in SEO, which takes about three to six months to work, you can counter this con to selling on your website."
If you want people to find your website, you must use search engine optimization (SEO). SEO is a digital marketing strategy that helps make your site more visible in search results on search engines like Google or Bing.
Like on Amazon, you want to appear on the first page of results so search engines direct traffic to your site. That's because 95% of traffic goes to the first page, with most users clicking on the first three results. If you can invest in SEO, which takes about three to six months to work, you can counter this con to selling on your website.
Like website maintenance and management, you can hire an SEO agency to handle your SEO. Before deciding whether to sell on Amazon or your website, re-read the pros and cons of selling on your website. Like calculating the cost of selling on Amazon, you should also research how much it would cost to start selling on your site and the potential long-term return on investment.
Where should you sell your products?
Where you choose to sell online depends on your business, market, and products.
For some companies, it may work well to sell on Amazon while others may see the value of selling on their website. You must consider what works best for your organization. Look at the pros, cons, and costs, and talk to your team to get their opinions and ideas.
The first step to increasing your SMB's Amazon sales is getting a FREE proposal.
One of our experts will be in touch within 24 hours!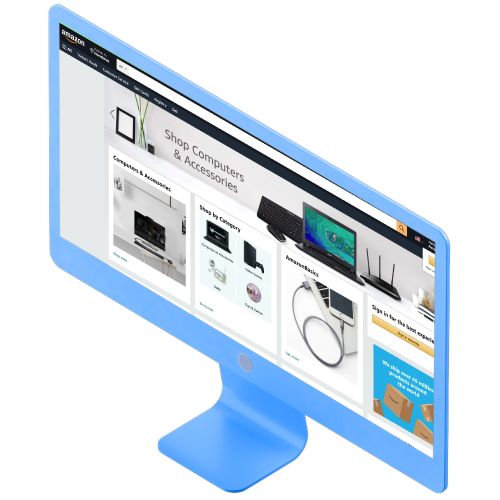 Market your website (and Amazon Store) to earn more revenue
Whether you decide to sell on your site, Amazon, or both, WebFX can make your experience easier and more profitable. Use the expertise of our award-winning team (they've driven over $3 billion in revenue for our clients in the past five years) to grow your business and online presence. Browse our digital marketing services or ecommerce marketing services for Amazon to learn more about how we can help your organization and team.
If you'd like to chat with a strategist about your company and where to sell online, contact us online or call us at 888-601-5359!
How is your website's SEO?
Use our free tool to get your score calculated in under 60 seconds.
Get posts by email
Join 200,000 marketing managers and subscribe to Revenue Weekly!
"*" indicates required fields
WebFX Careers
Join our mission to provide industry-leading digital marketing services to businesses around the globe - all while building your personal knowledge and growing as an individual.