Marketing Products on Amazon: 7 Powerful Strategies to Try
Shoppers are almost twice as likely to start researching products on Amazon than on Google. As a seller or vendor on Amazon, that's spectacular — except you're competing with more than two million other sellers on the world's biggest ecommerce platform. That's why your company needs a new, fresh way of marketing your products on Amazon. In this post, we'll give you seven fresh, effective tips for marketing products on Amazon. Calculate Your Amazon Sales Margin
If you're searching for innovative and powerful tips for how to market on Amazon — and not the same-old recommendations for an Amazon marketing strategy, like optimizing your product listings or launching an ad campaign — then this is your guide. Go ahead and keep reading to discover the best marketing strategies for selling more on Amazon.
Or, partner with WebFX — the Amazon marketing agency that increases client revenues. Contact us online or call us at 888-601-5359 to chat about a custom, data-driven strategy or contact us online!
2. Join your product listings' Q&As on Amazon
While many businesses sell on Amazon, few take a proactive approach to the product question and answers section, which features on every product listing — it appears after your product description for reference, and it's a valuable tool for marketing on Amazon.
Why be active in the Q&A section?
Browse a few of your competitors' products, as well as yours, and note how consumers use the questions and answers section to learn more about your product. This section also plays a critical part in the purchase decisions of shoppers.
For example, a common question in the Q&A section relates to product sizes. If a consumer doesn't know if your product will fit in their home, apartment, backyard, or room — and you haven't responded to questions about it — they go elsewhere, which costs your company a sale.
Adopt a proactive approach to your questions and answers section, and your team can not only secure those sales but also market your product to other shoppers. Plus, your responses demonstrate to consumers that your company's active and involved with its community.

That kind of activity can serve as a trust signal to shoppers, persuading them to do business with you.
How to market Amazon products with product Q&As
As a seller or vendor on Amazon, adopting an active role in your product questions and answers section is essential. If you're ready to have a proactive role in your Q&As as a part of your strategy for marketing your products on Amazon, try these tips to amplify your results:
Adopt a brand voice: Whether you, your team, or your agency is responding to user questions, you need to establish some guidelines. For example, your business may have some preferences when it comes to the company's voice, as well as interactions with customers.
Check in on a routine schedule: Amazon drives more than 40 percent of online sales, with shoppers making purchases around the clock. That's why your team needs to check your Q&As on a routine basis. For the best results, check-in daily.
Make answers skimmable: While you want to create a personalized experience for your customers, it's essential that you appeal to user habits — which include skimming content. Keep your answers brief, but make sure they answer the shopper's question.
Highlight USPs: In most cases, the questions asked in the product Q&A section allow your team to point out the unique selling points (USPs) of your product. For example, you may note that the size of your product makes it perfect for smaller backyards.
Correct inaccurate answers: As Amazon allows other shoppers to respond to Q&As, it's essential that your team reads through the responses of other shoppers. If you notice inaccurate information, make sure to note it in your response.
With an active role in your products' Q&As, your business can connect with future and current shoppers. Your responses not only provide information to the original posters but also the future users that view your product listing and have similar questions.
That's why the Q&As are invaluable for marketing your product, as well as your brand.
3. Schedule limited-time promotions
If you're looking to earn exposure for your products, consider a limited-time promotion — which doesn't have to include a discounted price. A promotion can also include freebies, like a decal, t-shirt, or another add-on item, that encourages shoppers to buy and share your product with their social circle.
Why use limited-time promotions?
For almost 90 percent of shoppers, price is the most influential factor in their purchase decisions, which is why more than 95 percent of shoppers look for coupons or deals when they shop. While promotions can impact your profits, they're a useful tool for driving sales, marketing products, and clearing stock.
Promotions can also coordinate with your other efforts for marketing your products on Amazon. For example, 75 percent of consumers search their email with the specific goal of finding a promotion, which allows your team to leverage your email marketing strategy to drive sales.
Another reason to use promotions as a part of your Amazon selling strategy?
They can convince first-time customers to complete their purchase. In a recent study, researchers discovered that users are almost 60 percent more likely to make a first-time purchase when they have a coupon — and that can include a coupon for a lower price, free item, or another perk.
How to market Amazon products with promotions
As one of the millions of sellers on Amazon, it's essential for your team to develop a one-of-a-kind promotional strategy for marketing your products on Amazon. How do you make your product — and promotion — stand out, though? Try these trusted tips:
Make a compelling offer: If you want to drive sales and create buzz about your product, then you need to make an offer that shoppers can't resist. Discover what your audience wants by engaging in social listening, as well as researching what's financially feasible for your business.
Leverage multiple marketing channels: If no one hears about your promotion, they can't act on it — that's why you need to share the news across your core marketing channels. For example, your business may send an email to subscribers or share a post on Facebook.
Launch ads on Amazon: There are various different types of Amazon ads. If you want to accelerate sales from your promotion, as well as market your product to a broader audience, use some of your budget for advertising on Amazon. For the best results — and low advertising cost of sale (ACoS) — try Sponsored Products ads.
Motivate shoppers with a deadline: If you want to push consumers to act on your promotion, then you need to establish a hard deadline. In some cases, you may want to emphasize that it's only available while supplies last, which can encourage users to make a purchase.
Create simple promotion codes: If your promotion depends on a coupon code, whether for a discounted price or free item, it's essential that you make your code easy-to-find and easy-to-remember. That way, it's convenient for users to complete their purchase.
Take advantage of seasonal shopping: If you want to maximize the success of your promotion, leverage the traffic that comes to Amazon on Cyber Monday and Black Friday — Amazon drives 50 percent of all Black Friday sales. Launch your promotions at that time for the best results.
While limited-time promotions are an excellent strategy for Amazon product marketing, your company shouldn't depend on them to drive sales. Instead, use this strategy for generating exposure and buzz for your brand and products.
4. Adopt a review management strategy
Amazon places immense value on reviews — that's why they're a ranking factor for search results. Reviews are more than a ranking factor, though, they're also a deciding factor for shoppers. That's why review management is another strategy for marketing on Amazon.
Why use review management?
What can make shoppers add or delete a product from their carts? A bad review. In fact, consumers trust online reviews 12 times more than product descriptions, which is why 80 percent of users cite reviews for changing their mind about a purchase.
It's also why a product with more than 50 reviews increases purchase rates by almost five percent.
If you want to market your product on Amazon successfully, as well as increase your sales, you need to develop a review management strategy — especially with the star rating system on Amazon, which can have a tremendous impact on your bottom line.
For example, consider the following statistics:
Almost 95 percent of consumers would use a business with four-out-of-five stars
Almost 60 percent of consumers would use a business with three-out-of-five stars
Almost 15 percent of consumers would use a business with two-out-of-five stars
Put those numbers in perspective. If your products only have three stars, you're losing nearly 40 percent of your potential sales. That's a massive amount of lost profits — money that you could use for advertising your products, developing your next item, or expanding your team.
How to market Amazon products with review management
Realize that your business needs to make review management a part of your Amazon marketing strategy? For the best results — and happiest of shoppers — use these tips for marketing your product and reaching your shoppers:
Check-in daily: Like your product Q&A management, it's essential for your team to make review management a part of their daily routine. If you're partnering with a review management specialist, they'll handle this process for you.
Respond to all reviews: Marketing on Amazon requires your business to answer every review — including the bad. When following up on a negative review, see if you can turn the customer's dissatisfaction into satisfaction. If you can, it will impact the decision of future shoppers.
Build a brand voice: If you're already active in your product Q&A, then you've probably already developed a voice for your brand. When responding to customer reviews, you want to maintain a consistent brand voice to demonstrate that there's a company behind your product.
Encourage user reviews: In coordination with responding to reviews, you also want to earn new reviews. While you can use Amazon Vine™ or the Early Reviewer Program, you can also include helpful materials in order shipments, like a brochure, that invite shoppers to leave a review.
Share reviews across channels: As your products earn more reviews from satisfied customers, your company can share them across your marketing channels, like social media. The experiences of other shoppers can then motivate your followers to give your product a try.
A review management strategy can have a massive impact on your product sales and profits. It's essential, however, that your team makes review management a permanent part of your Amazon marketing strategy as it requires ongoing upkeep to continue driving results.
5. Revamp product packaging
As your business continues to market its products on Amazon, as well as earn sales from new customers, it's important for you to make an impact on your newest shoppers — and increase their interest in your product and brand, as that can lead to repeat purchases and word-of-mouth recommendations.
One way you can do that? With a revamped product package.
Why use product packaging for marketing?
More than 60 percent of a company's sales come from existing customers, which is one reason why sellers on Amazon should build their shoppers' brand loyalty. While you can grow brand loyalty in several ways, including with digital marketing, you can also use traditional marketing.
One of the best traditional marketing strategies? Your product's packaging.
Whether you're fulfilling product orders in-house or utilizing Fulfillment by Amazon (FBA), you can use your product's packaging to grow your relationship with new customers, as well as market your product's features, benefits, and more.
How to market Amazon products with product packaging
Want to improve your product's packaging, but not sure where to start? Try these tips:
Keep your packaging simple: While you want to emphasize your brand, from the color of your packaging to the typography, it's essential that your packaging remains simple — and easy for consumers to open.
Provide something of value: For the best results from your marketing efforts on Amazon, you need to create packaging that's valuable to users. For example, if you sell grills, your packaging could feature a grilling recipe.
Include a call-to-action (CTA): As a part of your packaging design, your team should develop a CTA. If you're focusing solely on marketing your product on Amazon, you may invite shoppers to share their experience with a review. Or, you could encourage users to follow you on social media.
If you're revamping your product packaging to support your new marketing strategy on Amazon, it's critical that you adhere to Amazon's packaging standards — especially if you're using FBA. If not, Amazon could return your packages, which could result in dozens of unshipped orders.
6. Create a social media marketing strategy
With more than 70 percent of consumers referencing social media when making purchase decisions, it's a viable platform for marketing your brand and products. That's why more companies are promoting their products on not only Amazon but also social media.
Why use social media?
Across social media, from Facebook to Instagram to Twitter, there are billions of users — Facebook alone boasts more than one billion daily users. From a business perspective, there is an immense opportunity to reach and connect with your target shopper.
With a competitive, data-driven social media strategy, your business can improve brand awareness, as well as coordinate your marketing efforts on Amazon. For example, your review management strategy can support your social media efforts by providing reviews that you can share with followers.
Even better, your team can use your product Q&A section to inspire the content you share on social media. For instance, if you use content marketing, you can develop blog posts that address common questions and then share those posts on social media.
In short, you can extend your marketing efforts across channels for a more significant impact.
How to market Amazon products with social media
If you're thinking about marketing your Amazon products with social media, try these strategies:
Focus on your audience's favorite platforms: While your social media strategy can include every social media platform available, you want to make your marketing efforts targeted. Research your audience and focus on the platforms they use most.
Balance promotional and informational content: While you may want to promote your product 24/7, constantly bombarding shoppers with "salesy" content can cause them to unfollow you. That's why your team needs to create a happy medium between informational and promotional content.
Interact with your followers: It's not enough to post on social media — you need to engage with your followers, which requires your team to make social media management a part of their daily routine. If a user comments on your posts, take the time to respond.
If you maintain an Amazon Store, you can support your social media strategy by including links to your social media profiles on your Amazon Store. This feature is an excellent way to drive Amazon traffic to your social media, which can serve as a stepping stone for building brand awareness and loyalty.
7. Partner with an agency that knows Amazon
As more businesses become a part of the Amazon marketplace, it's a challenge for yours to stand out. That's why some companies are marketing their products on Amazon with the assistance of an agency that specializes in marketing and advertising on the platform.
Why use an Amazon marketing agency?
If you want to sell more on Amazon, you need help — whether with the assistance of an in-house team or a full-service marketing agency. For many companies, especially small-to-midsize businesses, it's easier, as well as more cost-effective to partner with an agency than to develop a new department.
Agencies like WebFX, are also fully equipped when it comes to marketing and advertising on Amazon. We have the expertise and the tools for marketing your products on Amazon and other channels, like social media.
For your business, that can lead to better results from your strategies. That can result in higher product sales and lower ACoS, which provides your company with the chance to dominate the Amazon marketplace, as well as reach new goals, like expanding your product line.
How to market Amazon products with an agency
If you're thinking about marketing on Amazon with the help of an agency, here are some helpful tips:
Look for an agency with experience: A lot of businesses offer services for marketing on Amazon, but few have the expertise to drive the results you want. Research how much experience an agency brings to the marketplace before making your decision — for reference, WebFX has more than 25 years of experience.
Find an agency that prioritizes data: Digital marketing depends on data, which is why you want to partner with an agency that recognizes the value of data. For example, WebFX offers Google Data Studio, an innovative reporting dashboard, and ContentGeniusFX, a machine learning software, to provide in-depth reports and high-value keyword suggestions.
Choose an agency with custom strategies: A lot of agencies offer a "one-size-fits-all" solution to marketing products on Amazon — and they don't work. You want a plan customized to your business, products, and market to maximize your product sales. Custom strategies are all we offer at WebFX, which is why we've driven more than $3 billion in revenue for our clients.
As you review different agencies, it's critical that you also invest the time to read their reviews and testimonials. Just like product reviews, client feedback can help your business choose the best company for marketing on Amazon.
The first step to increasing your SMB's Amazon sales is getting a FREE proposal.
One of our experts will be in touch within 24 hours!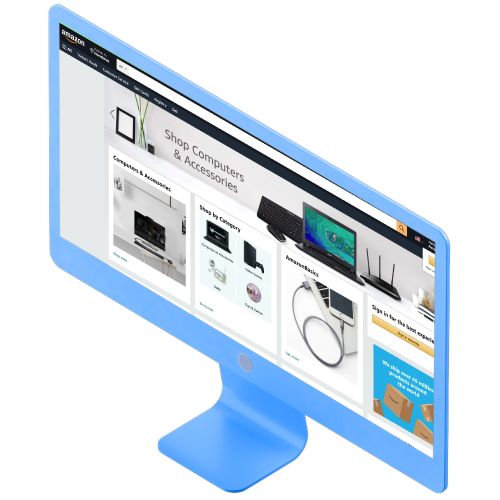 Accelerate your sales with a fresh marketing strategy for Amazon
Need some help marketing your products on Amazon? Discover how WebFX can help your business accelerate sales.
Call us at 888-601-5359 to start building a custom Amazon marketing strategy or contact us online!
Earn a 20% greater ROI with WebFX