Imagine you're browsing Google in search of a new car, and you click on two different paid ads. The first takes you to a landing page that shows a few lines of text about the car. However, the second landing page launches into a video ad that depicts Batman trading in the Batmobile for a new Audi and showing off its unique features as he fights crime.
Between the two paid ads, which one held your interest longer? That may be an exaggerated and unlikely example, but you get the point: An engaging video will typically drive far more conversions than text or images. That's why when it comes to pay-per-click (PPC) advertising, having video on landing pages is a fantastic way to drive up revenue.
Read on to learn more about video landing pages, and then consider partnering with WebFX — the agency with over 1020 client testimonials — for our video production services and landing page design services. Just call us at 888-601-5359 or contact us online to get started today!
Our digital marketing campaigns impact the metrics that improve your bottom line.
See More Results

WebFX has driven the following results for clients:

$3 billion
In client revenue

7.8 million
Leads for our clients

5.2 million
Client phone calls
What are video landing pages?
Video landing pages are just what they sound like — PPC landing pages that center around videos.
You may have encountered some before — you click on a PPC ad in Google search results, and it takes you to a landing page that displays a video, one that may play automatically.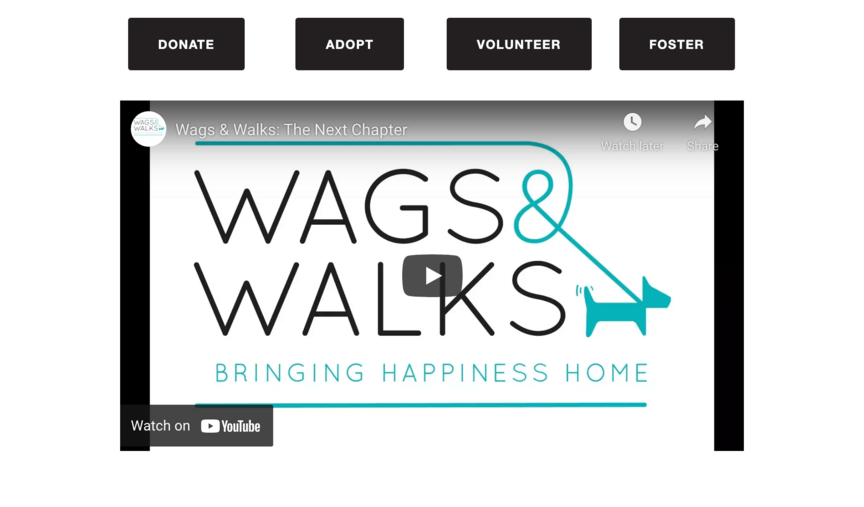 These landing pages tend to be highly effective because they ensnare people's attention from the get-go, holding it until the page has had time to communicate what it's selling. From there, it's just a short jump to encouraging users to hit the call to action (CTA) button.
How can landing page videos benefit you?
Video pages are so effective for numerous reasons.
Videos engage: Videos are incredibly engaging — it's easy enough to skim over text or images, but the moving visuals of a video make it hard to look away.
Videos inform and entertain: Videos can inform and entertain simultaneously. You can present helpful information to users in a way that also proves entertaining, be it from your colorful animations or your creative storytelling methods.
Ultimately, these features mean people will stick around longer and engage better with the content you're presenting. When that happens, they become more likely to take the next step and convert.
When should you use video on landing pages?
Video is an amazing tool for enhancing your landing pages' quality, but not every landing page should be a video page — so when should you use them? One situation where you might want to incorporate video is if your ads require more explanation than most of your products or services.
Rather than include more text — which could deter users — you can use a video to sum everything up in one place. You'll also want to restrict videos to landing pages that will load quickly. Videos can do a lot to slow down page speeds, so if you're working with an audience that already experiences some slow loading — which can frequently happen on mobile — videos may not be the best idea.
How can you optimize your video pages?
As incredibly useful as landing page videos can be, they only reach their full potential when properly optimized.
As with any marketing tactic, you have to use the right approach to ensure that they're as effective as possible. Here are four ways to give your landing page videos a boost!
1. Focus on search intent
One of the most important things to get right with your videos from the start is to ensure that they match user search intent — that is, the reason for the search that brought users there in the first place. If users run a Google search, they're looking for the answer to a particular question or problem. If they encounter a video that fails to fulfill that need, they'll likely click away, no matter how engaging it otherwise is.
To determine the search intent for a given keyword, look at the organic results and paid ads currently displaying for it. Follow their lead in answering the questions of users visiting these pages, like how much a service costs or whether a tool will fix a certain issue.
2. Consider using autoplay
Another significant consideration when using video on landing pages is whether to use autoplay — that is, whether to have the videos play automatically as soon as the page loads. To make this decision, you'll have to weigh the benefits and drawbacks of autoplay. On the one hand, it's excellent at capturing users' attention before they have a chance to click away.
On the other hand, autoplay can often prove annoying for people. Ultimately, you'll simply have to gauge what will work better with your audience — but whichever route you choose, make sure it's a clear and deliberate choice on your part.
3. Find the right length
One thing you'll have to be careful about is finding the right length for your landing page videos. Should your videos last for 30 seconds? Five minutes?
Something else altogether? Ultimately, it depends on several things:
What you're selling
Who your audience is
How much information is necessary
If you want to include a lot of content, and you feel confident that you can hold people's attention, several minutes can work — but keep in mind that people have limited attention spans. The best option is to run tests. Try creating multiple versions of a video, each one a different length.
Then run them all and see which one performs the best.
4. Direct users to a single CTA
Our final optimization tip is true not only of video landing pages, but of landing pages as a whole: Make sure you use the content on the page to draw the user's focus to a single, central CTA. Ultimately, all your landing pages try to get users to take a specific action. That being the case, be sure users feel no uncertainty over what that action is.
Use your video to make it abundantly clear what you want users to do. Whether your CTA button is below the video, above it, or over the video itself, make it clear to users that you want them to click it when the video finishes playing.
WebFX is a partner businesses trust.
Hear from HydroWorx, who saw a 236% increase in organic sessions with WebFX services.

Watch the Video Testimonial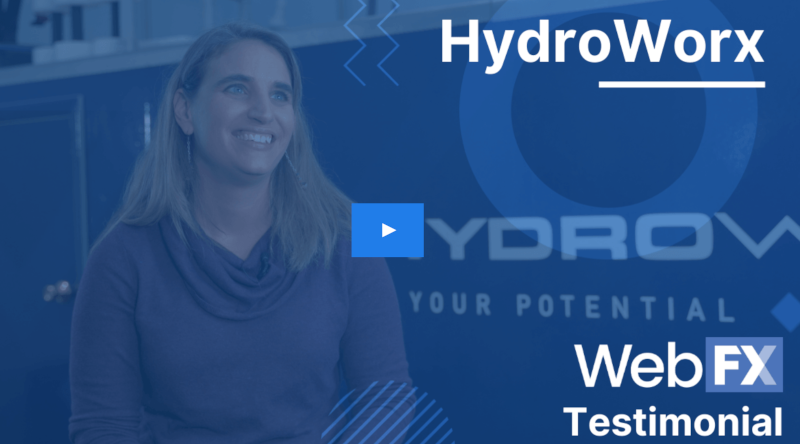 WebFX can take your video landing pages to the next level
Want to drive up your conversions with video landing pages?
WebFX can give you the boost you need to make it happen! Our team of over 500 marketers contains a variety of experts in both landing page design and videography. With our video production services and PPC services, you'll get help creating landing page videos that match all the criteria and recommendations listed above.
You'll also receive a dedicated account representative to keep you informed about everything we do! To get started with us, just call 888-601-5359 or contact us online today!
WebFX Careers
Join our mission to provide industry-leading digital marketing services to businesses around the globe - all while building your personal knowledge and growing as an individual.