Did you know that more than 65% of U.S. adults use Facebook? This platform provides an excellent opportunity for you to reach those who want an opportunity, aside from your website, to hear from and learn about your business.
Not to mention, with the different types of Facebook ads available to your business, you can reach leads with a multitude of advertising campaigns.
What about Facebook Ads vs. LinkedIn Ads?
On this page, we'll cover eight Facebook ad types you can use to drive more traffic and lead for your business. If you don't have experience running Facebook advertising campaigns, a Meta Business Partner like WebFX can help. Call us today at 888-601-5359 to speak with a strategist.
What about Facebook Ads vs Google Ads?
1. Photos ads
One of the most common Facebook ad formats is photo ads. Photos ads appear seamlessly in the user's newsfeed because they look like any other content post. These ads feature an image, call to action (CTA), and link to a landing page or blog post.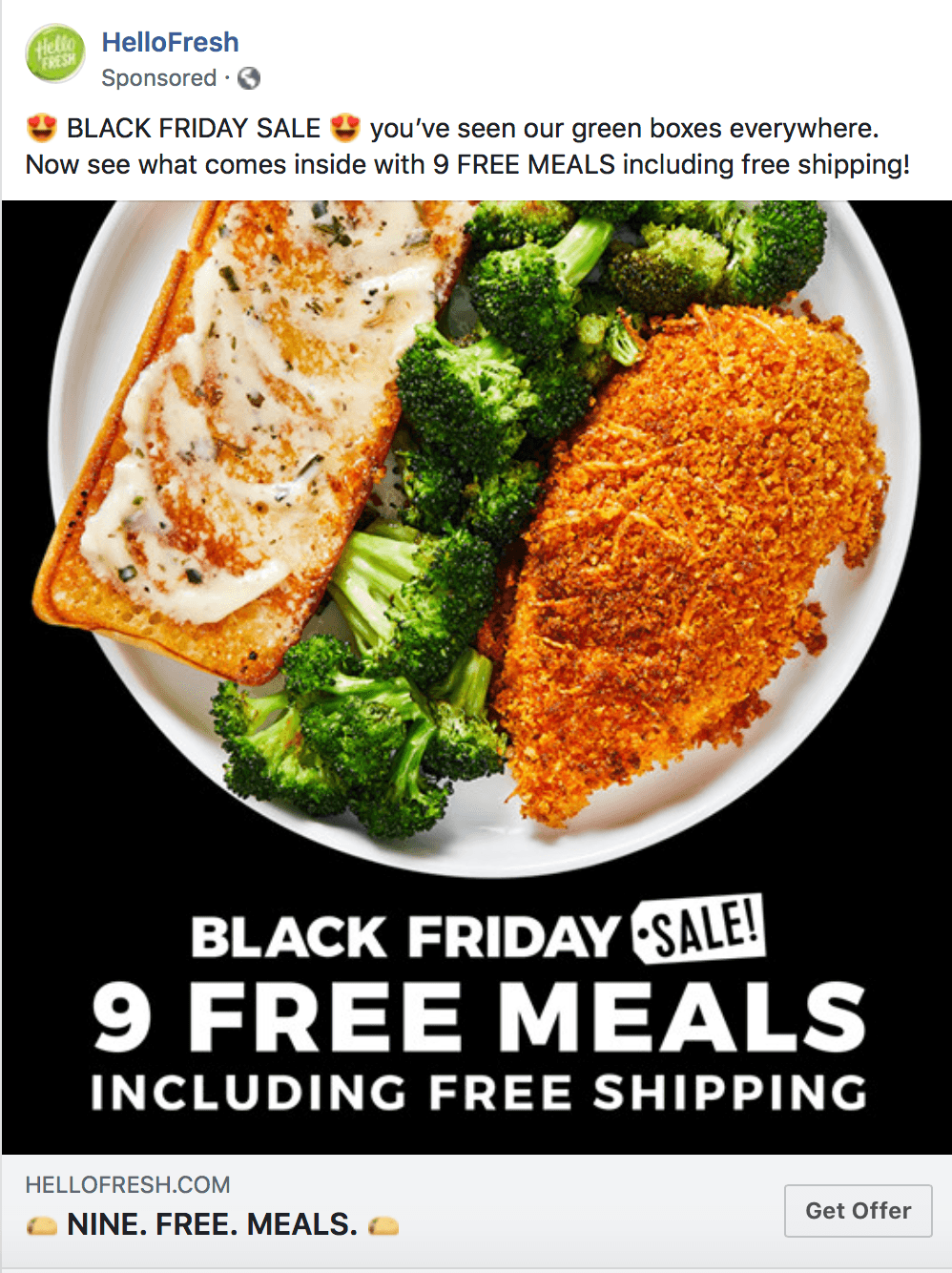 Photo ads are versatile and an excellent option for businesses that are just starting with Facebook ads since they only require a visually attractive photo and engaging ad text. These ads are easy to create and set up to begin driving valuable traffic to your site. Specs for photo ads:
Image size: 1200×628 pixels (px)
Minimum width and height: 600 px
2. Video ads
Video ads are a popular Facebook ad type for driving engagement and earning conversions — there are even Facebook playable ads. This ad type is one of the most popular types of Facebook ads because of the positive results it drives. When you consider that brand association increases by 139% after watching videos, and 90% of people say videos help them make purchase decisions, Facebook video ads seem like a no-brainer.
This Facebook ad format is great for engagement because the video auto-plays when users scroll down the page. It catches the user's attention, stops them from scrolling, and encourages them to watch the ad. Video ads are an excellent way for you to draw users in and get them to learn about your business.
Specs for video ads:
Minimum dimensions: 600×315 px
Maximum video length: 240 minutes (typical length is 15-30 seconds)
Maximum file size: 4GB
3. Right column ads
As the name suggests, right column ads appear on the right column of a user's Facebook feed on desktop. These ads are straightforward — featuring a photo, small description, and link to a webpage.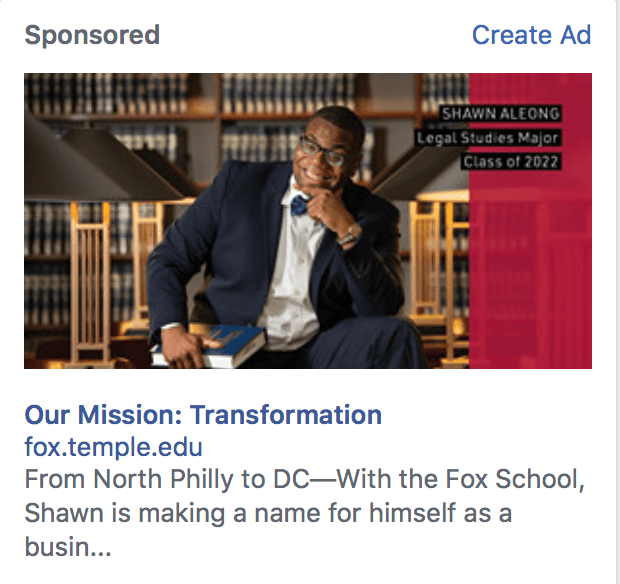 These ads work great for brand exposure.
It's a great way to put your business in front of interested leads and get them to engage with your company. You can drive visitors to your website or get them to check out a specific product page. Specs for right column ads:
Image size: 1200×628 px
Minimum height/width: 600 px
4. Carousel ads
Some Facebook ad types, allow you to incorporate more visuals than others. Carousel ads offer two to ten cards you can use to display photos or videos.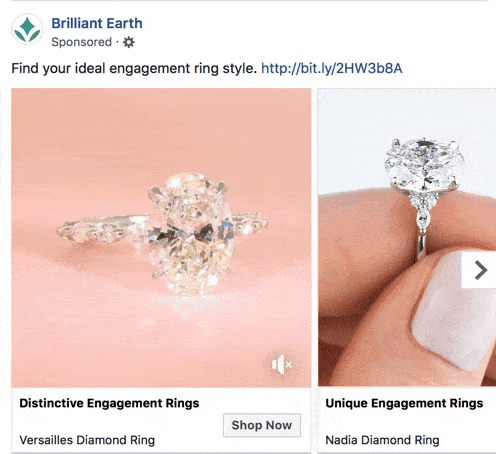 Each card can serve as its own advertisement.
If you want to showcase 10 different products, you could put each product on a card with an individualized photo and video. Additionally, you can create one image and break it up across different panels of your ad. With every card you add to your carousel ad, you can input individual links and CTAs for each card.
This Facebook ad format is an excellent fit for companies that want to showcase multiple unique products or services in one ad. Specs for carousel ads:
Carousel images

Image size: 1080×1080 px
Minimum width/height: 600 px
Maximum image size: 30MB per image

Carousel videos

Video size: 1080×1080 px
Video file size: up to 4GB
Minimum width/height: 600 px
5. Dynamic product ads
If you're looking for a Facebook ad type that makes shopping for your products easy, dynamic product ads are the answer. This advertising format allows you to promote your products to people who previously showed interest in them. This ad format uses the Facebook tracking pixel to track people who visited specific pages on your site.
People see dynamic product ads based on how they browse your website and the products they view. To set up this Facebook ad type, you'll need to upload your product catalog to Facebook's site. You only need to do this once, as these ads will continue delivering relevant product ads for as long as you choose.
Specs for dynamic product ads:
6. Slideshow ads
If you're looking for one of the simplest types of Facebook ads, slideshow ads are the answer. This Facebook ad type requires creating a slideshow of photos to tell a story or share relevant information.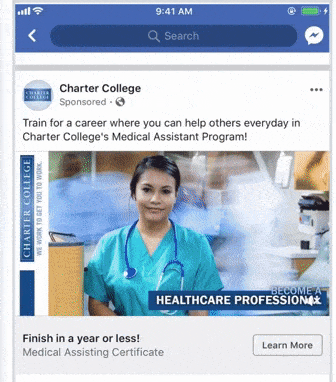 In this example, you can see that the slideshow ad has three different slides that play like a video.
If someone clicks on the "learn more" CTA, they visit a landing page about signing up for the Medical Assistant Program, as well as additional information about the certificate. When you create your slideshow ad, you can upload it as a video with slides or use Facebook's slideshow creation tool. Facebook's tool offers numerous features, including branded formats, music, and text overlays.
Specs for slideshow ads:
Number of images: Between 3 and 10
Image size: 1280 x 720 px
Maximum duration: 15 seconds
7. Collection ads
If you're looking for the best Facebook ad formats that allow you to showcase your products, Collection ads are one of them. Collection ads enable you to showcase multiple products you sell on your website. It creates an immersive shopping experience that makes it easy for people to discover your products, browse them, and ultimately purchase.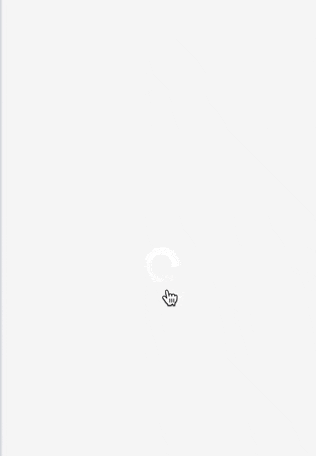 Carousel ads and collection ads a similar in the fact that they focus on showcasing multiple products at one time. While they have some similar characteristics, there are many aspects unique to each ad type:

| Feature | Collection Ads | Carousel Ads |
| --- | --- | --- |
| Devices | Mobile-only | Mobile and desktop |
| Browsing | Swipe up and down | Swipe across |
| Format | Large video or photo at the top with product photos underneath | Single photo or video with other individual photo or video cards on the right |
| Industry | Mostly ecommerce companies | Any industry |
| Destination | Takes you to a Facebook store to buy products | Takes people to a specific page on your website |
Collection ads and carousel ads offer unique features with each ad type. If you're an ecommerce business looking to promote your products to mobile users, collection ads are a great option for your business.
When you create collections ads, you'll choose your format. Two of the most common formats are:
Instant Lookbook: Utilizes photos to allow people to explore your products and purchase them
Instant Storefront: utilizes a grid layout to help people browse multiple products in one place
Specs for collection ads:
Image size: 1200 x 628 px
8. Instant Experiences
The last format we'll cover is one of the most extensive and immersive types of Facebook ads: Instant Experiences. Instant Experiences, formally known as Canvas ads, allow you to create a full-screen mobile ad experience for your audience. When you create an Instant Experiences ad, you use a combination of photos, videos, text, and more. This Facebook ad type creates an immersive experience.
It allows people to click, scroll, swipe, and more. You can add numerous features to your Instant Experiences ad, including:
Your logo
Full-screen images
Text blocks
Buttons to links on your page
Product sets
An image carousel
Auto-playing videos
Full-screen tilt-to-pan images
Instant Experiences allow you to build a better ad experience that helps you increase brand awareness and traffic for your business. Specs for Instant Experiences:
Image resolution: 1200 x 628 px
Max file size: 4GB
Minimum video length: 1 second
Maximum video length: 240 minutes
Bonus: Different types of Facebook ad objectives
When you run ads on Facebook's platform, you must select an objective for your campaign. Facebook ad objectives are crucial because they help guide your ad towards meeting a specific goal. There are three categories of objectives you can set, with individual goal types below each category:
Awareness

Goal types: Brand awareness, reach
Great option for: Companies that want to help expose leads to their brand.

Consideration

Goal types: Traffic, engagement, app installs, lead generation, messages, video views
Great option for: Businesses that want to turn traffic into leads for their business that they can nurture into sales.

Conversion

Goal types: Conversions, product catalog sales, store visits
Great option for: Organizations looking to earn sales and make a profit.
To have a successful campaign, you'll pair your Facebook ad objective with one of the Facebook ad types that fits best with your ad campaign.
Which types of Facebook ads are right for my business?
When you start creating and running Facebook ads, you may not know which format is right for your campaign. From simple photo ads to complex Instant Experiences, you have numerous options for reaching and engaging your target audience. If you don't know where to start with your Facebook advertising campaign, WebFX can help.
We know the ins and outs of Facebook advertising. We'll help you choose the types of Facebook ads that work best for you and drive valuable results that help you grow through social media. If you're ready to learn more about how we can help you create impactful Facebook ads, contact us online or call us today at 888-601-5359 to speak with a strategist.
How is your website's SEO?
Use our free tool to get your score calculated in under 60 seconds.
Get posts by email
Join 200,000 marketing managers and subscribe to Revenue Weekly!
"*" indicates required fields
WebFX Careers
Join our mission to provide industry-leading digital marketing services to businesses around the globe - all while building your personal knowledge and growing as an individual.