10 Twitterific Twitter Tools

Twitter. It's huge at the moment: As I'm writing this, I can hear the guy on the radio plugging his own Twitter account to his audience, asking them to follow him. Whether you're using it for marketing or just personal use, Twitter can be very useful — and fun at the same time.
If you are a tweeter (apparently not everybody is), then it's quite probable that you'll want to get the most out of your experience. From Twitter clients that build on top of the default UI to finding people to follow and learning more about your Twitter activity, here is a review of a few excellent Twitter tools.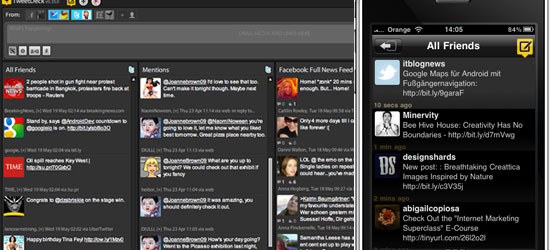 TweetDeck is a social media browser that combines all your social media accounts into one friendly and easy-to-manage stream of information. You can have multiple Twitter accounts set up, and you can view whatever you like from those accounts including mentions, friends' tweets, direct messages, favorites, and more.
One thing I have found very useful when using TweetDeck instead of my browser is not having to log in and out of my several accounts to tweet; you can do it all from a compact little desktop app. Not just Twitter: you can have other social media networks set up including Facebook, MySpace, LinkedIn, Foursquare, Google Buzz and more.
It's easy to set up. All you have to do is install the program on your computer and allow the app to access Twitter. TweetDeck is free to download and is available for the desktop, iPad, iPhone and Android.
Other feature-rich social media clients to check out are:
HootSuite: a browser-based Twitter client that allows scheduling of tweets, integration with Facebook, FourSquare and more, multiple user accounts, and awesome HTML5/CSS3 goodness
CoTweet: a Twitter client geared for businesses and organizations that allow you to manage your company's tweets effortlessly
Seesmic: a social media all-in-one app for Twitter to YouTube that comes in a variety of flavors — as a desktop application, browser app, and a mobile app
2. RetweetFollow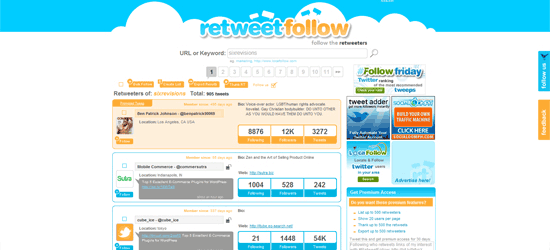 Sometimes it can be difficult picking the people to follow on Twitter. If you're using Twitter for marketing purposes, you may be trying to follow tweeple that have interests that are relevant to your own. To do this on Twitter can sometimes be difficult, and the search on Twitter itself isn't necessarily the best for this.
This is where RetweetFollow comes in. This site helps you discover new Twitter users to follow based on the keywords and URLs that they have tweeted. It lets you follow people in bulk if you want, but it's advisable to be selective of people to follow.
The web-based service is free to use, but you can get a premium account with more features and tools.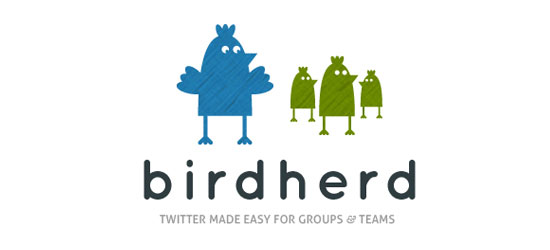 BirdHerd is a simple tool that enables multiple users to manage the Twitter feed of one account. This could be useful if a company has multiple people tweeting on a singular company Twitter account. It works using direct messages (DM): basically you all sign up to BirdHerd and then if a member wanted to post on the company account, they just send a DM from their own Twitter account to the company's account. Sounds simple enough — and it is.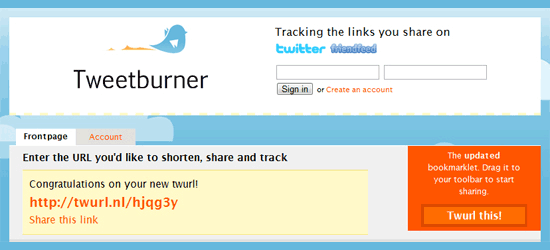 With the 140-character limit, it can be hard to fit what you want to say into a single tweet — and even more so if you're including a link. And because Twitter doesn't provide any statistics on its own, it would be nice to see how your links are faring in the Twittersphere in terms of statistics such as clicks and the number of times they've been retweeted and shared.
This is where tweetburner — a URL-shortening service that provides you with statistics about your shortened link — becomes useful. tweetburner simply shortens any URL down to a tweetable size.
Other URL shorteners that you should consider are:
bit.ly: has a very user-friendly user interface and loads of statistics
is.gd: a no-frills, but fast and short URL shortening service
su.pr: if you use StumbleUpon, this link shortener can help you promote your stuff on SU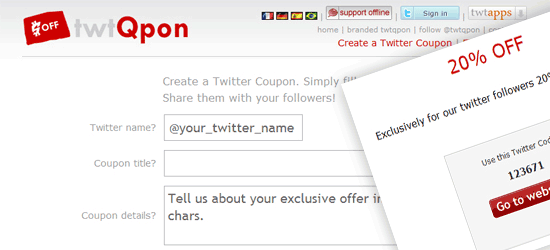 twtQpon allows you to offer your followers on Twitter coupons/discounts on your products. To do so, you simply fill in a form on their site to create a new coupon with its own unique coupon code, description, image and link to your website.
Then you simply tweet the link to your coupon on Twitter and your followers then get the code as well as their discount.
It's extremely simple to use for both you and the customer, and could become a powerful marketing tool if you have enough followers on Twitter.
Twitter Grader is a very useful tool especially if you're using Twitter for marketing purposes and want to know in what ways you can improve. You just type in your username and press the "Graph My Tweets" button and the site will provide you with details on many things including your rank (out of 7,723,037 users and climbing), followers, following, amount of tweets, people in your tag cloud, and more. It also has a "tips and suggestions" box that can tell you what's missing from your Twitter profile and how you can improve.
Tweetstats is another useful Twitter feed analytics site that compiles all your information into some very easy-to-understand graphs. It lets you know:
Average tweets per month
Average tweets per day
How much (and when) you tweet throughout the day
Twitter clients that are most used for tweeting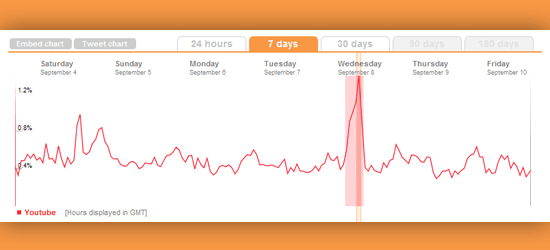 A great tool for seeing trending topics as well as how much certain keywords are being tweeted is a web tool called Trendistic. All in all, it's a decent tool for marketing research and knowing what the day's news and hot topics are. Let's face it: Twitter isn't the most stable social platform. We see that darn Twitter fail whale way too often; I've seen the fail whale more than I've eaten hot meals.
But sometimes it can be hard to tell if it's Twitter or if it's just your internet connection that's failing. This is where IsTwitterDown comes into play. Just go to their site and you'll get a simple "Yes" or "No" answer as to whether Twitter is currently down or not.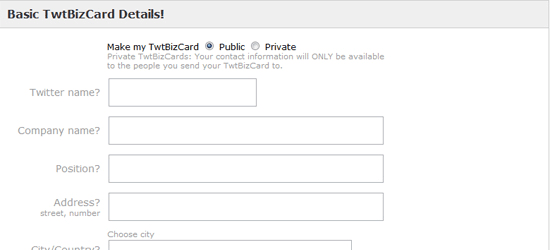 This great little tool lets you create a business card with your address, phone number, company name and position, email, social media account, and so forth. Then once it's made, it makes a link to your online business card so you can tweet it and include it in your social media account information (or as part of your Twitter profile design).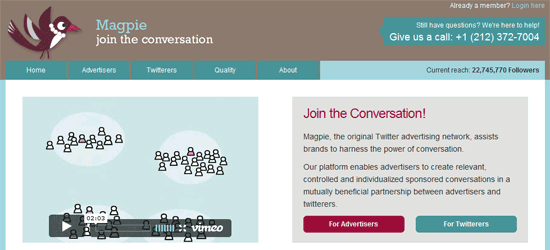 Magpie is a very interesting concept. It's similar to affiliate marketing, but via Twitter. Let me try to explain it a bit better than that though. If you go to their site, you will be able to see that you can be either a tweeter or advertiser. They have advertisers who want to have their companies marketed via Twitter, and then they have tweeters that then get paid to tweet about these companies.
Anyone can sign up to the tweeting side of it for free; just go to the site and you can pretty much choose what sort of adverts you want to tweet. Whether or not you want to spam your Twitter account with adverts is another story.
A few other tools that can help you monetize your Twitter feed are: Sponsored Tweets, ChurpChurp, and Twittad.
Are You Twitterific?
That's about it for this list of tools that can help you along the way to Twitter success. If you know of any tools that you use yourself that I've not listed, go ahead and discuss them in the comments below.
Happy tweeting!
Related Content