Artificial intelligence (AI) is no longer a futuristic concept — AI is part of our daily life. Users encounter AI more frequently than expected, from facial detection on smartphones to chatbots. AI images are also growing in popularity among artists and marketers alike.
So, what are AI images? And how can you use AI images in marketing?
This post breaks down the basics of AI images, including the pros and cons and how to generate them with different tools. Read on for more, or call 888-601-5359 to speak with a strategist about your visual marketing techniques!
Our digital marketing campaigns impact the metrics that improve your bottom line.
See More Results

WebFX has driven the following results for clients:

$3 billion
In client revenue

7.8 million
Leads for our clients

5.2 million
Client phone calls
What are AI images?
AI images are photos created by AI software through algorithms that evaluate a database of existing artwork, artists, and styles to mimic and combine them into a new image.
AI artwork is becoming more mainstream as algorithms advance to create more refined pieces. You can find images faster than if you tried to make them yourself.
For example, with a simple query, you can choose your art style, subject, and setting:

This fun and creative tool can help you generate fun images that light up your marketing materials. However, there are still concerns with how this technology impacts living artists and their creations — specifically when AI uses their artwork as inspiration.
How professionals use AI images in marketing
Marketers can use AI images to add visual flare to various content types. Here are just a few ways that AI images could fit into your marketing plan:
Blog posts: If you want to break up blocks of text or illustrate a concept, AI images can help. Adding AI images to blog posts can help your posts rank and improve search engine optimization (SEO)
Emails: Your marketing emails should be concise and appealing to encourage clicks. When you use AI to boost visuals, you can create well-crafted emails that your customers will want to open.
Social media: Whether you need to create a Twitter profile header or an Instagram post, AI images can help with your social media presence.
These are just a few ways to use AI images for marketing. Though you might not rely on AI for all your visual content, it can help in a pinch or for more creative imagery.
Pros and cons of AI image
With so many uses and endless possibilities, it seems like AI is the perfect solution — right? Well, that's not entirely true.
AI has many advantages, but the cons are just as important to know. Let's break down some pros and cons of AI imagery to give you a complete picture of this software.
Pro: AI images are efficient
AI makes it easy to generate images quickly without a design team. Whether you need something to spice up a blog post or want to add some decorative images to your emails, you can use AI to have them ready in minutes.
Pro: You can save resources
Most AI tools are free without the need for a membership. Instead of investing time in hiring a designer — especially if you only use images occasionally — you can create images as needed and save time and money.
Pro: AI is versatile
AI generators let you choose the nitty-gritty details of each image. You can decide the style, colors, and subject, and the combinations are endless. Whether you require a header for a blog or an abstract background, AI can help.
Con: You must assess AI image quality
While AI generators can create stunning images, they aren't perfect. You still need to evaluate each one to make sure that the generator didn't make a mistake.
For example, you might notice that your human subject has extra fingers or teeth. Or, your mouse might have an extra arm: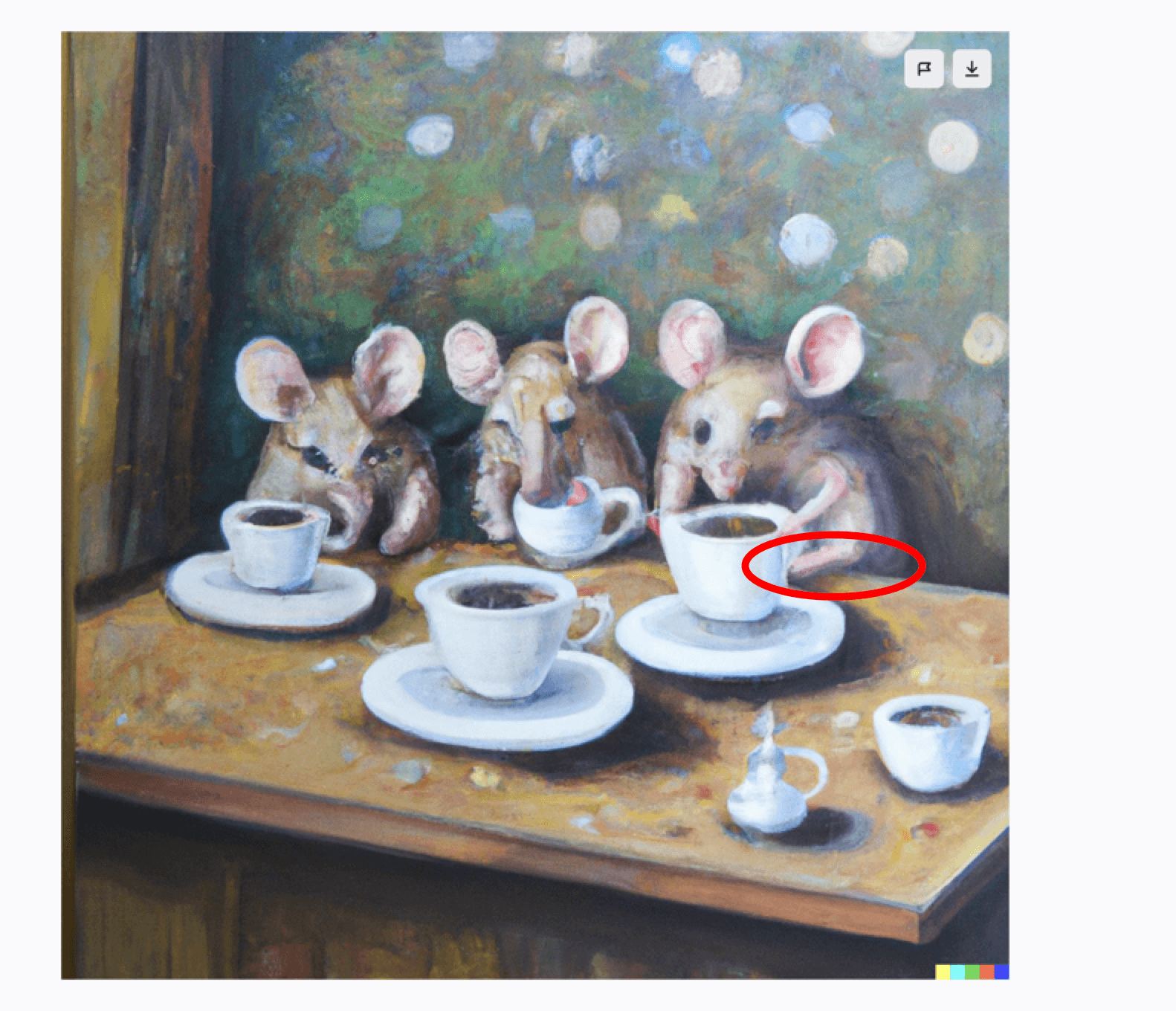 Con: AI can scrape other people's content
There is debate over how AI algorithms gather artists' content and repurpose it. If a generator can copy a person's art style, it could seem like the AI generator plagiarizes their content.
For example, some generators will let you reference specific artists when selecting a style — like Monet. As these algorithms become more advanced, some artists question how they can prevent their work from being used as fuel for AI-generated art.
Con: AI data sets are limited
Since data sets only include select material, there's a chance you won't find the exact style you want. Some algorithms are more advanced than others, but they all rely on existing art to create yours.
If you want completely customized images, a design team might be a better investment long term.
Should I use AI images? 3 tips for using AI
Now that you have a full view of how AI images work, you can decide when and how to use them in your marketing strategy.
Follow these three different considerations when using AI:
Be mindful of copyright: Be careful when uploading branded images to AI generators or referencing copyrighted work.
Use detailed searches: When entering text into a text-to-image generator, include as much detail as possible to get the results you want.
Add images with purpose: Just because you can add an image, doesn't mean you should. Include images to break up text or white space, but don't overuse them and clog up your page.
AI image generators
Here are a few image generators you can use to craft your own pieces.
1. DALL-E 2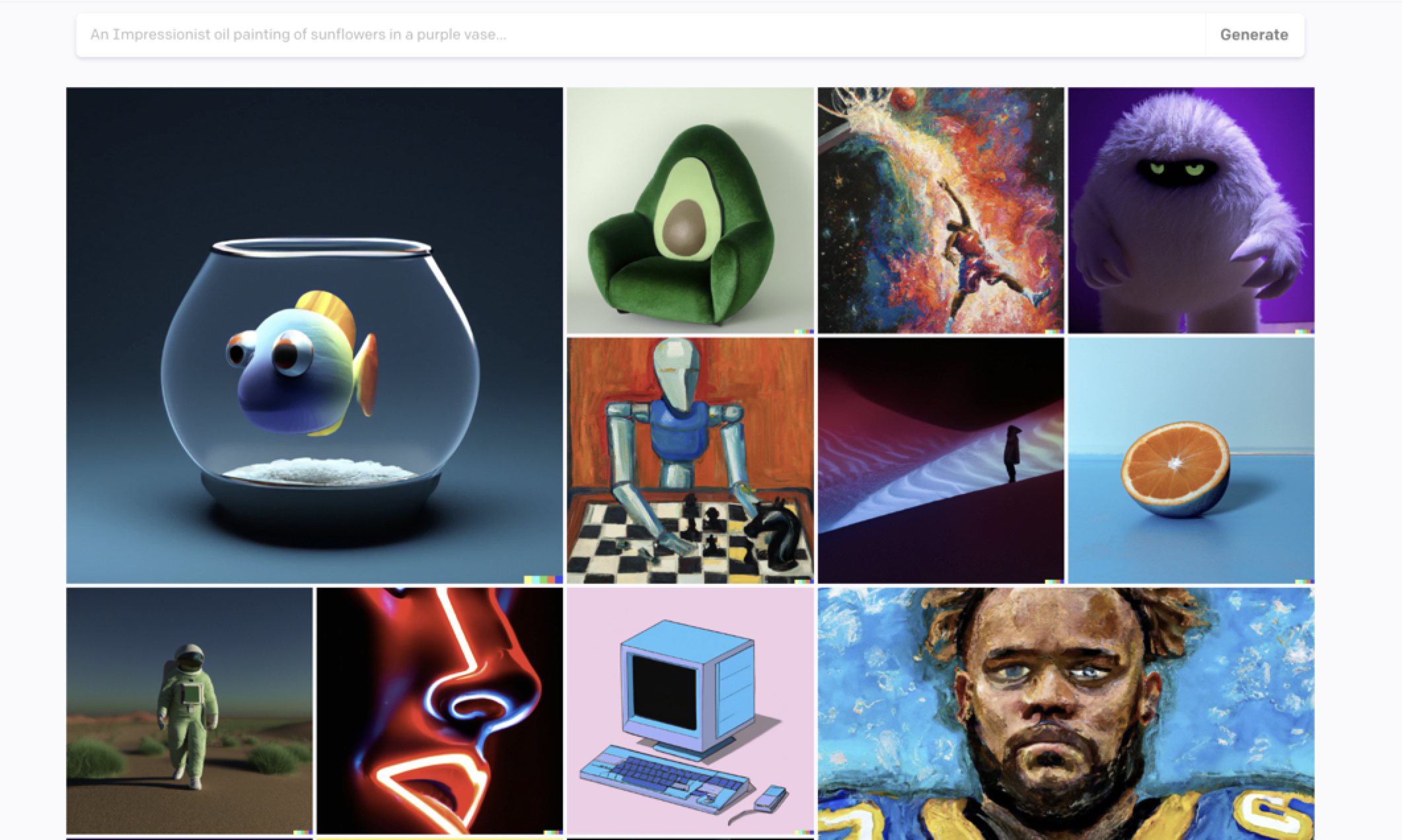 DALL-E 2 is a text-to-image generator from the company OpenAI. This online tool uses machine learning to create images from your input. You can start from scratch with your description, or upload a photo and use AI to extend the piece.
It's free to sign up and receive 50 credits, and you'll receive 15 credits each month afterward. However, if you want to generate more images, you can pay $15 for 115 credits, which roll over each month for 12 months.
Learn how to use DALL-E for blog images on the WebFX blog!
2. Craiyon
Craiyon is another text-to-image generator that is free to use. With the free plan, you get a wait time of 1–2 minutes, ads, and unlimited images. You can also upgrade to either of their paid plans for $5 or $20 a month.
With the paid plans, you can remove the watermark, reduce your wait time, and make your images private, along with a few other benefits. If you need an AI image in a pinch, this could be the best option — you can access images with no account necessary.
3. Nightcafe

The final option on our list is Nightcafe Creator, which uses different AI algorithms to create images for your use. You enter your text description and choose which style you want to use. You can create up to 28 artworks a day for free.
Unlike the other two generators, you can also use Nightcafe collaboratively, meaning your team could access the generator together to create pieces for your site.
Don't miss our Marketing Manager Insider emails!
Join 200,000 smart marketers and get the month's hottest marketing news and insights delivered straight to your inbox!
Enter your email below:
"*" indicates required fields

(Don't worry, we'll never share your information!)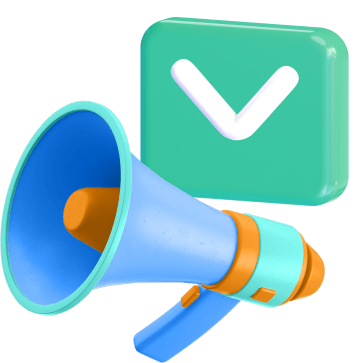 Leverage AI images or alternatives with WebFX
If you want to use AI images or find another way to spruce up your marketing materials, WebFX can help. Our digital marketing services cover everything from ad creation to content marketing with images that suit your business.
For 25+ years, we have helped businesses find the ideal marketing plan to drive revenue and leads. We have 1000+ clients across 154 different industries who pick us to help them with digital marketing services.
Want to learn more? Contact us online to speak with an expert about the ideal marketing plan for your business!
WebFX Careers
Join our mission to provide industry-leading digital marketing services to businesses around the globe - all while building your personal knowledge and growing as an individual.