If you use WordPress as your publishing platform, you'll find a ton of useful tools you can grab off the web that'll help you improve your productivity and make sure your WordPress site is running smoothly.
In this collection, you'll find a few convenient applications, plugins, and browser extensions that will help you accomplish a variety of blogging tasks that range from easier screen captures to making sure your WordPress site is secure.
1. ScribeFire turns Firefox into a fully-featured blog editor.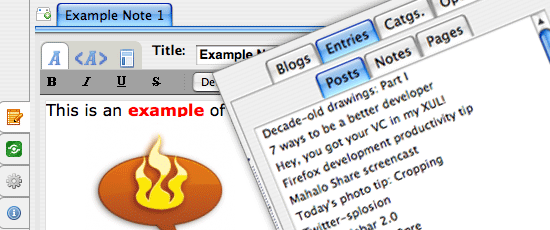 ScribeFire is a Firefox plugin that gives you an array of useful features and options for writing posts. You can drag and drop content from a variety of sources (which the WordPress Visual Editor currently doesn't fully support), manage and leave notes on your posts, upload files via the built-in FTP, create timestamps, and manage uploaded images. ScribeFire is the tool of choice for bloggers that need moar cowbell than what the WordPress built-in editor affords them.
2. WordPress Helper gives you useful tips and features in Firefox.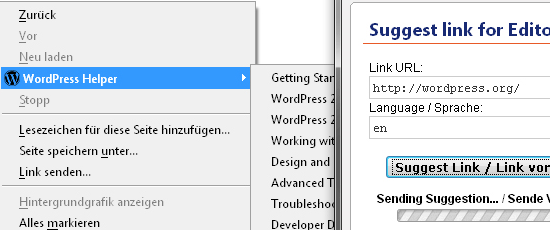 Whether you're new to WordPress or an experienced veteran blogger, you'll find WordPress Helper to be a much-welcomed addition to your blogging arsenal. WordPress Helper notifies you of new WordPress versions, gives you the ability to set custom keyboard shortcuts, and places useful help files, accessible by right-clicking on the page on a PC, at your finger tips.
3. Screen grab to WordPress! makes taking screenshots a breeze.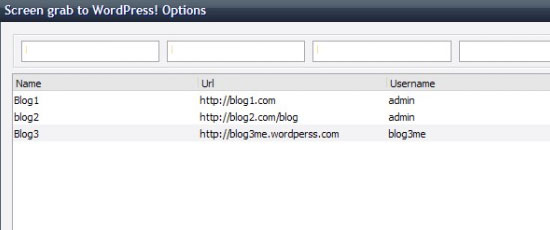 If you include a lot of screenshots in your posts, you should check out the free Firefox add-on, Screen grab to WordPress!. You can save a web page as an image, and then use the tool to automatically upload it to your WordPress site with a click of a button.
4. WordPress Scanner makes securing your blog a hassle-free affair.
With WordPress Scanner, you can sleep easier at night knowing that your blog is safe from known and potential security vulnerabilities. WordPress Scanner is available as a web-based application, or as a WordPress plugin.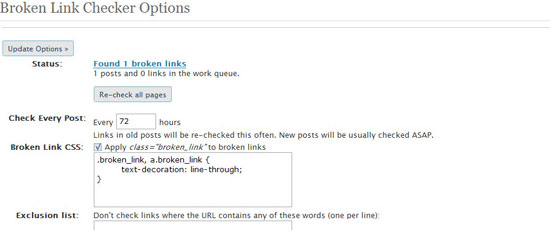 Broken Link Checker is a WordPress plugin that essentially checks your hyperlinks to see if they're still active. It scans your posts and pages to check for broken links and then notifies you via the WordPress Dashboard if there are any broken links found. You can set specific times for when the link-scanning occurs and it's recommended you pick a low-traffic time of the day to do so.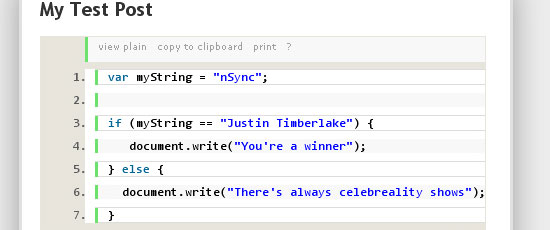 If you've ever tried including code snipplets in your WordPress posts through the WordPress Visual Editor, only to find out how it mangles your prettily-formatted code, you'll love Google Syntax Highlighter, a WordPress plugin that handles preformatted code in your WordPress posts and pages. Google Syntax Highlighter makes it much easier to display code on your posts and colors ("highlights") the syntax for better readability. If Google Syntax Highlighter isn't for you, check out WP-Syntax, WP-Chili, or SyntaxHighlighter Plus.
7. Insights boosts your information searches.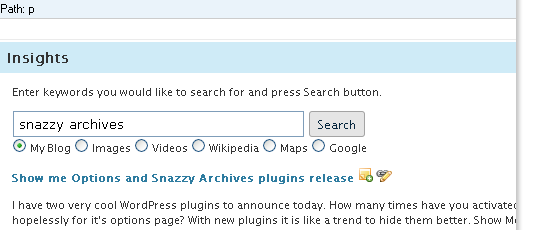 Insights is a WordPress plugin that assists you in finding and gathering information and media for your blog posts. Insights gives you the ability to search existing blog posts for specific information and an intuitive interface for searching external websites and services such as Flickr, Youtube, Wikipedia, and Google Blog search – all from within the WordPress interface.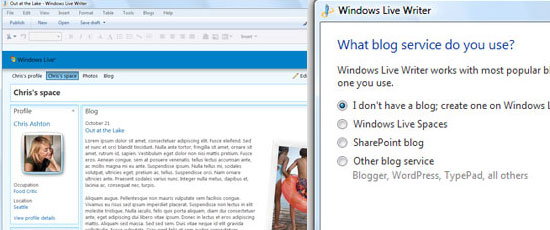 There are but a handful of notable Microsoft applications – Windows Live Writer is one of them. Windows Live Writer is a free desktop application that's compatible with WordPress (along with other popular publishing platforms like Blogger and Typepad). You can write posts offline and upload them whenever you're ready to publish.
If you're a Mac user, check out ecto or Thingamablog (a cross-platform desktop app for Linux, Mac, and Windows users).
9. Revision Control is perfect for multiple authors.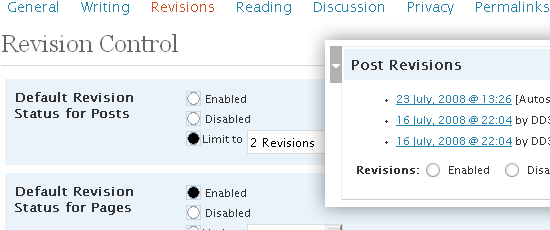 If your blog posts involve numerous authors and editors, or if you frequently write long, thorough posts that take hours (or even days) to finish, you might find the WordPress plugin – Revision Control – a useful tool. Revision Control easily manages different versions of a post or a page so you can back up and revert to different versions.
10. Organize Series takes care of posts series.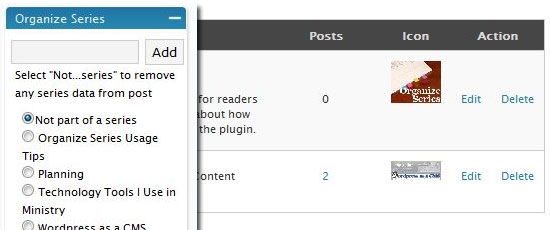 Sometimes it's useful to write posts in parts that are published at different dates especially if the subject is too big to cover in just one post. Organize Series is a useful WordPress plugin that gives you a ton of options for post series/groups of related posts such as being able to list links to the other parts of the series (in a table of contents-like fashion) and adding a series-specific icon to make it easy to identify the group of posts.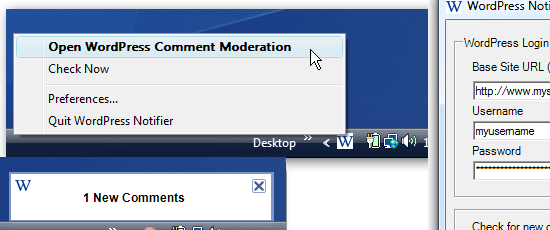 A major part of blogging involves managing the readers' comments and responding to them in a timely fashion. WordPress Comment Moderation Notifier sits on your system's tray and notifies you whenever a new comment is posted. Depending on how you set it up (it checks new comments at set intervals), you can moderate and respond to comments much quicker – something your readers will appreciate.
12. WordPress Comment Ninja extends comment moderation options.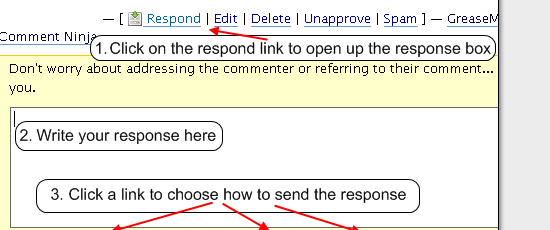 With the recent release of WordPress 2.7, the WordPress team has significantly improved comment moderation and management. But if the improvements aren't enough for you, check out WordPress Comment Ninja, a free Greasemonkey script that extends your comment moderation and response options. You can, for example, respond to comment via email, or even email the comment verbatim to someone. You'll need Firefox and the Greasemonkey add-on to use WordPress Comment Ninja.
13. AdServe manages your ads in WordPress.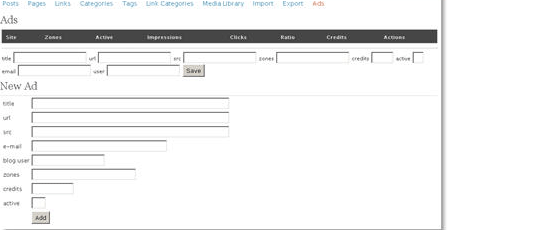 Bloggers will often advertise banners from site sponsors for profit or to help out in server costs. AdServe is a WordPress plugin that gives you the ability to manage directly-sponsored advertisements from within WordPress without having to use third-party scripts or web services. AddServe is highly-configurable and helps you manage your ads even if it's impression-based. It also tracks and displays relevant statistics about your ads including page impressions and click-through ratios.
14. Simple Tags makes tagging posts better.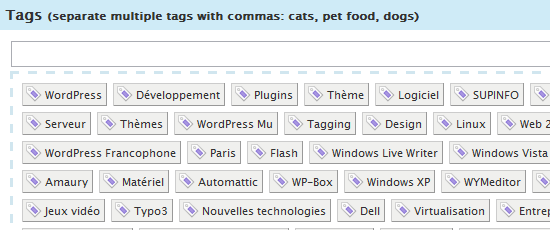 If you tag your posts regularly, you may want to use Simple Tags, a WordPress plugin that extends post tagging features in WordPress. It helps you organize keywords, gives you hints on relevant keywords based on your post's content (using free web services such as the Yahoo Term Extractions API), and allows you to batch-edit and batch-replace existing tags.
15. Twitme automatically tweets about new posts.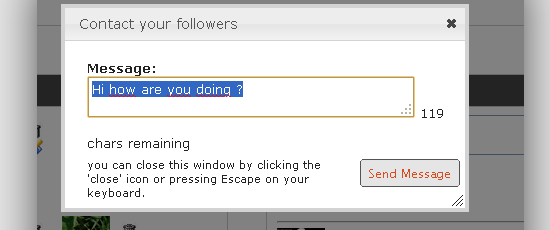 Twitter is fast becoming a staple web application that bloggers use. If you want to automatically notify your Twitter followers about new posts on your WordPress site, check out Twitme, a WordPress plugin that instantly sends a tweet whenever you publish a new post. If Twitme is interesting to you, you should also check out the Twitter for WordPress, Twitter Tools, Twitpress, and SimpleTwitter plugins to see which one works best for you.
Further reading
What about you?
There are plenty of WordPress tools out there. If your favorite tool isn't on the list, tell us all about it in the comments. If you frequently use one or more of the above tools, share your experiences with us as well!
Related content