16 WordPress Sites to Help You Build a Better Blog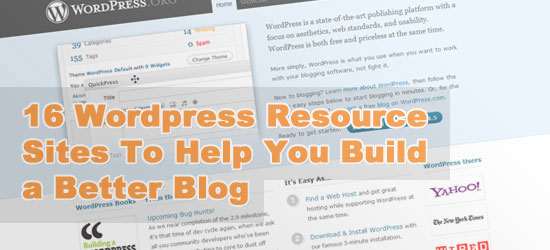 So you finally decided to step up your blogging game and build yourself a site with WordPress. You've install a pretty good free theme and have a few posts under your belt. After a few days, you get seriously bored with the "My blog kinda looks like everyone else" syndrome and start your search for some creative ways to make your blog stand out from the crowd.
In this article, I will help you on your journey by showing you the 16 best places to find WordPress tutorials, hacks, themes and design inspiration to take your blog to the level it deserves.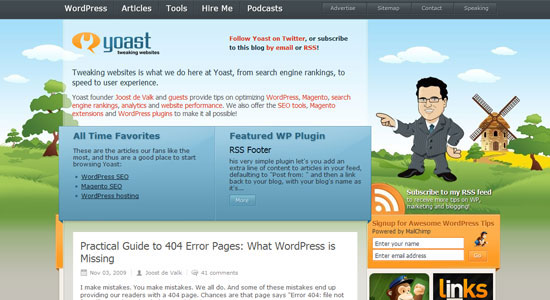 Yoast is the home of blogger and developer Joost de Valk. He has released over 20 WordPress plugins on his site and several other tools for webmasters and online marketers. If you are looking for a plugin for SEO or to track your site visits, Joost will certainly have exactly what you need. You can find all his plugins on the WordPress page of his blog. If you consider yourself a more advanced WordPress user, then I suggest you read through his "Guide To Higher Rankings For Your Blog". You will certainly see a difference in search engine traffic if you implement just a few of the tips that Joost shows you. I personally use the Breadcrumbs plugin and have implemented almost everything he has mentioned in that article.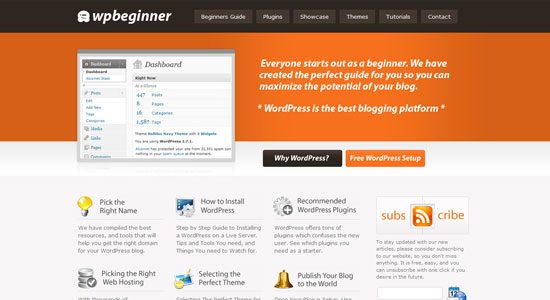 Are you a total WordPress novice? Perhaps you've been using another publishing platform such as Drupal or Joomla! and want to see what the fuss is all about with WordPress. Have I got the perfect site for you. WPBeginner offers tips, tools, resources, and suggestions to WordPress users. Check out the Tutorials section for all the help you will need when doing customizations to your blog. If you need help with installing WordPress, then WPBeginnner also has a service where they will install your blog for free. Prefer to learn about WordPress on your own? Visit the Beginners Guide and you will be an expert before you know it.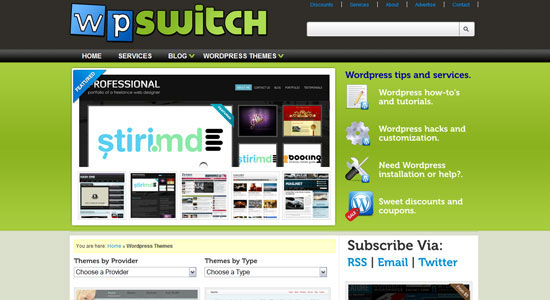 WPSwitch is kind of like a Premium WordPress Theme on crack. In other words, if you're searching for a sweet theme for your blog, design tips, or WordPress hacks or tutorials, this is the place you need to be. WPSwitch has all the top Premium WordPress themes from the most prominent designers in the world. You literally need to go nowhere else. Be sure to pay this one a visit whether you are a complete newbie or consider yourself the king of all that is WordPress.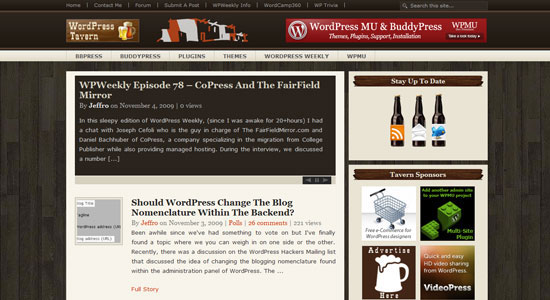 WordPress Tavern is a thriving community focused on all things WordPress. Those interested in the software can hang out with fellow WordPress'ers to engage in enlightening discussions. On WordPress Tavern, you'll find reviews, news, screencasts, guest blog posts from some great community members and much more. Be sure you hook up to the WordPress Weekly podcast to keep up with all the latest hot WordPress topics.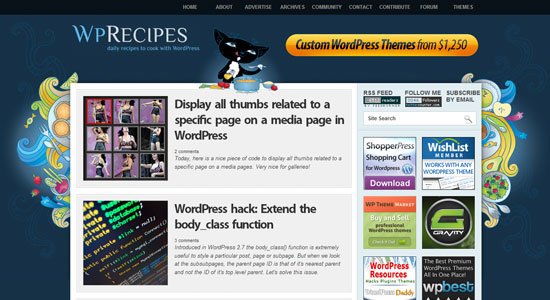 WpRecipes is a great place to find quick, clear and concise WordPress recipes. When you really need that little piece of code to do a certain thing, these handy, little snippets will do the job. I consider this site to cater to the more advanced WordPress user as a lot of these recipes involve diving into the code. There's also a forum where you can ask a question to get help or even request a recipe.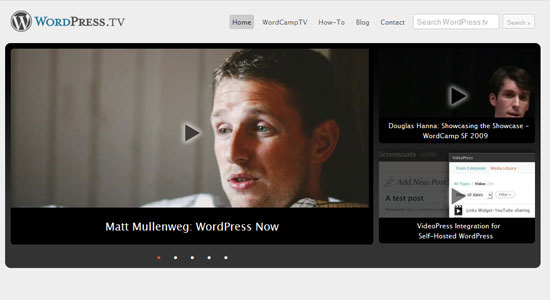 WordPress.tv is "Your Visual Resource for All Things WordPress". There are hundreds of How-To videos that cover a range of topics to help you have a better blog. If you missed any of the Wordcamp's, you can also view some of the speakers lectures at the events.
7. WP Topics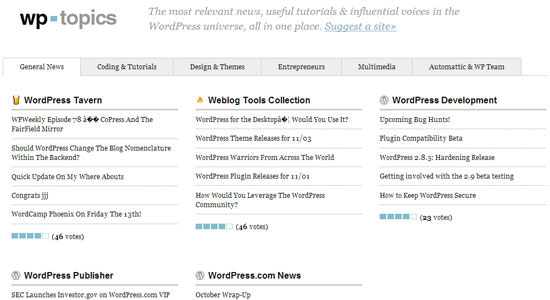 As WordPress has become mainstream, the number of news sources and tutorial blogs has become overwhelming. WP Topics only publishes feeds from established WP sites that provide useful, meaningful content on a regular basis. Here you will find the most relevant WordPress news, useful tutorials and influential voices in the WordPress universe — all in one place. This is a must-see resource for those who need to be in the loop of the latest WordPress trends.
If you have ever used WordPress, you have more than likely seen this feed coming through your admin page. Weblog Tools includes the latest plugins, theme release and general WP news. This is great for the beginner, as you stay updated with new themes and potential plugins that make blogging even easier. I highly recommend keeping this site in your admin arsenal.
WP Hacks is a place to discuss all things WordPress. In addition to featuring a large variety of WordPress themes and providing reviews of WordPress plugins, WordPress Hacks was set up to cover the world surrounding WordPress, including the latest WordPress hacks, news, tips, tricks, and how-to's of the popular open source blogging software.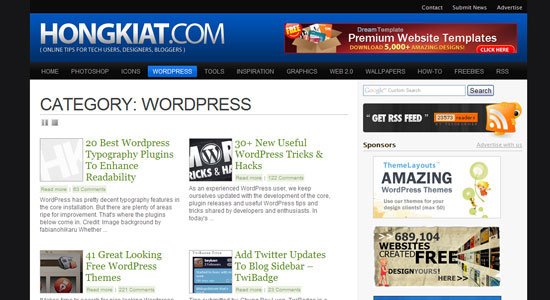 If you are any kind of Web guru, you have at one time or another visited the blog of Hongkiat. When visiting this popular design blog it is an absolute necessity to take a trip to the WordPress category. Hongkiat covers a wide range of topics from inspiring blog designs, all the way to the detailed hacks. If you are a fan of WordPress at any level, this is definitely a place you want to go.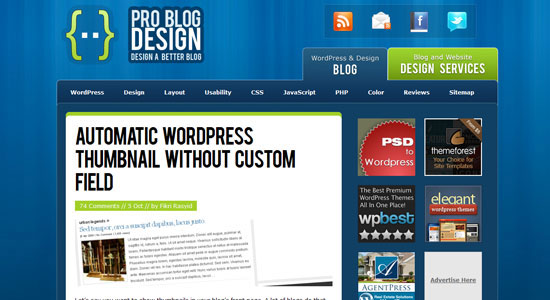 Pro Blog Design writes about web design (blog design in particular!), coding, and WordPress (Yay!). They cover all the technical bits that bloggers should know, so they can get the most out of their blogs. For sake of this article, you should definitely browse their WordPress category as it offers numerous hacks, the best plugins to use, and super design techniques relative to your WordPress blog.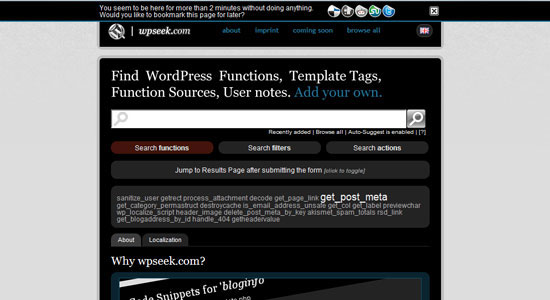 A WordPress search engine for developers and theme authors is what WPSeek.com is all about. You can find all kinds of code snippets for WordPress using this search site. This includes various WordPress functions, template tags, function sources, and random user notes. I would definitely say that this site is for the advanced WordPress developer.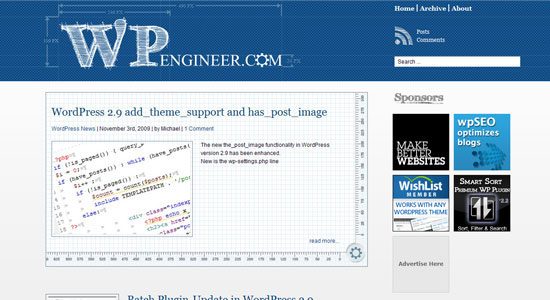 Three WordPress Junkies who love WordPress, created WP Engineer. They show various ways to make WordPress a little bit better, more convenient, more flexible or in short – just awesome! You'll find some very in depth tips and tricks to really build a better blog. Some of these are very simple for the beginner and some can get pretty in depth to the WordPress core.
Where to find WordPress Design Inspiration
These sites are showcases of WordPress-powered sites to inspire your next blog design. They all feature an up-to-date collection of websites created using WordPress.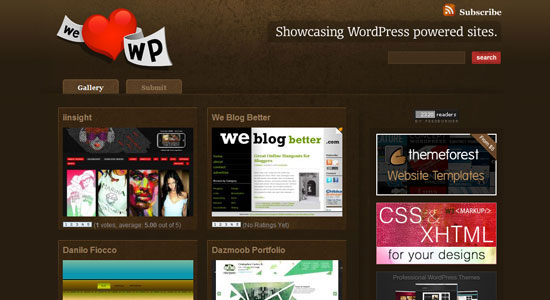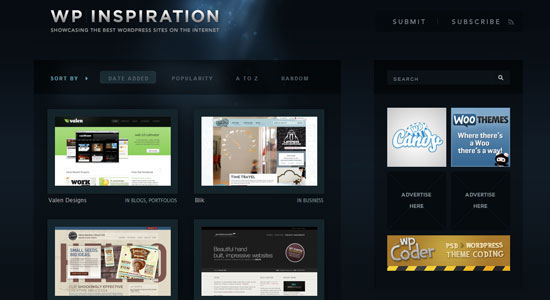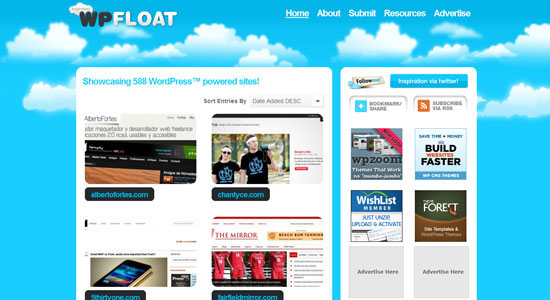 Where do you go for all your WordPress hacks, tutorials, and design inspiration?
If you have a favorite WordPress site that I have not listed here, I would love to see it. I hope that there are some great finds out there that a lot of people don't know about. Tell us all about it in the comments below!
Related Content