Starting with just a simple line of code 11 years ago, WordPress has evolved to become the platform of more than 74 million websites. Even with a vast array of competitors offering similar functionality, WordPress still dominates the CMS market with a 21.9% market share. I have had a more detailed look at WordPress than most.
I have contributed to 6 releases of WordPress, including work in the XML-RPC API (in 3.4) and WP_Image_Editor class (in 3.5). I have also been involved in an upcoming release (3.9). As we look toward the future of WordPress, it is important to evaluate current practices and trends within the WordPress user base, as well as the industry as a whole.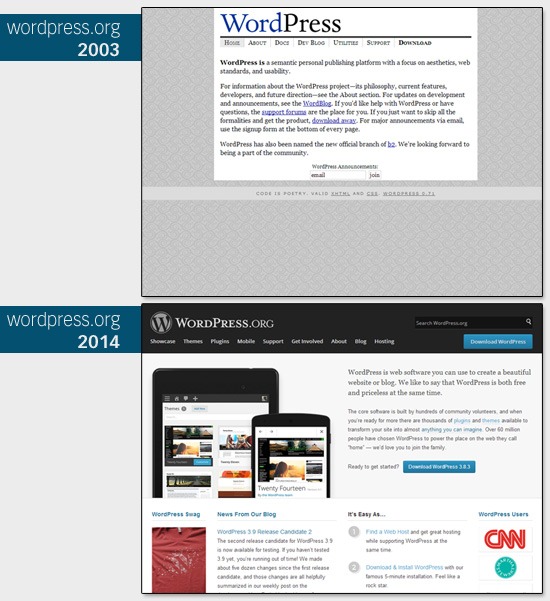 In this article, I will discuss my predictions and opinions regarding the future of WordPress.
Moving with Demands
Recently, the demand for advanced features has been increasing as more and more developers are using WordPress to build mobile apps and complex e-commerce websites. While WordPress already delivers many solutions for advanced use-cases, changes in consumer behavior will consistently affect the demand for unique plugins and ongoing enhancements.
WordPress as a Mobile App Backend
The uptake of mobile technologies is on the rise. 58% of adults in the U.S.
currently have smartphones according to the Pew Research Internet Project. Emerging solutions such as the AppPresser plugin — a finalist in the 6 About to Break competition at MacWorld 2014 — are allowing users to create mobile apps using WordPress.
https://youtube.com/watch?v=i8Deew6pif4%3Frel%3D0
This current consumer trend towards mobile presents an opportunity for WordPress to capitalize on the shift toward mobile development. By incorporating a RESTful application programming interface (API), current WordPress apps could be supported, as well as mobile apps that use WordPress as a backend.
WordPress as a Development Framework
WordPress has been placing a large focus on providing the best user experience possible.
And, in my opinion, it has succeeded in this goal. Moving forward, I see the concentration shifting toward evolving WordPress into a full CMS and application framework. Right now, WordPress does a splendid job as a content publishing platform, as evidenced by its use by the major online magazines, journals, and blogs. Time magazine, CNN, Forbes.com, Wired, and TechCrunch are just a few examples of web properties that rely on WordPress.
However, more complicated use-cases like online stores, mobile app development, and web app development require plugins, heavy customization, and development. The next step is to evolve the platform to make it a more robust CMS/app framework that can make more complicated use-cases easier to produce for developers.
Dealing with Legacy Code
While the system currently offers users a wide range of features and possibilities, WordPress will update its legacy code and deliver new APIs to ideally fit the needs of web developers. If an emphasis is placed on this area, the biggest challenge will be streamlining the codebase while building a solution that ensures backwards compatibility.
Considering the first version was released over 10 years ago, achieving this objective is likely to be quite a huge undertaking.
Where WordPress Doesn't Need to Change
The past few years of success have truly proven the knowledge, experience and passion found within the WordPress community. We have worked together to accomplish great milestones and made the impressive strides that have advanced WordPress to become the most popular Web platform across the globe. The WordPress community will play a large role in the continual development of the platform to best suit its users' needs.
Related Content
Related Resources
How is your website's SEO?
Use our free tool to get your score calculated in under 60 seconds.
Get posts by email
Join 200,000 marketing managers and subscribe to Revenue Weekly!
"*" indicates required fields
WebFX Careers
Join our mission to provide industry-leading digital marketing services to businesses around the globe - all while building your personal knowledge and growing as an individual.