Tis' the season to be jolly with Chris Wallace's new Holiday WordPress theme, jointly released by Designer&Developer and Six Revisions.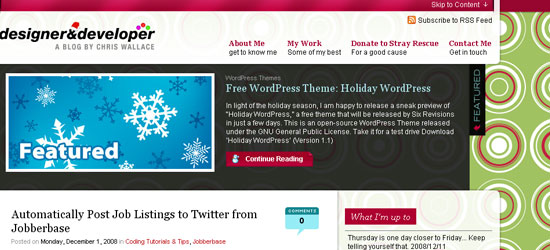 Holiday WordPress is a flexible, professional theme with a two-column layout and a "featured" area for the latest story. Once the holiday is done – don't fret – the design allows you to easily change the page elements (such as the background) for a less season-specific theme.
Holiday WordPress is released under the open source GNU General Public License.
Some features
A "featured" area that places your current stories at the top of the page.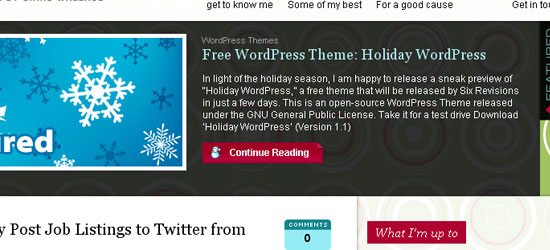 See-through: the content area let's you slightly see the background, so you can experiment with different backgrounds to get the effect that you'd like.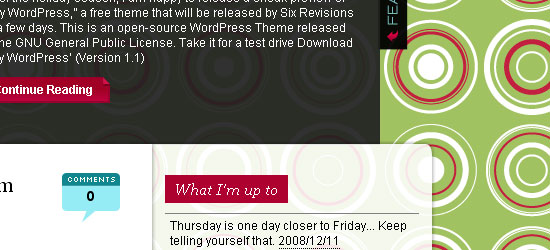 Compatible with WordPress 2.7+.
A widgetized sidebar for easy customization.
Preview of Holiday WordPress
Here's a live demonstration of Holiday WordPress on Chris Wallace's site:
What're you waiting for, download the theme already!
Current version
Version 1.1 (ZIP, 221 KB)
 About Chris Wallace
Chris Wallace is a Front-End Developer and President of Walmedia, a web design company. Chris offers free WordPress themes and writes about web design and development on his blog, Designer&Developer. Be sure to check out other themes he's giving away free.
Designer&Developer is in my "Top 20? group of RSS feeds (favorite blogs I follow) and I highly recommend subscribing to the Designer&Developer RSS feed.
Also, check out AllDevJobs.com a job board for developers and the AllDevJobs.com widget on the sidebar of Six Revision, one of Chris Wallace's newest projects.