Using the Web to Brand a Character

In this article, we'll be looking at ways that designer toys and their related characters are being promoted using the internet, social media, and content-sharing tools.
For those of you that aren't familiar with what designer toys are, they are basically sculptural art pieces that are sold in limited editions. The designer toy world is an almost entirely character-based industry, and the web is used as the prominent source of marketing.
Arguably the most well-known designer toy company is Kidrobot, which has helped push the designer format forward both with their retail locations and online presence. Kidrobot keeps fans connected through their Kronikle blog, an e-mail newsletter, and one of the most active forums on the subject.
Other designer toy stores with retail locations such as Rotofugi, MyPlasticHeart, and MunkyKing all use the web and social networking to keep connected and up-to-date with each other, while promoting their products and gallery shows.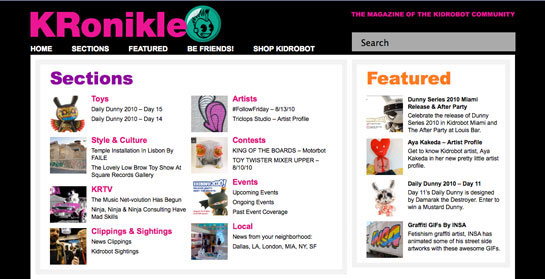 Kidrobot's Kronikle blog features release and events from the designer toy industry.
One of the most interesting things about designer toys is the fact that they are an almost entirely exclusive industry, which means that most products are sold in limited editions.
This unique marketing angle creates a great opportunity for these artists and companies to promote their products in a unique way; and they're doing so by using seldom used methods such as character-based Facebook profiles, art shows with live Flickr and video feeds, and new updates about variant releases (versions of the same piece in different color and material combinations).
Here are five examples of characters that are effectively being promoted on the web.
1. Bacon (Sket One)

Bacon made its first appearance in Kidrobot's Dunny Endangered series, where each individual toy was based on a specific animal.
Sket found his inspiration from a 1980's horror film, Motel Hell, where the killer wore a pig's mask. Bacon first showed up online in a promotional video for the Endangered series, and the response to the character was great. It seems that people love Bacon.
Sket then applied the Bacon design to other toys, including the Bic Buddy and Mad'l platforms. He also made a run of 10 pairs of custom shoes featuring Bacon that was featured on many toy, art and shoe blogs.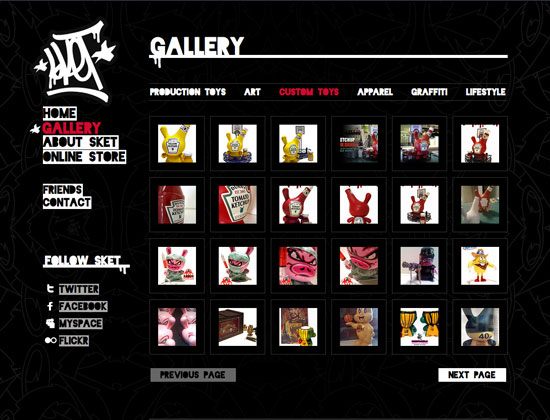 Sket's run of 10 "Swine Flu" edition Bacon custom toys sold out in one day.
Another one of Sket's well-known characters is Ripple, which Sket made production runs and customs of for years. While there are no longer any Ripples available for sale, Sket is slowly introducing a new spin-off character named Dripple, who recently showed up in a painting he posted on his Flickr account.
Sket says of social networking: "Social networking gives me hands-on interaction with my fans. Being involved with web-based art projects like the Poster Cause Project, The Art Hustle, and being introduced to other artists like Johnny Cupcakes, even Sesame Street. I get licensing and custom toy requests all the time, and as a result I've started to do runs of 10 customs at a time rather than one-offs."

Sketchbot, created by NYC-based character designer Steve Talkowski, recently saw a vinyl release and a custom toy show, yet people already knew about Sketchbot for some time before that happened.
Using social media, Talkowski was able to efficiently create a buzz around his character by interacting with other artists and fans online.
"I would have to say that using the web for drumming up interest is pretty much how Sketchbot got known out in the world," Talkowski said. "From starting my own blog almost 3 years ago, to using Flickr to document my work-in-progress, to using Twitter to keep people informed as to releases, shows and appearances, it's all been due to getting the word out via social networking. I also made a slew of contacts from Flickr, Twitter and Facebook of artists that I'd follow because I really like their work, and they would in turn follow me back."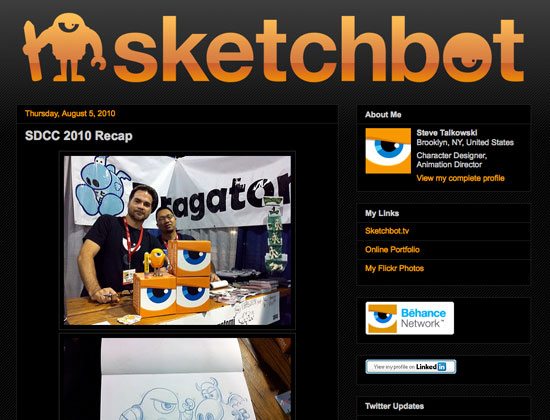 The Sketchbot website features images from Steve's appearance at Comic-Con 2010.
Talkowski has done an excellent job of merging the Sketchbot character with his career work, featuring the character on his business card and getting character design projects via exposure through Behance's creative professional network.
"Having stuff up online and keeping it fresh shows people that you are serious about your brand and are available for work," Talkowski said. "Case in point — I was contacted by someone to work on a toy concept from them seeing my portfolio on Behance and then they recommended me to their former employer where I was hired to do a bunch of character animation for the new SanDisk website… all via web contacts."
3. Noop and Paw (coarse)

In the world of designer vinyl, coarsetoys' products are unprecedented in both the figure quality and elaborate packaging. Released in very limited numbers, these are some of the most sought-after art toys on the market — editions sell out literally within seconds.
Almost all of coarse's work features versions of their signature characters: the human (Noop) and rabbit (Paw). As toys, the two characters have been released individually (as Paw and Jaws), and recently together in the False Friends set.
Leaving much of the promotion in the hands of fans and collectors, coarse's approach to the web as a marketing tool is an interesting one. In comparison to how other characters are marketed, it's great to see one of the most popular names relying mostly on shared content and fan-driven social media.
coarse has an active fan base on their Facebook page and a Flickr search for coarsetoys photos returns almost a thousand image results, many of which rival the quality of promotional shots released by the company.
Leaving much of the promotion in the hands of collectors and fans is their non-active approach method.
"Besides our newsletter and Facebook we never did anything to keep people updated and thanks to modern technologies our fans spread our word and work," the creator shared. "We appreciate all our loyal collectors for being with us and we try our best to take care about each and every one of them as good as we can."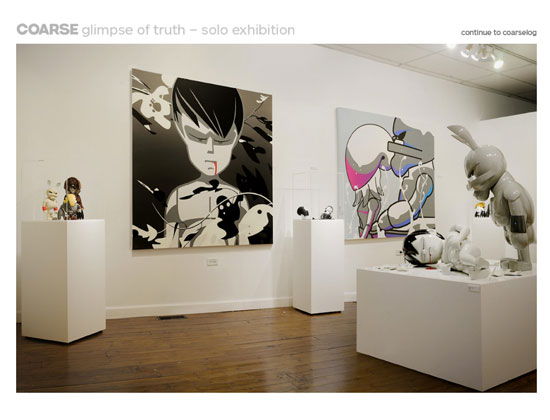 Images from a recent coarsetoys art show featuring the Noop and Paw characters.
With the entire designer vinyl toy world's eyes constantly peeled to coarsetoys' website for news on whatever the next release is, coarse provided a refreshing comment on their approach to marketing.
"We believe that in art, people either like your work or they don't. As a conclusion, active promotion wouldn't make any sense," coarse said. "Simply because our creations have no benefit, USP or use besides the way they look, feel and smell. All you can do is hope people will like it and will want to make your art a part of their lives. We do what we do because we love it. People who see a good business opportunity in art figures and who release toys for money reasons will always fail. This is not a business – either you do it because you love it or you better do something else."
To see one of the most successful toy design companies look at marketing like this is quite refreshing.

The mascot for Wizard Sleeve Toys is the Wizy character, who is only slightly known even though he has been branded on the company's logo and website for a few years. The character was made by character designer/illustrator who goes by the name of ]BLOKT[.
While a production Wizy toy has not yet been released, the character has been applied to a custom sculpt, logos, videos, and an online comic book that is currently being created. Promotional material related to the comics will help brand the Wizy character as new panels are released.
"We are currently working on molding and hand-casting a custom Wizy toy that will be used for a touring custom toy show featuring many artists that we've met online," the creator of Wizy said. "All of these activities are consistently promoted through our online store and our many social media accounts, as well on some of the designer toy news sites such as SpankyStokes and VinylPulse. Exposure on the web has allowed us to make a worldwide presence both online and in the real world."
Character designer ]BLOKT[ explains his thought process behind the Wizy character: "Wizy was designed to be adaptable to every kind of media, from a mascot to a simple logo mark, to a comic book character, to an animation, and of course to a toy. It's been an interesting challenge to work with this one character in so many different ways and still make it recognizable, consistent, and at the same time see what we can get away with. In Wizy's short life he has been rearranged, deconstructed and depicted in so many ways, and if everything goes to plan it's only going to weirder."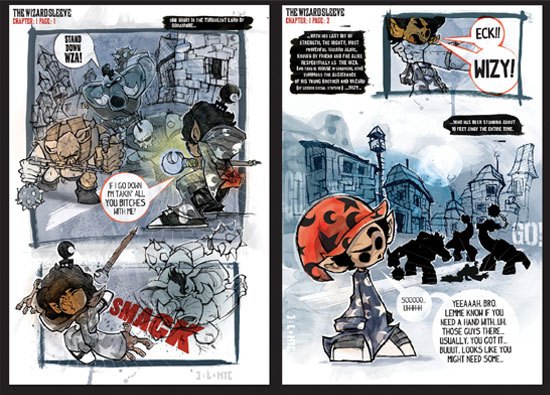 Joe Ledbetter's signature style of artwork has been seen in many solo and group art shows, as well as on over 100 designer vinyl toys. Many of Ledbetter's characters have made the transition to tangible 3D, and we'll be looking at one character in particular, Magnus the Griffin.

Magnus first showed up in Ledbetter's paintings and in the Terror and Magnus toy set released in 2009 by The Loyal Subjects. With a recent art show featuring Magnus's quest for true love life story this past summer, Ledbetter set up a Facebook profile page for Magnus to drum up interest in both the character, art show and toy release.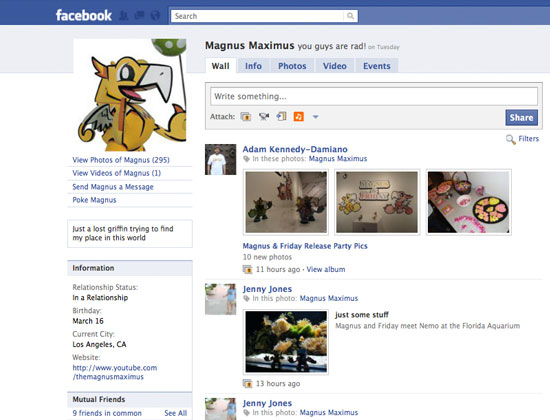 Magnus Maximus's Facebook profile. He's in a relationship and likes The Cure.
Even though not officially a real person, Magnus's Facebook profile is as real as yours or mine. He makes updates, comments, and is tagged in photos just as a person is.
By personifying the Magnus character through a Facebook profile, more people are exposed to the him and it has given Ledbetter a new outlet to promote the Magnus work with. There isn't a Facebook profile for Magnus's girlfriend yet — her name is Friday — but she'll probably show up online soon.
Wrapping Up
Looking into this industry can teach us a thing or two about positive and effective web marketing of products that works by doing what many web marketers neglect: using creativity and adding value to products.
The designer toy industry also shows that a great product will disseminate itself through social media. Social media can also be an extension of your product; something that adds an additional story and meaning behind it. Creativity, passion, and great products are what lead to successes on the web.
Related Content